Hollywood History "They're young, they're in love, and they Rob Banks! A look back at how "Bonnie and Clyde" revolutionized Hollywood" with Paul Vetrano Social Media Critic. Let me tell you about the Faye Dunaway , & Warren Beatty Classic Gangster Film..which opened on this day August 13, 1967..50 years ago.
Although set in the '30s, Dunaway's Bonnie Parker is a liberated woman – a steely, sultry seducer as cunning as any male on the wrong side of the law. She seems to get off on the promise of danger. Beatty's Clyde Barrow, an ex-con who takes more joy in the notoriety of his crimes than the loot they bring, is the embodiment of what we now think of as modern media culture. His drug is fame. It certainly isn't sex – the script subtly (and sometimes not too subtly) paints him as a stick-up man who can't get it up. Powerful with a firearm, but impotent in the sack. Again, pretty radical stuff in 1967..
Perhaps more taboo than any of that, however, was the film's ballet-of-death climax. At the end of the movie when Bonnie and Clyde are gunned down by the law in a hail of bullets, nothing is left to the imagination. We see their bodies convulsing and covered in squibs of blood – a prolonged and excruciating Grand Guignol spasm of gore. It was literally overkill. But coming as it was, just four years after the assassination of JFK and at a time when the horrors of the war in Vietnam were playing out every evening on the news, it had an undeniable added resonance. It was a story set in the '30s, but it couldn't have been more timely.  
Although Aug. 13, 1967, is widely acknowledged as the day that Bonnie and Clyde first hit theaters, the film's real debut came a week earlier, when it was shown at the Montreal Film Festival on Aug. 5. In the audience at that first screening was Bosley Crowther, the august New York Times film critic. He was outraged by what he saw. So much so in fact, that he would take the film (and its admirers) to task on three separate occasions in the paper of record. In his official review of the movie, Crowther wrote that Bonnie and Clyde was "a cheap piece of bald-faced slapstick comedy that treats the hideous depredations of that sleazy, moronic pair as though they were as full of fun and frolic as the jazz-age cutups in Thoroughly Modern Millie." As for the film's infamous finale, he wrote: "This blending of farce with brutal killings is as pointless as it is lacking in taste since it makes no valid commentary upon the already travestied truth. And it leaves an astonished critic wondering just what purpose Mr. Penn and Mr. Beatty think they serve with this strangely antique, sentimental claptrap."  
Soon, others would follow. Time magazine panned it. And in its rival, Newsweek, Joe Morgenstern could barely disguise his bile, calling the film "a squalid shoot-em-up for the moron trade." But then something very interesting happened. Morgenstern went back to see the film a second time and realized that he had been wrong. Too late to pull his hatchet work, he wrote a second review – a mea culpa of sorts. As Mark Harris writes in his book Pictures at a Revolution, Morgenstern's about-face was "infinitely more valuable to Bonnie and Clyde than a mere rave would have been: Suddenly, the studio had a controversy it could exploit."  Below photo of the real Bonnie Parker , and actress Faye Dunaway :   Bonnie and Faye: Infamous 1933 cigar photo branded Bonnie as a gun moll;  and 1966 publicity reenactment with Faye Dunaway :
The tide on Bonnie and Clyde began to turn. In the Sept. 25, 1967, edition of the Chicago Sun-Times, Roger Ebert opened his review with the following proclamation: "Bonnie and Clyde is a milestone in the history of American movies, a work of truth and brilliance. It is also pitilessly cruel, filled with sympathy, nauseating, funny, heartbreaking, and astonishingly beautiful." He closes his review in equally grandiose terms: "This is pretty clearly the best American film of the year. It is also a landmark. Years from now it is quite possible that Bonnie and Clyde will be seen as the definitive film of the 1960s, showing with sadness, humor, and unforgiving detail what one society has come to. The fact that the story is set 35 years ago doesn't mean a thing. It has to be set sometime. But it was made now and it's about us."
Below photo from The Whiskey Pete's Hotel & Casino , which is right on the State Line between California and Nevada, only 30 minutes from the heart of Las Vegas ! Stop by some time on your way into Las Vegas, and check out this iconic car and other great displays !  Only here can you see the original car – with the actual blood stains still there !  A replica made for the film of the Ford V8 in which Bonnie and Clyde died, was on display at the National Museum of Crime & Punishment.  Below Photos are of the ORIGINAL car at Whiskey Pete's :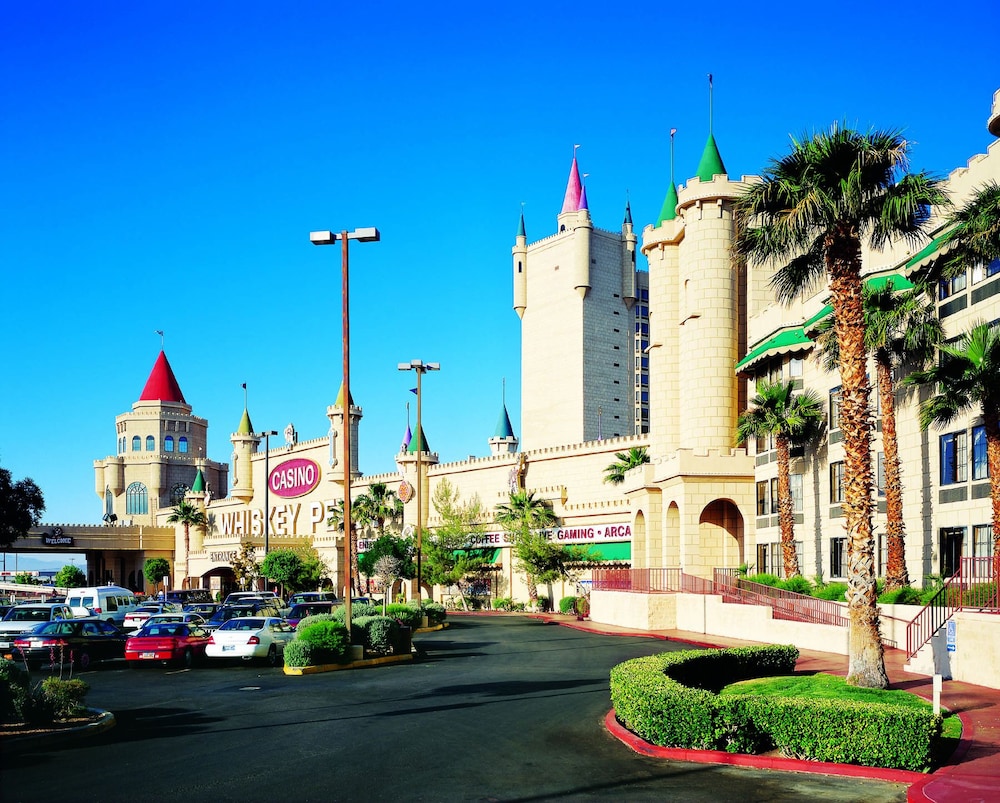 Less than a month later, Pauline Kael took to the pages of the New Yorker with an impassioned plea for the film. Acknowledging that the movie divides audiences, she wrote that Bonnie and Clyde was "the most excitingly American movie since The Manchurian Candidate. The audience is alive to it." It had officially become the movie that everyone had to see.
Problem was, Jack Warner just wanted to be done with it. The studio had already moved on, pulling it from prime theaters to make room for its next volley of releases. But they underestimated Warren Beatty's persistence. The first thing Beatty did was to help rejigger the film's ad campaign, which now included the brilliantly exploitative tagline: "They're young…they're in love…and they kill people." Two months after it had opened and been left for dead, it had snowballed into becoming the number three film in the country. Then, in early December, another one of the film's detractors did a very public about-face. "Time magazine just panned the hell out of Bonnie and Clyde," Beatty told EW. "But four months later, they put it on the cover saying very elaborate things about it. Very complimentary things."  The banner headline of Time's Dec. 8. 1967, issue, over a photo of Beatty and Dunaway behind the wheel of a getaway car, read: "The New Cinema: Violence…Sex…Art". Bonnie and Clyde was a sensation that was not about to go away.
After stumbling out of the gate, Bonnie and Clyde would go on to pull in more than $22 million at the box office on a budget of $2.5 million. It would go on to earn ten Oscar nominations, including Best Picture. And while it only wound up winning two statuettes (for Best Supporting Actress Estelle Parsons and Best Cinematography for Burnett Guffey), the movie had won a bigger war. It had given birth to a filmmaking renaissance and a decade of some of the most indelible and uncompromising pictures to ever come out of the studio system.  
In the end, it may be reductive to point to one single film and credit it for giving birth to an entire movement. But it's not totally wrong either. Fifty years after the fact, EW asked Beatty if he bought into that bit of myth-making about his film — whether Bonnie and Clyde, in fact, was responsible for the New Hollywood. His answer was predictably Sphynx-like. "Well, that's an exaggeration," he said, while leaning back in a chair in his study. A sly smile spread across his face. And after a beat or two, he leaned forward again, almost conspiratorially, and added, "But I like to hear it said."
Bonnie and Clyde can be seen on the big screen on Sunday, Aug. 13, and Wednesday, Aug. 16, at participating theaters nationwide as part of the TCM Big Screen Classics series.