On this episode of Entertainment & Sports Today, and Entertainment Today TV, we will take you right down on the red carpet for interviews with actors Michael Shannon, Amy Adams, Jeff Goldblum, James Woods, Oliver Stone, and William H Macy with Entertainment Today's TV Show Host – Margie Rey, at the Beverly Hilton Hotel in Beverly Hills, California. Below Photos: Top- Amy Adams, then Jeff Goldblum, then Oliver Stone, then bottom – James Woods & Oliver Stone with the WGA Laurel Award: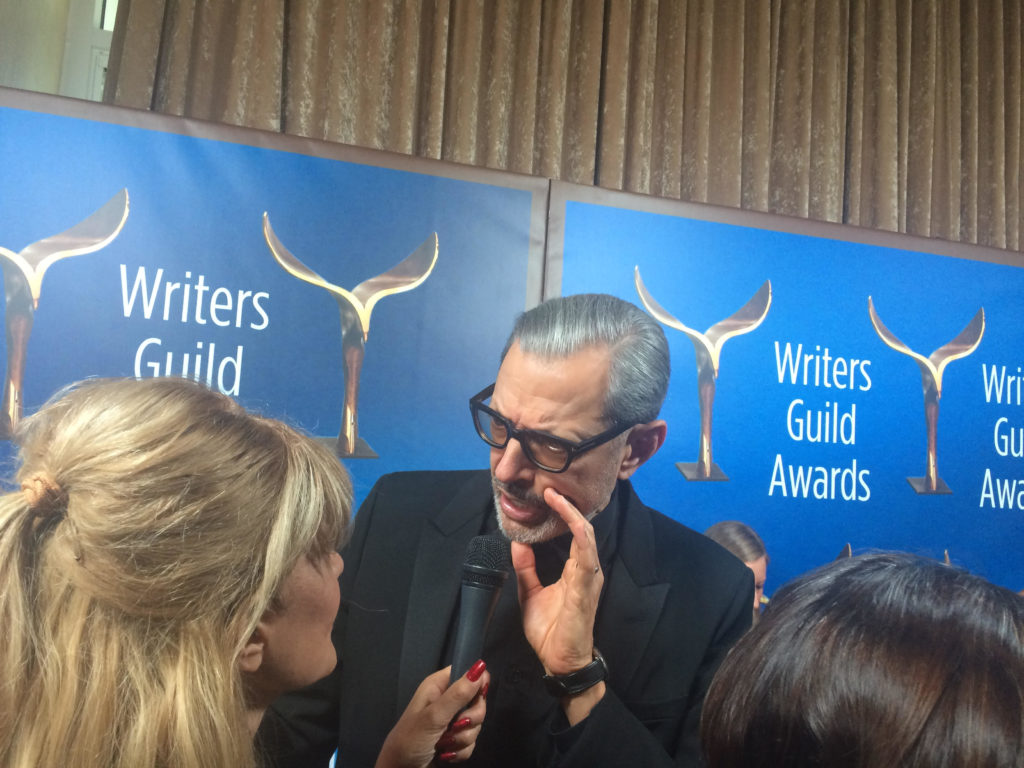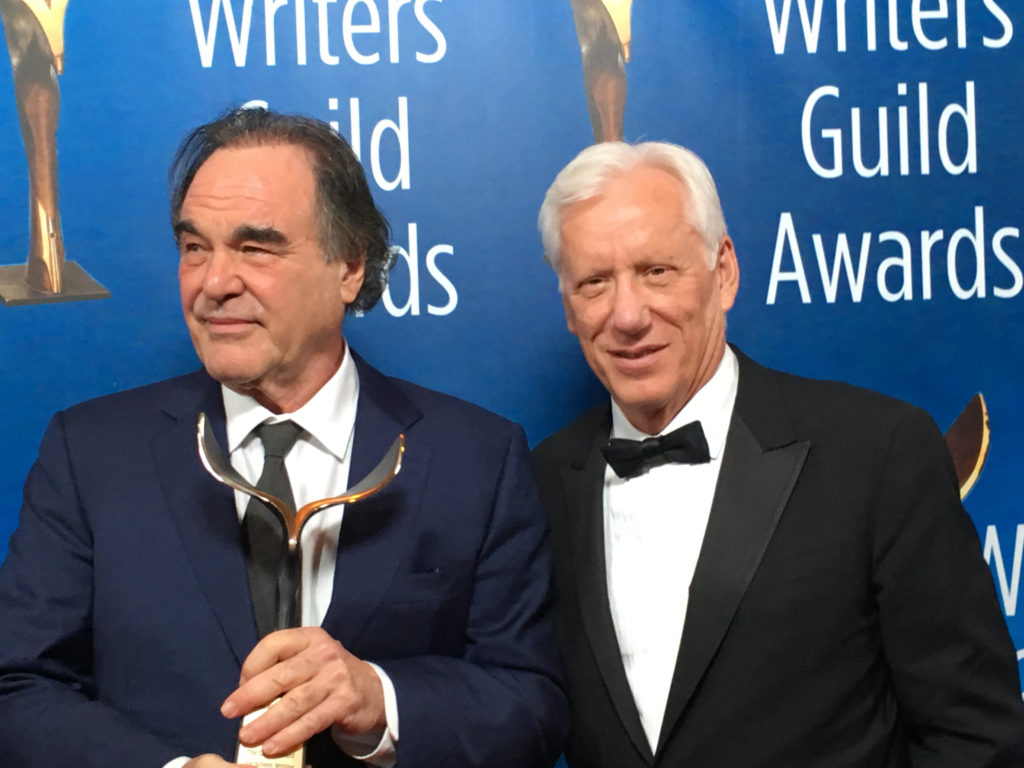 Then in our Health & Beauty segment from the World of Sports– Margie does an interview where you will leard more about a great running shoe called- HOKA ONE ONE, and their Bondi 5 running shoe– which is great for all types of athletes, people who workout a lot, and for people just to use everyday – to give them better protection and support- which our reporters can verify for you that it does this and much more ! In fact it even helps to improve your feet if you happen to have inflammation. 
Hoka One One Running Shoes : HOKA ONE ONE was created with one goal in mind — make running easier, and is synonymous with premium cushioning . Meta-Rocker, or wheels for your feet, is all about the geometry, which combine a low heel-toe drop, with unique-shaped midsoles and signature HOKA cushioning to complement a runner's normal gait cycle and drive you forward. The Active Foot Frame beds the heel and foot deeply into the midsole, as opposed to sitting on top. This means that every HOKA shoe offers guidance without the need for posts or other constricting elements. The Active Foot Frame functions like a bucket seat in a race car by cradling and supporting your foot. For more details go to HokaOneOne.com
Then in our last news segment Entertainment Today TV's Show Host : Margie Rey, will take you to New York for a One – on – One interview with Movie legend and celebrity icon, Denzel Washington! Denzel talks about how he got started in the acting business in school – and you will be surprised by what he says ! This was a rare privelage to talk to a living legend !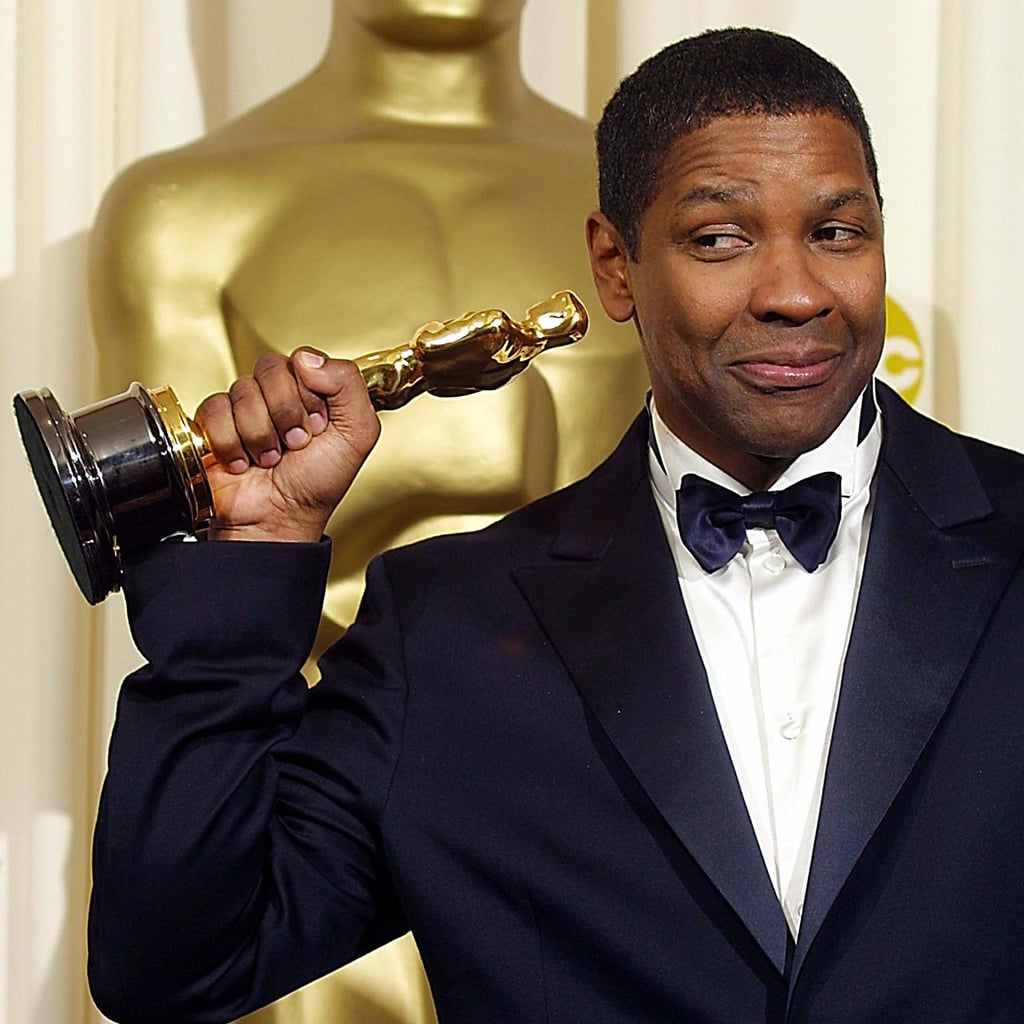 Margie Rey, was at the right place, at the right time when she interviewed Denzel when he won the prestigious American Cinematheque Lifetime Achievement Award at The Beverly Hilton Hotel. When Margie asked Denzel – "what is the best advice you ever got", he gave Margie that famous big smile of his and said: "I don't know – brush your teeth? " 
Below Photo of Entertainment Today's TV News Team : Dani Lemere , Steve Taylor, Margie Rey, and Kalpana Pandit : 
For the complete story go to: entertainmentandsportstoday.com, on Facebook & Instagram: @entertainmentandsportstoday , and Youtube.com/entertainmenttodaytv #repost @repostapp ##JeffGoldblum @JeffGoldblum @taikawaititi @realjameswoods #WilliamHMacy @williamhmacy #oliverstone #jameswoods #WritersGuildAwards #AmericanCinematheque @amy_adams_actress @officialMichaelShannon @megabus #DenzelWashington #Sony @DenzelWashington1 @RomanJIsraelEsq @sony
To learn more about the best running shoes that you can buy go to: HokaOneOne.com
Visit LEGOLAND.com/deepsea2018. www.LEGOLAND.com or call (760) 918-LEGO (5346) 877-754-4922 #LegoLand @LegoLandCalifornia
For low cost bus travel in the USA go to MegaBus.com.
For more interviews and TV news segments live from The Fit Expo, and health advice go to EntertainmentAndSportsToday.com or
www.facebook.com/EntertainmentAndSportsToday https://www.youtube.com/entertainmenttodaytv
Stay tuned for live daily round-the-clock news coverage from our news team in Los Angeles, Hollywood and Beverly Hills, during all of The Awards season, and live daily from Superbowl 53 in Atlanta, Georgia from Entertainment & Sports Today TV, and Entertainment Today, and for the complete story go to: entertainmentandsportstoday.com, on Facebook & Instagram: @entertainmentandsportstoday, and Youtube.com/entertainmenttodaytv 
For more information, and if you like to buy any of these great products that you saw on our TV show, E-Mail us direct: info@entertainmentandsportstoday.com so that one of our staff can connect you with the right people.
To get advertising rates,  E-Mail : info@entertainmentandsportstoday.com – and for more info about us go to: www.entertainmentandsportstoday.com & thanks for watching !