Live from Pala Casino: The No Doubt Tribute Band – "No Duh" gave an amazing almost 2 hour long Tribute Concert, that had the crowd singing and dancing in their seats, with some dancing in the aisles, despite the Covid social distancing!
This group sounds just like No Doubt and the singer looks just like Gwen Stefani! This was filmed from the 1st. row center.
In this video they perform Gwen Stefani's big hit song: "Just a Girl"
No Duh is not just the best tribute to No Doubt & Gwen Stefani, they're one of the best tribute acts in the world. It's not just great music, it's a complete, high energy, amusing, audio-visual explosion!
No Duh mixes the experience & energy of a live No Doubt & Gwen Stefani concert with nostalgic visuals, styling's & props of the No Doubt & Gwen Stefani videos, complete with costume changes & even some humor! Close your eyes or keep them open, you will feel like you are experiencing the real thing. It's rare to see a tribute act excite an audience like this band. Not to mention that they are home-based in Orange County California, just like the original No Doubt.
No Duh has been mentioned by Gwen Stefani in interviews. She says, "they're amazing" & says of our lead singer, "… I was almost jealous of her because she [Spen] was just so cute…". No Doubt says, "No Duh rules!". And they should know, they have seen & performed with No Duh. The band has appeared on local, national & international Television & Radio including a full length feature on "Good Morning America" , "CNN Headline News" & on AXS TV's "World's Greatest Tribute Bands".
The band has also gotten the reputation for attracting stars to their shows, including: Gene Simmons, Pam Anderson, Courtney Love, Anna Nicole Smith, Jaime Pressly, Pink, Dilana, plus members of Guns n Roses, Kiss, Alice Cooper, , Korn, Ratt, Quiet Riot, LA Guns, Barry Manilow, The Jimmy Kimmel Show, Rockstar SuperNova, White Lion, Steel Panther & of course, No Doubt themselves, to name a few.
It's a bit of a stretch, but Gwen Stefani and Madonna are distant relatives. Their family connection is through the mother-in-law of a great aunt. So, they are distant cousins with great vocals – now that's a surprising fact (the cousin part, not the talent).
All the No Doubt hits from the last few decades were performed to the delight of the audience. Below photo of the lead Singer that plays Gwen Stefani in No Doubt: "Just a Girl" Live Concert tribute by No Duh, and the Executive Producer of Entertainment & Sports Today and Entertainment Today- Steve Taylor at the post show VIP Meet & Greet: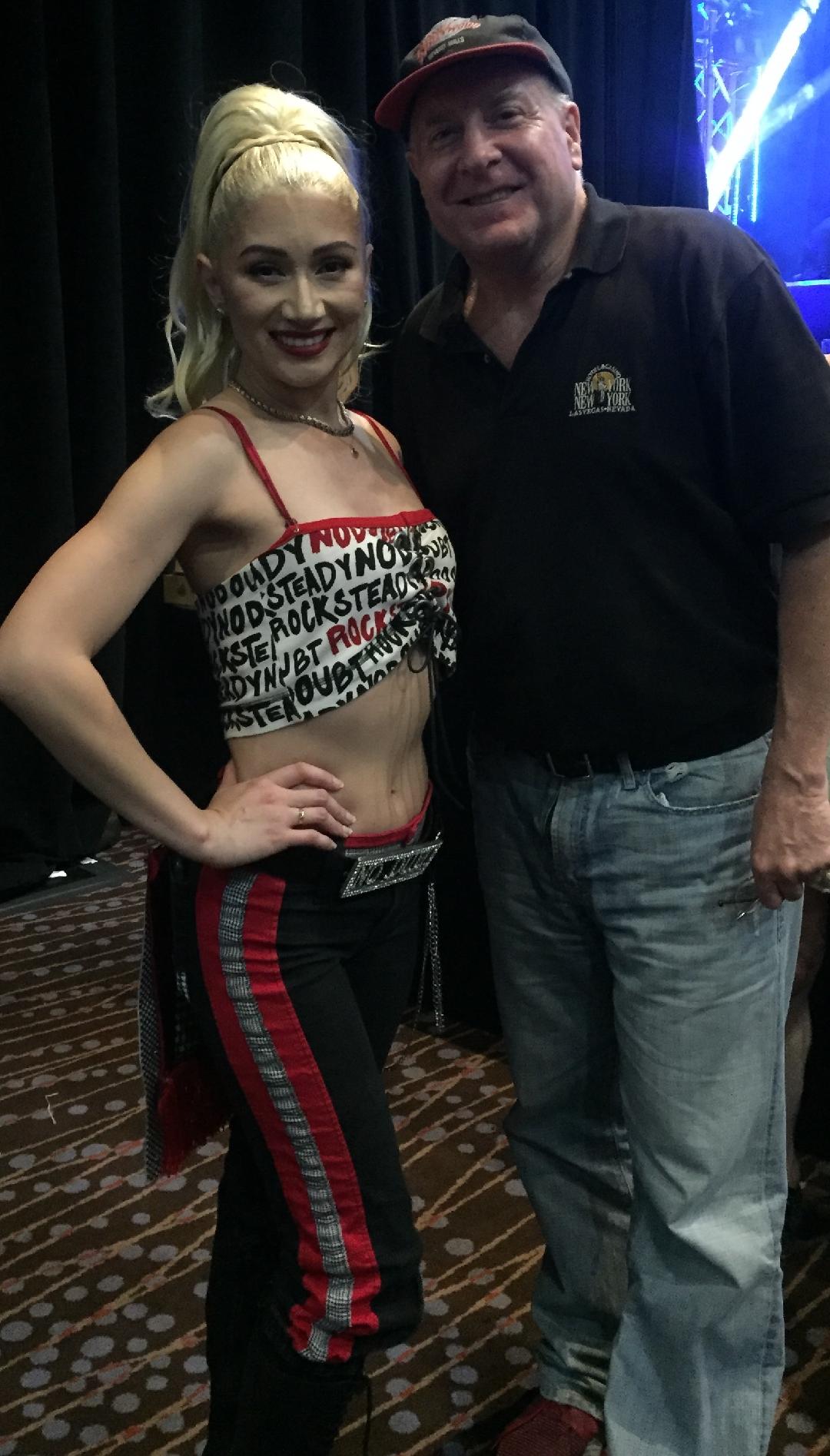 It is a pleasure to see a live big stage- on location concert during this terrible COVID Pandemic, when every other type of Entertainment Show is closed or is "virtual" . Every Friday and Saturday Night Pala Casino has some great concerts, and coming up are some great tribute concerts:
Friday June 4th: A Tribute to The Beach Boys – "Good Vibrations"
Saturday June 5th: A Tribute to The Rolling Stones – "Jumping Jack Flash"
Stay tuned for live daily round-the-clock news coverage from our news team in Los Angeles, Hollywood, New York, Beverly Hills, and overseas from Entertainment & Sports Today TV, and Entertainment Today, and for the complete story go to: entertainmentandsportstoday.com, on Facebook & Instagram: @entertainmentandsportstoday, and Youtube.com/entertainmenttodaytv
For tickets to future events, and Sponsorships and get advertising rates and info, E-Mail : info@entertainmentandsportstoday.com – and for more info about us go to: www.entertainmentandsportstoday.com & thanks for watching !
For more information, and if you like to buy any of these great products that you saw on our TV show, E-Mail us direct: info@entertainmentandsportstoday.com so that one of our staff can connect you with the right people.
Above is our video news story – that is part of our series of TV news stories on concerts, shows and special events that are open- live and on location during the Coronavirus, that is part of the follow up to our daily news stories on the Coronavirus. For more news stories and updates about the Coronavirus : go to EntertainmentandSportsToday.com and go to the top of the home page and click on the "HEALTH & BEAUTY" section. Additional updates can be found by clicking the "Business & Technologies" , and "Entertainment" sections, or just click "Home". For stories that may uplift your spirits during these trying times go to the "Music" section of our website.
If you may have any questions- you can email us at info@entertainmentandsportstoday.com- so we can find you the answers from the doctors and health experts, that have written stories for us, and from the health agencies that have provided information and daily updates for us. & Thanks for watching, and be healthy and safe!