Go up close and personal with Harry Connick Jr. as he performs throughout the entire audience in The International Ballroom of The Beverly Hilton Hotel, and has the audience up on it's feet for an amazing, emotional performance, for about a 40 minute concert last night to raise money for JDRF for Juvenile Diabetes during the "IMAGINE GALA" .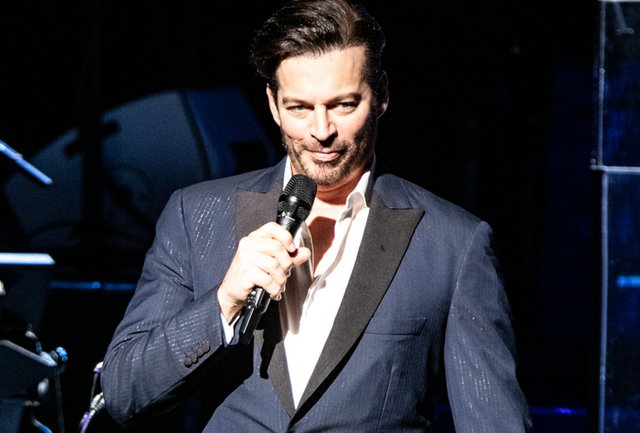 During the live auction over a half million dollars was raised in under 20 minutes for this very worthwhile cause TO BENEFIT BREAKTHROUGH DIABETES RESEARCH, and educating people on what it is like to live with type 1 diabetes (T1D), and to support life-saving research to cure, treat, and prevent T1D. Since its inception in 1970, JDRF has funded virtually every major breakthrough in diabetes research. Marc and Robyn Sidoti were honored for their dedication to the JDRF's vision of finding a cure for T1D. If you like to make a donation to help out kids with Diabetes go to: JDRFLAimagineGala.org
Some of last night's guests were: Dana Walden (Chairman of Disney Television Studios and ABC Entertainment), Loni Love (The Real), Actor Austin Basis (Beauty and the Beast, Life Unexpected), Damon Dash (Entertainment mogul, former partner of Rock-a-Fella Records), Actor Derek Theler (Baby Daddy), and Athlete and JDRF Ambassador Eric Tozer, who has run 7 Marathons – with a best time of 3:30.
We were lucky enough to watch this show sitting at the same table next to David Osmond, who is the son of Alan Osmond – of the musical group The Osmond Brothers, and "Donny & Marie" fame. Alan Ralph Osmond is the Brother of Donny Osmond, Jay Osmond, Jimmy A. Osmond, Merrill Osmond, Wayne Osmond, Virl Osmond, Tom Osmond, and Sister Marie Osmond. David Osmond is from Ogden, Utah as the rest of the Osmond family are, and was also in town to be the Host of this year's Daytime Emmy Awards.
This was a great experience for a very good cause!
In this video segment join the children with Diabetes and about 800 people in the audience and sing along with Harry Connick Jr. as he takes his whole band into the audience as he sings: "When The Saints Go Marching In ".
O when the Saints (when the saints)
Go marching in (marching in)
Now, when the Saints go marching in (marching in)
Yes, I want to be in that number
When the Saints go marching in
Blow it, brother Holmes!
Now when the Saints (when the saints)
Go marching in (marching in)
Oh, when the Saints go marching in (marching in)
Yes, I want to be in that number
When the Saints go marching in