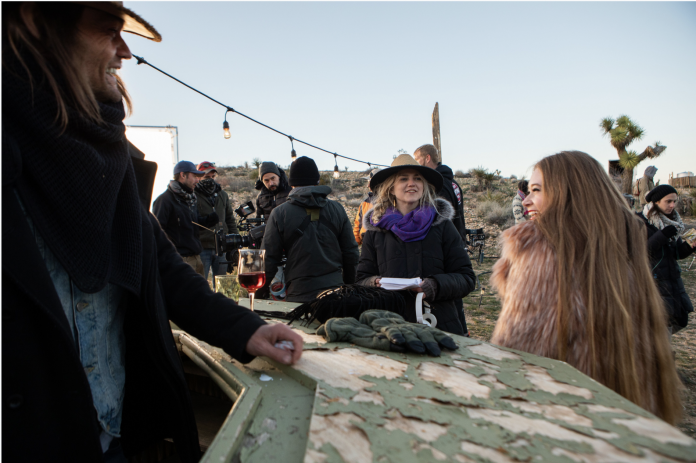 LA Femme Film Festival Award Winning Alum Returns with Dramatic Short BUTTERFLY in 2019
Writer and director Bonnie Foster returned to the 2019 LA Femme
International Film Festival this past weekend with BUTTERFLY (23 min),
a finalist in competition at the Regal Cinemas at LA Live in
downtown Los Angeles. Butterfly is also a finalist in competition for the upcoming
Williamsburg Independent Film Festival, November 21-24, in Brooklyn,
New York.
BUTTERFLY follows Alice, a fashion model played by Jade Lorna Sullivan
(Hold Fast, Good Luck), who spontaneously drives off into the desert
and meets Tom, played by Micah Fitzgerald (Escape the Night,
Westworld) a mysterious stranger who finally brings the change she's
been looking for.
"Butterfly is a very personal story with nearly every line of dialogue
inspired by things I have heard or experienced in my own life," says
Foster. "It is also inspired by my friend and very talented dancer and
actress, Jade Lorna Sullivan, who plays the lead. The film hopes to
impart some perspective on male/female relationships, the beauty and
fragility of life, and the nature of personal growth and change."
Just 2 years ago, Foster won Best Music Video with "Sweet Surrender"
(also starring Sullivan), a song by British indie rock band John-Paul
Pryor & The Sirens of Titan. "Sweet Surrender" premiered at LA Femme
International Film Festival before an exclusive release on Playboy
France by Schubert Music Publishing. Having also worked on several
Emmy award-winning documentaries, Foster is currently the Los Angeles
contributing features writer for LA/NYC art and culture magazine,
Reserved Magazine.
Along with Executive Producers Chris Abernathy and Jeff Lacour, and
Producer Tim Astor, BUTTERFLY has already received awards attention
from the Independent Shorts Awards, Top Shorts, and Hollywood
International Moving Pictures Film Festival as it makes its way
through the circuit. The film features costumes by renowned avant-garde
Dutch designer, Iris Van Herpen, and music by Canadian indie-blues band, Timber
Timbre. More info on the film may be found at www.ButterflyTheFilm.com
#ButterflyTheFilm2019
LA Femme International Film Festival (www.LAFemme.org)
The LA Femme International Film Festival is now in its 15th year as
one of Los Angeles' premier film festivals dedicated to celebrating
and promoting female artists both in front of and behind the camera.
In addition to bestowing awards in multiple categories, from short
subjects to documentaries to commercials, LA Femme is proud to present
the Lupe Ontiveros Award to a performer who embodies the spirit,
audacity and dedication to art that its namesake represented. This
year's Ontiveros honoree was actress Nadine Velazquez (My Name is
Earl, Major Crimes)
#LaFemmeFilmFestival
In our featured Picture :
On the Butterfly set with (from left to right) Lead Actor Micah Fitzgerald, Writer & Director Bonnie Foster, Lead Actress Jade Lorna Sullivan