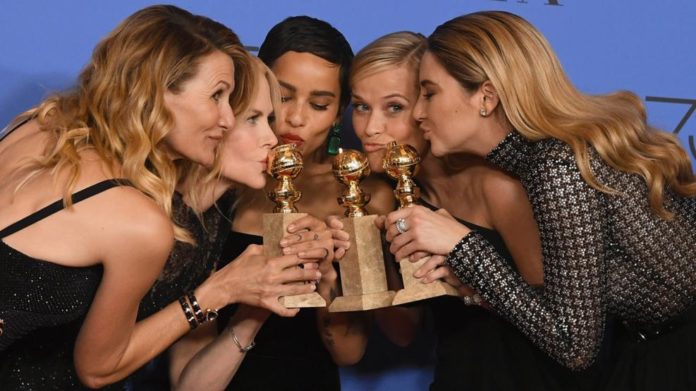 Last night was another A-List – All-Star Awards show with (From left): Actors Laura Dern, Nicole Kidman, Zoe Kravitz, Reese Witherspoon and Shailene Woodley who posed with the Best Television Limited Series or Motion Picture Made for Television award for 'Big Little Lies' in the press room during The 75th Annual Golden Globe Awards at The Beverly Hilton Hotel on January 7, 2018 in Beverly Hills, California :  
Below Photo – From left: Actors Christian Slater, Kyle MacLachlan (Twin Peaks), and Armie Hammer attend the Official Viewing and After Party of The Golden Globe Awards hosted by The Hollywood Foreign Press Association on January 7, 2018 in Beverly Hills, California. :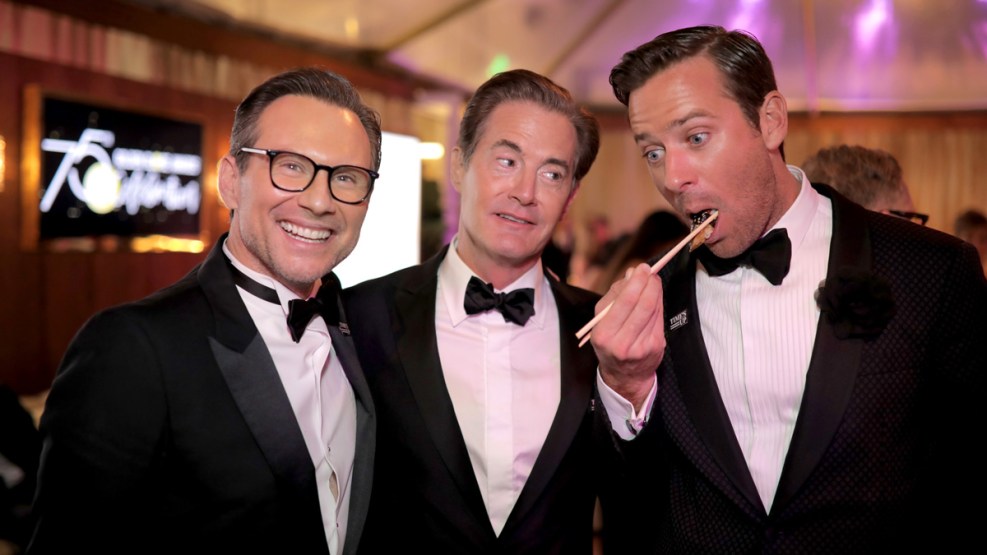 Many women and men wore black to the 75th annual Golden Globes in solidarity with sexual assault survivors and the newly founded Time's Up organization. Hollywood A-listers like Reese Witherspoon, Eva Longoria and Angelina Jolie were among the stars wearing black, but some didn't follow suit. Here, see the few who decided to wear color.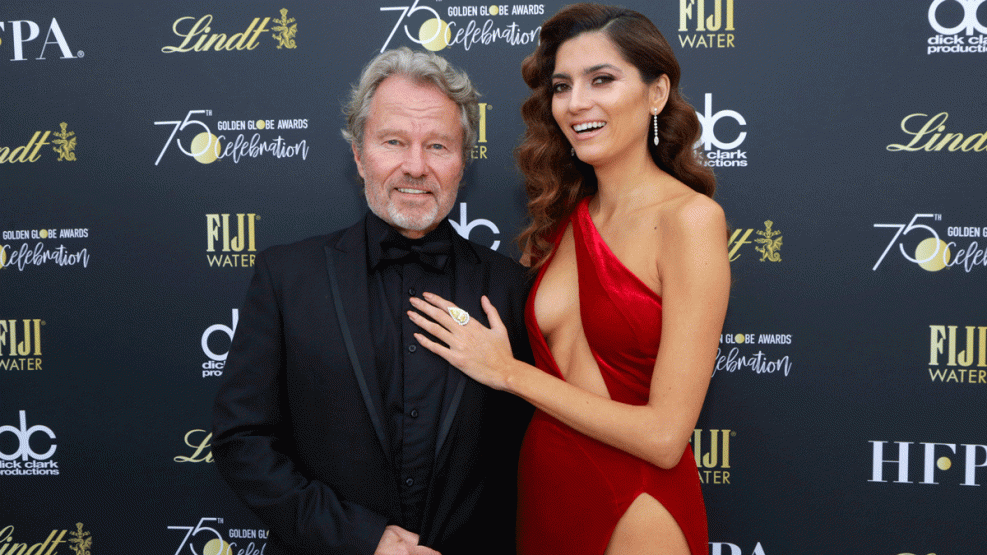 Above Photo : Actors John Savage (L) and Blanca Blanco attend the Official Viewing and After Party of The Golden Globe Awards hosted by The Hollywood Foreign Press Association on January 7, 2018 in Beverly Hills, California. Blanco wore the asymmetrical, red velvet dress with daring cut out and high leg slit to both the Golden Globe Awards and the after parties. & Below here are those that wore black : Top- Erica Christiansen, next photo down- Samara Weaving, and next photo down on the left- Samira Wiley of The hit Netflix TV series -"Orange is the New Black" , and Hulu's series "The Handmaid's Tale", : 
For the complete story go to: entertainmentandsportstoday.com Facebook.com/entertainmentandsportstoday and Youtube.com/entertainmenttodaytv   @tomhanks @StevenSpielberg  @reesewitherspoon @wonderwomanfilm @ladybirdmovie @getoutmovie @thepostmovie @gal_gadot  @dunkirkmovie @ChristopherNolanofficial @lauradern @armiehammer @NicoleKidman  @realChristianSlater @Kyle_MacLachlan #EricaChristiansen