The 2017 Billboard Music Awards was broadcast LIVE earlier today on BOTH     COASTS from The T-Mobile Arena in Las Vegas, on SUNDAY, MAY 21 .   
The Hosts : Ludacris  and Vanessa Hudgens arrive for the 2017 Billboard Music Awards at The T-Mobile Arena on May 19, 2017 in Las Vegas. Photo below of them both arriving on the magenta "red carpet" : 
Billboard Music Awards finalists are based on key fan interactions with music, including album and digital songs sales, radio airplay, streaming, touring and social engagement, tracked by Billboard and its data partners, including Nielsen Music and Next Big Sound. The awards are based on a 12-month reporting period ending in March of 2017. Since 1940, the Billboard charts have been the go-to guide for ranking the popularity of artists, songs and albums, and are the ultimate measure of success in music.
Drake won 13 Billboard Music Awards, including Top Billboard 200 Album for Views, Top Hot 100 Artist,  Top Rap Artist, and Top Male Artist; thanks to his album Views and its monster single "One Dance" featuring Kyla & Wizkid . Drake broke Adele's record of 12 awards in one night in 2012, and gave a great performance in the middle of the famous Bellagio water fountains up the block. Photo Below : Drake backstage with awards :
Drake said :"It's crazy that we're all here on earth for a limited amount of time, and we gotta show love while we're here," and said to the show's co-host : "Vanessa Hudgens, you look incredible tonight."  Hudgens latter asked him if she was on the invite list for Drake's after-party!  Drake went on to say : "Life is like toilet paper, either you're on a roll, or taking sh-t from assholes."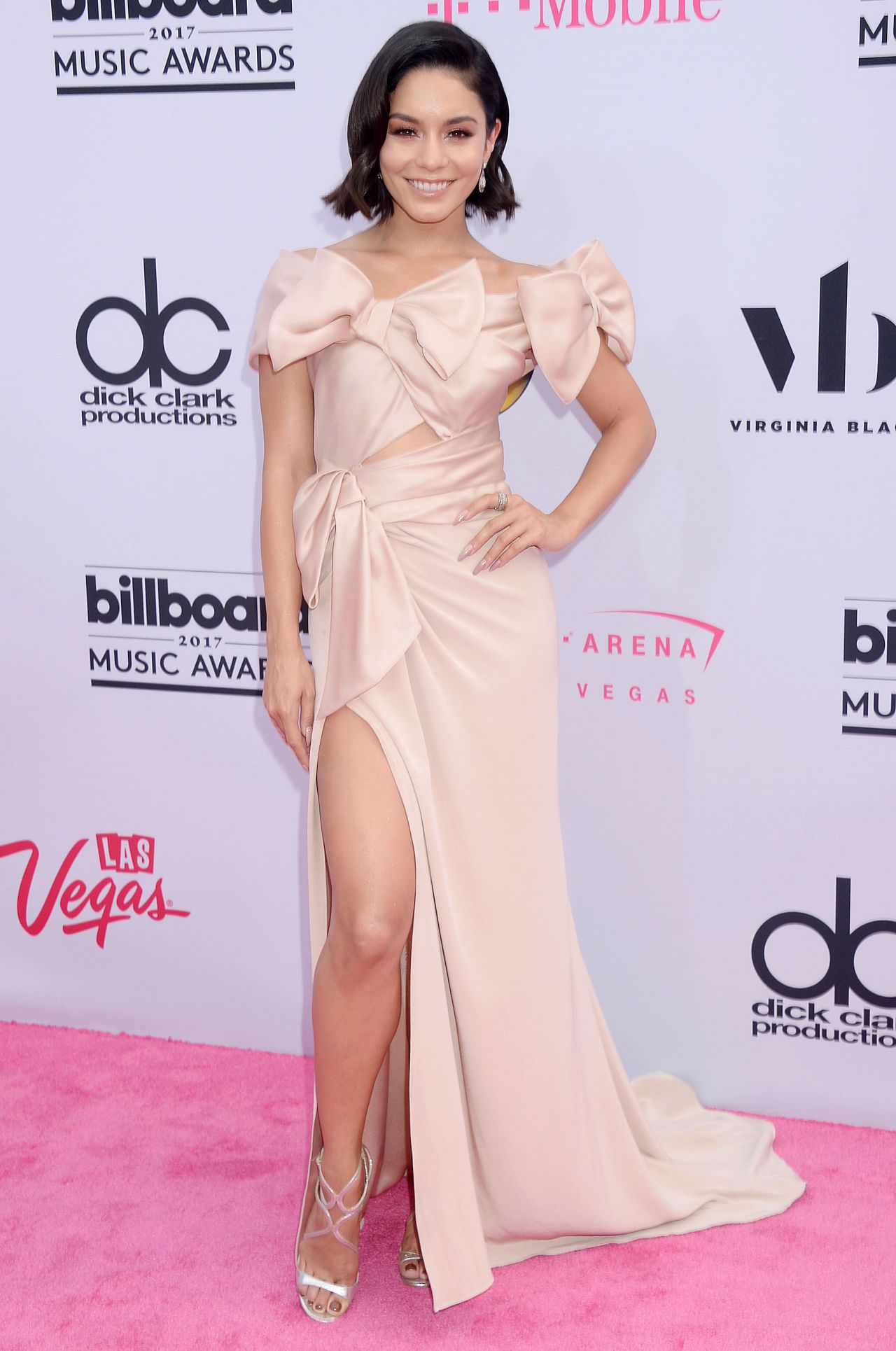 Drakes's co-host Vanessa Hudgens (photo above from her red-"Pink Carpet" arrival) gave an excellent cappella performance of  Celine Dion's : "Power of Love" and Nicki Minaj's verse from "Monster," and latter in the show Celine herself performed her theme song "My Heart Can't Go On"  from the blockbuster hit , Oscar winning movie : Titanic , starring Leonardo DiCaprio and Kate Winslet ,  20 years after the movies premiere in 1997. This was the best part of the whole night ! Below : Celine Backstage: 
Sean "Diddy" Combs announced the first official trailer for the highly anticipated Can't Stop Won't Stop: A Bad Boy Story :   https://youtu.be/WtqIL4L8HmE  It's an exclusive look behind the scenes at the history of Bad Boy through a complex portrait of the label's mastermind, as he tries to reunite his Bad Boy Family in the course of a frantic three week rehearsal period. As they prepare to celebrate the label's 20th anniversary, the film traces Bad Boy's emergence in Harlem and Brooklyn, follows it's meteoric rise, explores the tragic killing of Biggie Smalls, and celebrates Bad Boy's influence in reshaping music, fashion, marketing and culture. Diddy said : "I knew this was a story that should be shared with the world.  Heather Parry and Live Nation Productions, and Director Daniel Kaufman, helped create this very special documentary . . .Now I'm blessed to also be working with Apple Music to showcase the film and share Bad Boy's history and impact with fans. The support Live Nation, Apple Music and everyone on the team has given to this project is a true testament to the Bad Boy legacy." View video for red carpet interview.
Above : Diddy gave a great tribute to The Notorious B.I.G. : "It all started with the Notorious B.I.G. ,  . .  .Big sold over 25 million records worldwide; his Ready to Die album, his Life After Death album, classics… Biggie was the best rapper I ever had the chance to work with. Watching him and seeing him work is something that words can't explain." 
The Billboard Icon Award was given to 71 year old Cher who performed her legendary songs "Believe" and "If I Could Turn Back Time" , and said : "I've wanted to do what I do since I was four years old, and I've been doing it for 53 years, . . .  I think luck has so much to do with with my success… I think it was mostly luck and a little bit of something thrown in."  Below : Cher on stage looks 50 years younger ! :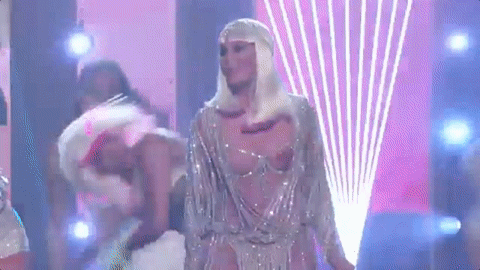 Below photo: Red Carpet Arrival Photo: BILLY RAY CYRUS taking the time to pose for photos on the red carpet. L-R: Tish Cyrus, Noah Cyrus, Billy Ray Cyrus, & Brandi Glenn Cyrus arrive at the Billboard Music Awards at the T-Mobile Arena on May 21, 2017, in Las Vegas. Miley Cyrus performed her new song "Malibu" during the show :