For those of you that missed the earlier live worldwide broadcast of: "Andrea Bocelli: Live Easter Sunday Concert for Hope to beat Coronavirus!" – we will REPLAY for you the concert in it's entirety! The whole concert is 28 minutes and 44 seconds long, with 47 seconds of black before the video starts. Just click the YouTube PLAY icon in our feature video to get started, and we can promise you an amazing concert that you will always remember! Happy Easter!
So now you can view this once-in-a-lifetime event- again and again from the safety of your own home, and be inspired everyday, and have more hope that you and everyone else will survive this terrible Coronavirus Pandemic!
In under 30 minutes from The Duomo Cathedral of Milan, Italy – Italian global music icon Andrea Bocelli gave the performance of a lifetime ! It was an emotion packed concert with only Andrea and the organist to accompany him in an empty church, along with a camera, tech, and broadcast crew that were all more than 6 feet apart!
In this video after 47 seconds of black- there is 3 minutes of video that shows the empty streets of Milan, Italy, and throughout the concert there are cutaways of beautiful scenes of empty streets from cities around the world that were hit hard by the Coronavirus; like Bergamo and Brescia, Italy, then a great shot from the air of St. Mark's Square and The Doge's Palace in Venice, Italy, and towards the end of this amazing concert, starting at 22:10- where Andrea sings "Amazing Grace" you will see: Paris – where you will see the Eiffel Tower, The Seine River, and The Arc de Triomphe, and the empty streets in London, and New York – that closes with a rare empty Times Square in the heart of Manhattan!
For the closing song to this concert, at 22:10 into this video Andrea walks outside to the front of The Duomo Cathedral, to give a heart-pounding performance of "Amazing Grace" that you will never forget! When Andrea first walks out in front of the Cathedral to sing- if you look carefully you can see a slight shaking of the picture- as the camera person was filled with emotion – backing up and trying to hold the camera steady for a wide angle shot of the Cathedral and Andrea singing "Amazing Grace!" So sit back and enjoy, and feel the love put out by Andrea Bocelli on this very special day in our earth's history- Easter Sunday!
All of us at Entertainment & Sports Today and Entertainment Today are very proud and honored to be part of this worldwide historic Live Music Concert Event with a great legend of the music world, to lift the spirits of people that were hit hard in Italy and from around the world during this terrible Coronavirus Epidemic, and to be a part of this Worldwide live streaming concert on YouTube, to both inspire and give all of us hope, so we ask you to share this video link with all of your friends and family! Thanks for watching! We ask that you all pray that everything gets better fast! God Bless You!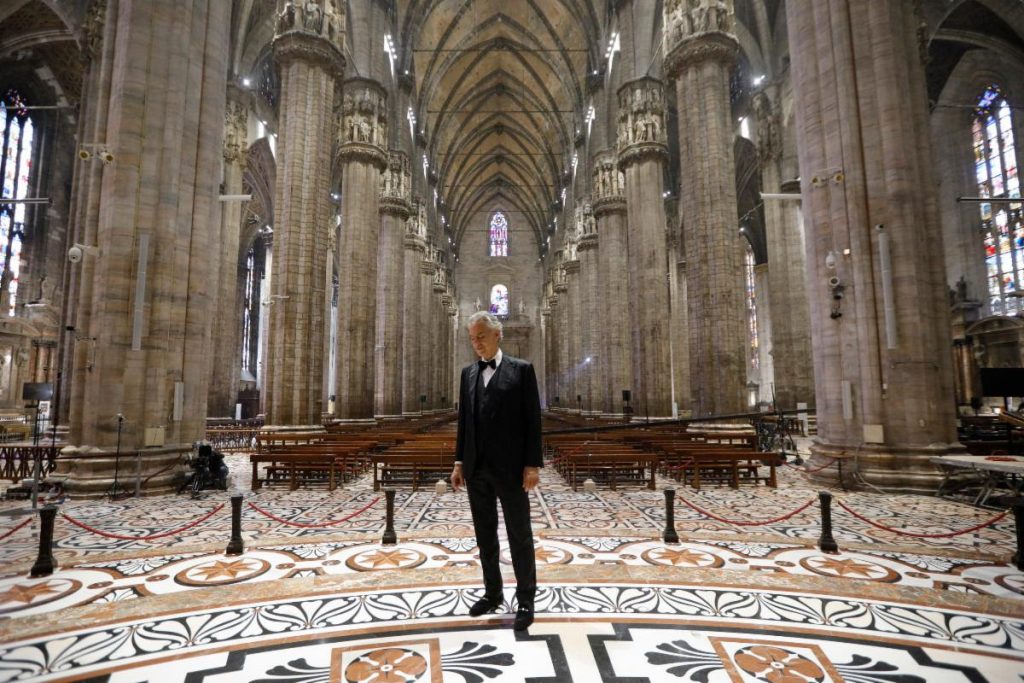 Today, on an Easter Sunday like no other, the Iconic Italian tenor Andrea Bocelli gave the most extraordinary performance of his life. There was no audience present in Milan's iconic Duomo, but across the globe people tuned in to witness his emotional performance, streamed live via YouTube, uniting the world at a time when many are apart, being isolated at home.
This unique performance, offering an uplifting message of love, healing and hope through music, took place at the historic Duomo, the cathedral of Milan, Italy, by invitation of the City and of the cathedral, and thanks to the hospitality of the Archpriest and the Veneranda Fabbrica del Duomo.
Bocelli says of the event: "I will cherish the emotion of this unprecedented and profound experience, of this Holy Easter which this emergency has made painful, but at the same time even more fruitful, one that will stay among my dearest memories of all time. That feeling of being at the same time alone – as we all are in the presence of the Most High – yet of expressing the voice of the prayer of millions of voices, has deeply impressed and moved me. Love is a gift. Making it flow is the primary purpose of life itself. And I find myself once again indebted to life. My gratitude goes to all those who made this possible, the City of Milan and the Duomo, and to all those who accepted the invitation and joined in a planetary embrace, gathering that blessing from Heaven that gives us courage, trust, optimism, in the certainty of our faith."
Accompanied only by the cathedral organist, Emanuele Vianelli, Bocelli sung a carefully chosen selection of pieces, specially arranged for solo voice and organ for the occasion. This included the beloved Ave Maria setting by Bach/Gounod and Amazing Grace, opening completely unaccompanied – an incredibly poignant moment, in the still of a city under continued lockdown, alongside a stirring program of sacred music for one of the holiest days of the year. The recording will be released digitally on audio streaming services within hours.
"I am happy Andrea has accepted our invitation," said the Mayor of Milan, Giuseppe Sala. "This year, Easter will be very different for all of us. The joyous serenity that usually comes with this day, has been greatly troubled by the pandemic we are experiencing. I am sure that the extraordinary voice of Bocelli will be the embrace we are missing these days, a strong, special hug, capable of warming the heart of Milan, Italy and the world."
"Our 'Hallelujah' is an invitation that we placed in the ark forty days ago and that the flood, which has overwhelmed us all, almost made us forget the joy of expressing it on the day of Easter. The voice and word of Andrea Bocelli reminds us that the reason for our hope does not come from us but it is a gift that comes from God. This is what it means to promote, from our Duomo – the home of the people of Milan – and through the voice of Bocelli, the confidence that the Spirit of the Risen Crucifix will help us shape the days granted to us in the Kingdom of the One who wanted a new humanity, united and fraternal," said Monsignor Gianantonio Borgonovo, Archpriest of the Duomo of Milan.
The event was promoted by the City of Milan and the Veneranda Fabbrica del Duomo, produced by Sugar Music and Universal Music Group, thanks to the generous contribution of YouTube. Andrea Bocelli's participation was entirely pro-bono (in collaboration with Almud and Maverick Management).
On Easter Sunday (April 12, 2020), by invitation of the City and of the Duomo cathedral of Milan, Italian global music icon Andrea Bocelli gave a solo performance representing a message of love, healing and hope to Italy and the world.
Download the hymn sheet and sing along here: https://AndreaBocelli.lnk.to/Hymnsheet
Track list:
Panis Angelicus (from "Messe Solennelle" Op. 12, FWV 61) César Franck
Ave Maria, CG 89a (arr. from Johann Sebastian Bach, "Prelude" no. 1, BWV 846) Charles-François Gounod
Sancta Maria (arr. from "Cavalleria Rusticana", Intermezzo) Pietro Mascagni
Domine Deus (from "Petite Messe Solennelle") Gioachino Antonio Rossini
Amazing Grace John Newton
"On the day in which we celebrate the trust in a life that triumphs, I'm honored and happy to answer 'Sì' to the invitation of the City and the Duomo of Milan. I believe in the strength of praying together; I believe in the Christian Easter, a universal symbol of rebirth that everyone – whether they are believers or not – truly needs right now. Thanks to music, streamed live, bringing together millions of clasped hands everywhere in the world, we will hug this wounded Earth's pulsing heart, this wonderful international forge that is reason for Italian pride. The generous, courageous, proactive Milan and the whole of Italy will be again, and very soon, a winning model, engine of a renaissance that we all hope for. It will be a joy to witness it, in the Duomo, during the Easter celebration which evokes the mystery of birth and rebirth"  said Andrea Bocelli.
Andrea Bocelli, with the Foundation that carries his name, is currently involved in an emergency COVID-19 campaign. The Andrea Bocelli Foundation (ABF) has started a fundraiser to help hospitals purchase all the instrumentation and equipment necessary to protect their medical staff. It is possible to donate through the GoFundMe campaign: https://www.gofundme.com/f/wk67wc-abf…
So now you can stay home and watch this replay of a live stream of this performance exclusively on YouTube!
Production Producers: Francesco Uboldi, Filippo Sugar, Celine Joshua, Kade Speiser Strategy & Ops: Celine Joshua, Kade Speiser, Derek Torng Label names Decca Records (Rebecca Allen, Laura Monks, Sophie Hilton), Sugar Music (Filippo Sugar, Lorena Pizzi, Alessia Porcari). Management: Maverick (Francesco Pasquero, Scott Rodger) and Almud (Veronica Berti) Director: Chris Myhre Photography: Luca Rossetti Location Duomo di Milano Sound Audio Producer: Pierpaolo Guerrini Sound audio engineer: Andrea Taglia Creative director: Stefano Scozzese
With thanks to: Giuseppe Sala: Mayor of Milan, Fedele Confaloniere: President of the Veneranda Fabbrica Del Duomo, Monisgnore Borgonovo: Archpriest of the Veneranda Fabbrica Del Duomo, Maverick, Almud.
Follow Andrea Bocelli: Facebook – https://www.facebook.com/andreabocelli/ Instagram – https://www.instagram.com/andreabocel… Twitter – https://twitter.com/AndreaBocelli/ YouTube – https://www.youtube.com/andreabocelli https://www.andreabocelli.com/ #AndreaBocelli #MusicForHope #StayHome #WithMe
Stay tuned for live daily round-the-clock news coverage from our news team in Los Angeles, Hollywood, New York, Beverly Hills, and overseas from Entertainment & Sports Today TV, and Entertainment Today, and for the complete story go to: entertainmentandsportstoday.com, on Facebook & Instagram: @entertainmentandsportstoday, and Youtube.com/entertainmenttodaytv
For tickets to future events, and Sponsorships and get advertising rates and info, E-Mail : info@entertainmentandsportstoday.com – and for more info about us go to: www.entertainmentandsportstoday.com & thanks for watching !
For more information, and if you like to buy any of these great products that you saw on our TV show, E-Mail us direct: info@entertainmentandsportstoday.com so that one of our staff can connect you with the right people. Above is our video news story, that is part of the follow up to our daily news stories on the Coronavirus.
For more news stories and updates about the Coronavirus : go to EntertainmentandSportsToday.com  and go to the top of the home page and click on the "HEALTH & BEAUTY" section.  Additional updates can be found by clicking the "Business & Technologies" , and "Entertainment" sections, or just click "Home". For stories that may uplift your spirits during these trying times go to the "Music" section of our website.
If you may have any questions- you can email us at info@entertainmentandsportstoday.com- so we can find you the answers from the doctors and health experts, that have written stories for us, and from the health agencies that have provided information and daily updates for us. & Thanks for watching, and be healthy and safe!