6th Annual Charmaine Blake Red Carpet Oscar Viewing Dinner Party, and After-Party in Beverly Hills
(The Will Smith Slaps Chris Rock News Wrap Up Story is below this Story)
This was a very exclusive and elegant black-tie invitation only red-carpet gala, with an elegant three-course gourmet dinner and dessert- that was prepared and served by an award-winning master gourmet Chef who is considered "the best in Las Vegas", cocktails, imported wine, 2 movie screens to watch the Oscar's, an amazing giftbag along with an NFT giveaway from crypto-giants, the HUSL, and an after-party with live on-stage musical entertainment.
This was 1 of only 3 live and in person Oscar Viewing Dinner Parties on Oscar night, since due to COVID and CDC regulations many other Oscar events were only virtual, or had been cancelled, so we were very happy to be at this great live Oscar night event!
This event was held in the luxurious ballroom of Beverly Hill's restaurant "Spice Affair"; which was the prestige of elegance and flair. The event was decked out in such élan that the attendees felt as if they are at the Academy Awards.
The red carpet, silent and live viewing auction was absolutely spectacular! The auction was centered around a gift basket that was created for the late Chadwick Boseman, just 2 weeks before he passed away. Other auctioned items include a piece by Pablo Picasso, a Norman Rockwell painting, and a Magic Johnson portrait.
This star-studded event was attended by past and present Oscar nominees who have both graced the silver screen and enhanced artistic excellence of the film history with their presence, supremely talented television stars, along with many Hollywood socialites, and top, elite members of the media coming together to celebrate the Academy Awards.
The show's Producers were happy to have at this event: Jason Derulo (Judge on "So You Think You Can Dance", Singer-Songwriter & Humanitarian), Natalie Burn (Ukrainian-American Actress, Black Adam), Anthony Anderson (Blackish), Donnell Rawlings (Chappelle's Show), Layla Crawford (King Richard), Barton Fitzpatrick (Power Book IV: Force), Wayne Brady (Let's Make a Deal), Daniele Lawson (King Richard), Gus Edwards (NFL Running Back for the Baltimore Ravens), Terrence Howard (Triumph), Mario Van Peebles (Director), Eric Benét (Singer-Songwriter & Star of Legend), Simeon Othello Daise (All American), Esai Morales (Mission Impossible), Kate Linder (The Young & the Restless), Jessica Wang (5.2 Million TikTok /1.7 Million IG Influencer), Cheryl Boone Isaacs.
This event Honored Humanitarian Jason Derulo, who founded the 'Just for You Foundation' in honor of his beloved grandmother to promote education, providing shelter to orphans and families, feeding the homeless and promoting health in the United States and globally.
On this video news show segment– Entertainment Today's TV Show Host: Margie Rey interviewed actor Simeon Othello Daise (starring on All American and other shows), the Producer of this wonderful event: Charmaine Blake, and Singer-Songwriter & Star of Legend: Eric Benét, who was nominated for 4 Grammy Awards for his R&B, and neo soul singing, and used to be married to Halle Berry! Our TV Show Host: Margie Rey was very lucky to have Eric Benét sing to her direct into our TV cameras!
Entertainment Today's Producer: Steve Taylor spoke to actor: Mario Van Peebles, whose father Melvin was honored during this year's Academy Awards Broadcast.  Steve had interviewed Mario before at the 1995 VSDA Convention in Dallas, Texas- about 27 years ago, and Steve started to quote Mario from that interview from way back then when he told Steve:  "Early to Bed, Early to Rise, makes a man healthy, wealthy and wise" and then now- at this Oscar Event 27 years later Mario finished that quote for Steve and said: "And it Pays to Advertise!" , which makes that Benjamin Franklin Quote: "Early to Bed, Early to Rise, makes a man healthy, wealthy and wise, And it Pays to Advertise!"  So, Steve & Mario both have a great memory!
The after-party had some great singers with beautiful voices, who performed live up on the stage, such as a great Jennifer Lopez tribute artist, that went on to perform at a party at The Grammys Awards in Las Vegas: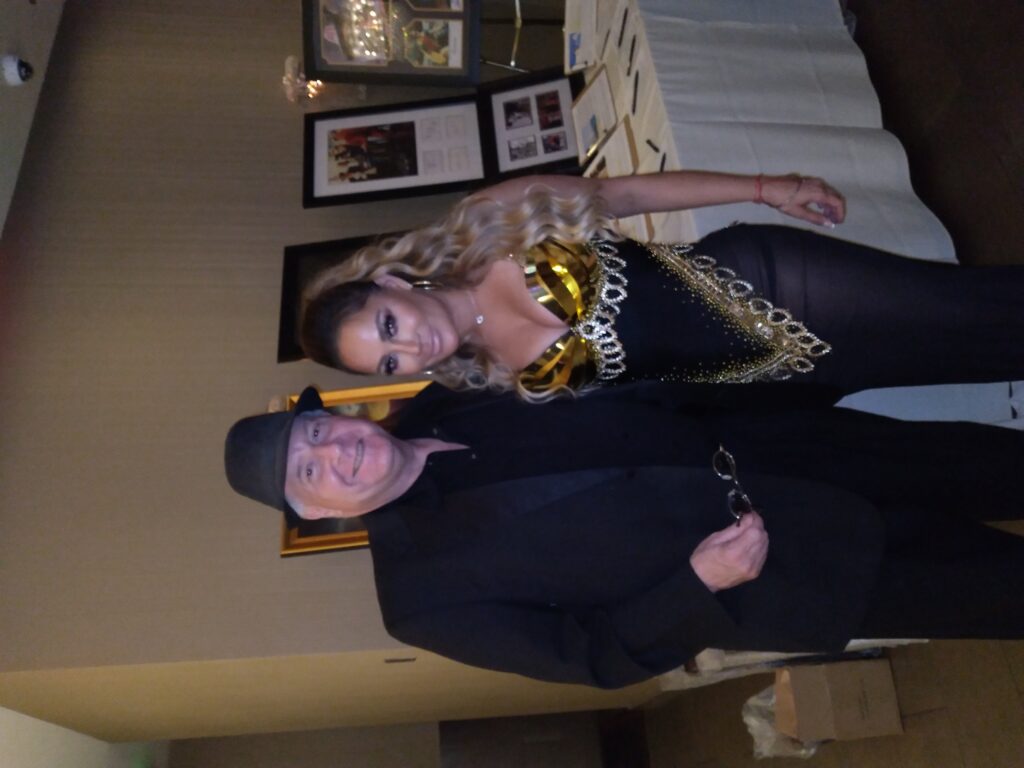 This was a Benefit for the Faber Ryan Youth Foundation. Which Dr. Jay Faber is the Founder of and provides mentoring programs and experiences to empower young people with the skills and resilience to succeed in the entertainment industry and life. "Our mission is grounded in our commitment to impact the lives of youth. Regardless of race, gender, socioeconomic status, faith or politics. The goal will always be the same-to help them become independent, resilient, mentally tough critical thinkers. Through carefully curated mentorships, programs, and experience. With a focus on the entertainment industry. The Faber Ryan Youth Foundation partners with well-established, reputable non-profits in the greater Los Angeles area, to give urban youth support and guidance needed to succeed in their chosen careers and in life." – Dr. Faber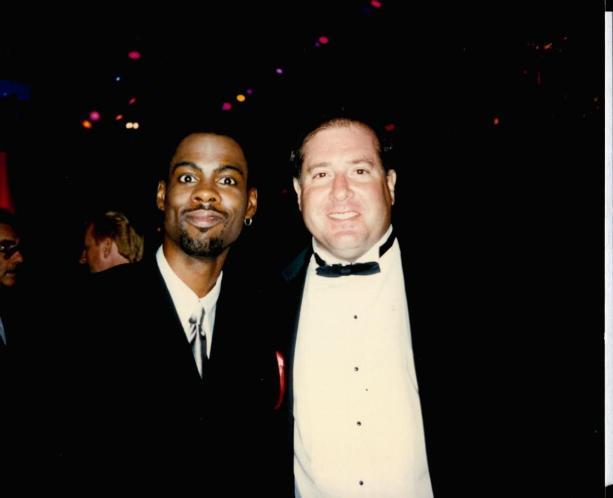 Will Smith Slaps Chris Rock in the face and changes Oscar History forever!
Legendary Actor/Rapper Will Smith (age 53) slapped in the face Comedian and the Oscar presenter: Chris Rock at the 94th Academy Awards on March 27, 2022, which has forever changed Oscar history, and now has deep after-affects in world of Comedy, live on-stage performances by comedians, and the entire Entertainment World! Above photo of Entertainment Today's TV Producer: Steve Taylor and Chris Rock at a past Oscar Awards, and below with Will Smith in his army pilot costume from the movie, at the World Premiere of the big 1996 blockbuster movie: Independence Day: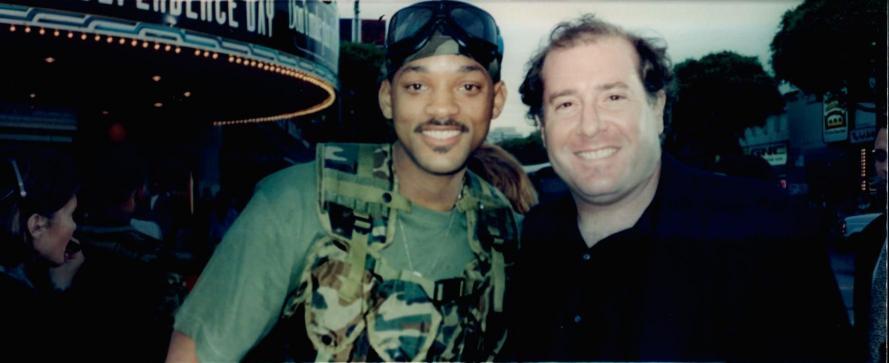 Some Comedians spoke out to protect their acts and jokes, and themselves from further attacks from audience members, and being "Cancelled" by people that may take offense at some joke that were only meant in good humor, laughs, and for entertainment.
Smith walked onstage and slapped comedian Chris Rock across the face during Rock's presentation for Best Documentary Feature. The slap was in response to Rock making a joke about the shaved head of Smith's wife, Jada Pinkett Smith, who began shaving her head in 2021 due to alopecia areata. After returning to his seat, Smith shouted profane interjections, including the F Bomb at Rock. Rock briefly commented on the incident, but completed his presentation without further interruption, but this totally stunned and confused the audience, some were in silence, and some at first gave support to Will Smith for standing up for his wife's honor, but then during the next day's many actors and comedians came out in favor of Rock, and condemned violence of any sort, especially live on stage in front of a world-wide Oscar audience!
The joke was actually very light, as Rock began an ad-libbed joke about Pinkett Smith's shaved head, making a comparison to Demi Moore's dramatic look in the 1997 film G.I. Jane. Rock said: "Jada, I love you. G.I. Jane 2, can't wait to see it, alright?" Below is a photo of Entertainment Today's TV Producer: Steve Taylor with G.I. Jane herself: Actress Demi Moore, and with iconic actor Tom Cruise on the right from the Golden Globe Awards: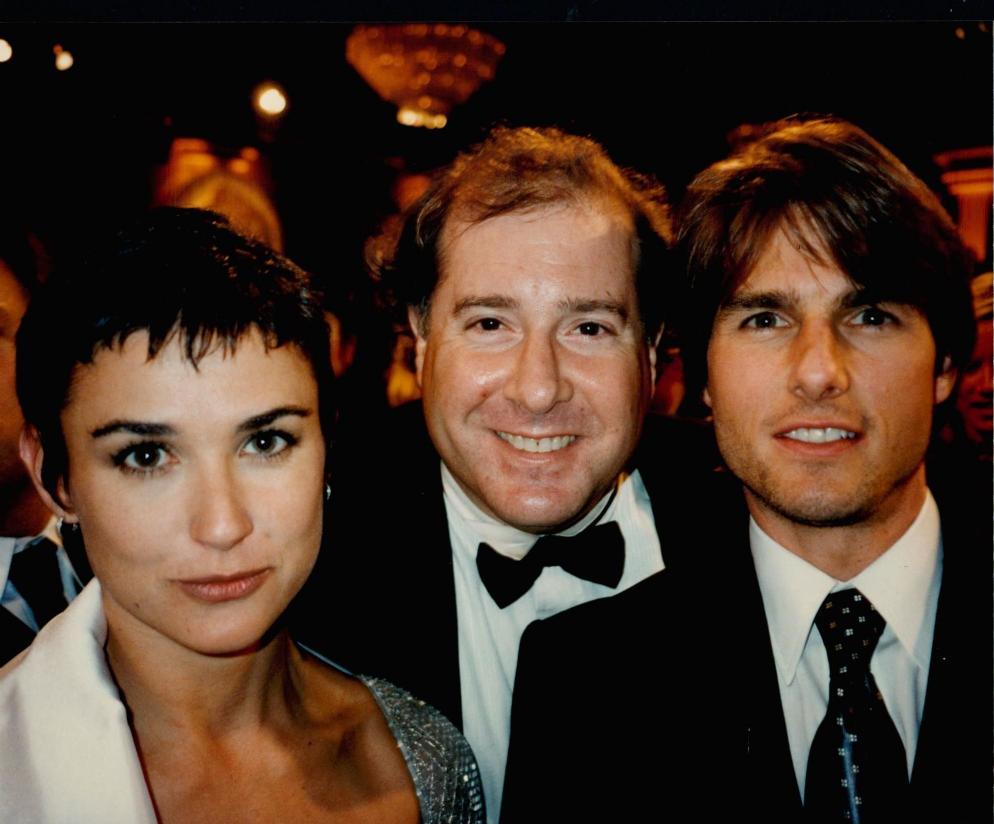 The Academy said Smith had been asked to leave the ceremony but refused, and then disagreement ensued between members of the academy's leadership and ceremony producer Will Packer on whether Smith should be allowed to stay, which led to no action being taken. Packer said he opposed suggestions to remove Smith from the theater because he did not believe that Rock would want it, and Rock was not pressing charges. LAPD officers met with Packer, who later recalled that they were prepared to arrest Smith on charges of battery. Rock repeatedly declined to press charges.
Near 1:00 a.m., Smith was filmed, happily dancing at the Vanity Fair after-party to his hit song "Gettin' Jiggy wit It". Writing in The New Yorker, partygoer Michael Schulman observed: "In a Hollywood ending that seemed too dark and surreal to be true, [Smith] appeared to be having the time of his life."
About 40 minutes after the slap Smith won the Best Actor Oscar for his work in "King Richard," that evening and apologized to the Academy of Motion Picture Arts and Sciences and other nominees, but not to Rock, in his acceptance speech. The next day, he issued an apology to Rock and the Academy through social media. Smith resigned his Academy membership on April 1, facing a potential suspension or expulsion, and was banned from attending all Academy events, and awards appearances under the Oscars title for a 10-year period, effective April 8.
Three days after the incident, Rock briefly mentioned the subject for the first time at his comedy show, saying that he was still processing it, but promised to talk about it in the future. He said that Smith had not contacted him personally, nor had they spoken since the ceremony. To this day Rock is still processing it, and Smith has not met with Rock in person to apologize, or at least try and work things out.
An opinion poll from YouGov conducted the day after the ceremony found that 61% of Americans said that Smith's actions were unacceptable and 22% said they were acceptable. Reactions from celebrity attendees at the Academy Awards varied. In general, there was strong condemnation of Smith's violence and support for Rock, including the ceremony's co-hosts Wanda Sykes and Amy Schumer, and Kareem Abdul-Jabbar, Pedro Almodóvar, Judd Apatow, Jim Carrey, Steve Coogan, Ellen DeGeneres, Thomas Haden Church, Kevin Costner, Mia Farrow, Kathy Griffin, Mark Hamill, Seth MacFarlane, Zoë Kravitz, John Leguizamo, Jason Manford, Rosie O'Donnell, Rob Reiner, Paul Rodriguez, Howard Stern, and Rebel Wilson. Celebrities such as Jeremy Clarkson, Nicki Minaj, Tiffany Haddish, Janet Hubert, Leslie Odom Jr., Jon Voight, and Denzel Washington had a more sympathetic view of Smith's actions.
Some comedians, including George Wallace and Kathy Griffin, spoke out about how the incident has worried them about the possibility of more confrontations, and that they may be more careful in the future about the topics of jokes. Comedic actor Jim Carrey opined that Smith should have been arrested, and that he would have sued Smith for US $200 million had he been in Rock's position, saying "that video is going to be there forever. It's going to be ubiquitous. That insult is going to last a very long time." He also criticized the moral integrity of the Hollywood film industry for giving Smith a standing ovation after receiving his award.
Comedic actor Cedric the Entertainer said at an Oscars after-party that if he was assaulted for joking about someone's wife during a stand-up act, he would defend himself. Comedian James Corden praised Rock for "keeping the show moving" and criticized Smith for not taking a joke; he spoofed the incident on his late-night talk show by singing a parody of "We Don't Talk About Bruno" about Pinkett Smith. Amy Schumer claimed she was traumatized by the incident and criticized Smith while referring to him as "Ali". Schumer also criticized the control the AMPAS had over the ceremony, contrasting how she was restricted from telling a joke about Halyna Hutchins' death in the Rust shooting incident against Smith being able to "just come up and [slap] someone".
The Laugh Factory expressed its support of the First Amendment for comedians in the wake of the incident, and comedy clubs around the United States, including Stand Up NY and Carolines on Broadway, announced that they would be increasing security measures. The president of the Laugh Factory said he has noticed an increase of aggression among patrons since the businesses reopened after the COVID-19 pandemic shutdowns. The owner of the Comedy Cellar, however, expressed doubts that the attack would inspire copycats.
The LAPD reported that Rock did not wish to file a police report, and former federal prosecutor Neama Rahmani explained that the idea of "pressing charges" is a legal misconception, and that the choice was ultimately up to the office of Los Angeles City Attorney Mike Feuer. Criminal defense lawyer Alison Triessl echoed these sentiments, saying: "I would [be] surprised if the city attorney does not seriously consider [charges] because it was so public… Are they sending the wrong message if they don't prosecute him? […] It sends a message that you can commit a crime and you won't be punished. This was a very wrong message." However, former Los Angeles County prosecutor Alan Jackson believed that charges would not be pursued so long as Rock did not participate.
The latest news comes from Chris Rock's own Mom: Rose Rock who said: "When he slapped Chris, he slapped all of us. He really slapped me," she said. "Because when you hurt my child, you hurt me."  . . . . "You reacted to your wife giving you the side-eye, and you went and made her day," said Rose Rock, addressing the Smiths, and then last night on Tuesday May 3rd: Comedian Dave Chappelle (48) was attacked on stage by a person carrying Fake Gun! Chappelle performed at the "Netflix Is a Joke": The Festival at the Hollywood Bowl where the attack took place. According to NBC Los Angeles, the Los Angeles Police Department confirmed early Wednesday a person attacked Chappelle on stage during a comedy set and carried a fake gun that discharged a blade instead of bullets. Chappelle was tackled before the aggressor was taken out of the venue on a stretcher. It was not clear however if the device was used in the attack.
The attack took place as the comedian was closing the show and thanking earlier performers, including Chris Rock, Leslie Jones and Jon Stewart. Hollywood actor Jamie Foxx went on stage after the attack looking "absolutely shocked", and musicians Mos Def and Talib Kweli performed as vehicles from the LAPD arrived behind the stage. According to the ABC journalist Stephanie Wash, Rock came on stage with Chappelle. "Chris Rock, who performed earlier, came on stage with him & joked: 'Was that Will Smith?'" she posted on Twitter.
This incident raises further questions over comedian safety after Will Smith slapped Chris Rock at the Oscars and raises more concerns of copycat acts of violence against comedians, who may tell a joke that someone in the audience does not like, and that all this may be due to the fact that the Academy did NOT take immediate action against Will Smith, right after he slapped Chris Rock in the face, right in front of the Oscar's worldwide Television audience! The slap prompted some comedians to question whether it was safe to perform publicly.
 We hope that the Smith's and Rock's can have a sit down and write everything out.