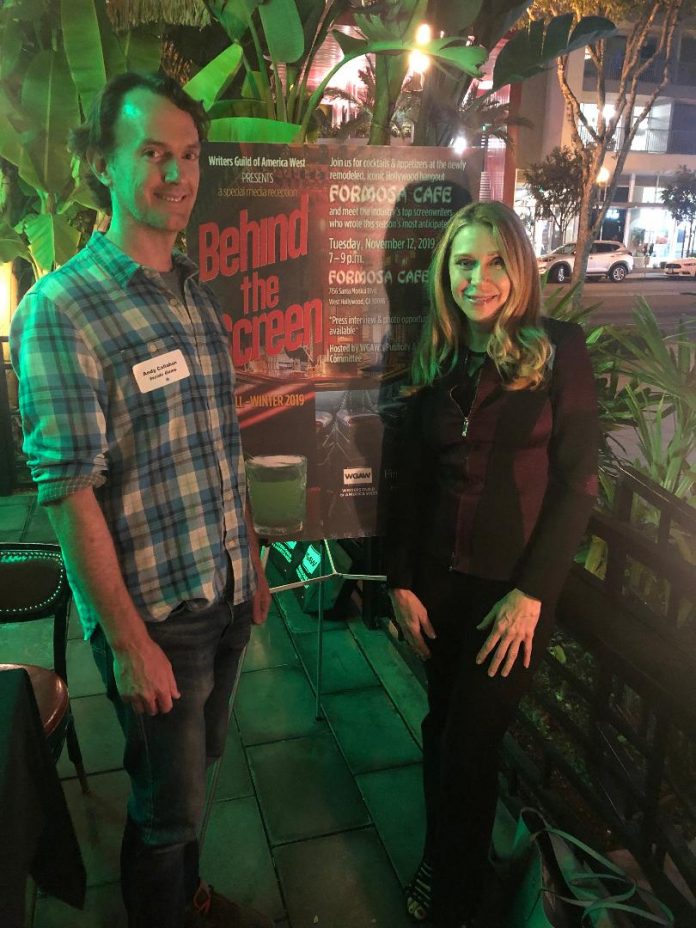 Writers Guild of America West had a special reception called "Behind the Screen-Fall-Winter 2019" at the Formosa Cafe.
At this iconic Hollywood Hangout I met with the industry's top screenwriters who wrote this season's most anticipated films.
I had a great conversation with Andy Callahan (see him with our reporter: Jacqueline Murphy in our featured photo) who wrote "Inside Game" his first feature film to be produced. It's about a NBA scandal where three guys were fixing the games to win big bets. The NBA referee would give the Bookie- "Baba" and his partner in crime "Tommy" the "score" before the game so they could get the bets placed to win big.
I asked Andy how he started writing "Inside Game". He said he'd grown up in the Philly suburbs playing basketball. In 2011 he got a call from a man he'd met eight years earlier at his wife's North Penn High School Reunion. Paul Martino was the cousin to Tommy Martino one of trio involved in this scam. Paul remembered Andy was a screenwriter but had no idea Andy grew up playing basketball in the area where this betting scandal occurred.
As Andy told me, Paul asked him if he knew anyone that'd write the script. Callahan said: "Yes me, I'm the best one to write this because I know this world."
Andy graduated from the prestigious Warner Bros TV Writers Workshop in 2014 and has written for CBS– Person of Interest, Fox– Lethal Weapon and NBC– Taken. Andy's currently writing an inspirational drama called "Going Pro". Watch out for this talented writer! 
Andy's story of how he had such a "personal" connection to "Inside Game" made me want to go see the film, plus corruption, scams, underworld and the FBI- why not?
I went to a SAG screening of "Inside Game" and afterwards spoke with the director Randall Batinkoff & Lead Actor Will Sasso (Photo below) who played "James 'Baba' Battista". Eric Mabius plays the NBA referee- "Tim Donaghy" and Scott Wolf is "Tommy Martins". All give great performances! The dynamics between this trio was superb, each character was so different and complimented the other.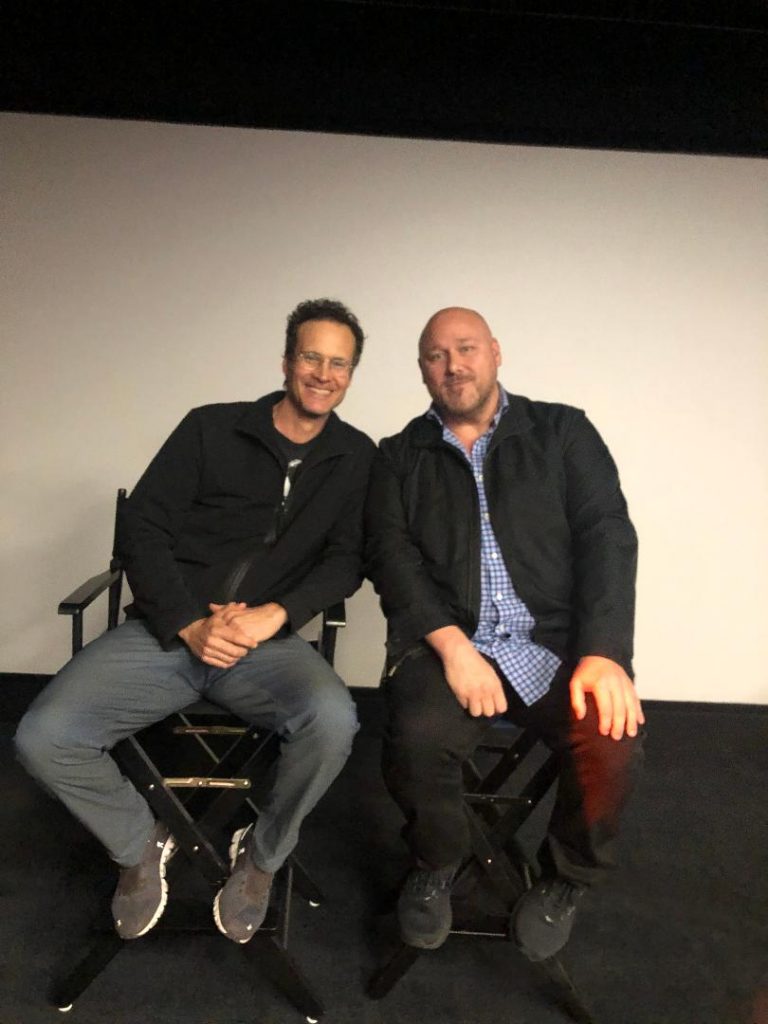 The film was engaging and vividly brought you into world of basketball. The characters felt so visceral and real, you were with them whether they were good or bad. But more than that, the set up, dialogue and the trio of characters who were the center of this NBA scheme, was compelling. Will Sasso's performance as the bookie, was off the charts as he juggled six computers edging up bets and placing money in off shore banks accounts while taking drugs. When Sasso's character falls back on the floor from a heart attack, his acting was so real you were in shock. It's a performance that would be deserving of a shot at a SAG nomination!
Randall Batinkoff, the director talked about how he worked out the characters journey and plotted out scenes. Randall is a seasoned and talented actor for more than three decades. Using his knowledge of acting in his directing he went deeply into different facets of each character, which made the performances incredibly rich and the film so real and believable. 
C
asting director Lisa Beach was a consultant for the casting on "Inside Game" and she was at the SAG Screening. She said she'd cast director Randall Batinkoff in films as a teenager when he started out and recommended Will Sasso because she knew his work.
Go see this gem of a movie! Bravo to you all.
Another amazing writer/director I spoke with at the WGAW event was Kasi Lemmons who directed and wrote the much talked about movie "Harriet".  It's about Harriet Tubman, the slave who escaped and went on to free hundreds of other slaves changing the course of history.
I was fascinated with the way Kasi came to "Harriet". Kasi told me she was in a meeting about another script she'd written but was asked if she'd be interested in being the director and screenwriter for "Harriet".  
She told me: "I stopped short and my inner voice said: THIS IS BIG" right then and there I knew I had to do it".
Kasi had directed four other films, including winning a Independent Spirit Award for "Eve's Bayou" starring Samuel Jackson and winning an Image Award for Best Director for "Talk To Me" starring Don Cheadle & Martin Sheen. 
Kasi said in particular-projects about the African-American experience and women interest her. She also is an Associate Arts Professor at New York University's Tisch School of the Arts and said she feels it's important to give back and mentor.  
I spoke with Erich Hoeber who with his brother Jon Hoeber wrote the highly anticipated action comedy "My Spy". It follows a CIA agent who must watch over a young girl after he is assigned to protect her family. Sophie,the 9 year old girl catches the CIA agent spying on her family and makes a deal not to blow his cover IF he teaches her how to be a spy. Erich spoke about how writing is work, not always a joy. He and his brother are a busy and in demand team known for "The Meg", "Red" and "Battleship".
Larry Karaszewski was also at the reception and I've been wanting to see his newest film "Dolemite is My Name".  It stars Eddie Murphy portraying real-life legend Rudy Ray Moore, a comedy and rap pioneer who proved naysayers wrong with his hilarious, kung-fu fighting alter ego "Dolemite". You might recall Larry wrote "The People vs Larry Flynt" and more currently "American Crime Story-The Assination of Gianni Versace". 
On the way out of the reception I had a quick talk with writer Justin Rhodes-"Terminator:Dark Fate". He said "Terminator" was a disappointment at the box office and 
could lose 100 million. Not always easy being a writer, especially in Hollywood where the box office counts. But I hope this talented writer will find another amazing project soon.
It was a fun, informative, and stimulating evening with the industry's top screenwriters in the house. Thank you WGAW for a fantastic evening!