On the very first day of this new year: 2021- right after New Years Day: broadcast on  KTNV ABC TV — At 101 years old, and 1 of the last U.S. World War II Veterans: Sidney Walton who has been on a nationwide tour, arrived in Las Vegas to be the best man at his son Paul's wedding. 
In this video news segment is a 1 minute video of the ABC TV Broadcast by KTNV on the Wedding, that was broadcast live the same day! You can see all of the guests, our TV news crew and friends, part on the interview with Paul, and Elvis who performed a few songs for everyone.
The 101-Year-Old WWII Vet Hero: Sidney Walton has been honored by 4 U.S. Presidents in the Oval Office of the White House: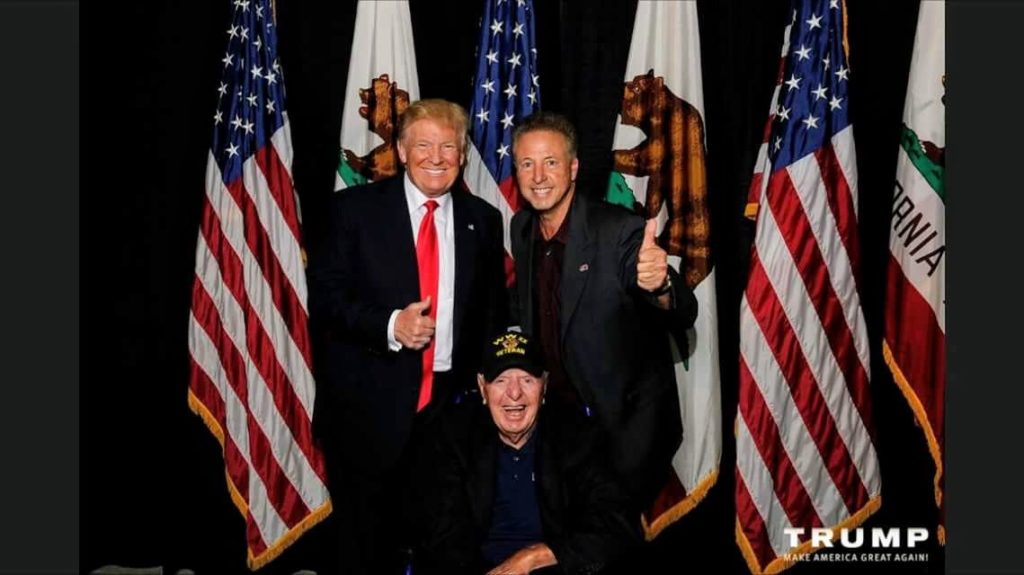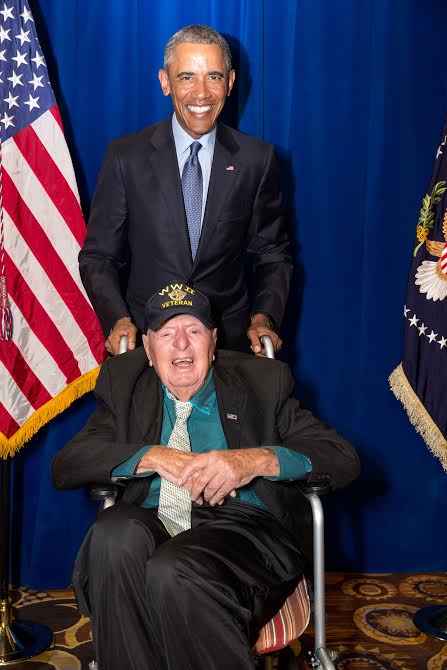 and 36 Governors in 36 State Capitols, and by our U.S. Allied World leaders in France for the 75th anniversary of the D-Day invasion of Europe in Normandy, France. Sidney also has been honored recently on National TV on Christmas Day as he was given The "Patriot Award" for "Unsung Hero" by American country music singer-songwriter superstar John Rich, and at the Super bowl, World Series, NBA Championship by the LA Lakers, and at many other major events throughout the USA and the world! Sidney Walton has become a celebrity who is loved by everyone that has had the opportunity to meet him!
So Sidney took a pause from his National No Regrets Tour (visiting all 50 states and meeting all 50 governors  in a campaign to raise awareness of the rapidly shrinking number of WWII vets) to serve as Best Man at his son Paul Walton's wedding to fiancé Amy Cowden at the world famous "A Little White Wedding Chapel" on the Las Vegas Strip: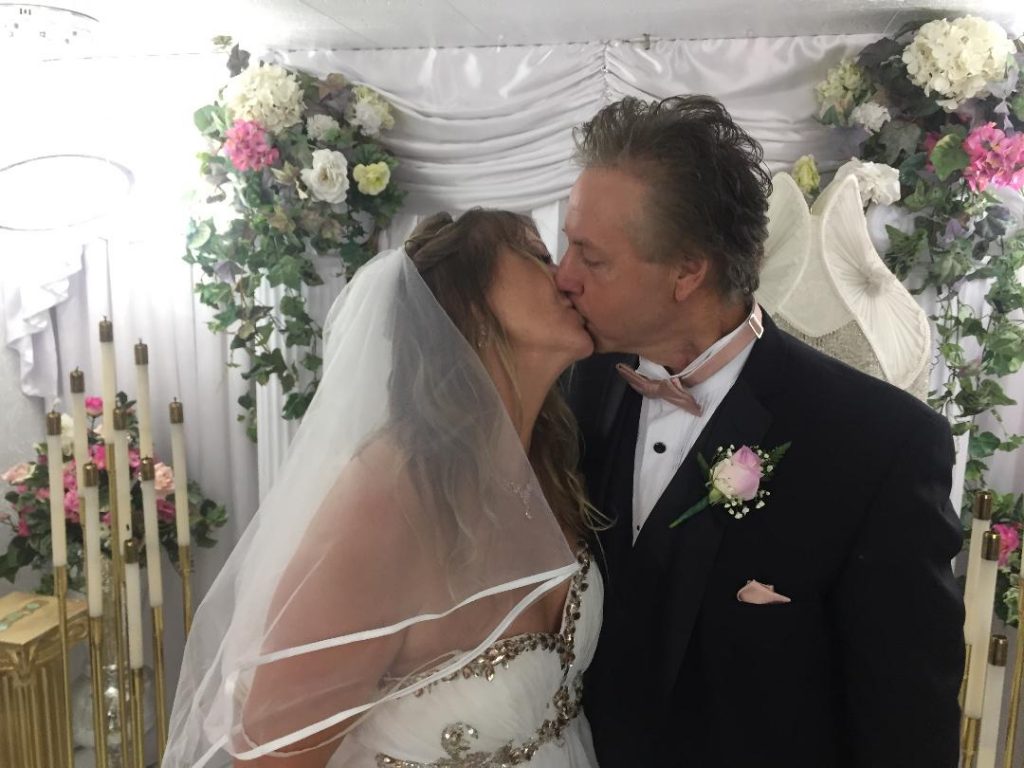 "I've been waiting many years for this moment!" said Sidney.  This will be the first marriage for Paul, age 65, who is Sidney's constant travel companion.  "I finally found the love of my life," said Paul, "and I found her while traveling with my dad" . . .  "I gotta tell you, this tour that we've been on it feels the best when I'm with my dad and he's front and center." Below Wedding Photo taken at A Little White Wedding Chapel of Paul & Amy, the Best Man: 101-Year-Old WWII Vet: Sidney Walton, and the friend of Paul's for 30 years: Entertainment Today, and Entertainment & Sports Today TV Producer: Steve Taylor: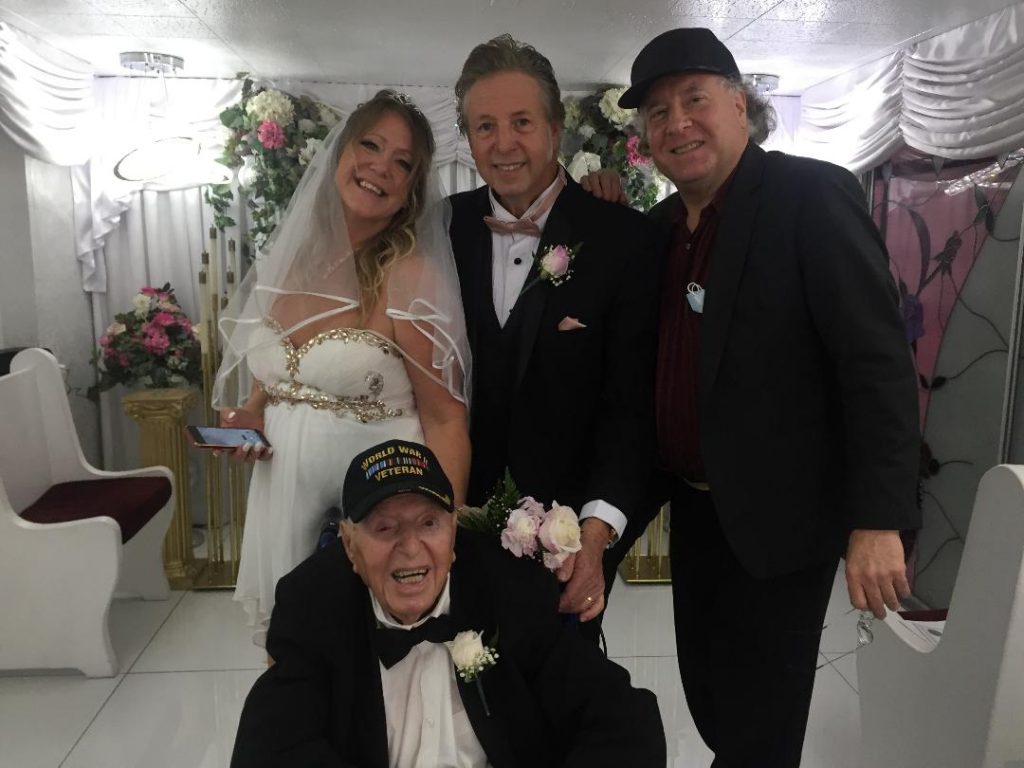 Sidney regretted missing an opportunity to meet some of the last Civil War veterans, so his No Regrets Tour is giving thousands of people a chance to meet a WWII veteran before it's too late, and to honor the sacrifices they made to save this great country.  "I joined the Army to fight Hitler," said Sidney, who left college in New York City at 22 to enlist nine months before Pearl Harbor.
The No Regrets Tour, which began in April 2018, has traveled through 36 states.  Observed his son Paul, "we have found that my father inspires tremendous appreciation among those he meets.  He is a living piece of history, reminding us not to forget the price of our freedoms today."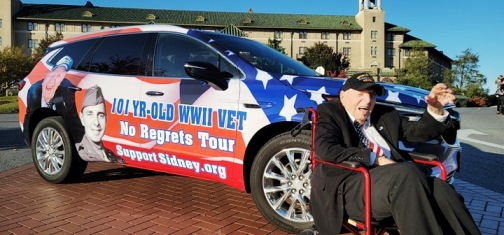 Due to COVID-19, Sidney no longer flies and rents vehicles to visit Governors. He now travels safely in a 2020 Buick Enclave.
To continue Sidney's National Tour and Campaign, Sidney needs your support, so to make a donation please go direct to: 
www.SupportSidney.org
For every Donation that is made, Entertainment & Sports Today and Entertainment Today will match with equal funds in equal dollar value to the cost of Advertising on our 2 shows!
Stay tuned for live daily round-the-clock news coverage from our news team in Los Angeles, Hollywood, New York, Beverly Hills, and overseas from Entertainment & Sports Today TV, and Entertainment Today, and for the complete story go to: entertainmentandsportstoday.com, on Facebook & Instagram: @entertainmentandsportstoday, and Youtube.com/entertainmenttodaytv
For tickets to future events, and Sponsorships and get advertising rates and info, E-Mail : info@entertainmentandsportstoday.com – and for more info about us go to: www.entertainmentandsportstoday.com & thanks for watching !
For more information, and if you like to buy any of these great products that you saw on our TV show, E-Mail us direct: info@entertainmentandsportstoday.com so that one of our staff can connect you with the right people. Above is our video news story, that is part of the follow up to our daily news stories on the Coronavirus.
For more news stories and updates about the Coronavirus : go to EntertainmentandSportsToday.com  and go to the top of the home page and click on the "HEALTH & BEAUTY" section.  Additional updates can be found by clicking the "Business & Technologies" , and "Entertainment" sections, or just click "Home". For stories that may uplift your spirits during these trying times go to the "Music" section of our website.
If you may have any questions- you can email us at info@entertainmentandsportstoday.com- so we can find you the answers from the doctors and health experts, that have written stories for us, and from the health agencies that have provided information and daily updates for us. & Thanks for watching, and be healthy and safe!