Tomorrow morning the 2022 Los Angeles Marathon presented by ASICS, will have the 
37th Running of California's premiere 26.2-mile road race. 
This race is for the 2nd time on the streets of Los Angeles, with the
 'Stadium to the Stars' course that starts at Dodger Stadium and ends in Century City. It is 1 of the top 5 marathons in the United States, and on Sunday will have more than 20,000 runners from all 50 states and 45 countries!
The tradition is that before the big race on Sunday: on the Friday and Saturday before the marathon is to have the 2022 Los Angeles Marathon Health & Fitness Expo at the iconic LA Dodger Stadium, with the latest and best Health, Fitness, and Sports related products, brand-new designs in fitness gear and shoes, dynamic photo opportunities, live entertainment, as well as the latest developments in sports, fitness, and nutrition. They had running shoes, sports apparel, clothing, supplements, sports drinks, energy bars, and many products for pain relief, on display at more than 50 booths. The LA Marathon weekend kicked off with this two-day event that featured interactive exhibits, activities, and the official Los Angeles Marathon Merchandise Store, and is where all runners pick up their race packet.  
On this Show Entertainment & Sports Today's Producer and On Air Broadcast TV Reporter: Steve Taylor interviewed the CEO & Chief Maker of Action Face: Kenny Davis, who told our viewers about his ACTION FACE 3D scan experience allowing runners to create custom action figures of themselves crossing the finish line.
You can now combine your own real face taken from a real photo they take of your face, with personalized, fantasy customization. You can change the color of your hair, eyes, and skin tone, and pick out different hair styles and shapes!
 This is a unique and amazing souvenir gift at a very reasonable price!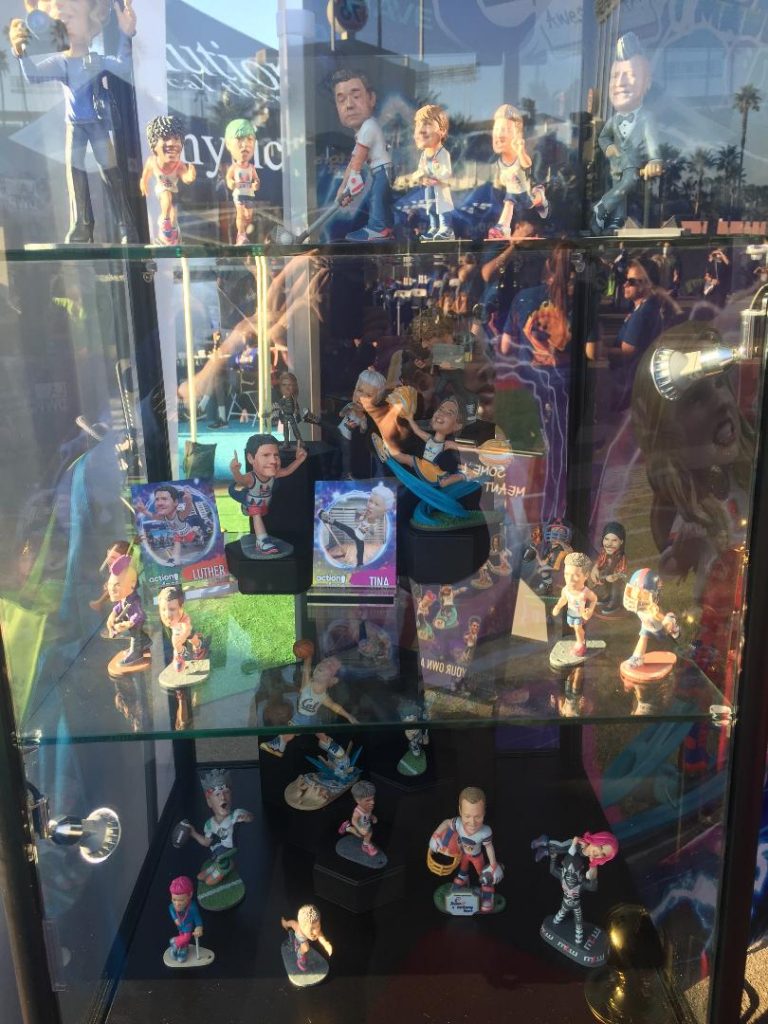 Action Face was so kind as to make me my very own custom 4.5-inch action figure! 
See below photo of my action figure, and above photo from their booth, of a variety of action figures they make. We will do a follow up story on the 2 new action figures that will be sent to us, so that you can see for yourself how realistic these action figures are, and how they are an exact copy of your head and face on a body of your choice!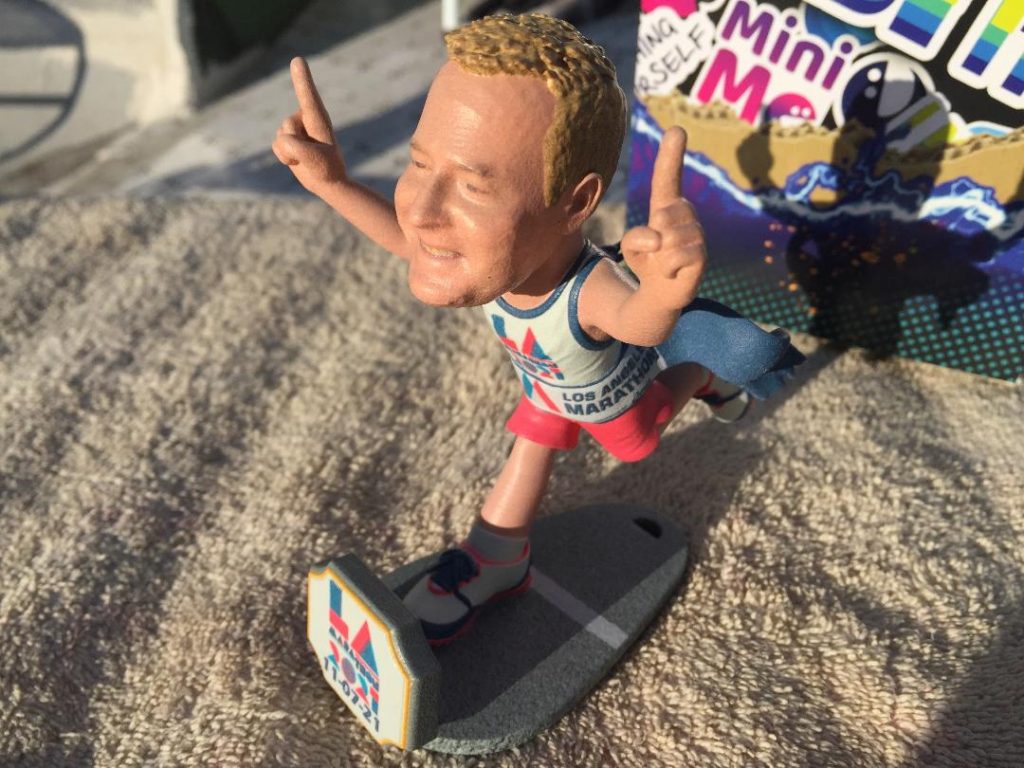 There are a few events in life that stand above all others: your first marathon, your favorite concert, your wedding, and that time you went to the Super Bowl. You may collect ticket stubs and tchotchkes, but these mementos don't express who you are, nor tell a story about you that day, so by having your own Action Face you can now commemorate these moments!
Action Face was formed by 6 former employees of Hasbro and Activision, who used to make customized action figures for CEOs and A-List celebrities when they would visit. It was the only thing special enough for someone who already had everything. Each one cost over $2,000 and they only made about 10 per year. They got fed up that everyone couldn't have their own action figure, so they left to start Action Face!
At the Junk Brands booth, they had a wide variety of unique and good-looking Headbands:  Men's and Women's Headbands, Athletic, Lacrosse, and Running Headbands, Ear Warmer Headbands, Thin Line Series, Sweatbands, Custom Headbands, Small Personal Item Belts ("SPI"), Socks, and Caps. They also have a wide variety of T-Shirts, Tees, Tank Tops, Sweatshirts, and Hoodies. For more info go to:  www.JunkBrands.com  
We wanted to give a very special thanks to: Big 5 Sporting Goods, Koia Smoothie Drinks, and From The Ground Up Snacks- Cauliflower Potato Chips, for their very generous giveaways to everyone that attended this Health & Fitness Expo! 
Another great health product that was at this Expo was the Air Relax System – that is known with the Key Words as a: leg compression massager, sequential compression device, or air compression leg massager.  We have tested out The Air Relax System: Air Compression Leg Massager and can now educate you to the many benefits that this amazing product can bring to you. The Air Relax leg massager is very helpful with pain. There are 4 chambers on each leg wrap that fill, hold, then release pressure. There are 4 pressure levels and several pressure patterns available. The default pattern and low-pressure level should be good for people that want to try out this system for the first time. The higher-pressure levels can really put a lot of heavy-duty pressure on you, if that is what you may need, if you have a very serious health issue that needs to be corrected. The leg wraps are well made and are very easy to slip on. The air pump is quiet. Selecting the modes of operation is fast and easy to do.
THE AIR RELAX is an amazingly effective tool that 96% of Amazon reviewers recommend, and it is FDA 510K Cleared. Air Relax uses the most advanced digitally controlled air pressure system to provide dynamic compression to limbs compromised by poor circulation. Compression devices were once only for the exclusive use of patients with serious muscular and circulatory disorders such as lymphedema, venous insufficiency and P.A.D, and only available by prescription. Today, Recovery pumps and compression sleeves are used by sports teams, universities, physical therapists and professional athletes to treat their injuries and enhance their training. You can achieve outstanding results treating:
Venous insufficiency
Lymphedema
Sport injuries
Poor blood circulation
Other circulatory and peripheral vascular conditions
Rapid recovery
Most athletes are interested in reducing their recovery time following intense exercise or sporting events. Recent scientific studies have shown that lymphatic therapy provides physiological changes that indicate improved muscular recovery. The lymphatic system does not have a pump like the heart does. Air Relax delivers that natural sequential compression and flusher waste, which causes soreness and fatigue in the muscles.
"The Air Relax compression are my new favorite tool. After a 12 or 6 hour MTB race, I slide the sleeves on and let the air compression refresh my legs. A very simple to use machine that gets the job done and anyone can afford." – Robert Sandoval – Bike Sport Radio, Endurance Sport Athlete.
Maximizes the ability to refuel, re-hydrate, relax, and recover
Helps to integrate effective daily recovery into training programs
Provides the competitive edge to reduce muscle fatigue
Boosts your performance and takes you to the next level.
This product is intended for use by medical professionals and patients at home who are under supervision. In treating many conditions, such as: primary Lymphedema, Edema following trauma sport injuries, Postimmobilation edema, Venous insufficiency, Lymphedema, Poor Blood Circulation. If someone has high blood pressure, the person see the doctor to see how much he or she can use the device per day. It is recommended to use not more than 3 times a day for 15-30 minutes. Do not exceed the recommended time! There is no side effects, unless you use it more that it's recommended. Please consult a physician before using this device: 
If you are pregnant
If you feel fatigue, weak
If you have an implant at the site of application
If you have a cardiac pacemaker
If you have any metal implant in your body
Do not use this product if you are experiencing inflammation, an infection, pain of unknown origin, or bleeding (internal or external) at or near the site of application, or if you have a wound at or new the site of application.  Do not use this product if you have any of the following conditions:
Acute pulmonary edema
Acute infections
Osteoporosis
Episodes of pulmonary embolism
Acute thrombophlebitis
DVT (Deep Vein Thrombosis)
Blood Clots
Where increased venous and lymphatic return is undesirable at or in the vicinity of the treatment application because of lesions or tumors.
Bone fractures or dislocation at or in the vicinity of treatment application.
Open wounds or inflammation at the site of application.
The Air Relax is designed for your personal use and is not intended to replace any health professional care.
Key Words: leg compression massager, sequential compression device, or air compression leg massager
The McCourt Foundation's Non-profit Partnership Program enables health-focused charities and individuals to use TMF events for their own fundraising. Since 1985, the Los Angeles Marathon has helped charities raise nearly $60 million for a variety of causes and non-profit organizations.
With an impact reaching from Boston to Los Angeles, The McCourt Foundation (501c3) empowers individuals and communities to build a healthier world through events and educational forums. TMF is committed to enhancing the lives of patients and families affected by neurological diseases (MS, ALS, Alzheimer's, and Parkinson's) and other health challenges. Its world-class portfolio of events includes the Los Angeles Marathon presented by ASICS, LA Big 5k, Rose Bowl Half Marathon & 5K, Santa Monica Classic 5K/10K, Boston Waterfront 5K, Tour de South Shore, the McCourt Gala & Auction, and the Educational Update.