Traditionally the day before the ESPY Awards is the ESPY gift lounge,  so this year it was the Teqball USA's Pre-ESPY Luxury Lounge, Presented by GBK Brand Bar & LA Magazine, where ESPY Nominees & Presenters, Top Athletes, and other A List talent received over $40,000 in gifts, at the LaPeer Hotel in West Hollywood.
On this news segment our TV Show Host: Margie Rey: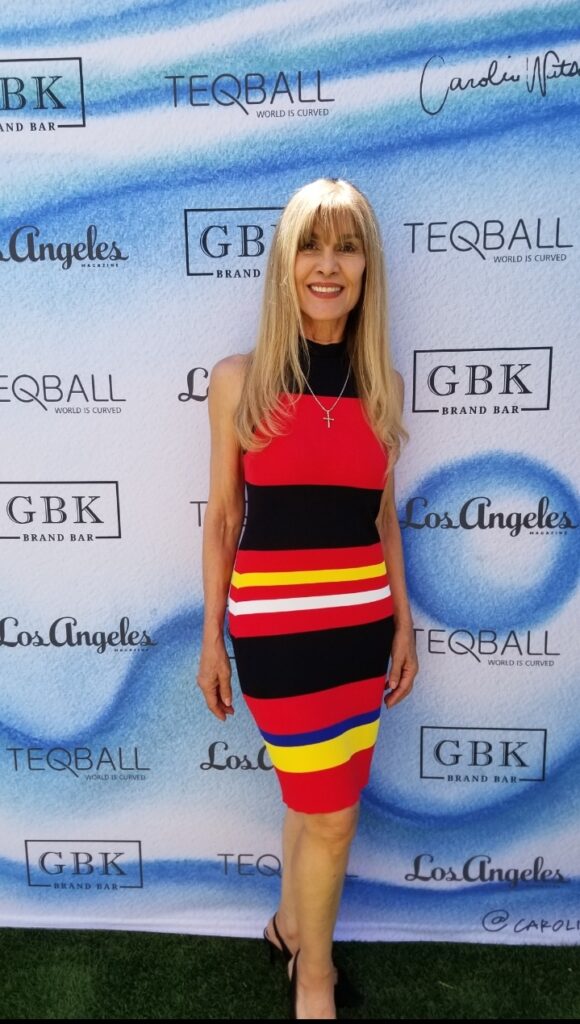 has an interview with a great charitable organization called Best Buddies. In middle schools, high schools, and colleges, Best Buddies operates as a student-run friendship club, which creates buddy pairs between students with and without disabilities. Best Buddies helps to create an inclusive school climate for students and a community culture of acceptance. Best Buddies International is a nonprofit 501(c)(3) organization dedicated to establishing a global volunteer movement that creates opportunities for one-to-one friendships, integrated employment, leadership development, and inclusive living for individuals with intellectual and developmental disabilities (IDD). Best Buddies Fosters one-to-one friendships between middle school students with and without IDD, in which they share interests, experiences, and activities. Students with IDD are often isolated and left out of social activities. Best Buddies International is the world's largest organization dedicated to ending the social, physical and economic isolation of the 200 million people with intellectual and developmental disabilities (IDD).
The benefits of joining Best Buddies are: All full-time are eligible to participate in Best Buddies medical, dental, vision, short term disability, life and AD&D, and voluntary benefits programs. In addition, you may elect coverage for your legal spouse and eligible dependent children. Best Buddies Facebook Fundraisers you create directly support their mission of inclusion. Overall, the donations Best Buddies receives are judiciously spent, with the majority of these funds directly used towards the enrichment of their Friendship, Jobs, Leadership Development, and Living programs! So for more information, and a Best Buddies location near you go to:  https://www.bestbuddies.org/california/  In Los Angeles: 11500 W Olympic Blvd UNIT 430, Los Angeles, CA 90064  Phone: (323) 291-0118
The ESPY Awards honors the top athletes and sports performances of the year.  Teqball, an international sport, founded by Gábor Borsányi, played on a specially curved table (the TEQ™ table), is the fastest growing sport in the US and is attracting a new generation of athletes and amateur enthusiasts (teqers), whose ambition is to develop technical skills, concentration, and stamina.
This year's lounge provided invited guests exciting gifts that included: a five night African safari from Lush African Safari, an ocean front villa from Sailrock Resort, a slick Table from Teqball USA – to be given to the Talent's favorite school or charity, PHASE Activewear- was interviewed by our reporter Sage Stevens.
Savant Technology presented a great new tech device called Cync Smart Indoor Camera: that can monitor your home while you are away, since you can see a live video inside of your home while you are outside, that will give you added security and peace of mind! Below is a photo of our Reporter: Margie Rey and their Rep: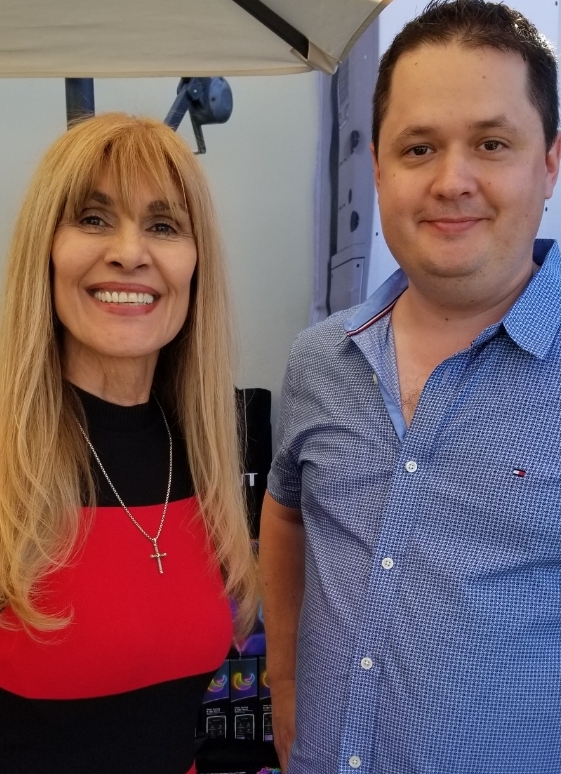 a $5,000 certificate from LA SMILE dentistry, Signal Relief patch for pain relief, and many other fun surprises.
Some of the biggest names in the world of sports visited the lounge, which included David Justice, TJ Ward, Zion Bowens, James Worthy, Odafe Oweh, Dion Dawkins, Norman Nixon, Chuck Aoki, Marcus Williams, Rodney Peete, Akbar Gbajabiamila, Erin Coscarelli, Isaac Keys, Darrell Taylor the Outside Linebacker for the NFL's Seattle Seahawks, with our Reporter Tressa Smiley: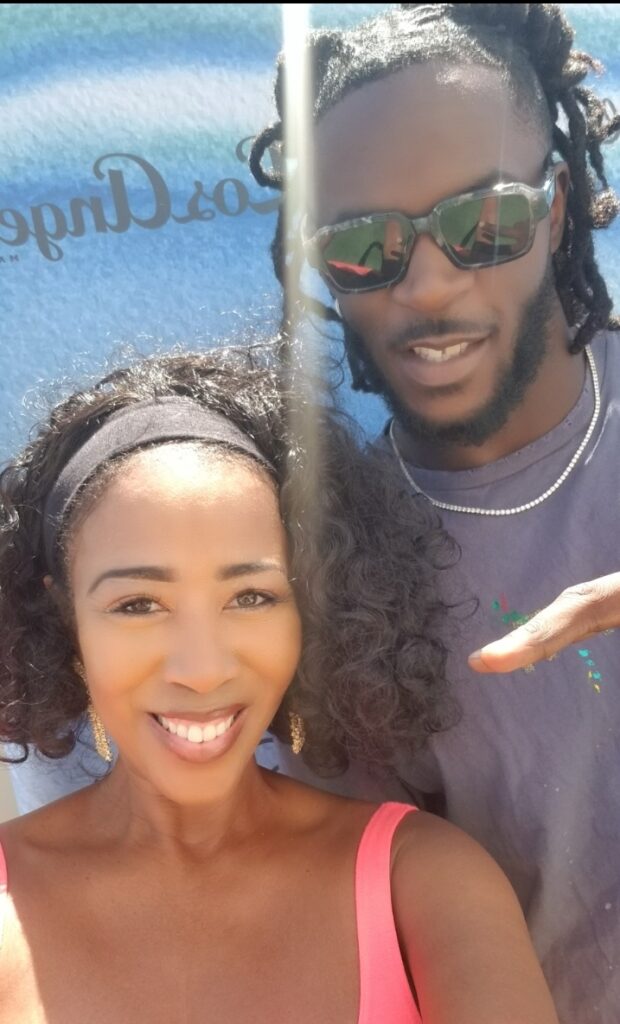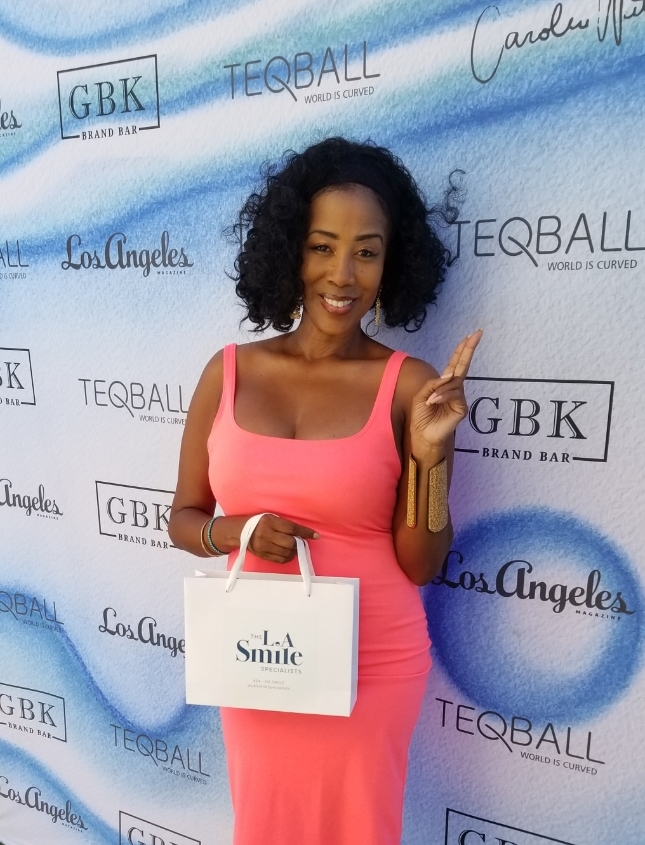 Jerry Jacobs, Theotis Beasley, Brittany Gilman, Walther Thurmond III, NFAPA President, James Washington, and Marcus Williams.  Several ESPY nominees, and past winners, were on hand, such Susannah Scaroni, Cheri Blauwet, Erika McKee, Sara Reinerstein, MJ Acosta, and Mallory Weggemann. The biggest surprise guest was human rights activist Richard Lapchick who received the Stuart Scott ENSPIRE Award at the ESPYS.
Once inside the lounge, the celebrated guests enjoyed delicious spirits from El Cristiano Tequila 1761: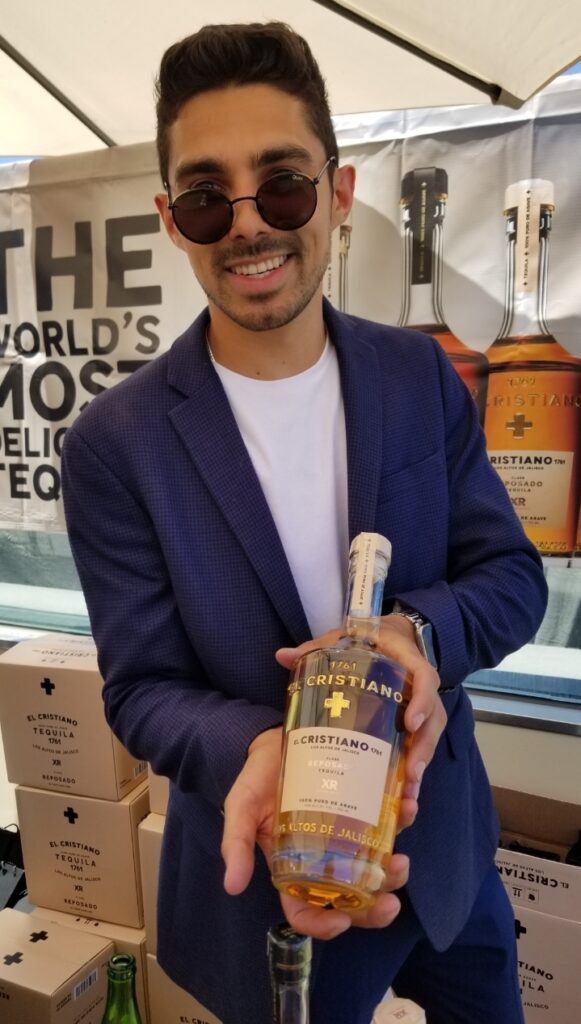 Calabria Family Wines and Quixote Winery and snacked on special sandwiches from Ike's Love & Sandwiches! Ike uses the best quality ingredients to give customers the finest gourmet sandwiches that you can find, with thousands of different varieties of magnificent sandwiches, at locations all over California! Below you can see Ike himself with Margie: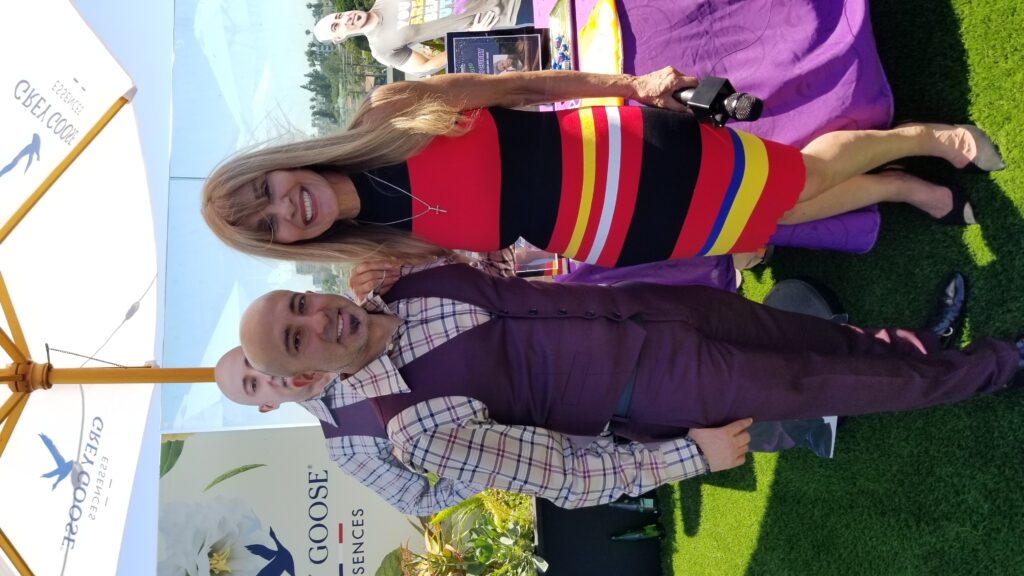 and stayed hydrated with Topo Chico mineral water. Entertainment was provided by ADM Entertainment spinning the hottest tunes.  House of Pickleball was on hand giving lessons and Teqball USA showed off their specially curved table while guests played for their cause of choice. Additional gifts were provided by Kalmado Armosaound Therapy Candles and PNKY, a pinky stabilizer for smart phones. As part of his commitment to giving back, GBK Brand Bar CEO, Gavin Keilly, partnered this event with Best Buddies, Eli A. Wolfe Memorial Fund for Justice in Sport, and The Alexander Graham Bell (AG Bell) Association for the Deaf and Hard of Hearing.  GBK has given over $10 million to over 50 charities since 2002.