Only a few shows left ! Residency Ends May 2018! World-renowned singer, songwriter and performer Elton John gives fans exactly what they're looking for in his Las Vegas show, "The Million Dollar Piano." Playing exclusively at The Colosseum inside Caesars Palace, the show's centerpiece is the namesake piano. This engineering marvel displays more than 68 LED Yamaha video screens. The visuals complement Elton's performances perfectly. It also weighs more than 3,000 pounds—the weight of an average car. While the piano dominates the stage, the surrounding set design is also a beauty, so expect lots of gold and stunning visual effects.
So make sure you get the last few remaining tickets left – for an experience of a lifetime ! & if you have the best seats in the first 3 rows – you can Join Elton up on stage, next to his Million Dollar Piano as he sings: "Saturday Night's Alright For Fighting"  for a real once in a lifetime experience !  Ticket info below.  
Everyone loves to party with Elton John! as in the below photo on top: Lionel Richie (who also has a Residency with Caesars Entertainment in Vegas), and (L-R) Sir Elton John, Miley Cyrus, and Ricky Martin; and in our featured photo (L-R) : Liam Hemsworth, Elton John, and Miley Cyrus, and in the 2nd photo below- from Elton's  Star Studded VIP Oscar Party: Jacqueline, Renee, Steve , and Margie – having the times of their lives !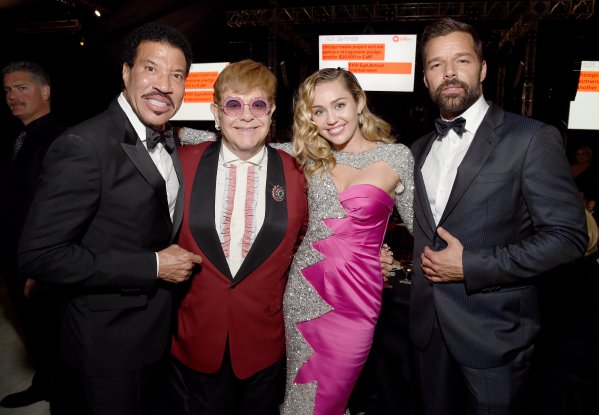 The dazzling superstar's band includes Davey Johnstone on guitar, Matt Bissonette on bass, John Mahon on percussion, Nigel Olsson on drums and Kim Bullard on keyboards, with a special appearance by percussionist Ray Cooper.
Elton John gets audiences on their feet with a set list of the iconic favorites. Beloved songs such as "Rocket Man," "Benny and the Jets," "Tiny Dancer" and "Crocodile Rock" make the night especially memorable.
Throughout the past five decades, Elton built one of the most successful and enduring music careers of all time. He is one of the top-selling solo artists, with 25 platinum and 35 gold albums, 29 consecutive Top 40 hits and more than 250 million records sold worldwide. The five-time Grammy and Grammy Legend award winner has been inducted into the Rock & Roll Hall of Fame and has received both Academy and Tony Awards for his contributions in "The Lion King" and "Aida." Additionally, Elton composed the music for the smash-hit stage production of "Billy Elliot," which was nominated for a record-tying 15 Tony Awards and won 10, including Best Musical. He brings his glitzy flair and signature style to The Colosseum in his second residency there, after "The Red Piano."
 In the Photo Below:  Sir Elton John took to the stage with Miley Cyrus to perform "Tiny Dancer" during the 2018 Grammy awards:
For the complete story, and ticket info go to: entertainmentandsportstoday.com, on Facebook & Instagram: @entertainmentandsportstoday , and Youtube.com/entertainmenttodaytv  #EJAF @ejaforg   http://apps.facebook.com/causes/5321 www.ejaf.org      @MileyCyrus @LiamHemsworth @Ricky_Martin  @LionelRichie  @EltonJohn @ballysvegas @caesarspalace @caesarsentertainment #LasVegas @lasvegas_lv @lasvegas #ballys @harrahsreno @harrahssocal @harrahsresort @harrahsvegas @harrahstahoe @riovegas @phvegas @parisvegas @cromwellvegas @quadvegas  www.caesars.com or call (866) 574-3851 or 1-888-929-7849