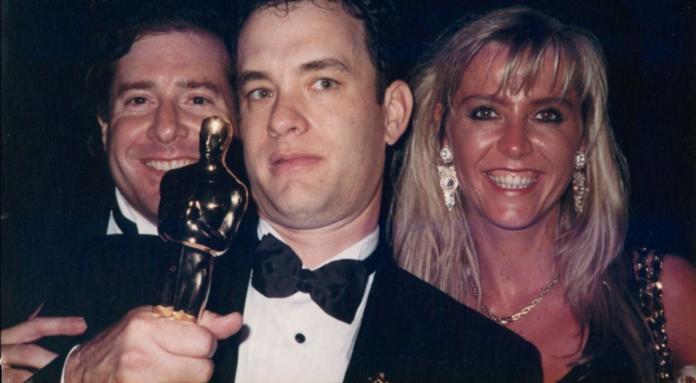 From everyone at Entertainment Today and Entertainment & Sports Today our prayers go out to Tom Hanks and Rita Wilson who are doing very well after testing positive for the Coronavirus, and the married couple remain under quarantine at their home in Australia after being released from a Queensland hospital. They are both 63, and were among the first high profile celebrities to reveal that they had contracted the Coronavirus.
The Forrest Gump BEST ACTOR OSCAR WINNER of 1995 (see our featured photo) had been on Australia's Gold Coast for the pre-production of Baz Luhrmann's untitled Elvis Presley biopic, in which he plays the music icon's longtime manager Colonel Tom Parker. Filming for the movie has been halted following his diagnosis. Hanks is the only person on set believed to have tested positive for the virus, according to a representative from the film in Australia. The Oscar winner shared a picture of his vegemite on toast breakfast and a glass of water, hinting that he's over the worst. He also included a little toy kangaroo and a cute koala bear in the photograph in homage to those who have helped take care of him. He captioned the image, "Thanks to the Helpers. Let's take care of ourselves and each other. Hanx"
The day after first announcing their diagnosis, Hanks posted an update on how he and Wilson were doing:  "Hello folks. @ritawilson and I want to thank everyone here Down Under who are taking such good care of us," he wrote alongside a photo of the couple in a hospital. "We have Covid-19 and are in isolation so we do not spread it to anyone else. There are those for whom it could lead to a very serious illness."  . .  . "We are taking it one-day-at-a-time. There are things we can all do to get through this by following the advice of experts and taking care of ourselves and each other, no?  Remember, despite all the current events, there is no crying in baseball," he continued, referencing his famous line in A League of Their Own.
In a March 11 Instagram post he wrote: "Hello, folks. Rita and I are down here in Australia. We felt a bit tired, like we had colds, and some body aches. Rita had some chills that came and went. Slight fevers too,"  . . . .  "To play things right, as is needed in the world right now, we were tested for the Coronavirus, and were found to be positive."
Hanks recently posted another update on his and Wilson's condition, noting that their symptoms were "much the same" : "Hey folks. Good News: One week after testing Positive, in self-isolation, the symptoms are much the same. No fever but the blahs," Hanks wrote in both Twitter and Instagram posts. "Folding the laundry and doing the dishes leads to a nap on the couch. Bad news: My wife @ritawilson has won 6 straight hands of Gin Rummy and leads by 201 points. But I have learned not to spread my Vegemite so thick. I traveled here with a typewriter (by an amazing coincidence a Corona model Typewriter! – from L C Smith & Corona Typewriter Inc.), one I used to love. We are all in this together. Flatten the curve. Hanx"
Our featured photo was taken at the 1995 Oscars: The 67th Academy Awards on March 27th, 1995 at the Shrine Auditorium in Los Angeles, moments after Tom Hanks won the BEST ACTOR OSCAR for "Forrest Gump" – at The Governors Ball- the only official after-party for the Oscars that was held inside the Shrine Auditorium's Ballroom.  That year "Forrest Gump" was nominated for 13 Oscars, and won 6 Oscars ! Tom also had won the Best Actor Oscar for "Philadelphia" in 1994, a film about another virus- HIV, thus giving Tom "Back to Back" Oscar wins! Below photo (L – R): TV Producer Steve Taylor, Tom Hanks holding up his Oscar, Mierelle Billen of Belgium: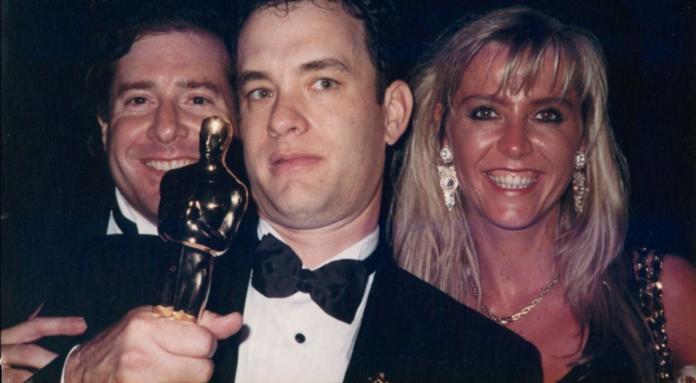 Stay tuned for live daily round-the-clock news coverage from our news team in Los Angeles, Hollywood, New York, Beverly Hills, and overseas from Entertainment & Sports Today TV, and Entertainment Today, and for the complete story go to: entertainmentandsportstoday.com, on Facebook & Instagram: @entertainmentandsportstoday, and Youtube.com/entertainmenttodaytv
For tickets to future events, and Sponsorships and get advertising rates and info, E-Mail : info@entertainmentandsportstoday.com – and for more info about us go to: www.entertainmentandsportstoday.com & thanks for watching !
For more information, and if you like to buy any of these great products that you saw on our TV show, E-Mail us direct: info@entertainmentandsportstoday.com so that one of our staff can connect you with the right people.