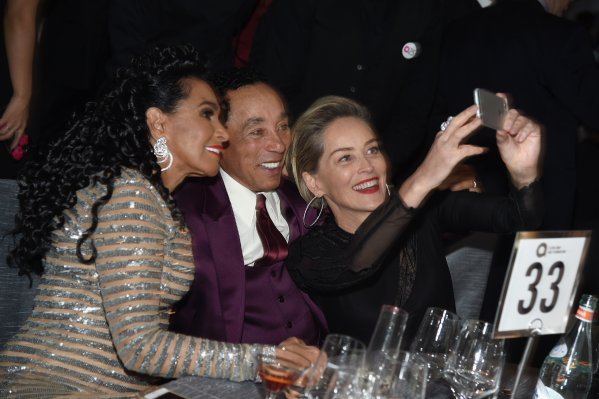 Frances Glandney, singer-songwriter Smokey Robinson, and actor Sharon Stone take a selfie at the 25th Annual Elton John AIDS Foundation's Academy Awards Viewing Party at The City of West Hollywood Park on February 26, 2017 in West Hollywood, California.
It was a star studded night with over 200 stars that attended the Academy Awards Viewing Party for cocktails followed by a gala dinner and viewing of the 89th Academy Awards® telecast.  Many of them arrived before The 5 PM Oscar telecast , and then after The Oscars were over many more stars arrived for The After-Party , that went till 2 AM in the morning !
To mention a few of the stars that were there : Sir Elton John and David Furnish, Adam Lambert, Adriana Lima, Alano Miller, Alessandra Ambrosio, Amy Landecker, Andie Macdowell, Andrew Rannells, Anita Baker, Anna Musky, Ashley Tisdale, Ava DuVernay, Beck & Marissa Ribisi, Beejan Land, Bellamy Young, Bernie Taupin, Beverly Johnson, Big Sean, Bradley Whitford, Bryan Singer, Caitlyn Jenner, Caroline Vreeland, Carrie Brownstein, Cheyenne Jackson, Chris Colfer, Chris Cornell & Vicky Karayiannis, Chris Hardwick, Chrissy Metz, Ciara, Colman Domingo, Colton Haynes, Daniel Paltridge (President, North America at Bulgari), David Alan Grier, David Bisbal, Diana Jenkins, Dorit Kemsley, Eric Esrailian, Eric & Janet McCormack, Freida Pinto, Gabby Douglas, Gaby Hoffmann, Gordon Ramsay, Heidi Klum, Jane Seymour, Jay Duplass, JC Chasez, Jeffrey Tambor, Jhene Aiko, John Demsey (Group President at Estee Lauder), Josephine Skriver, Judith Light, Justin Hartley, Karen Buglisi (Global Brand Presidenat at M∙A∙C), Katharine McPhee, Keesha Sharp, Kiersey Clemons, Kyle MacLachlan & Desiree Gruber, Lady Caroline Grainge, Laverne Cox, Lea Michele, Leona Lewis, Lizzy McGroder, Lottie Moss, Luke Hemsworth, Lydia Hearst, Mark O'Brien, Matthew Morrison, Michelle Dockery, Mike Colter, Mike Medavoy, Parky & Peter Fonda, Patricia Hearst, Paul Kemsley, Paz Vega & Oren Segal, Petra Nemcova, Quincy Jones, Rachel Griffiths, Regina King, Ricky Martin, Robert Kraft, Ruby Rose, Russell Simmons, Russell Wilson, Ryan Adams, Ryan Kwanten, Sandra Lee, Seth MacFarlane, Sharon Stone, Smokey & Francis Robinson, Sting & Trudie Styler, Terry George, Tim & Jane Allen, Toni Collette, Tony Goldwyn, Tracee Ellis Ross, Vanessa Hudgens, Yvonne Orji, and many others.
It was a lavish and amazing Gala Party that no one will ever forget ! Especially our reporters – Margie Rey , and Actor/Guest reporter Kalpana Pandit .   Much more to come from Oscar night !
www.instagram.com/entertainmentandsportstoday
www.facebook.com/EntertainmentAndSportsToday/
twitter.com/eandstoday