This July 4th weekend : LMFAO's Sky Blu and KG performed in an amazing special concert at The Flamingo Pool in Las Vegas , with a great pool party going on with DJs and great music , dancing , a fun water slide, and people knocking beach balls around the tropical style pool. We we will bring you great parties and concerts live from Las Vegas that celebrate July 4th.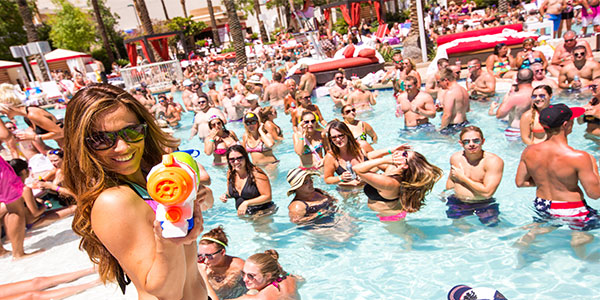 Flamingo GO Pool at Flamingo : Flamingo GO Pool  cooled off the holiday with a party that was better than any explosion. On July 1, they brought out 8ky, from LMFAO, to drop some sick beats to make everyone forget about the heat – over 112 Degrees !. Many people drank everything in sight, – time to celebrate the most patriotic day of the year.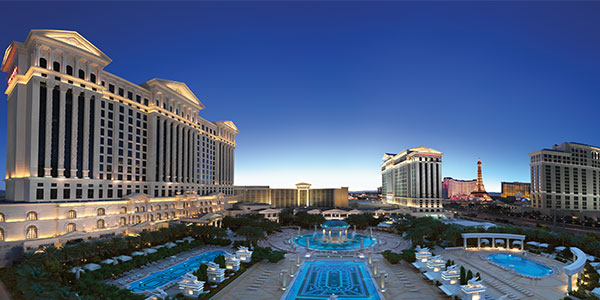 Above : Garden of the Gods pool at Caesars Palace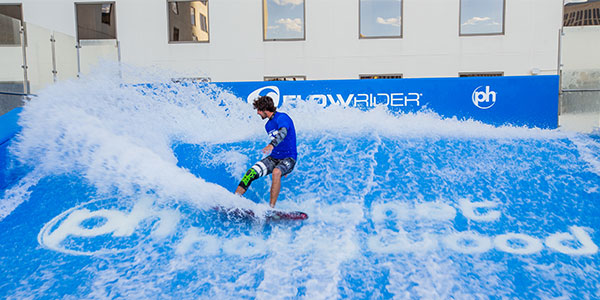 Above Planet Hollywood Pool's Wave Machine :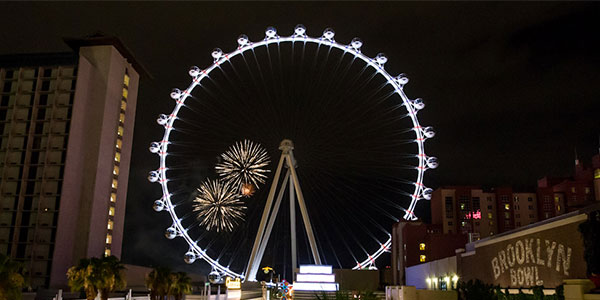 Above : The Link's High Roller Wheel – At 550 Feet High- the biggest in the world :
Redfoo ("KG") and SkyBlu make up the pop group LMFAO. Both Redfoo and his nephew SkyBlu are biracial, as their fathers are black and their mothers are white. On their track, "Welcome to my World", Redfoo says, "I got a white mom and a black dad."
Redfoo's father is producer Berry Gordy, who is African-American, and also has a small amount of English ancestry. Redfoo's mother, Nancy Leiviska, has Finnish ancestry.
Redfoo's paternal grandparents were Berry Gordy (the son of Berry Gordy and Lucy Hellum) and Bertha Fuller.
Redfoo's maternal grandparents were Einar Leiviska and Vivian/Vivien Maki. Einar and Vivian were born in Michigan, of Finnish descent.
SkyBlu is the son of Berry Gordy IV and Valerie Robeson.
SkyBlu's paternal grandparents are Berry Gordy, Jr., the producer mentioned above (the son of Berry Gordy and Bertha Fuller), and Thelma Louise Coleman.
SkyBluy is the brother of singer and actress Mahogany Lox, who is Redfoo's niece.
Redfoo and SkyBlu are cousins of actress Bianca Lawson. Redfoo is her first cousin, once removed, and SkyBlu is her second cousin, through their ancestors Berry Gordy and Bertha Fuller, who were Bianca's paternal great-grandparents.
Redfoo and SkyBlu are cousins of President Jimmy Carter. Redfoo and SkyBlu are both descended from President Carter's (white) great-grandfather, James Thomas Gordy, from his relationship with a black woman, Esther Johnson (President Carter is descended from James's white wife, Harriet Emily Helms). Redfoo is a half-second cousin, once removed, of President Carter, and SkyBlue is a half-second cousin, twice removed, of President Carter. President Carter and music producer Berry Gordy are half-second cousins.
Skyler Austen Gordy, (born August 23, 1986) better known by his stage name Sky Blu (written 8ky 6lu) is an American rapper, singer, record producer, DJ and dancer best known as one half of the musical duo LMFAO, along with his uncle Redfoo. They have two albums together, 2009's Party Rock and 2011's Sorry for Party Rocking. Gordy is the grandson of Motown founder Berry Gordy. He is the son of Berry Gordy IV and Valerie Robeson. He is the brother of DJ and singer Mahogany "Lox" Cheyenne Gordy.
In 2006, Sky Blu teamed up with his uncle Redfoo to form LMFAO. They are known for their hit songs "Party Rock Anthem" and "Sexy and I Know It," which were released in 2011. "Party Rock Anthem" became the most successful song of their entire career, peaking at number one in over ten countries, including France, the UK, the U.S., Canada, New Zealand, Germany, Ireland, and Australia. LMFAO is currently on a hiatus that started in September 2012. In 2010, Sky Blu created Big Bad University ("the first university for dreamers"), a collective of artists, which is mainly composed of the rapper Shwayze, recording artist/songwriter/Maxim model Chelsea Korka, and producer/singer/songwriter Mark Rosas. In 2013, Sky released his two first singles: "Pop Bottles" in January with Mark Rosas, and "Salud" in April with his manager Reek Rude, Sensato and the actor Wilmer Valderrama. A few months later, on July 4, he released his 9-track first album Rebel Music as a free download. In January 2014, Sky Blu introduced to the world his alter ego The Party President, with his single "Go On Girl". On December 14, Sky Blu was invited to the Miss World ceremony to perform his single "We Love Girls" with KG Superstar which was released the next month on iTunes.
In January 2009, Interscope Records arranged a studio session for Paradiso Girls with LMFAO where Chelsea Korka met Sky Blu. A friendship which then bloomed into a long term relationship shortly after. Chelsea was featured in many of LMFAO's music videos as Sky Blu's Love Interest and they were very public about their affection for one another.  In October 2010, Chelsea and Sky Blu created BIG BAD out of their Hollywood home which is an entertainment company consisting of musicians, artists, producers, DJ's, inventors, creators, and had successful tours in America, Dominican Republic, South America, Asia, and parts of Europe. Though, Chelsea has yet to travel to Europe.