On Sunday March 8th, 2020 was the last time that we had the LA Marathon, and later that night the Michael Bolton Live Concert at Harrah's Casino Resort Southern California, and then a few days later on March 12th was the terrible COVID-19 Pandemic shut-down. Now for the first time since then we are so happy and grateful to be part of the new 2021 Los Angeles Marathon presented by ASICS, for the 
36th Running of California's premiere 26.2-mile road race. 
This race returned to the streets of Los Angeles, with the 
debut of the new 'Stadium to the Stars' course.
The tradition is that before the big race on Sunday: on the Friday and Saturday before the marathon is to have the 
2021 Los Angeles Marathon Health & Fitness Expo at The LA Dodger Stadium
, with the latest and best Health, Fitness, and Sports related products, running shoes, sports apparel, clothing, supplements, sports drinks, energy bars, and many products for pain relief, on display at more than 50 booths. The LA 
Marathon weekend kicked off with this two-day event that featured interactive exhibits, activities, and the official Los Angeles Marathon Merchandise Store, and is where all runners pick up their race packet.
For so many years now at many Health & Fitness type of Conventions, like the Natural Products Expo West in Anaheim, California; The Fit Expo, and The LA Marathon Health & Fitness Expo that are both usually held at the LA Convention Center, and now this year The LA Marathon Health & Fitness Expo being held at LA Dodger Stadium: Kool 'N Fit has always been our favorite booth to visit for their powerful and very fast relief of pain anywhere in your body!  Below is a photo at their booth- with our TV Show Host: Margie Rey: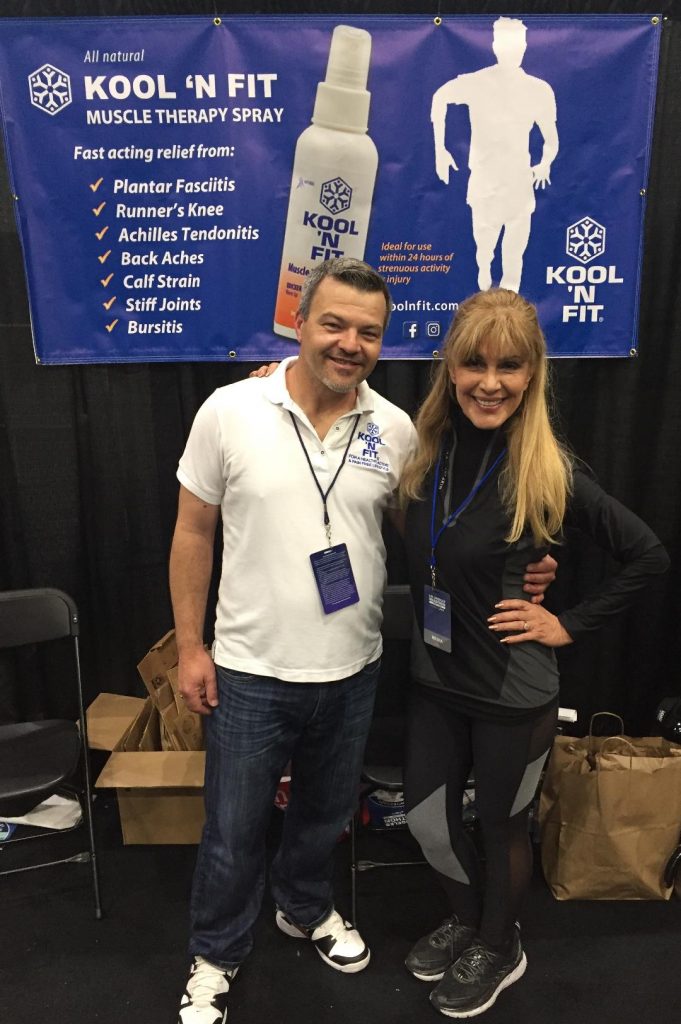 Kool 'N Fit Sport Muscle Therapy Spray: KOOL 'N FIT® Pain Relieving is a powerful external, all natural, hypoallergenic formula that delivers fast, deep penetrating and effective pain relief for joints and muscles. It is good for arthritis, minor back pain, fibromyalgia, neck pain and other aches and strains. KOOL 'N FIT® Pain is an easy-to-use spray that requires no rubbing and no messy residue. It has a refreshing aromatherapy scent and generates a feeling of well-being. Apply on the large skin area and allow the deep penetrating action to go to work with no irritation or inflammation of the skin. 
Ingredients: SD-40 Alcohol, De-ionized Water, Menthol, Camphor, Pine Oil, Eucalyptus Oil and other essential oils. Their formula meets the highest international standards and is manufactured under the strictest quality control by our FDA licensed laboratory.
The below photo is from the Junk Brands booth, where they had a wide variety of unique and good-looking Headbands:  Men's and Women's Headbands, Athletic, Lacrosse, and Running Headbands, Ear Warmer Headbands, Thin Line Series, Sweatbands, Custom Headbands, Small Personal Item Belts ("SPI"), Socks, and Caps. They also have a wide variety of T-Shirts, Tees, Tank Tops, Sweatshirts, and Hoodies. For more info go to:  www.JunkBrands.com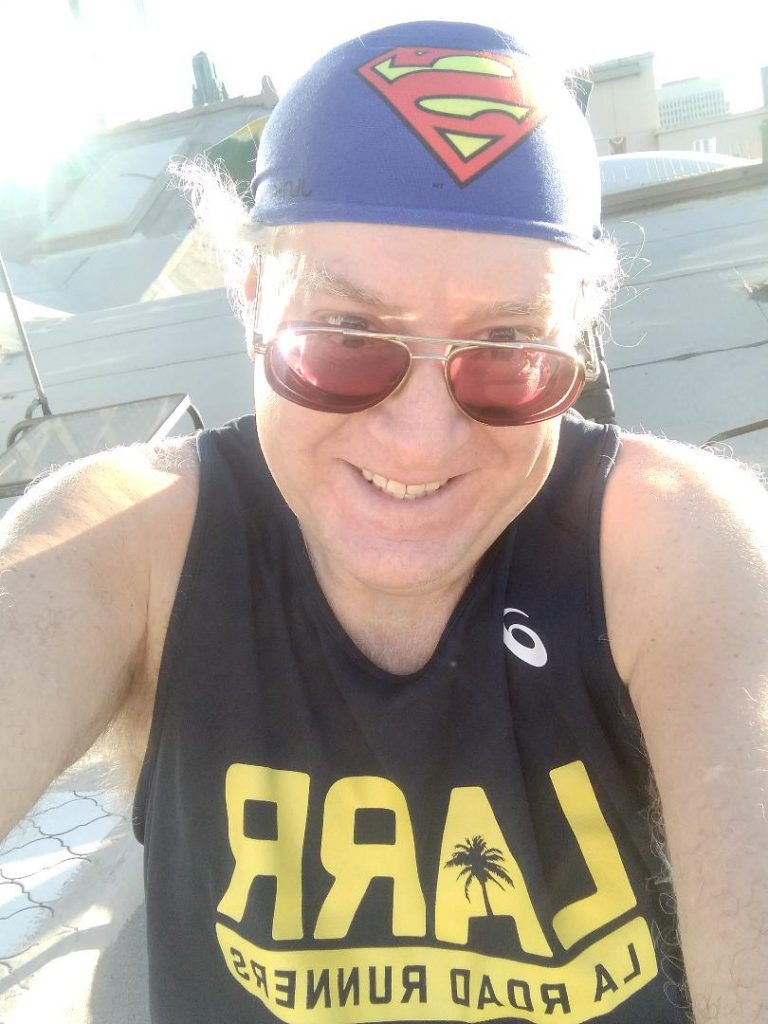 The above photo displays one of the most popular Headbands from Junk Brands – The Superman Headband, and The LA Road Runners (LARR) Athletic Shirt. When you become an LARR member, you're officially part of the Los Angeles running community, and you are provided with training and the tools you need to compete in long distance races, and get yourself in top shape, and stay healthy and fit! It all started out in 1958 when Ultra Marathoner: Ted Corbitt founded the New York Road Runners as a non-profit running organization based in New York City whose mission is to help and inspire people through running. Ted started it with only 47 members, including President Barry Geisler and his children Barry Jr., Eric, Lee, Ronald and GG, and Kurt Steiner: the voice of the New York Road Runners Club, and Fred Lebow, and has since grown to membership of more than 60,000. As of 2012, it was considered to be the premiere running organization in the United States! I am very proud to be one of the very early members from the late 1960s, running in the New York Road Runners Age Group Championship 1-mile races, and long-distance races, and the New York Marathon; and since then, the Road Runners have expanded to major cities all over the country!
One of the best energy bars, and regular sponsor of the LA Marathon is Clif Bar. Clif Bar & Company is an American company that produces organic foods and drinks. The company's flagship product, CLIF Bar, was created by Gary Erickson and Lisa Thomas. A baker and former mountain guide, Erickson got the idea for his product in 1990 on a day-long, 175-mile bike ride, for which he packed a variety of energy bars. Two years later after experimenting in his mother's kitchen, he settled on a recipe for what would become the CLIF Bar. Erickson tried several ventures—including Forza, Torque, and Gary's Bar—before settling on CLIF Bar, named after his father Clifford. The packaging image of a rock climber was first drawn by Doug Gilmour on a napkin over dinner in San Francisco. At a September 1991 bike show, Erickson debuted three flavors: double chocolate, apricot, and date oatmeal. In its first year, sales of CLIF Bar exceeded $700,000, fueled primarily by strong sales in bike shops and the growth of the healthy and natural foods movement. Sales doubled each year, and by 1997, revenue surpassed $20 million. In 1997, the company name was changed from Kali's SportNaturals to Clif Bar, Inc. Their brands are: Clif Bar, Luna Bar, Mojo, Builder's, ZBar, ZFruit, ZBar Crispy, Shot, and Luna Protein, and you can learn more about them at http://www.clifbar.com.
In our feature video interview, we talked to the rep for: Vital 4U:  Vital 4U® was born in Los Angeles in 1987 and introduced the nation's first ginseng energy drink. They are one of the most effective and efficient formulas possible to support the daily performance and overall well-being of hard-working people. They make distinct and convenient energy and health products that are priced fairly. Their bestselling product is the Screamin Energy® Max Hit®, which is a maximum strength formula and was created for hard working people that need a fast acting and long-lasting boost of energy. This proven formula is a simple yet highly effective blend of High Grade Panax Ginseng: which is believed to improve circulation, increase blood flow, increase stamina, combat fatigue and strengthen the immune system; Caffeine and Vitamins B1, B2, B3, B6 and B12 – all in just 3/5 fluid ounce per serving. The Caffeine is a central nervous stimulant. Anhydrous caffeine is more effective in enhancing performance in athletes participating in exhaustive exercise. The Taurine is thought to improve exercise performance and overall well-being and is also used to reduce jitters associated with caffeine.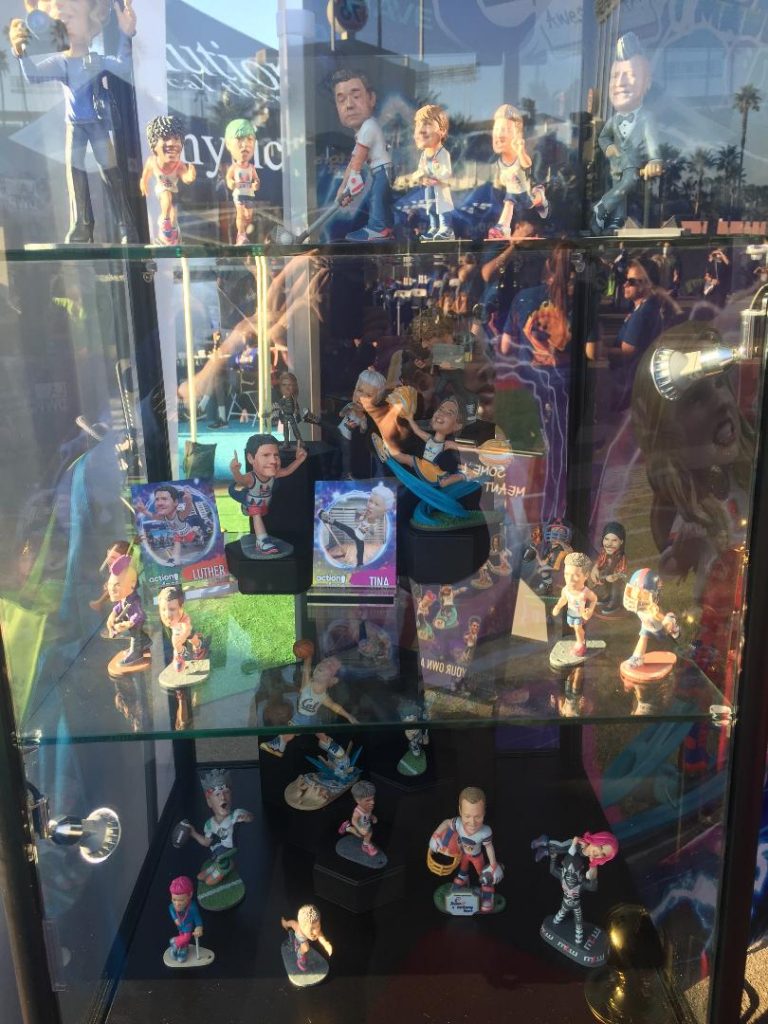 Debuting at the Los Angeles Marathon 2021, ACTION FACE launched their 3D scan experience allowing runners to create custom action figures of themselves crossing the finish line. You can now combine your own real face taken from a real photo they take of your face, with personalized, fantasy customization. You can change the color of your hair, eyes, and skin tone, and pick out different hair styles and shapes! This is a unique and amazing souvenir gift at a very reasonable price! Action Face was so kind as to make me my very own custom 4.5-inch action figure! See below photo of my action figure, and above photo from their booth, of a variety of action figures they make.
There are a few events in life that stand above all others: your first marathon, your favorite concert, your wedding, and that time you went to the Super Bowl. You may collect ticket stubs and tchotchkes, but these mementos don't express who you are, nor tell a story about you that day, so by having your own Action Face you can now commemorate these moments!
Action Face was formed by 6 former employees of Hasbro and Activision, who used to make customized action figures for CEOs and A-List celebrities when they would visit. It was the only thing special enough for someone who already had everything. Each one cost over $2,000 and they only made about 10 per year. They got fed up that everyone couldn't have their own action figure, so they left to start Action Face!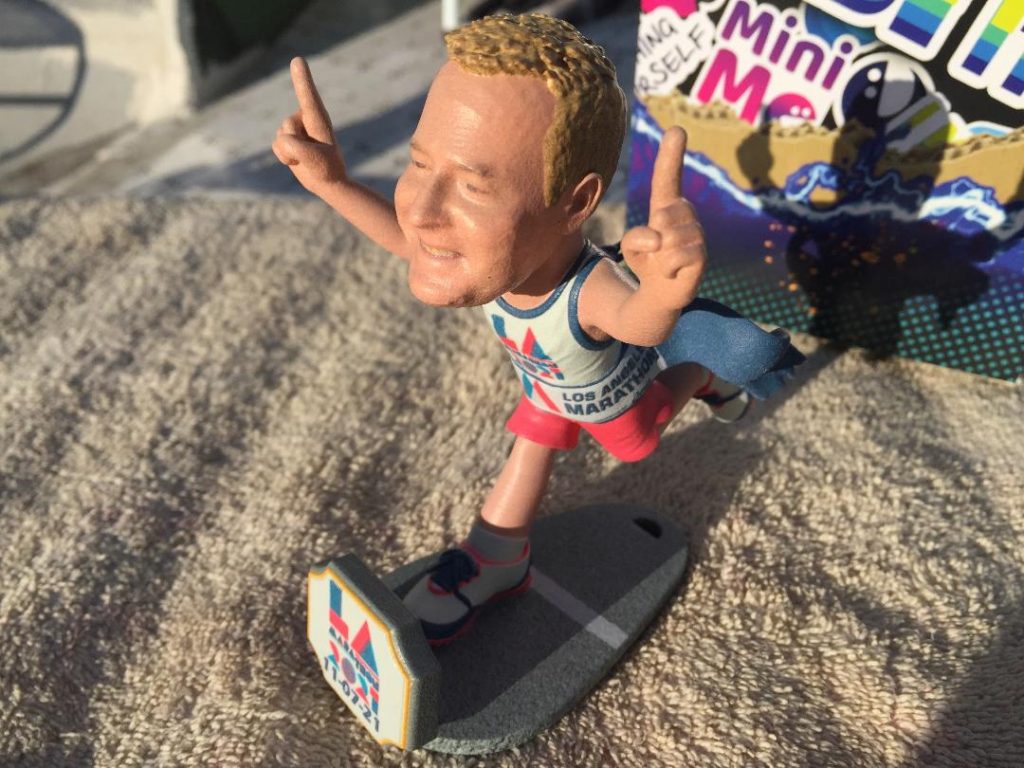 The McCourt Foundation's Non-profit Partnership Program enables health-focused charities and individuals to use TMF events for their own fundraising. Since 1985, the Los Angeles Marathon has helped charities raise nearly $60 million for a variety of causes and non-profit organizations.
With an impact reaching from Boston to Los Angeles, The McCourt Foundation (501c3) empowers individuals and communities to build a healthier world through events and educational forums. TMF is committed to enhancing the lives of patients and families affected by neurological diseases (MS, ALS, Alzheimer's, and Parkinson's) and other health challenges. Its world-class portfolio of events includes the Los Angeles Marathon presented by ASICS, LA Big 5k, Rose Bowl Half Marathon & 5K, Santa Monica Classic 5K/10K, Boston Waterfront 5K, Tour de South Shore, the McCourt Gala & Auction, and the Educational Update.