Mr. Las Vegas – The Midnight Idol: Wayne Newton has appeared on our show countless times over the years- in Los Angeles, Palm Springs, and of course in Las Vegas – where we have seen his show so many times at The Stardust Hotel, Harrah's, Bally's, and Caesars Palace. We really hope this Coronavirus ends soon so we can again watch his show at Cleopatra's Barge in Caesars Palace Las Vegas!
Our reporter: Garry Parmett has interviewed Wayne many times, but the best interview ever with Wayne ever was at The MGM Grand Hotel & Casino in Las Vegas in 1998 during a Star-Studded Tribute to to the legendary Frank Sinatra after his passing. So we dedicate this show to Garry, Wayne, & Frank!
Our TV News crew that worked at this Gala 2 day event- in Las Vegas for The Frank Sinatra Celebrity Golf Tournament and Gala Tribute in 1998, and STILL are working for us now are: Steve Taylor, Garry Parmett, Wayne Benenfeld, Paul Walton, Heather Yoclauss, Dion Rich, and Tara Pirnia.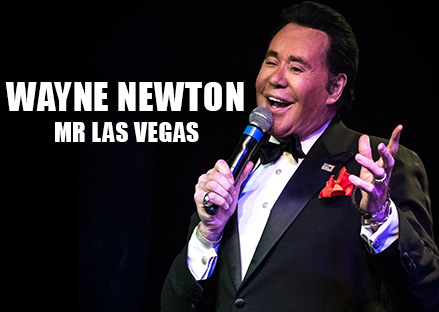 In this 6 minute video clip Wayne Newton sings "Promised Land" during the 1982 MDA Telethon at Caesars Palace that I was lucky enough to be there in person ! "Promised Land" was used in the original "Men in Black" movie series, and in our TV promo back then.
Check out Wayne Newton as he sings, 'Promised Land' live during the MDA Labor Day Telethon! This is a Wayne Newton performance that you can't afford to miss!
The MDA Labor Day Telethon was an enchanting yearly variety show that ran for half a century. Hosted for many years by Jerry Lewis, the telethon featured top stars from the world of music, comedy, and Broadway and was like no other show on earth.
The telethon was created to help support the Muscular Dystrophy Association, which is leading the fight against muscular dystrophy. MDA dedicates itself to strength, independence and life. To learn more about MDA and to donate, please visit http://www.MDA.org.
Carson Wayne Newton is an American singer and entertainer. One of the best-known entertainers in Las Vegas, Nevada, he is known by the nicknames The Midnight Idol, Mr. Las Vegas and Mr. Entertainment. His well known songs include 1972's "Daddy, Don't You Walk So Fast", "Years", and his vocal version of "Red Roses for a Blue Lady". His signature song "Danke Schoen" was notably used in the score for Ferris Bueller's Day Off.
Stay tuned for live daily round-the-clock news coverage from our news team in Los Angeles, Hollywood, New York, Beverly Hills, and overseas from Entertainment & Sports Today TV, and Entertainment Today, and for the complete story go to: entertainmentandsportstoday.com, on Facebook & Instagram: @entertainmentandsportstoday, and Youtube.com/entertainmenttodaytv
For tickets to future events, and Sponsorships and get advertising rates and info, E-Mail : info@entertainmentandsportstoday.com – and for more info about us go to: www.entertainmentandsportstoday.com & thanks for watching !
For more information, and if you like to buy any of these great products that you saw on our TV show, E-Mail us direct: info@entertainmentandsportstoday.com so that one of our staff can connect you with the right people. Above is our video news story, that is part of the follow up to our daily news stories on the Coronavirus.
For more news stories and updates about the Coronavirus : go to EntertainmentandSportsToday.com  and go to the top of the home page and click on the "HEALTH & BEAUTY" section.  Additional updates can be found by clicking the "Business & Technologies" , and "Entertainment" sections, or just click "Home". For stories that may uplift your spirits during these trying times go to the "Music" section of our website.
If you may have any questions- you can email us at info@entertainmentandsportstoday.com- so we can find you the answers from the doctors and health experts, that have written stories for us, and from the health agencies that have provided information and daily updates for us. & Thanks for watching, and be healthy and safe!