Looking back to an amazing night in Las Vegas with some superstars for JLo's final show at Planet Hollywood with ARod, Selena Gomez, Jessica Alba & . . .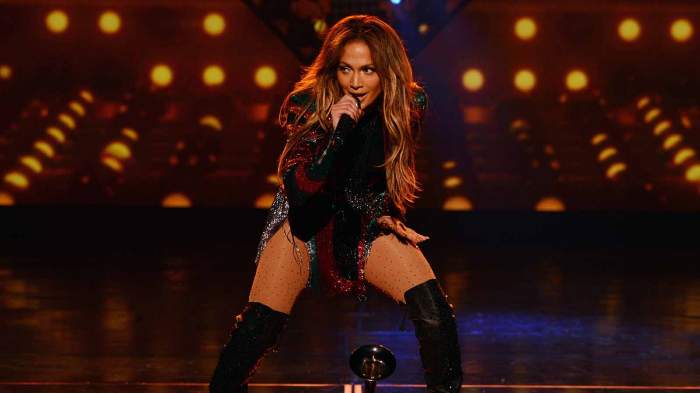 Boy did we pick a good day to go see JLo's concert in Vegas! Talk about an epic group! Jennifer Lopez had some major A-list guests attend one of her last All I Have concerts in Las Vegas . . .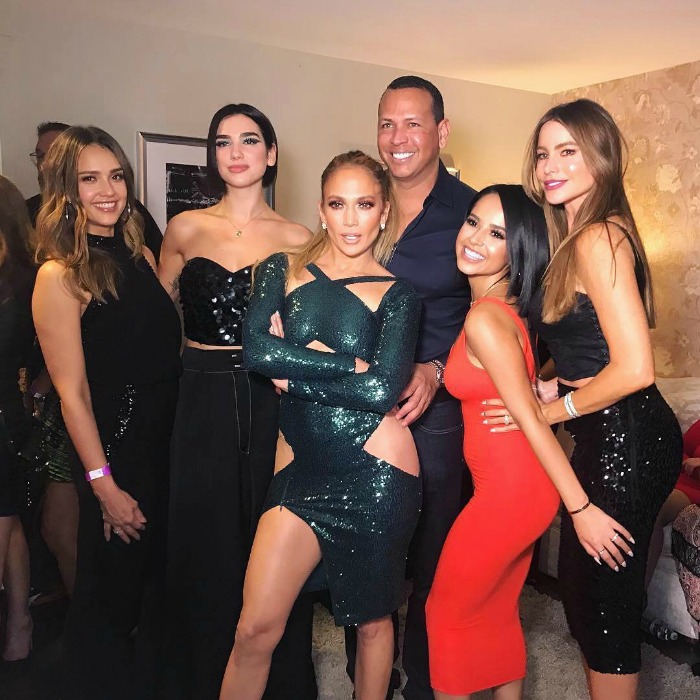 Last night at JLo's : "JENNIFER LOPEZ: ALL I HAVE" sold out hit show at The Zappos Theatre in Planet Hollywood Las Vegas, J. Lo had a swarm of support after her show from the likes of: on extreme left- award winning actress: Jessica Alba (@jessicaalba), 2nd from left- Dua Lipa (English singer, songwriter, & model – @dualipa), 2nd from right- Becky G (singer/actress – @iambeckyg), extreme right- Sofia Vergara (Star of the TV series Modern Family -@sofiavergara), superstar singer Selena Gomez, (@selenagomez not in this photo- but see below story on entertainmentandsportstoday.com), JLo @jlo-center with her boyfriend: New York Yankees' Baseball Legend: Alex "A-Rod" Rodriguez @ARod himself … all of whom went backstage to show some love and pose for a photo-op, as you can see in this "EPIC" photo below: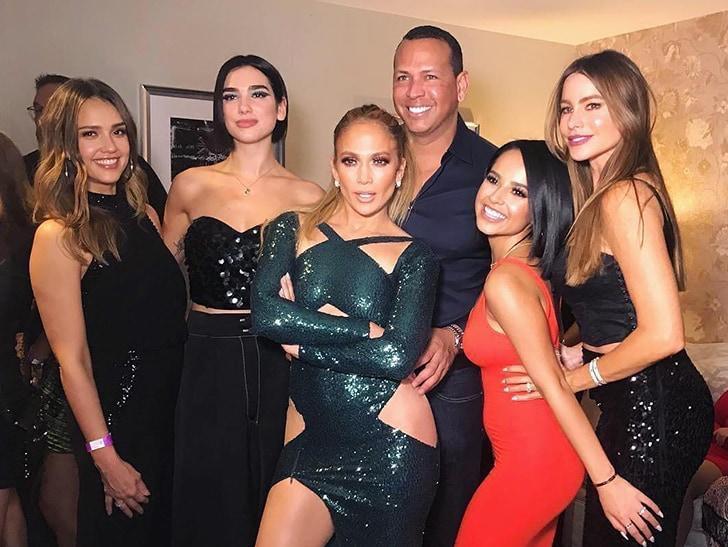 Alex Rodriguez, a.k.a. A-Rod, @ARod was born on July 27, 1975 in New York and spent his childhood in the Dominican Republic and Miami. He is known for his baseball career as the New York Yankees' third baseman. He won one World Series title in the pinstripes in 2009 and retired from the sport in August 2016 after over 22 years with 696 home runs. Rodriguez was involved in a steroid scandal and was suspended for the entire 2014 season and was penalized with a cut in his salary. Since leaving the clubhouse, Rodriguez has traded his cleats for a mic in the broadcasting booth as a MLB analyst for FOX. A-Rod is just as famous off the field as he is on. He was married to ex-wife Cynthia from 2002-2008. She alleged Rodriguez was not faithful. The former couple share children Natasha and Ella. The athlete has dated the likes of Cameron Diaz, Kate Hudson, Madonna, and Jennifer Lopez.
Sofia Vergara shared multiple photos on social media (@sofiavergara) from her experience at JLo's concert @PHVegas, including this adorable one of her smiling at the camera while J. Lo was onstage: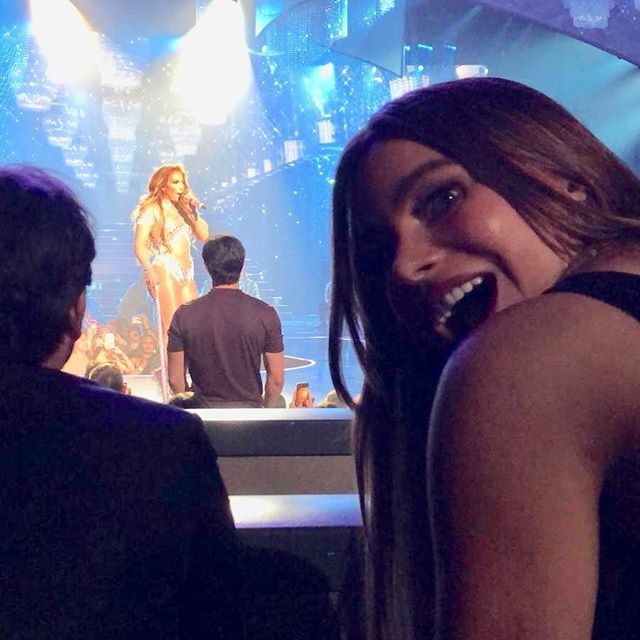 The Superstar singer: Selena Gomez shared a social media message to Jennifer Lopez, after seeing Lopez in concert last night, Gomez, 26, gushed in an Instagram message to the singer, "I wanted to tell you how much you inspired me tonight!!! I haven't felt that free in my entire life … I just want to tell you how amazing God thinks you are. He was speaking to me through your show tonight!! Like made me feel like such a woman!!" Gomez has very strong religious beliefs, and involvement with the Hillsong Church, of which her ex-boyfriend Justin Bieber and his new fiancée Hailey Baldwin are members. A. Rod posted an IG video of Gomez dancing along next to Becky G (@iambeckyg) in the audience. Bottom photo: Selena Gomez (Right) at Jennifer Lopez show- during backatge afterparty with Dua Lipa (Center) :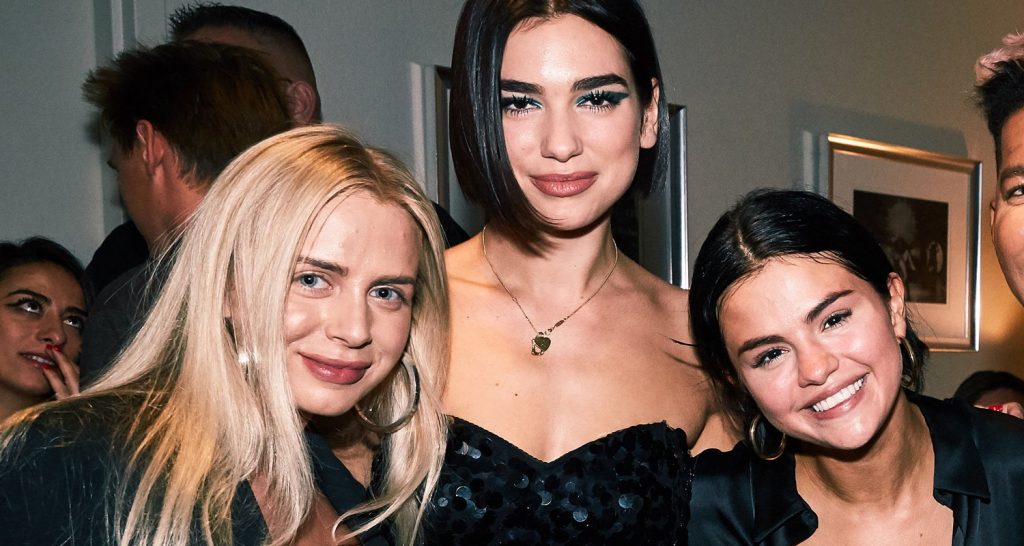 In this video news segment of Entertainment Today , we will show you JLo's start of her show – where she performs and talks direct to the audience and welcomes them to a very special and amazing experience that everyone is about to enjoy. JLo performed for her fans from all over the world that came to see this show. Every seat was taken, and many fans were standing up for the whole show and dancing and singing along with this superstar singer, who put on an amazing show with seven total costume changes, the production includes Jennifer descending a Swarovski crystal staircase, catching the 6 Train and paying homage to her Latin roots all while singing and dancing for over 90 minutes. This performance had the audience on their feet dancing as Jennifer performed her impressive catalog of hits.
Everyone tends to fall for Jennifer Lopez — just ask A-Rod — but this weekend was different, 'cause she was actually in Vegas falling for us … and bouncing back gracefully. JLo was performing last night at her Vegas residency show when somewhere in the midst of all the action, she took a spill on stage, landing on her famous booty. A very helpful fan in the front row helped her get back up … and Jenny was right back in the swing of things.
Luckily for her, it wasn't as bad of a fall as we've seen over the past year or so — namely, Teyana Taylor nosediving into her crowd, or that Vanilla Ice fan falling into oblivion … or even Bushwick Bill getting taken down by Treach. This was more Kesha-esque. Two things we've learned here — it pays to have your ladies nearby after a slight mishap. It also pays to be stage side if Jen ever needs your assistance. Don't wash that hand, bro.
Jennifer Lynn Lopez (born July 24, 1969) is an American singer, actress, dancer and producer. In 1991, Lopez began appearing as a Fly Girl dancer on In Living Color, (One of my guests for this show used to date one of the Fly Girls- but he didn't want to give out his name) where she remained a regular until she decided to pursue an acting career in 1993. For her first leading role in the 1997 Selena biopic of the same name, Lopez received a Golden Globe nomination and became the first Latin actress to earn over US $1 million for a film. She went on to star in Anaconda(1997) and Out of Sight (1998), later establishing herself as the highest-paid Latin actress in Hollywood.
Lopez ventured into the music industry with her debut studio album On the 6 (1999), which helped propel the Latin pop movement in American music. With the simultaneous release of her second studio album J.Lo and her romantic comedy The Wedding Planner in 2001, Lopez became the first woman to have a number one album and film in the same week. Her 2002 remix album, J to tha L–O! The Remixes, became the first in history to debut at number one on the U.S. Billboard 200. Later that year, she released her third studio album This Is Me… Then, and appeared in Maid in Manhattan.
After starring in Gigli (2003), with Ben Affleck, a critical and commercial failure, Lopez subsequently starred in the successful romantic comedies Shall We Dance? (2004) and Monster-in-Law (2005). Her fifth studio album, Como Ama una Mujer (2007), received the highest first-week sales for a debut Spanish album in the United States. Following an unsuccessful period, she returned to prominence in 2011 with her appearance as a judge on American Idol, and released her seventh studio album Love?. In 2016, she began starring in the crime drama series Shades of Blue and commenced a residency show, Jennifer Lopez: All I Have, at Planet Hollywood Las Vegas. Since 2017, Lopez has produced and served as a judge on World of Dance.
With a cumulative film gross of US $2.9 billion and estimated global sales of 80 million records, Lopez is regarded as the most influential Latin performer in the United States. In 2012, Forbes ranked her as the most powerful celebrity in the world, as well as the 38th most powerful woman in the world. Time listed her among the 100 most influential people in the world in 2018. Her most successful singles on the US Billboard Hot 100 include: "If You Had My Love", "I'm Real", "Ain't It Funny", "All I Have", and "On the Floor", which is one of the best-selling singles of all time. For her contributions to the music industry, Lopez has received a landmark star on the Hollywood Walk of Fame, the Billboard Icon Award and the Michael Jackson Video Vanguard Award among other honors. Her other ventures include clothing lines, fragrances, a production company, and a charitable foundation. She has been divorced three times and gave birth to twins in 2008 with then-husband Marc Anthony.
FINAL SHOWS at The Zappos Theatre in Planet Hollywood Las Vegas. ON SALE NOW THROUGH SEPTEMBER 29, 2018! Call 855-234-7469 or 702-777-2782 The
#JenniferLopez
@jlo JLo
#ALLIHAVE
"All I Have" residency show, held at the
#ZapposTheater
,
#PlanetHollywood
@phvegas in
#LasVegas
@Vegas
For the complete story go to: entertainmentandsportstoday.com, on Facebook & Instagram: @entertainmentandsportstoday , and Youtube.com/entertainmenttodaytv
#SofiaVergara
@sofiavergara
#JLoVegas
#AfterParty
@ARod
#ARod
@iambeckyg
#BeckyG
@dualipa @jessicaalba
#JessicaAlba
@selenagomez
#SelenaGomez