Live from the Grammy Awards One Love Luxury Lounge in West Hollywood, California: an exclusive interview with rock legend Alice Cooper! The featured photo from earlier today from the Grammy Gift Lounge at The fashionable new One Love Hotel on Sunset Blvd: Alice Cooper meets Margie Rey! 
Latter that same night: We were Live on CBS news at The Grammys Music Cares Gala– where Alice Cooper gave another interview where he talked about many of the same things, performing with Johnny Depp(below), and the upcoming performance with Aerosmith– that he had told Margie – first – in her interview with the rock legend:
Johnny Depp, Alice Cooper, John Legend & More Honor Aerosmith at MusiCares Person of the Year Event: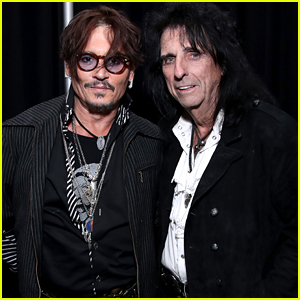 Johnny Depp and Alice Cooper pose backstage ahead of their performance at the 2020 MusiCares Person of the Year event held at Los Angeles Convention Center on Friday night (January 24) in Los Angeles.
The two musicians joined many of their peers including John Legend, Cheap Trick, Sammy Hagar, REO Speedwagon, Gavin DeGraw, Dave Grohl, Jason Mraz, Orianthi, and Gary Clark, Jr., plus host Russell Brand, at the event.
Aerosmith is being recognized as the 2020 MusiCares Person of the Year in recognition of their considerable philanthropic efforts over five decades and undeniable impact on American music history.
The Rock Legend came up to Margie and gave her a big hug and said that he remembered her. Margie Rey is our TV Show Host/ Entertainment Reporter for Entertainment Today and Entertainment & Sports Today-  So she has meet and interviewed so many celebrities- so many remember her great personality and are always happy to see her! So stay tuned for much more from Margie and Entertainment Today! Below photo with L – R : Margie, Alice Cooper, and Entertainment Today's TV Producer Steve Taylor: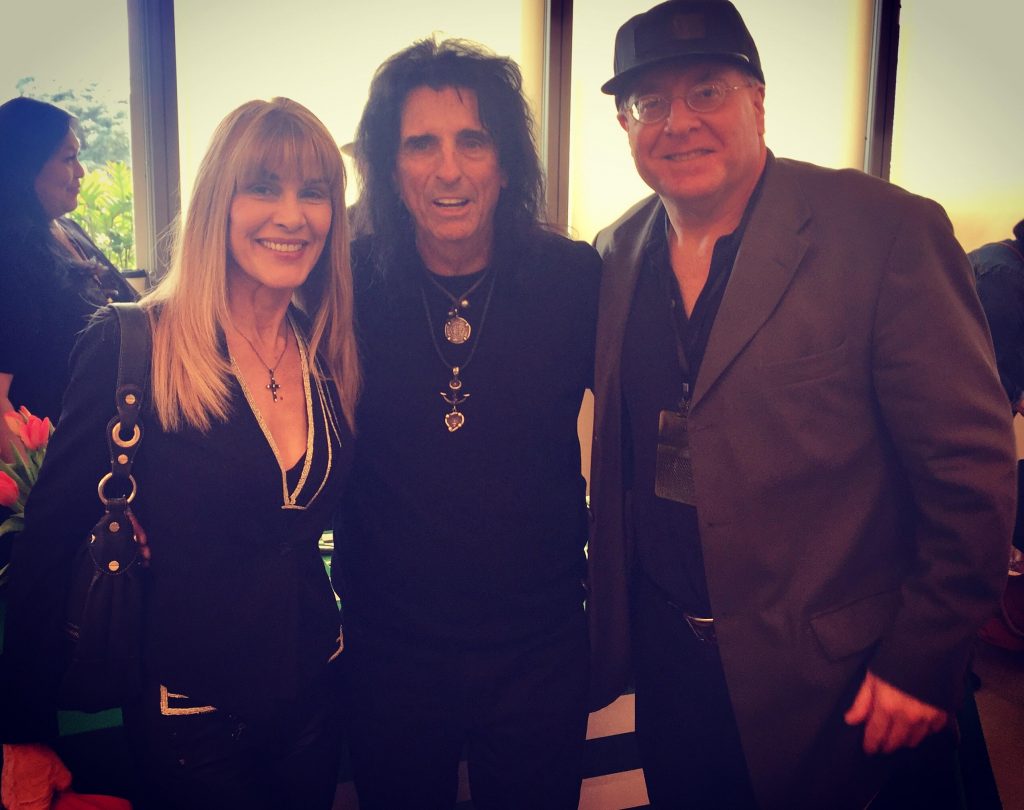 Alice Cooper is an American singer, songwriter, and actor whose career spans over 50 years. With his distinctive raspy voice and a stage show that features numerous props, including guillotines, electric chairs, fake blood, reptiles, baby dolls, and dueling swords, Cooper is considered by music journalists and peers alike to be "The Godfather of Shock Rock". He has drawn equally from horror films, vaudeville, and garage rock to pioneer a macabre and theatrical brand of rock designed to shock people. #AliceCooper #CBSNews #Grammys #Coolio @alicecooper @coolio @theGrammys @johnnydeppofficial #JohnnyDepp
Then within about 2 hours, in another exclusive interview Margie was able to get a great in-depth interview with American rapper, actor, chef, writer, and record producer: Coolio ! Grammy Winner: Artis Leon Ivey Jr., known by his stage name Coolio, achieved mainstream success in the mid-to-late 1990s with his albums It Takes a Thief, Gangsta's Paradise, and My Soul. He is best known for his 1995 Grammy Award-winning hit single "Gangsta's Paradise", as well as other singles "Fantastic Voyage", "1, 2, 3, 4" and "C U When U Get There". In below photo Margie goes up close and personal with Rapper Coolio: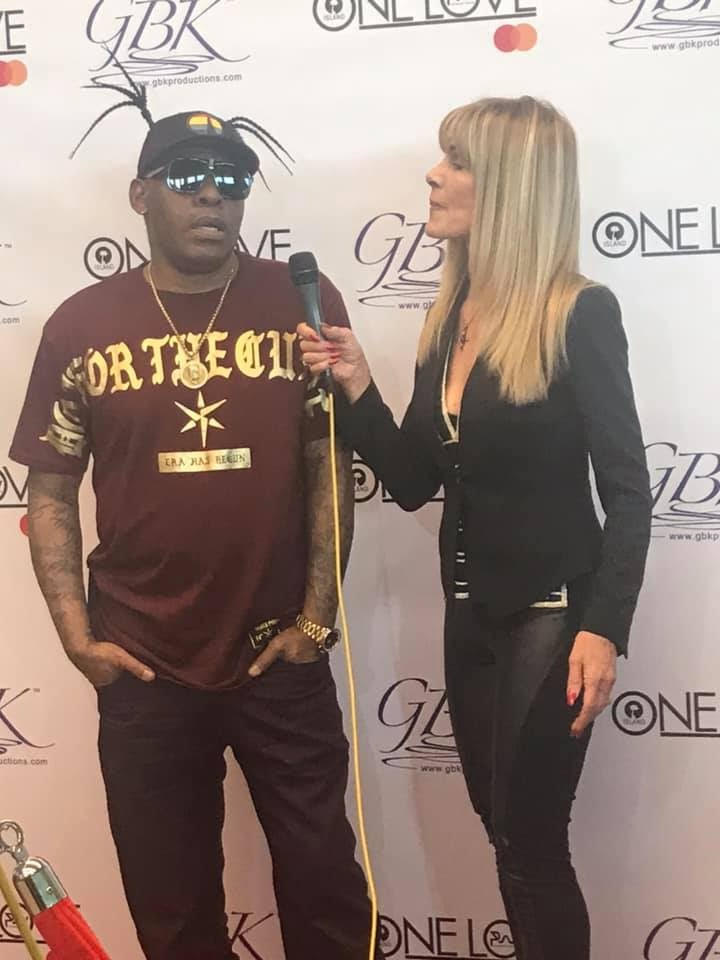 One Love Luxury Lounge Presented by Mastercard – Produced by GBK Productions and Primary Wave.
Music's Biggest Stars Celebrated Grammy Weekend with Two Days of Exclusive Gifting & Partying at the One Love Luxury Lounge Presented by Mastercard – Produced by GBK Productions and Primary Wave, at the beautiful and fashionable One Love Hotel on Sunset Blvd. in West Hollywood.
Grammy Winners, Nominees, Performers and other stars Celebrated at the Hottest Event of Grammy Weekend at GBK's Annual Pre-Grammy Luxury Lounge
The biggest names in music came out to celebrate the 2020 Grammy Awards this weekend at the world's premiere celebrity gifting lounge, GBK Productions' Annual Pre-Grammy Luxury Lounge.  At this year's lounge, titled the One Love Luxury Lounge Presented by Mastercard and Produced by GBK Productions and Primary Wave, past winners, nominees and other celebrities mingled with their peers and picked up some of this year's hottest items and trips.
This exclusive guest list included Grammy winners Tracy Young, Gloria Gaynor(who came on the second day) & Yolanda Adams; nominees Third World, Meduza, The Cranberries, Good Boys, Tierney Sutton, Kid Kulture, Alphabet Rockers, Ben Kohn and other musicians, bands and celebrities such as Alice Cooper, CeeLo Green, Trixie Mattel, Lecrae, Bryson Tiller, Phonyppl, Reason, Trevor Daniel, Bia, Bangladesh, Cozz, Coolio, Killswitch Engage, Labyrinth, Emblem3, Bas, Brian Stansell, Cedella & Julian Marley, Paul Anka, Mali Music, The War & Treaty, Sway and many, many more.
The nominees and guests, who attended were thrilled to receive a trip to Turks & Caicos via Sailrock Premiere Luxury Resort with an luxurious ocean-view suite, Dermafirm BIOTEOC anti-aging skin care and M&O hair growth products, Source Naturals award-winning nutritional supplements from their Wellness Formula® which includes eye products, Screen Time™ Blue Light Support and Eye Health for the Digital Age and Karacell CBD which created a CBD & Human Stem Cell extract for a luxury cosmeceutical product line "overnight sleeping beauty mask." 
Other amazing gifts included California Caviar Company gifting their sustainably farmed caviar, iiRCADE gaming platform, Harborside cannabis gift cards, Two Gypsea Souls clothing company's one-of-a-kind recycled clothing with a rock and roll edge, A trip to the luxury all-inclusive resort Moon Palace Jamaica – a AA Four Diamond resort by Swanky Retreats, Arinsal soy candles by Sunday Dinner Candle Co., CannaCard gift cards by CannaTrac, La Voix Winery wines, PFB Vanish skincare, OctoVie skincare brush 3-in-1 brush that cleanses, exfoliates and massages and other fun items.