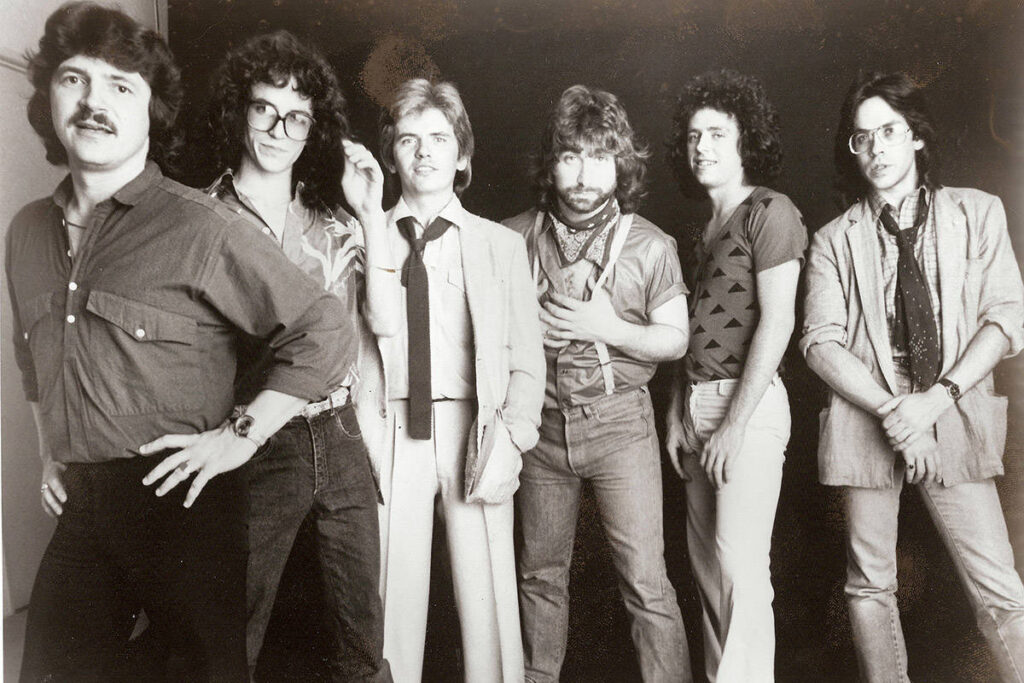 We had great VIP seats- up front and in the middle to watch an amazing live concert by Toto, for their Dogz of Oz Tour, (above photo of the original band in 1979) at the outdoor theatre:  Humphrey's Concerts by the Bay, on Shelter Island in downtown San Diego: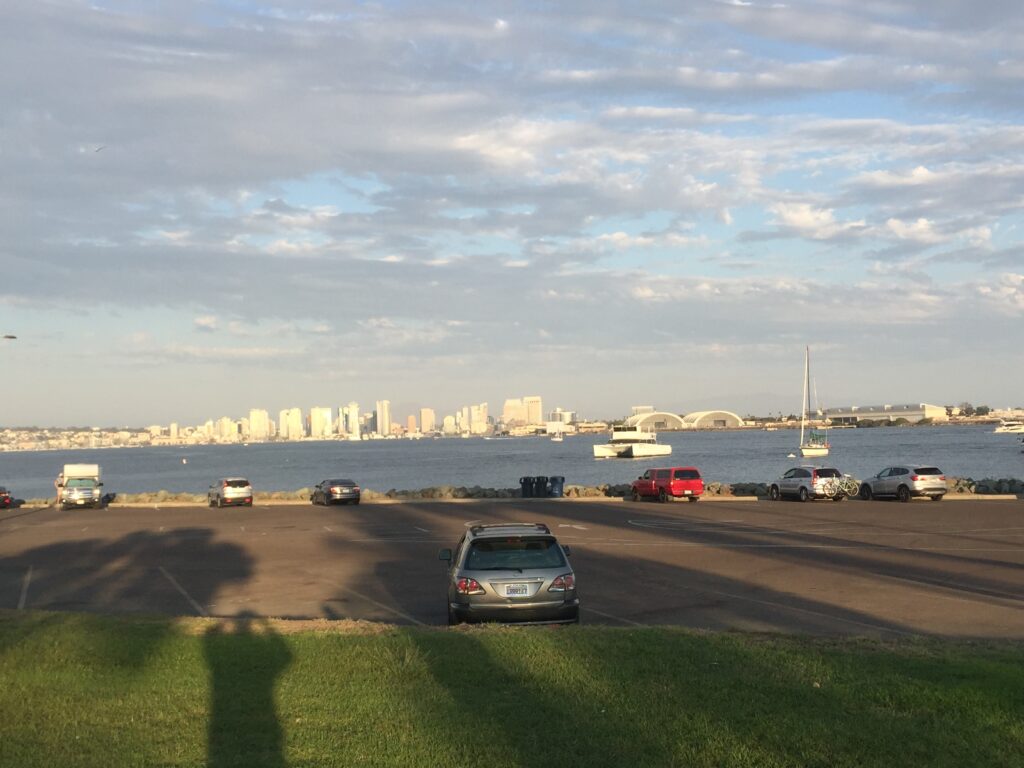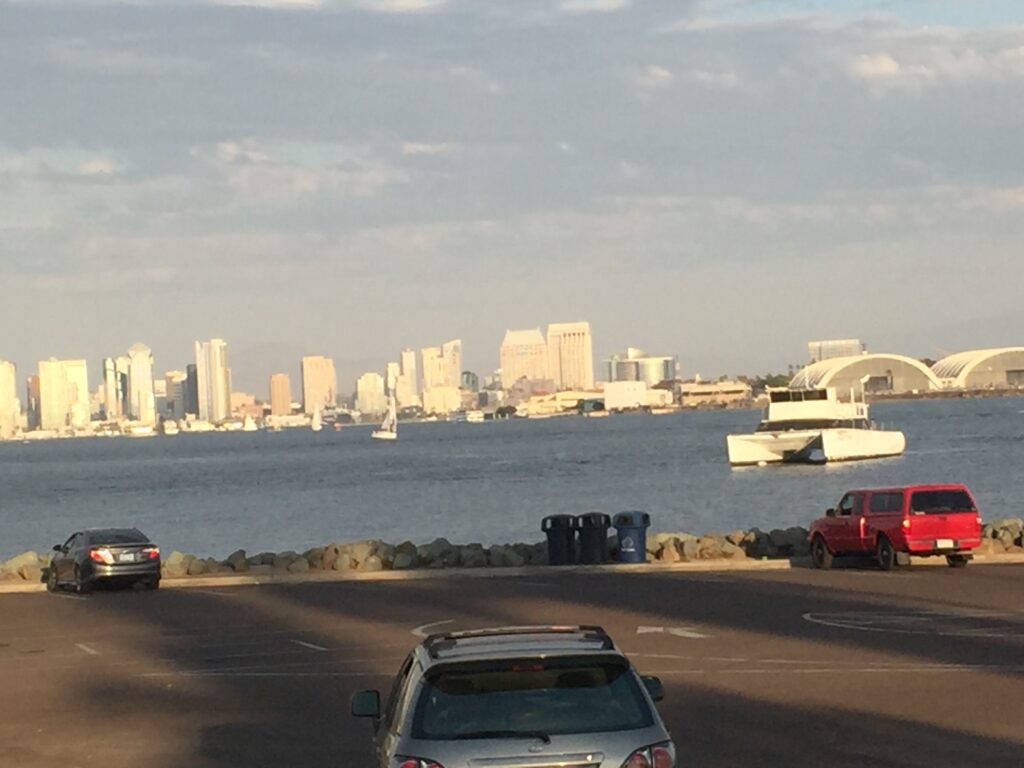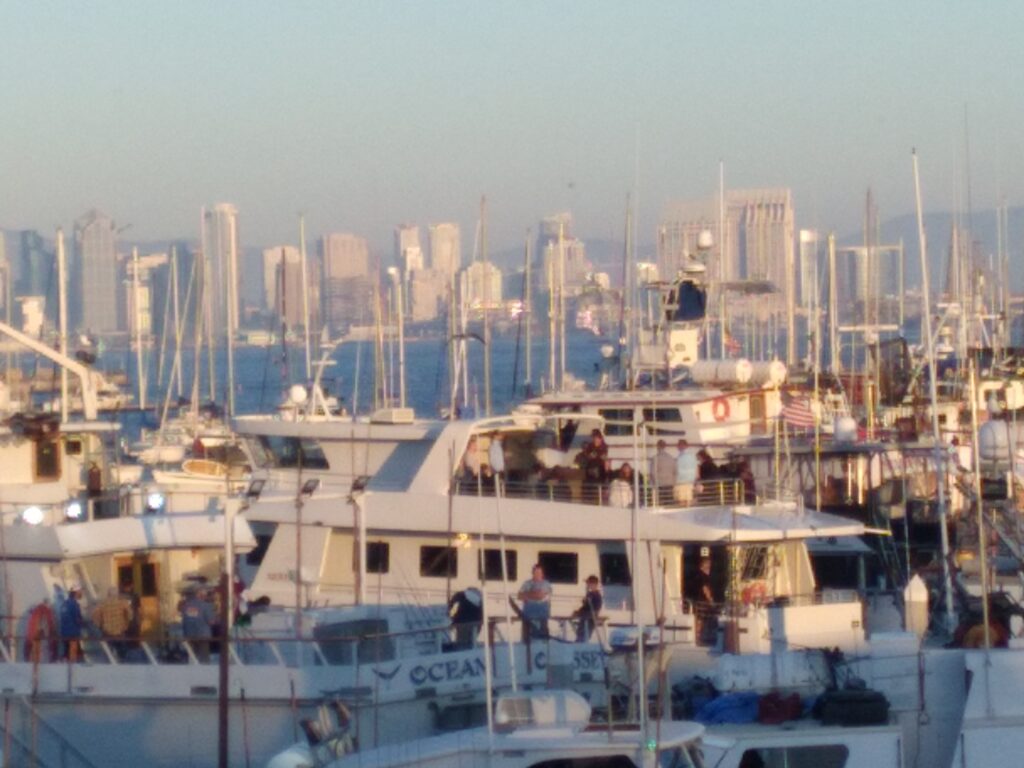 From the sponsor: 
Valley View Casino & Hotel,
 we are very lucky to get tickets with great seats to see the 
some great live concerts,
 that are held in downtown 
San Diego, California, on the beautiful, scenic, and tropical: Shelter Island, which is almost like an Island surrounded with water on 3 sides, right next to San Diego Bay and the Pacific Ocean, at the beautiful picture postcard perfect – outdoor theatre:  Humphrey's Concerts by the Bay: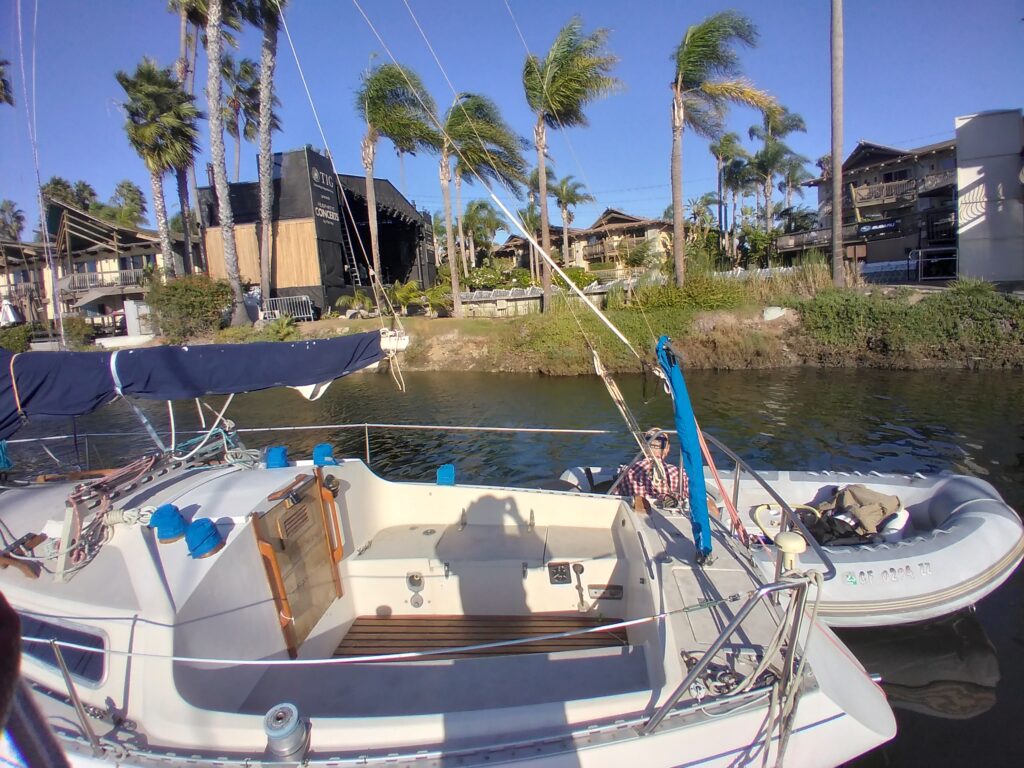 In this sold-out show you can view and enjoy a few of the songs, along with Toto's 2 signature classic hit songs: Rosanna and Africa, as everyone was up on their feet, singing and dancing right along with the band! They closed the concert with a great performance of: With a Little Help from My Friends. Below you can see photos of the 4 of us in front of the stage, with the band behind us, as we are enjoying the concert. L – R: Steve, Mary, Greg, & Jeannie: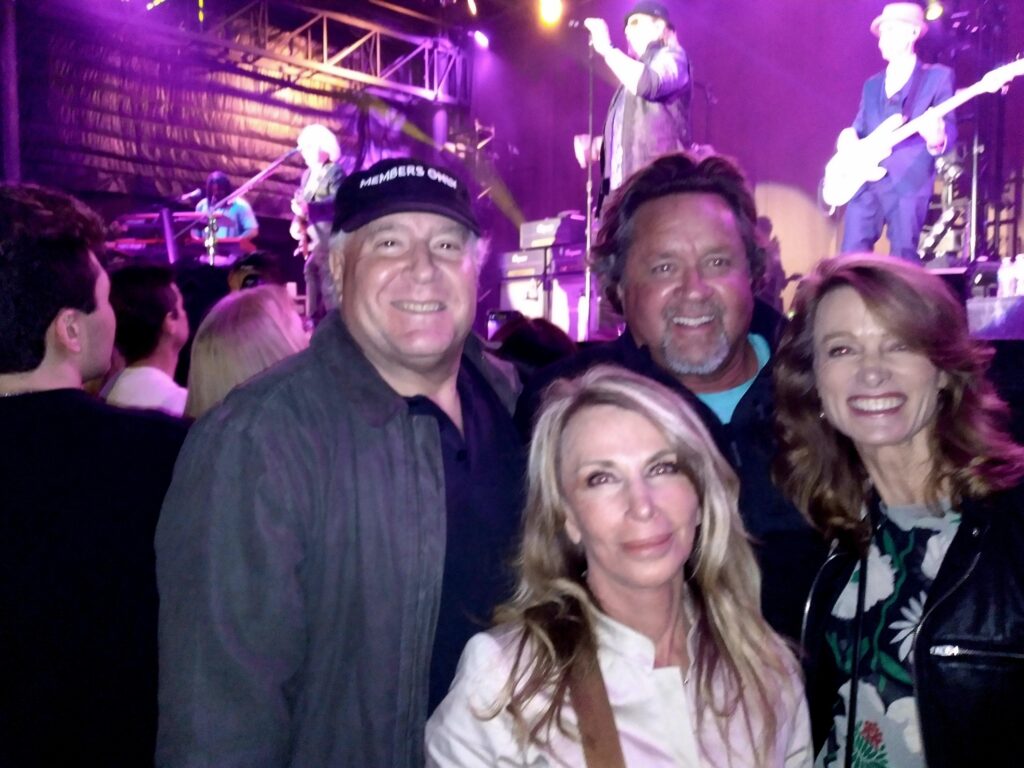 On October 19, 2020, it was announced that Steve Lukather and Joseph Williams would return to touring under the band name, in a proposed worldwide tour in 2021, known as the Dogz of Oz Tour. The new band lineup would feature bassist John Pierce (Huey Lewis and the News, Pablo Cruise, and a long-time session player), drummer Robert "Sput" Searight (Ghost-Note, Snarky Puppy), and keyboardists Dominique "Xavier" Taplin (Prince, Ghost-Note) and Steve Maggiora (Robert Jon & the Wreck), as well as multi-instrumentalist Warren Ham. On April 14, 2021, the band announced that they would release a new live album, With a Little Help from My Friends, through Mascot Label Group/The Players Club. Released on June 25, the album contains the streamed performance of November 2020, and was preceded by the release of two singles, live renditions of "Til The End" and "You Are The Flower".  Toto began 2022 with a 40-city tour through major U.S. basketball and hockey arenas, serving as the opening act for Journey. David Paich joined Toto for the final four songs (Home of the Brave, With a Little Help From My Friends, Rosanna and Africa) in several shows. Toto continues with concerts throughout 2023, with this concert at Humphrey's Concerts by the Bay in San Diego, that was sponsored by Valley View Casino & Hotel: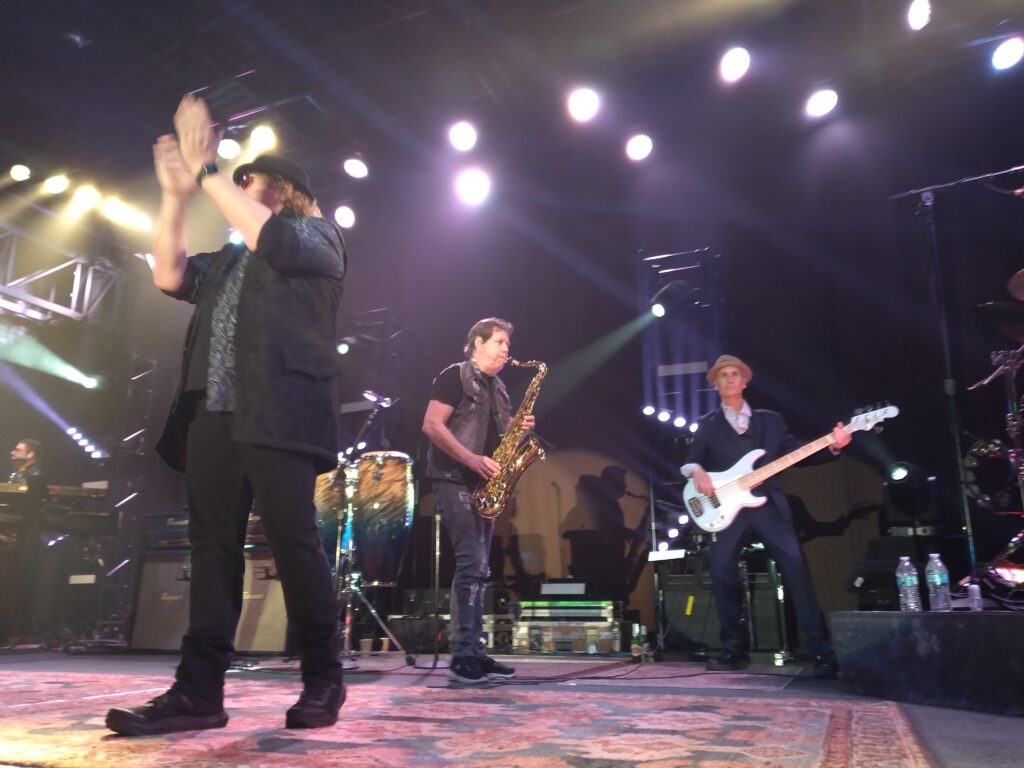 Tours:
1979 – Toto Tour
1980 – Hydra Tour
1982 – Toto IV Tour
1985–1986 – Isolation Tour
1986–1987 – Fahrenheit Tour
1988 – The Seventh One Tour
1990 – Planet Earth Tour (Past to Present Tour)
1991 – 1991 Summer Tour
1992–1993 – Kingdom of Desire Tour
1993 – 1993 Summer Tour
1995–1996 – Tambu Tour
1997 – South African Tour
1998 – Toto XX Tour
1999–2000 – Mindfields Tour
2001–2002 – 2001 Summer Tour
2002–2004 – 25th Anniversary Tour (Through the Looking Glass Tour)
2004–2005 – 2004 Summer Tour
2006–2008 – Falling in Between Tour
2010 – Mike Porcaro Honor Tour
2011 – In the Blink of an Eye Tour
2012 – 2012 Summer Tour
2013–2014 – 35th Anniversary Tour
2015–2016 – Toto XIV Tour (Yes & Toto Co-Headlining North American Summer Tour 2015) 
2017 – An Evening With Toto Tour
2018–2019 – 40 Trips Around the Sun Tour (40th Anniversary Tour)
2021-2023 – Dogz of Oz Tour (2022/3 selected dates with Journey)
Multi Grammy Award Winning: Toto (stylized as TOTO) is a rock band formed in 1977 in Los Angeles, California, where it became very big! Toto is known for a musical style that combines elements of mainly soft rock, pop, rock, soul, funk, progressive rock, hard rock, R&B, blues, and jazz. Having released 14 studio albums and sold over 40 million records worldwide, the group has received several Grammy Awards and was inducted into the Musicians Hall of Fame and Museum in 2009.
David Paich (keyboards, vocals) and Jeff Porcaro (drums) had played together as session musicians on several albums and decided to form a band; David Hungate (bass), Steve Lukather (guitar), Steve Porcaro (keyboards, vocals), and Bobby Kimball (vocals) were recruited before the release of the band's eponymous debut album in 1978. Led by the Top 5 single "Hold the Line", the album brought the band to mainstream attention, but it was their fourth album Toto IV (1982) which brought them global attention. "Africa" topped the Billboard Hot 100, while "Rosanna" reached number 2, helping Toto become one of the best-selling music groups of their era.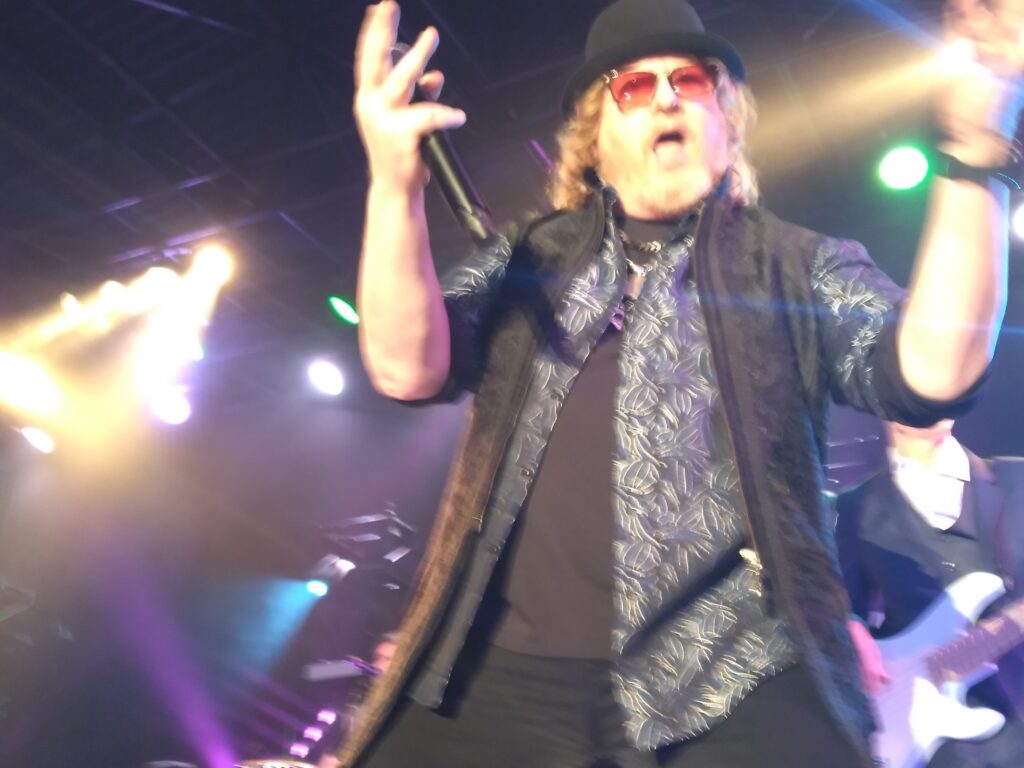 Following Toto IV, two of the original members, Hungate and Kimball, departed the band. Hungate was replaced on bass by Mike Porcaro, while Kimball was replaced by a number of different short-term vocalists, the longest serving of which was Joseph Williams. After Jeff Porcaro's death in 1992, he was replaced by Simon Phillips. While the band has never had the U.S. radio successes of their heyday in the late 1970s and early 1980s, they have continued to produce albums and tour more-or-less continuously to the current day (minus a few hiatuses) and have had many more top-ten albums and singles in places like Japan and Scandinavia. Steve Lukather remains the only original member who still records and tours with the band (Paich also remains an official member of the band, though he has mostly retired from touring). Since the 2010s, the band has increasingly relied on contracted touring musicians to continue to perform. As of 2023, they have released fourteen studio albums, eight live albums, one movie soundtrack (1984's Dune) and a number of compilation albums. Their final release was 2018's Old Is New before the band eschewed recording any further studio albums.
Before, and during Toto, the members did various session work for a slew of notable musicians. The first such session, which also led to the birth of the band was with Boz Scaggs, in which Jeff Porcaro, David Paich, David Hungate, and Joe Porcaro (regular Toto guest contributor and father of Jeff, Steve, and Mike) played on his smash hit album Silk Degrees. The members had done smaller scale work before this album working with the likes of Steely Dan, Seals and Crofts, and Sonny & Cher. Steve Lukather provided the main guitar work on Michael Jackson's hit "Beat It", although Eddie Van Halen played the guitar solo in the bridge. Jeff Porcaro played drums on the track, while Steve Porcaro programmed synthesizer for the Thriller album and also wrote and composed "Human Nature".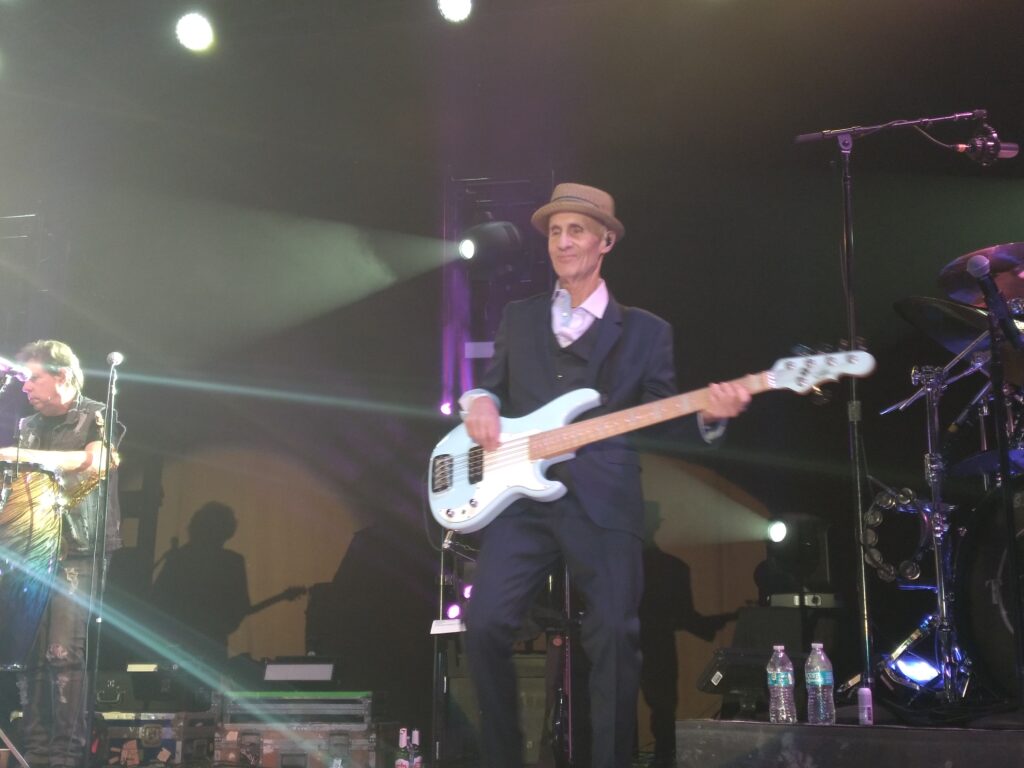 In 1982, the rock band Chicago brought in David Foster to produce their album Chicago 16. They had considered using him for their 1980 album Chicago XIV, but went with Tom Dowd instead. Under Foster's direction, the band adopted more of a soft rock sound, shed most of its jazz fusion/horn section sound, and brought in many session musicians. Of the musicians chosen, three were Steve Lukather, David Paich, and Steve Porcaro, the three core members of Toto.
In 1978, under David Foster's direction, he brought in David Hungate, Steve Lukather, Steve Porcaro, and Toto vocalist Bobby Kimball to play on Alice Cooper's 1978 album From the Inside. They have also played with legendary jazz player Miles Davis. Other artists/bands whom the members of Toto have collaborated with include Larry Carlton, Pink Floyd, Quincy Jones, Eric Clapton, Paul McCartney, James Newton-Howard, Michael McDonald, the Eagles, Earth, Wind & Fire, Yes, Eddie Van Halen, Los Lobotomys, Yoso, Richard Page (of Mr. Mister, who was proposed to replace Bobby Kimball), and Ringo Starr & His All-Starr Band (also featuring Richard Page).
Studio albums: 
Toto (1978)
Hydra (1979)
Turn Back (1981)
Toto IV (1982)
Isolation (1984)
Fahrenheit (1986)
The Seventh One (1988)
Kingdom of Desire (1992)
Tambu (1995)
Mindfields (1999)
Through the Looking Glass (2002)
Falling in Between (2006)
Toto XIV (2015)
Old Is New (2018)
Soundtrack albums: