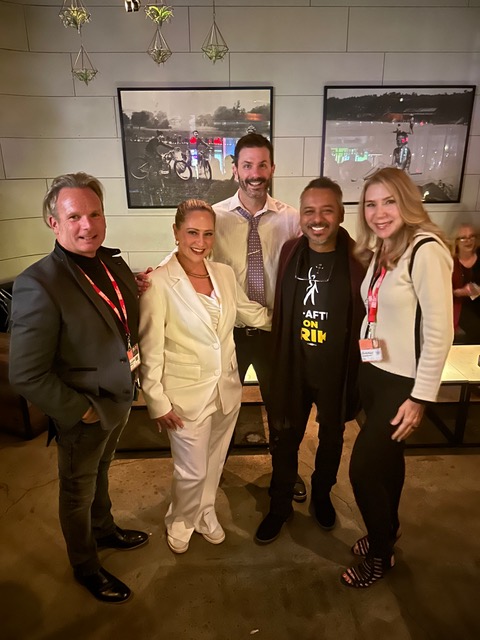 VA Media's American Film Market(AFM) party was a huge success and a great networking event with leading distributors and sales agents attending en masse. It was hosted by VA's Kristen Bedno, Head of Content Partnerships & Acquisitions, Mark Ashbridge, CEO, and Matt Campbell, Content Director.

VA Media is the largest YouTube Enterprise Partner in APAC and has 70+ content partners which license their films and series to VA to monetize across its 17 Owned & Operated global YouTube channels. They work with companies such as The Asylum, Cineverse, Millennium, Voltage Pictures, Tesera Entertainment, and Vision Films to monetize films and series globally. VA has over 18 million global subscribers in their network and also offers channel management services and Content ID piracy protection.

"We were thrilled to see so many current and potential partners at our AFM cocktail reception," said Kristen Bedno. "As the world has now opened back up and face-to face communication and business is available once again, we value the opportunity to share a handshake and a laugh in person and look forward to continuing our 5-star service offerings and growing our clientele."

Entertainment Today reporters Jacqueline Murphy and Christopher Connelly had a chance to meet VA Media's Kristen Bedno and Vision Films, Mark Shoeman who licenses their films to VA Media's global.  Vision Films is a leading distributor of independent content that's available on all major VOD platforms and cable & satellite providers. Mark Shoeman of Vision Films was helpful in guiding content creators Jacqueline Murphy and Carlos Moreno Jr. on how to position their projects. You can see in the below photo Left to Right: Christopher Connelly (ConCom Entertainment) – Kristen Bedno-(VA Media) –  Mark Shoeman (Vision Films) – Carlos Moreno Jr. (Bruh Pictures) & Jacqueline Murphy (Jackpot Films/The Admired LLC) : Jacqueline Murphy is an award-winning filmmaker of "The Admired" which was on the FYC EMMY Nomination ballot discussed the possibility of having her film on one of these platforms as did Carlos Moreno Jr the content creator of "Pepito's America". Murphy also worked with Moreno as an actress, producer, writer and director on "Pepito's" and it was also on the FYC EMMY Nomination ballot as well. Carlos Moreno is a prolific filmmaker and his other films will be featured this year at the LA Live Film Festival along with all of "Pepito's America" episodes on November 18.

Other content creators: Chris Connelly creator and producer of ConCom Entertainment discussed his in-development project "The Minute Men Legacy" and Elizabeth Blake Thomas a British award-winning storyteller and founder and director of entertainment company "Mother & Daughter Entertainment".  Elizabeth works with Vision Films – Mark Shoeman and her film "Caralique" can be seen on major VOD on Tuesday November 21. In the below photo Left to RIGHT:  Women who joined us for the photo- Elizabeth Blake Thomas (Mother & Daughter Entertainment) – Christopher Connelly (ConCom Entertainment) & Jacqueline Murphy (Jackpot Films/The Admired LLC): The beauty of AFM is the chance to meet others in the industry and even having a shot of making one's project a success and having people see it.