He Made Thousands of Fans Cheer, But Never Heard One – The true story of America's most famous deaf Major League baseball player 
Executive producer/Producer/Director David Risotto of
 Da-Cor Pictures/DMY HOY, LLC has wo
rked on over 
50 independent films as Director of Photography, Gaffer, Grip, and Editor amongst others. He's been honored with a Telly award for his excellence in video and television work across all screens while having been written up in magazines, news
papers and MLB.com.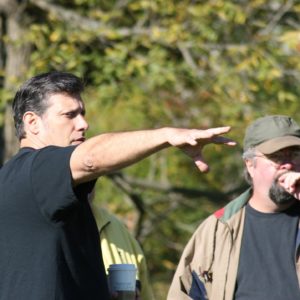 While actively and assertively networking the Santa Monica Loews Hotel lobby, during The American Film Market (AFM) – Risotto has just secured full funding of $2 million for his feature film script. 
"The Silent Natural" follows the life and career of William "Dummy" Hoy, the first Deaf major league baseball player, credited for the introduction umpire hand signs for STRIKE and BALL calls.
His main financier is an unnamed deaf entrepreneur to whom Risotto was introduced by co-producer and researcher of Dummy Hoy, Steve Sandy. Risotto boasts, "Steve Sandy was instrumental in helping get the deal done…TOGETHER we got it done!"
Officially now in pre-production, Risotto states, "We plan to shoot in March and April 2018 and we do have LOI's (letters of intent) for distribution although I don't want to say who right now."
Jeremy Quiroga, a Deaf actor, will 
play Dummy Hoy while Jody Stevenson,
 a deaf Actress will play his wife.  "We are currently making offers to A List talent to round out the cast
", according to Risotto. "
We will be shooting the bulk in Kentucky and a couple of days in 
Chattanooga, Tennessee and w
e do have a distribution plan."
Having started researching and writing the script about 15 years, Risotto completed a documentary about Dummy Hoy released in 2008 at the 2nd
 Annual National Baseball Hall of Fame Film Festival.
Risotto emotionally concludes, "Dummy was an underdog. He overcame many obstacles to become one of the greatest ball players of his time. Most of us struggle in life to get where we want to be. I had to overcome many obstacles to be were I am today. I want his story told. Dummy Hoy deserves the recognition."
William "Dummy" Hoy was born in 1862. His career Major League batting average was .
288 with 2044 hits, 725 runs batted in, and 607 stolen bases while playing for 8 teams from 
1889 -1902
. He died at the age of 99 and was inducted into The Cincinatti Reds Hall of Fame in 2003.
We wish to thank our news staff of : Roger Lim, Denise Bohdan, Margie Rey, and Steve Taylor, for their coverage of AFM. More to come – daily from AFM ! 
For more information, and the complete story go to: 
entertainmentandsportstoday.com
 Facebook.com/entertainmentandsportstoday and Youtube.com/entertainmenttodaytv  @americanfilmmarket 
David Risotto may be contacted at Da-Cor Pictures, 9909 Topanga Canyon Blvd, Chatsworth, CA 91311 dacorpictures92@gmail.com