Fighting back against the Coronavirus Epidemic: Las Vegas is leading the way– with a limited Re-Opening! Small Businesses, Stores, Restaurants, Bars, Parks, Golf Courses, and Gyms will open up again for business, while asking customers to come back and still stay 6 feet apart from each other. Below: view from our suite at Caesars Palace- overlooking the Bellagio Water Fountain show, Paris, The Eiffel Tower, Planet Hollywood, Bally's, The MGM Grand, Aria, and the Las Vegas Strip: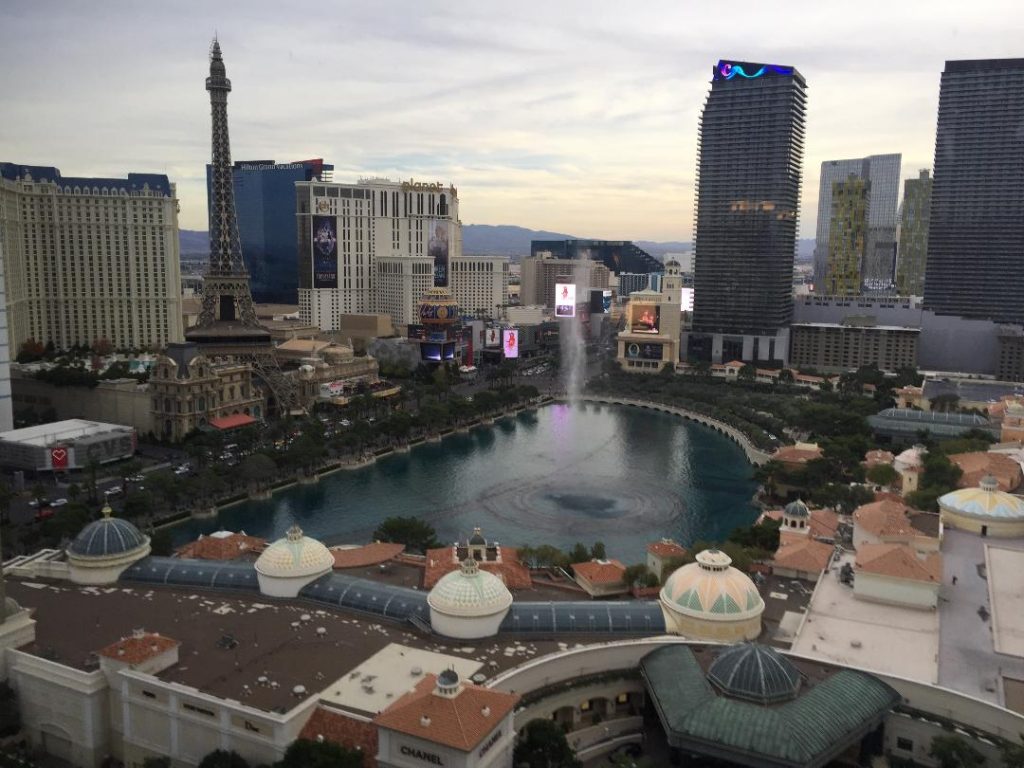 Then Las Vegas expects to open up completely with all the big Hotels and Casinos, on Memorial Day– to start off the big summer season! Nevada has very little COVID-19 cases as compared to most of the rest of the country. We hope to be there soon – to celebrate the Grand Re-Opening big time with all of our friends! Below- me & Rapper Coolio down in the Flamingo Pool, right after Coolio's Concert: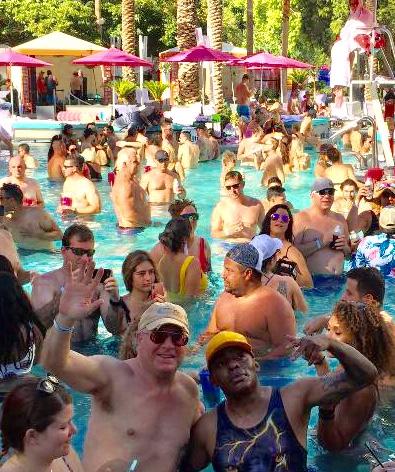 You can see in this video The Gazillionaire, host of "Absinthe" at Caesars Palace, who would like to thank everyone for doing their part and staying safe. The Gazillionaire is outside by the Caesars Palace Pool as he talks to you, and does a funny bit with Penny Pibbets – the Green Fairy who plays the part of a waitress who serves the Gazillionaire some caviar- while trying to still stay 6 feet away from him! I was lucky enough to see this show 3 times, and each time it was a thrill, with lots of laughs!
Absinthe is the quintessential Las Vegas show, raunchy, rowdy, and filled with acts to blow your mind. Absinthe improvises on traditional variety shows and vaudeville performances, giving the show a modern and outré touch. The act includes burlesque dancers, sideshow performers and international artists. Below – having fun at one of the hottest pools in Vegas – The Flamingo Go Pool: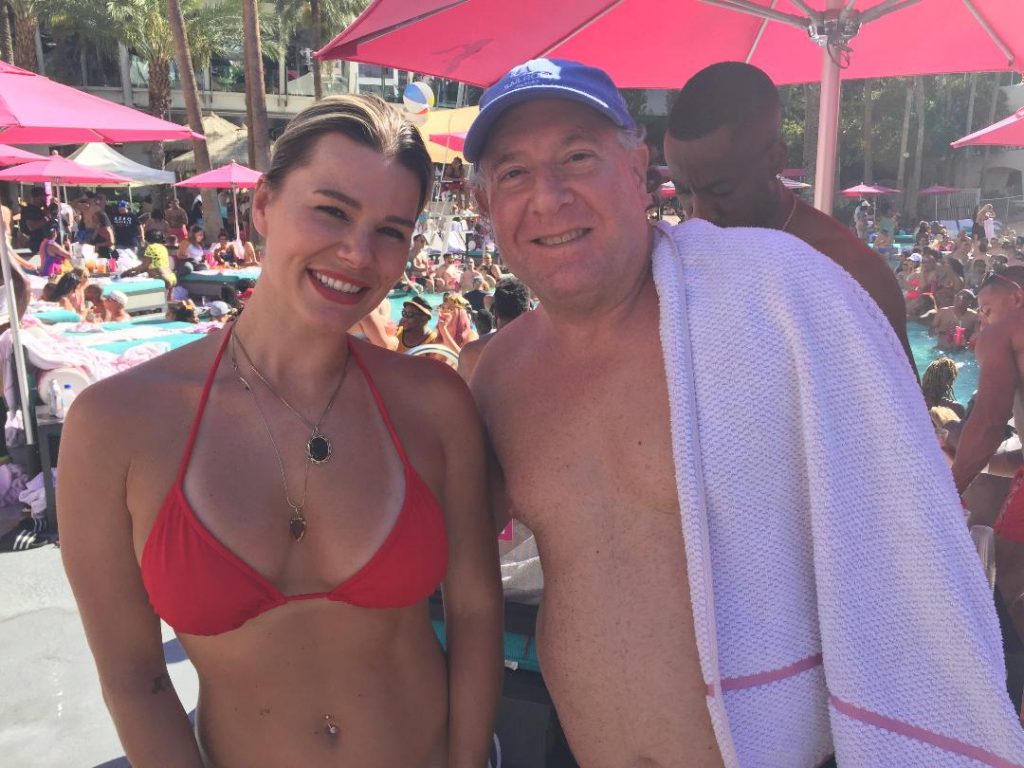 Absinthe is a combination of circus, singing, dancing, burlesque, acrobatics and various theatrical antics. Performing on a small intimate stage, these artists make the best of this immersive adult playground. The show itself is a parody of the popular Cirque du Soleil shows, and many performances revolve around controversial aspects of the entertainment industry, making them wild and even dangerous. The show focuses around themes of the entertainment industry and features an eccentric cast in a debaucherous playground that offers death defying thrills, raw sensuality, and excess. The host and scantily dressed acrobatic performers are right above your head, which makes for an intimate show that will keep you at the edge of your seat. Below at our table out on the patio on the Paris cobblestone walkway, having some amazing specially cooked gigantic sized steaks that just melt in your mouth: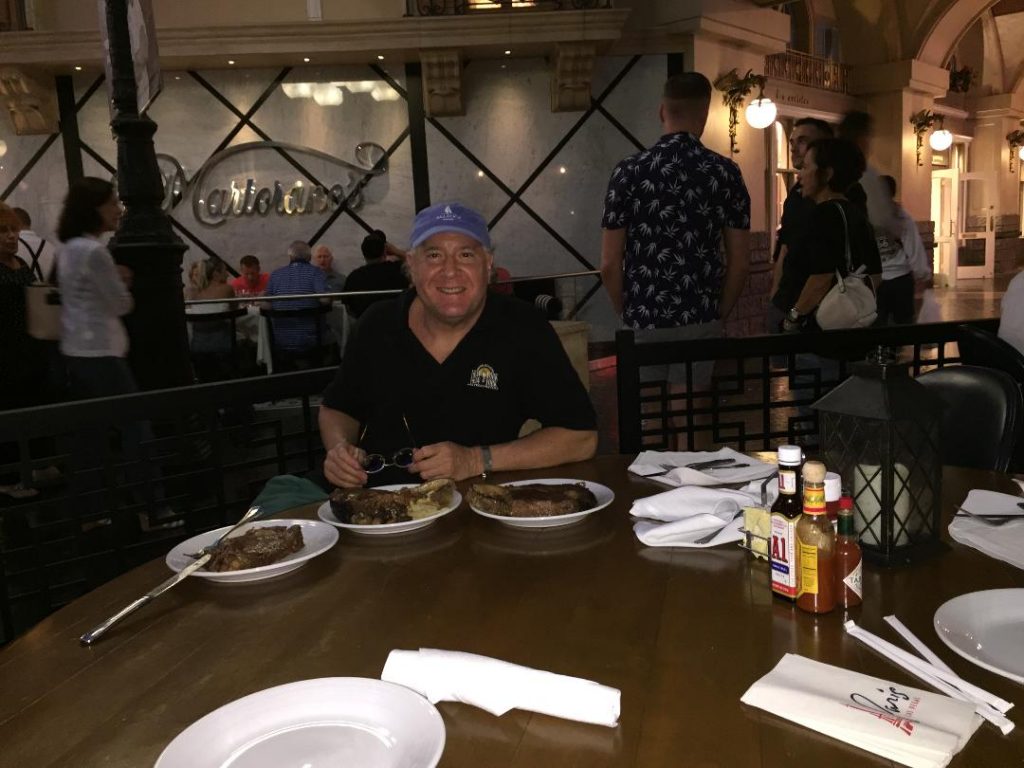 Caesar's Entertainment has Casinos in Las Vegas, Reno, Lake Tahoe, Harrah's Laughlin, Harrah's Resort Southern California, Casinos in the USA, and all over the world! Everyday at the 10 Casinos in Las Vegas- Caesar's has the biggest and the best big name music artists, dancers, comedians, singers, magicians, and variety performers in the world!  Below: hoping for another big gambling win: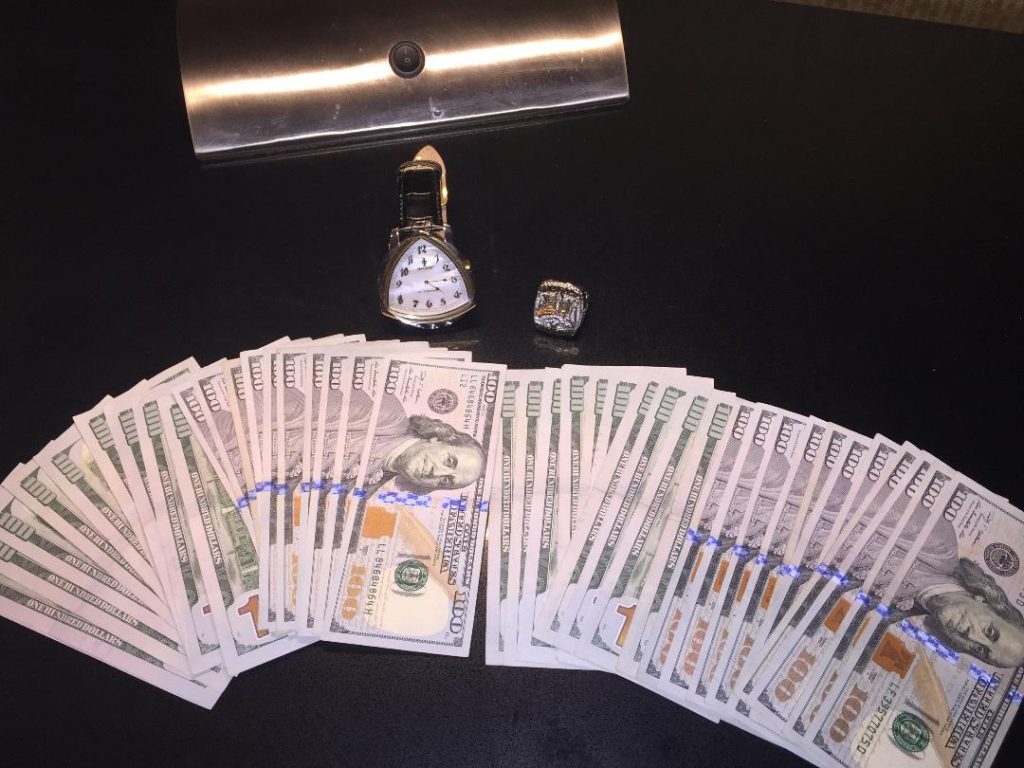 Stay tuned for live daily round-the-clock news coverage from our news team in Los Angeles, Hollywood, New York, Beverly Hills, and overseas from Entertainment & Sports Today TV, and Entertainment Today, and for the complete story go to: entertainmentandsportstoday.com, on Facebook & Instagram: @entertainmentandsportstoday, and Youtube.com/entertainmenttodaytv
For tickets to future events, and Sponsorships and get advertising rates and info, E-Mail : info@entertainmentandsportstoday.com – and for more info about us go to: www.entertainmentandsportstoday.com & thanks for watching !
For more information, and if you like to buy any of these great products that you saw on our TV show, E-Mail us direct: info@entertainmentandsportstoday.com so that one of our staff can connect you with the right people. Above is our video news story, that is part of the follow up to our daily news stories on the Coronavirus.
For more news stories and updates about the Coronavirus : go to EntertainmentandSportsToday.com  and go to the top of the home page and click on the "HEALTH & BEAUTY" section.  Additional updates can be found by clicking the "Business & Technologies" , and "Entertainment" sections, or just click "Home". For stories that may uplift your spirits during these trying times go to the "Music" section of our website.
If you may have any questions- you can email us at info@entertainmentandsportstoday.com- so we can find you the answers from the doctors and health experts, that have written stories for us, and from the health agencies that have provided information and daily updates for us. & Thanks for watching, and be healthy and safe!