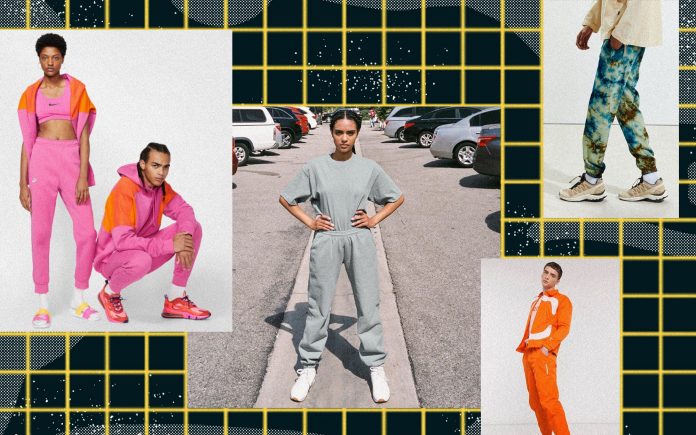 Sweatpants & hoodies out selling Masks during this COVID-19 Pandemic during this lockdown, and retail business closings !
There are some products that the sales are going UP that are all online – now during the coronavirus:
Face masks, COVID-19 testing products, all essentials like meat, bread and toilet paper; grocery, pizza, ice cream, and food deliveries and takeout sales are better than they have ever been;  and for everyone under lockdown: live video/audio , streaming, movies, doc's, music- entertainment for people to view at their own home, virtual classes and instructional videos/Telehealth are all going up in sales and new subscribers;  Nonessentials: at-home: hair color kits, jigsaw puzzles, knitting, workout bikes for use at home, and baking; and sweatpants !
Right now there is a big success with online sales, and with these sales increasing over 10X – these industries are having fulfillment issues, and not having enough inventory to keep up with all their orders !
The Race to Capture the Exploding Market for Sweatpants:
Comfy pants have become the pandemic uniform—and Gap, Nike, and Champion are battling against indie brands
T
hree of the most viral online stories in the last month involved the only piece of apparel that's more in demand now than face masks: sweatpants. In mid-April, 
Vogue
 editor-in-chief and Condé Nast artistic director Anna Wintour, who is rarely seen in anything but statement designer dresses, appeared on the glossy's Instagram in a pair of loose red track pants. Gymnast Simone Biles posted her version of the handstand challenge, but instead of putting on a T-shirt while inverted, she removed a pair of sweats. And when 
LA Times
 Style editor Adam Tschorn wrote an op-ed in which he said everyone working from home should adhere to their normal work dress code and ditch the joggers, the internet erupted in scorn at the very notion of putting on what have been dubbed "hard pants."
Sweatpants have become the uniform of the pandemic, at least among the non-essential work-from-home set. "This is a product you're going to live in all day, every day, and probably go to bed in. It is incredibly versatile," says Nikki Sakelliou, vice president of marketing for five-year-old activewear brand Vuori. She was talking about the brand's best-selling $84 women's Performance Jogger, which has seen 1,100% growth in sales year over year, with much of that jump happening in the last couple months. But her sentiment applies broadly across the category.
In the first quarter of 2020, while activewear dipped 16%, sweatpant sales were up 2%.
Since the masses began working from home — keeping it professional from the waist up — sweats have become one of the few clothing items that have experienced any sort of bright spot. Apparel sales plummeted by over 50% in March, after shelter-in-place orders went into effect and so-called non-essential businesses shut down, according to U.S. Commerce Department data. Meanwhile, in the first quarter of 2020, while activewear dipped 16%, sweatpant sales were up 2%, says Matt Powell, senior sports industry advisor at the NPD Group. According to retail tracking company Edited, sellouts on sweatpants were up 79% at mass-market U.S. retailers from February to April.
But for the fashion and apparel companies trying to cash in on the demand — everyone from big brands like Champion and Nike, to upstarts like Bombas and Entireworld — it's been complicated. Some companies like the Gap have been hobbled by shipping delays or supply chain snafus, while those with strong customer relationships like Lululemon have been able to capitalize on the soft-pants craze as more customers turn to e-commerce. The winners, says Sam Poser, an analyst who covers athletic and footwear companies at Susquehanna International Group, will be determined by whoever can best master "product, engagement, and process."
The indie opportunity
Activewear upstart Vuori seems to have done just that. The 130-employee company based in Encinitas, California, was founded in 2015 by Joe Kudla, a former accountant and model. It began as athleisure for men, offering activewear without any logos and with simple, non-fussy design, then expanded into women's clothes. Vuori had several things going for it heading into Covid-19, including profitability, a recent $45 million fundraise, and an agile mix of sales channels — including large retailers, gyms, and direct-to-consumer e-commerce.
Once the pandemic hit, it was able to quickly pivot to meet the increasing e-commerce demand. Its social media marketing went full-throttle on the work-at-home appeal of its $80 joggers, while its retail employees were transferred to other parts of the business, including using one of the shuttered stores to process online returns (and allowing the company to avoid layoffs). Some are even making content for its new, soon-to-launch TikTok channel. Most importantly, though, Vuori had tons of the very item that people wanted at a time when other companies have been hamstrung. "The brand has so much more visibility and awareness now than it did before," says Sakelliou, Vuori's VP of marketing, noting that it has even been able to expedite its fall shipments from suppliers, thanks to the high demand.
Other stable, growing indie brands have been able to grab a larger share of the sweatpants pie. Entireworld, a Los Angeles-based company started by former Band of Outsiders founder Scott Sternberg, appears to have sold loads of its colorful matching sweatsuits at full price ($176). Scroll through the Instagram feeds of fashionable people in the know and you'll see them everywhere. The brand has even managed to drop new merchandise in the past week, including cotton shorts and an all-white sweatsuit — immaculate fashion for never leaving the house.
For other brands, it may have been a missed opportunity. Outdoor Voices, the buzzy, now-struggling Austin, Texas-based startup, should be capitalizing on the demand, with its several styles of joggers. But until very recently, its landing page was emblazoned with the optimistically tone-deaf slogan "You Can Do Anything In a Dress," featuring its stretchy exercise dress. (The company is finally now featuring its joggers.)
Then there's DTC sock company Bombas. The New York City–based startup launched a line of T-shirts last spring and sweatpants last fall, teeing itself up to conveniently meet the cozy indoor demand with a one-two punch of both socks and soft pants. Despite a peak in Google searches for the brand's sweats in April, Bombas has not appeared to promote them on its social channels much, and while some men's sizes are sold out, most sizes are still available for women, as the brand is experiencing weeks-long shipping delays on its website. (Entireworld, Outdoor Voices, and Bombas declined to speak to Marker.)
Ironically, one of the hottest upstart sweats brands that could be owning this moment has decided to sit it out. American Giant, known for its perfect hoodies and ethical practices, sold out of most sizes of its sweats weeks ago. Founder Bayard Winthrop opted to stop manufacturing apparel, instead producing masks in conjunction with Hanes and the government. The company, says a spokesperson, hopes to "ramp production back up" by the summer.
Bigger is better only sometimes
The likely corporate sweatpant winners here are less surprising. Poser, the analyst, thinks Lululemon and Nike will emerge from the crisis the least battered. Nike — which weathered the Covid-19 crisis in China and Asia, where its stores have started reopening — saw a 7% overall increase in revenue in its last quarter. Meanwhile, Lululemon experienced a 20% revenue increase in its last quarter, at the beginning of the crisis. Both companies have strong brands, minimal long-term debt, reliable cash flow, and Nike, in particular, a stealth digital footprint. Still, Nike, Adidas, and Under Armour all saw declines in their activewear sales in the first quarter ending in March, per NPD's Powell.
Then there's HanesBrands' Champion, the decades-old brand most associated with gym shorts and utilitarian sweats, which has had a resurgence in recent years thanks to '90s nostalgia and some savvy collaborations with fashion and streetwear brands. (Hanes also has a hit here, with its popular Amazon sweatsuit. The pants, over 7,000 reviews strong, cost a mere $7.50.) Champion and Hanes both saw single-digit activewear sales growth in the first quarter. On HanesBrands' April 30 earnings call, CEO Gerald W. Evans Jr. reported that customers were "buying aggressively" on Champion's website, with "triple-digit growth rates" in digital sales. (Although HanesBrands' total net sales plunged by nearly 12%.) The company just launched sub-brands at Walmart.com and Amazon, ensuring steady access for customers.
To help keep customers hooked (and shopping), many activewear brands have been hosting Instagram Live fitness and meditation classes, featuring guest instructors swathed head to toe in the brand's duds. Nike CEO John Donahoe noted on the company's March earnings call that, during China's outbreak, consumers engaging with its training app helped drive a subsequent 30% rise in digital sales. Vuori, Lululemon, and Athleta are all hosting virtual classes now too.
Rachel Tashjian, a style reporter for GQ, recently wrote that Americans have been poised to replace jeans with sweats as our country's national pant — and this could finally be the tipping point. Then again, as the weather starts to warm, apparel and fashion brands might want to prepare for the next unexpected soft hit: elastic waistband shorts.
Stay tuned for live daily round-the-clock news coverage from our news team in Los Angeles, Hollywood, New York, Beverly Hills, and overseas from Entertainment & Sports Today TV, and Entertainment Today, and for the complete story go to: entertainmentandsportstoday.com, on Facebook & Instagram: @entertainmentandsportstoday, and Youtube.com/entertainmenttodaytv
For tickets to future events, and Sponsorships and get advertising rates and info, E-Mail : info@entertainmentandsportstoday.com – and for more info about us go to: www.entertainmentandsportstoday.com & thanks for watching !
For more information, and if you like to buy any of these great products that you saw on our TV show, E-Mail us direct: info@entertainmentandsportstoday.com so that one of our staff can connect you with the right people. Above is our video news story, that is part of the follow up to our daily news stories on the Coronavirus.
For more news stories and updates about the Coronavirus : go to EntertainmentandSportsToday.com  and go to the top of the home page and click on the "HEALTH & BEAUTY" section.  Additional updates can be found by clicking the "Business & Technologies" , and "Entertainment" sections, or just click "Home". For stories that may uplift your spirits during these trying times go to the "Music" section of our website.
If you may have any questions- you can email us at info@entertainmentandsportstoday.com- so we can find you the answers from the doctors and health experts, that have written stories for us, and from the health agencies that have provided information and daily updates for us. & Thanks for watching, and be healthy and safe!