A look back to a once in a lifetime performance by Beyoncé & Tina Turner , who gave an amazing, and emotional rendition of  "Rolling on the River" at The 50th Annual Grammy Awards , back in 2008- at The Staples Center in Los Angeles, California. This is the view of that historic show from the "Diamond" floor seats, only a few feet from the center of the stage ! We were very lucky to get these tickets for this 50th Grammy Awards Show !  Next year The Grammys move to Madison Square Garden , in New York.
Turner came out of retirement to perform a duet with the R&B singer , and it was the 68-year-old soul legend's first concert performance in more than seven years.  As a bonus, Turner picked up a Grammy Award as a participant on jazz icon Herbie Hancock's surprise album of the year winner River: The Joni Letters.  
Turner and 26-year-old Beyoncé got the crowd on their feet with a lively version of Proud Mary, for which Turner won a Grammy in 1972. Among the fans tapping their feet were veteran rocker John Fogerty, who wrote the song. By the end, Beyoncé looked exhausted, but Turner seemed ready for more.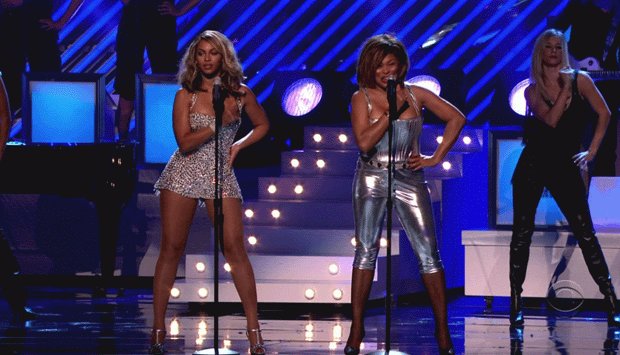 Beyonce And Tina Turner Performing Proud Mary At Grammy's 2008 :
You know, every now and then
I think you might like to hear something from us
Nice and easy
But there's just one thing
You see we never ever do nothing
Nice, easy
We always do it nice and rough
So we're gonna take the beginning of this song
And do it easy
But then we're gonna do the finish rough
This is the way we do "Proud Mary"
And we're rolling, rolling, rolling on the river
Listen to the story
I left a good job in the city
Working for the man every night and day
And I never lost one minute of sleeping
I was worrying 'bout the way the things might've been
You know that big wheel keep on turning
Proud Mary keep on burning
And we're rolling, rolling, rolling yeah
Rolling on the river (the river)
Cleaned a lot of plates in Memphis
Pumped a lot of tane down in New Orleans
But I never saw the good side of the city
Until I hitched a ride on a riverboat queen
You know that big wheel keep on turning
Proud Mary keep on burning
And we're rolling, rolling, rolling yeah (rolling)
Rolling on the river
Say we're rolling (rolling) rolling yeah
Rolling on the river
The river
Oh I left a good job in the city
Working for the man every night and day
And I never lost one minute of sleeping
Worrying about the way the things might've been
Big wheel keep on turning
Proud Mary keep on burning
Rolling, rolling, rolling on the river
Say we're rolling, rolling, rolling on the river
Oh I cleaned a lot of plates in Memphis
And I pumped a lot of tane down in New Orleans
But I never saw the good side of the city
Until I hitched a ride on a riverboat queen
Big wheel keep on turning
Proud Mary keep on burning
And we're rolling, tell you rolling, we're rolling on the river
I tell you we're rolling, rolling, rolling on the river
If you come down to the river
I bet you gonna find some people who live
And you don't have to worry if you got no money
People on the river are happy to give
Big wheel keep on turning
Proud Mary keep on burning
And we're rolling, tell you rolling, we're rolling on the river
Tell you we have no time (rolling, rolling, rolling on the river)
(Rolling, rolling, rolling on the river)
Rolling, rolling, rolling on the river)
Tell you we're rolling, rolling, rolling on the river
I tell you we're rolling, rolling, rolling on the river)
Songwriters: John C. Fogerty
Proud Mary lyrics © The Bicycle Music Company