NYC PIZZA MAKER CREATES WORLD'S LONGEST PIZZA PIE OVER 1.3 MILES LONG IN CALIFORNIA .  OVER 80 PIZZA SHOP WORKERS SPENT 1 WEEK TO MAKE GUINNESS BOOK OF WORLD RECORDS.  SIZED PIZZA TO FEED LOCAL HOMELESS SHELTERS .
Fontana, Ca- Hakki Akdeniz, owner of Champion Pizzeria of New York City and Tony Gemignani, Tony's Pizza Napoletana of Los Angeles joined together with over 70 shop owners to unveil the worlds longest pizza pie. The 1.3 mile long pizza will was unveiled to racing fans at a ceremony held at the Auto Club Speedway in Fontana, California.  
After the pizza was done, it was given to local homeless shelters in the Los Angeles Area. Mr. Akdeniz flew to California from New York to design this pizza. He was formerly homeless before he went into the pizzeria business. The Guinness Book of World's Records has verified its status.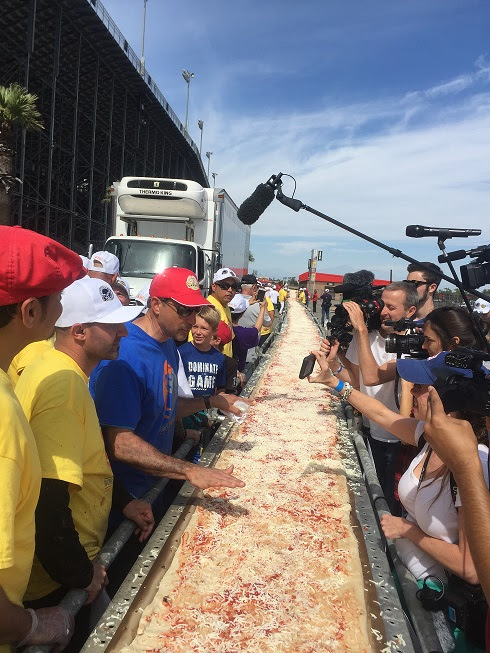 "Pizza making is a labor of love and one that will pay thousands of dividends for humanity," said Akdeniz, who arrived in the U.S. as a political refugee in 2000, carrying just a few hundred bucks in his pocket before finally landing a job in a pizzeria. "It's all about giving back to your fellow pizza-loving man, and giving them some pizza mind."