Earlier today at the legendary, beautiful, plush and fabulous BELLA VISTA POLO RANCH in CARPINTERIA, CALIFORNIA  (SANTA BARBARA)  was the the CELEBRATING LIFE Launch Event for the worlds of finance, product marketing, entertainment, live event production, film, music, sports, fashion, and the arts! This event did all that and more, and provided everyone with a unique, and very exclusive, and great experience in this beautiful coastal area of California, with memories that will last forever!
In this beautiful estate building with amazing scenic views of the ocean and mountains that you can see up and down the coast, beautiful lush gardens, plush grounds, patios, balcony, polo fields, landscape, beautiful water fountains, and infinity pool:  they welcomed the VIP only guests with cocktails, red carpet, gourmet buffet seated luncheon, music, entertainment and press conference to tell everyone about the Celebrating Life ideas, projects, sponsors and upcoming events, with an exciting Polo Game with the Monte-Carlo Polo Federation, and a fantastic Fashion Show for the launch of Pierre Cardin in the USA.
It was a long and fun day, starting at 11:30AM with welcoming cocktails and Hors d'oeuvres, red carpet, gourmet buffet seated luncheon, and then an exciting 
polo game, that was organized by Mr. Richard Caleel, the former President of FIP (Federation of International Polo). Then the Award Winning Designer Gilles David presented his first fashion show of 'Pierre Cardin' Sport's collection, re-launching the Brand in the US, since acquiring the rights to the Pierre Cardin estate in the French Riviera. Then Celebrity DJ DJLO serenaded the guests with a cocktail and music into the night, and ending past 8PM.  
https://djlomusic.com/
In the heart of an ultra-wealthy, celebrity-filled enclave in California sits one of the priciest and unique pieces of real estate on the state's coastline: The 
BELLA VISTA POLO RANCH
 in 
CARPINTERIA, CALIFORNIA  (SANTA BARBARA) is a $65 million estate that was used in a Britney Spears video.
Britney Spears fans may recognize the massive estate from its starring role opposite the pop icon
 in her video for the hit single "Radar."  In the below photo: Britney Spears arrives at Bella Vista Polo Ranch in the "Radar" music video: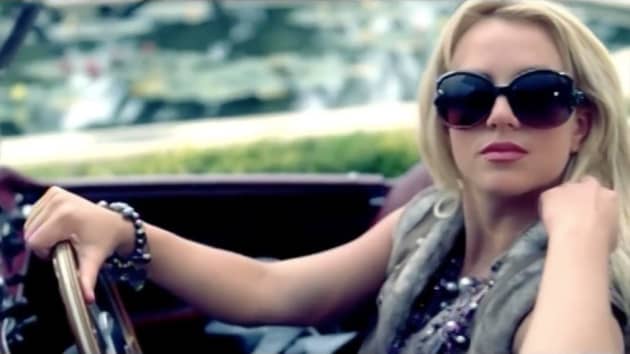 The BELLA VISTA POLO RANCH has its own polo field and nightclub! There is a driving range adjacent to the polo field. The estate is located on Montecito Ranch Lane in Summerland, California, a tiny town of 1,448 residents on the border of Montecito.
The owners are financier Pat Nesbitt and his wife Ursula. Ursula Nesbitt's favorite spots in the home is her bi-level dance club that can host a party for 200. Mr Nesbitt is the Chairman of Windsor Capital Group, the largest private owner of Embassy Suites Hotel chain and also served as executive director of the World Polo Championships, and is an award-winning player himself: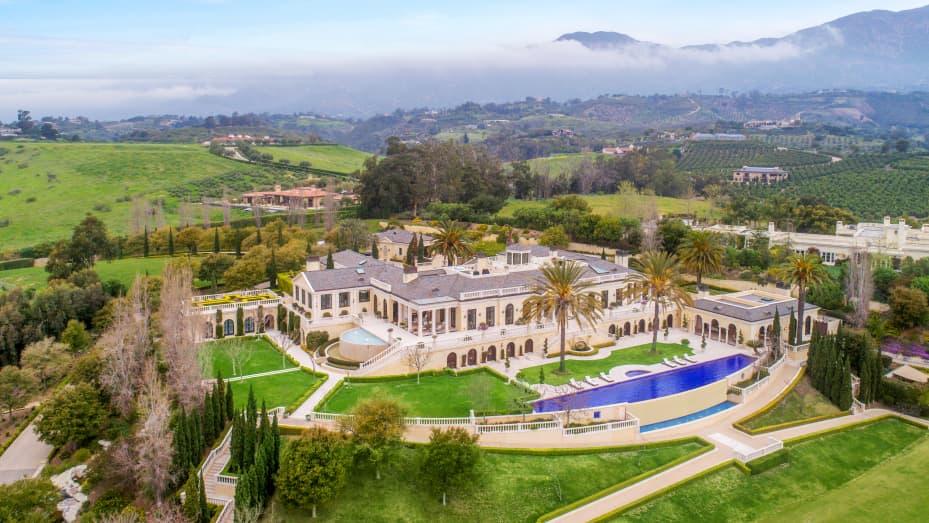 The French and Mediterranean-style themed 20-acre compound that includes 11 bedrooms and 14 full baths across a total of 43,000 square feet of living space. There is a 128-foot infinity pool, where parts of Britney's video were shot.  Pat Nesbitt even created a spot to view tournaments from underwater, as he said: "The infinity pool actually has windows in it. So if you wanted to watch a polo match in scuba gear, you can do that." The below photo is of the main residence in the foreground and 10-acre grassy polo field in backyard. This is the same breathtaking view we had as we watched the Polo Match and the Fashion show. You are able to look all the way south down the coast, to see the ocean, mountains and trees: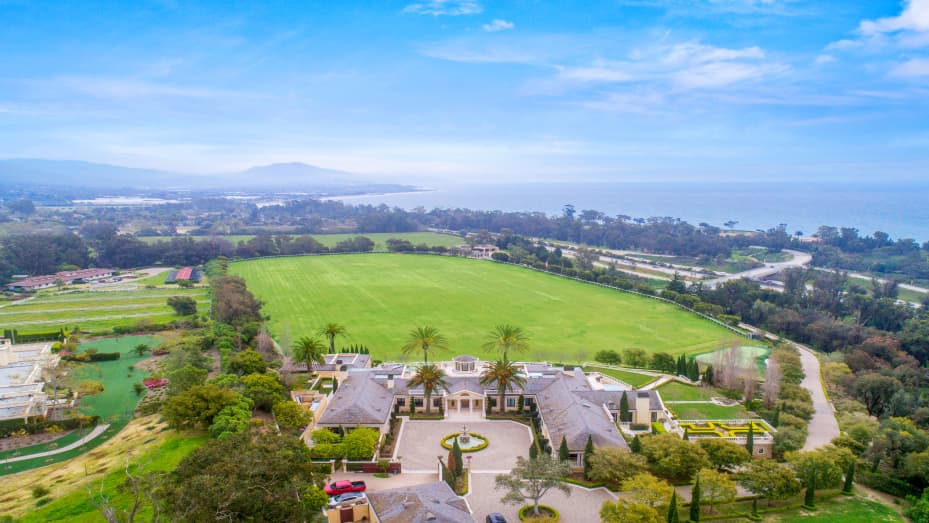 The fashion show started from the terrace of main residence, with the models starting there and walking down a beautiful arched staircase, and then across the whole side of the infinity pool. Below is a photo of the same view that the models and we had at the starting point of the fashion show.
We had a breathtaking view of the polo field from the terrace of the main residence: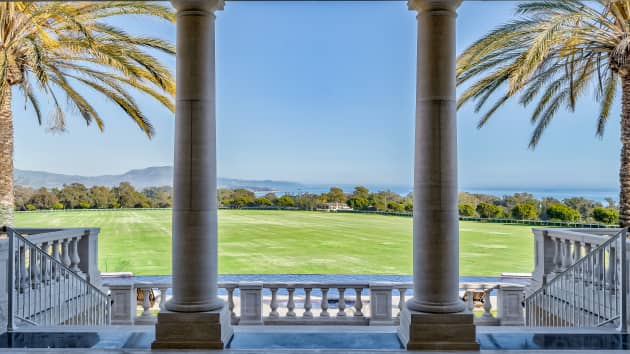 Right now 
Celebrating Life
:  
http://www.celebratinglife.la 
  is a new 
revolutionary company that creates global events and exclusive experiences,
 and is launching their company with an event to create a kaleidoscopic way to unite business, entertainment, fashion, finances, music and sports and is officially launching in the United States.
We like to give a special thanks to
Shelley Sykes
for the standup report, and
Dr. Aura Imbarus
for the voiceover, during the fashion show. They both talked about
the 3 designers who were: Kiki Wang, Stephanie Ugochi, and Sonia Ete. The modeling agency who brought in 29 models from all over the US, was Raven Wilson. Aura is a Mindset & Achievement Coach, Magazine & Event Creator, and "One Goal: Women's Empowerment."  Below Photos of our TV News Executive Producer: Steve Taylor, TV Show Host: Margie Rey, and Fashion Reporter: Sage Stevens. (Left – Right:) Sage, Steve, Margie: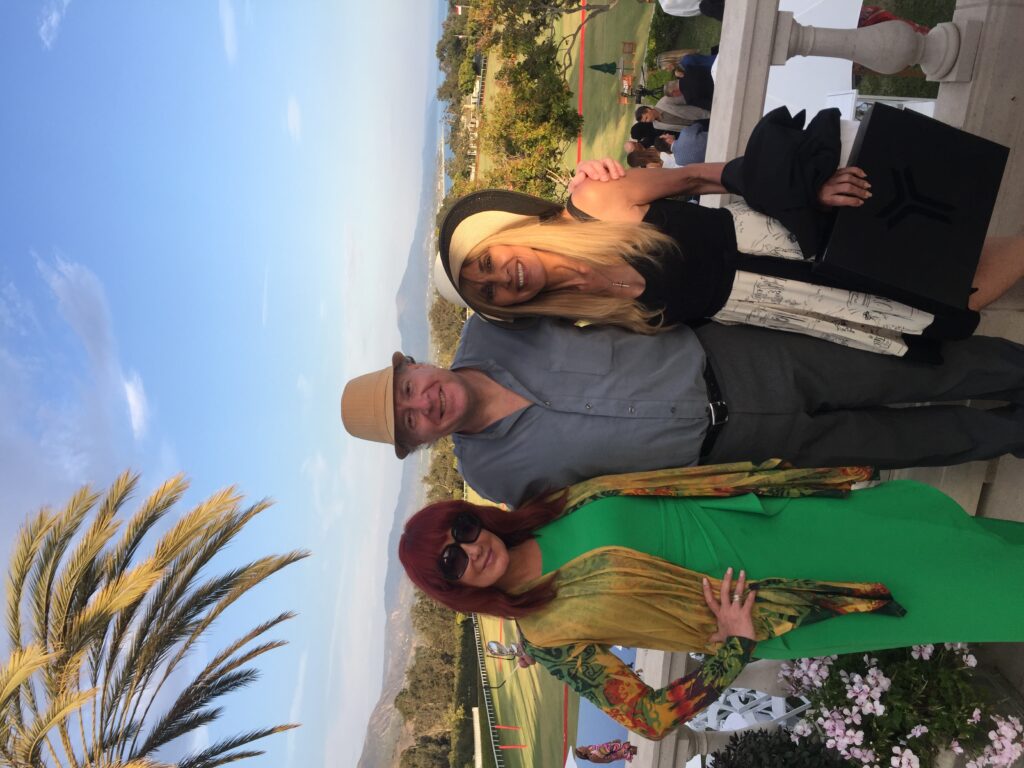 Award winning producer, Valentina Castellani, of Quinn Studios Entertainment
https://quinnstudiosentertainment.com/ 
and Lan Trshirky of 
https://www.lantocapital.com/company.html 
and 
Gilles David of 'Pierre Cardin
https://pierrecardin.com/en/ 
have come together to 
rethink events and have created a template of how to celebrate life, give back and create memories to last a lifetime.  
When you bring together these inventive minds, the stage is set to think out-side-the-box with no limits and execute a grand vision. By becoming a partner with CELEBRATING LIFE together with Gilles David and Valentina Castellani, you have access to the Highest level of Hollywood Entertainment and Global Media.
On July 20, 2022, CELEBRATING LIFE  began their presence in the US with a sponsorship of the 2022 'ESPY' awards at the Dolby theater in Hollywood. CELEBRATING LIFE has already set their sights for the next event at the 'Pierre Cardin Villa' the iconic "Palais Bulle',' located in Cannes. The company will expand in January of 2023 to Davos, Switzerland at the prestigious 'LAN SPACE,' bringing films, entertainment, music, and fashion for the first time to the world's capital of business.
Below photos of Margie & Steve watching from the pool level- the exciting Polo Match: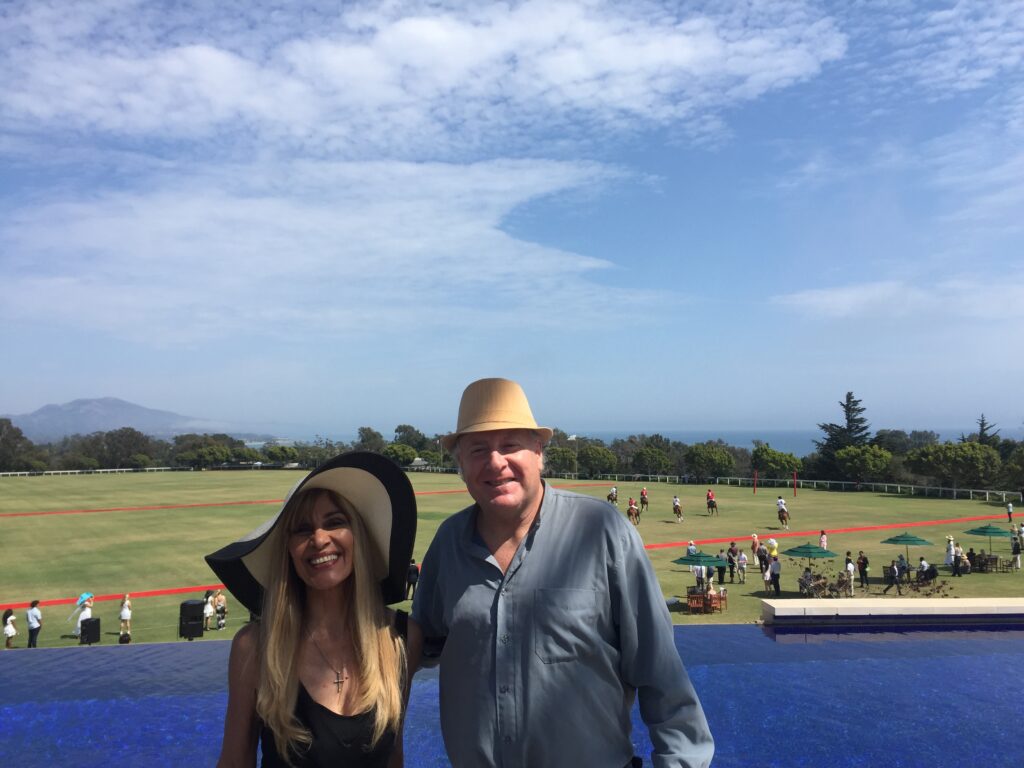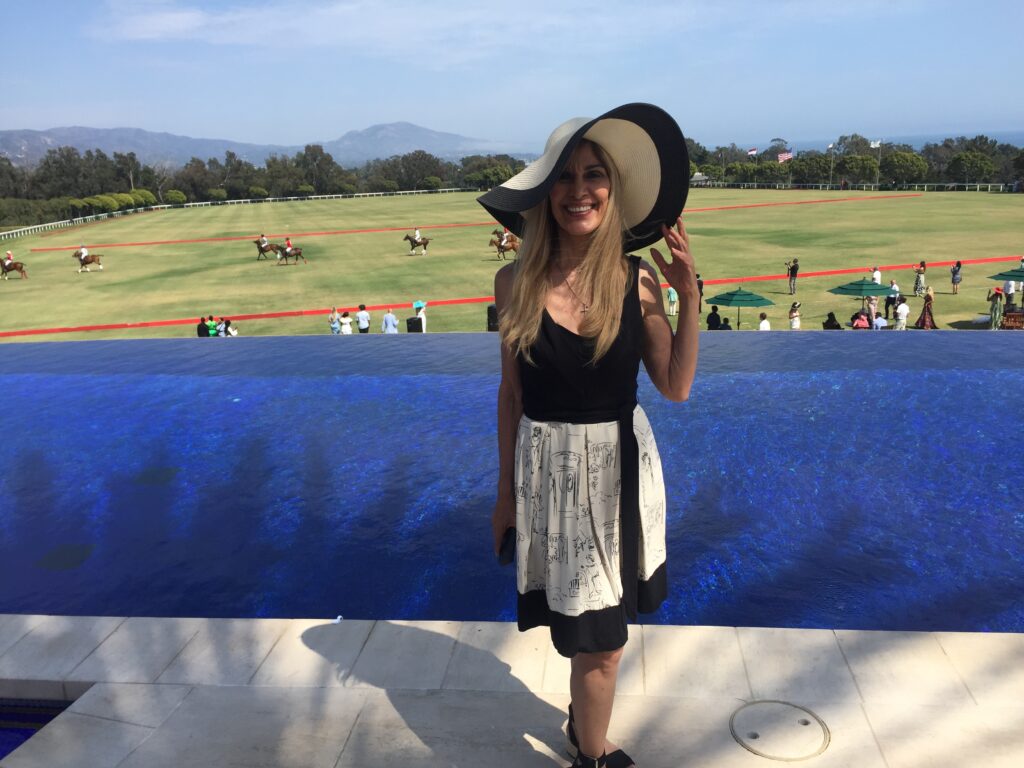 Valentina Castellani has a very impressive history and bio, and is an Award Winning  Film Producer and the COO of Celebrating Life, and President and Chairman of Quinn Studios Entertainment, which continues the Legacy of Academy Award Winning Actor Anthony Quinn, in the fields of art and entertainment. Mrs. Castellani produced many Academy Awards candidate films, that are internationally recognized and distributed. She won the prestigious US CONGRESS AWARD, The HUMAN RIGHTS AWARD, the English WIFTS Award as a "Visionary Producer" together with Chancellor of  Germany, Angela Merkel and actress Gal Gadot!
Because of her ethical work as a producer, and her service to global society, Valentina Castellani was invited to speak at many International Organizations, including, The US Congress, United Nations, UNESCO, The YPO/Young President Organization and a number of International Universities.
Miss Castellani just signed in 2021 a Partnership contract between the UAE Royal Family and QUINN STUDIOS ENTERTAINMENT to produce Films, and Documentaries, together. The First Film in production will be "POLO", produced by QUINN STUDIOS ENTERTAINMENT, The Royal Family Office and NDB Group.
Below Photos of 2 guests enjoying the amazing view of the mountains and the ocean in Santa Barbara from the Balcony level: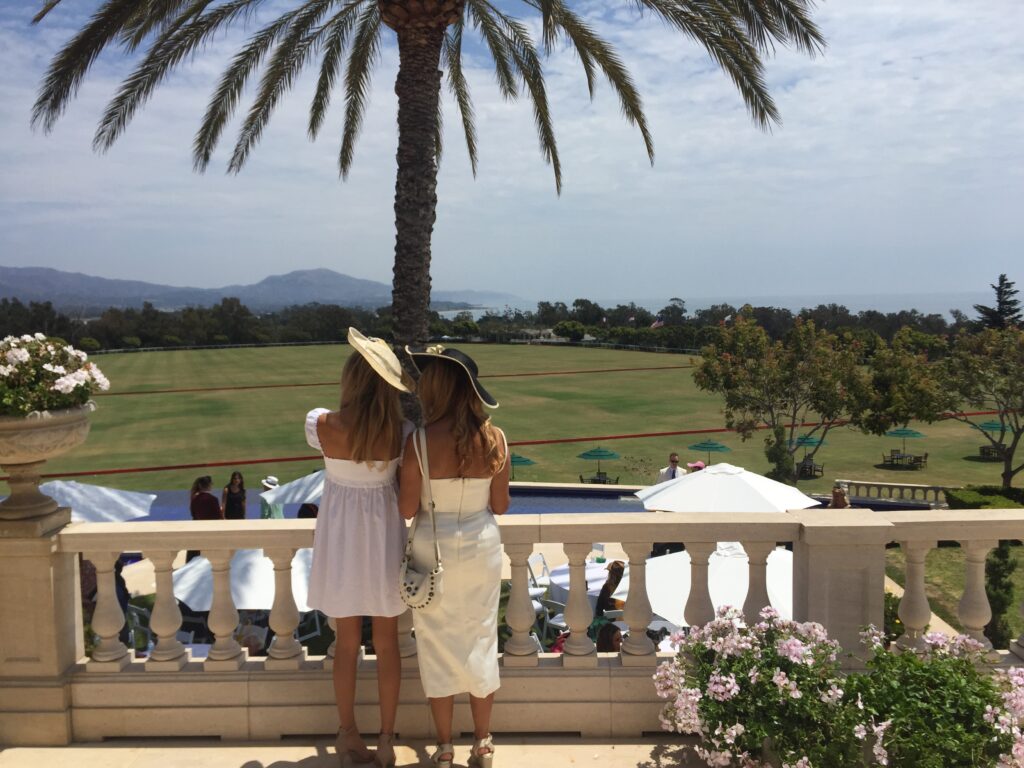 Miss Quinn was Awarded at the 2022 Women Empowerment Global Forum, together with Mrs. Michelle Obama!
Miss Castellani have been collaborating with The Golden Globe Awards and Academy Awards, having Direct access to collaborate with these global organizations: Films, Celebrities, Directors, Producers and Film productions. She developed personal relations with the Film Studios in Hollywood and Internationally, also with major talent Agency such as CAA, ICM, etc. By becoming a partner with CELEBRATING LIFE you can have access to collaborations with QUINN STUDIOS ENTERTAINMENT on international Films and Documentaries, and Collaborations with International Film Festivals. Miss Castellani has been Director of International Relations for 6 years at TERRA DI SIENA INTERNATIONAL
FILM FESTIVAL in Italy, with Press Conferences in Cannes, Venice Film Festivals and Hollywood. She has been offered the Direction of the prestigious TAORMINA FILM FESTIVAL for the year 2023.
Below photo of our reporters doing an interview with one of the sponsors: Moni Moni by Cinzia Moniaci (center of photo), who showed us some beautiful high-end women's imported handbags: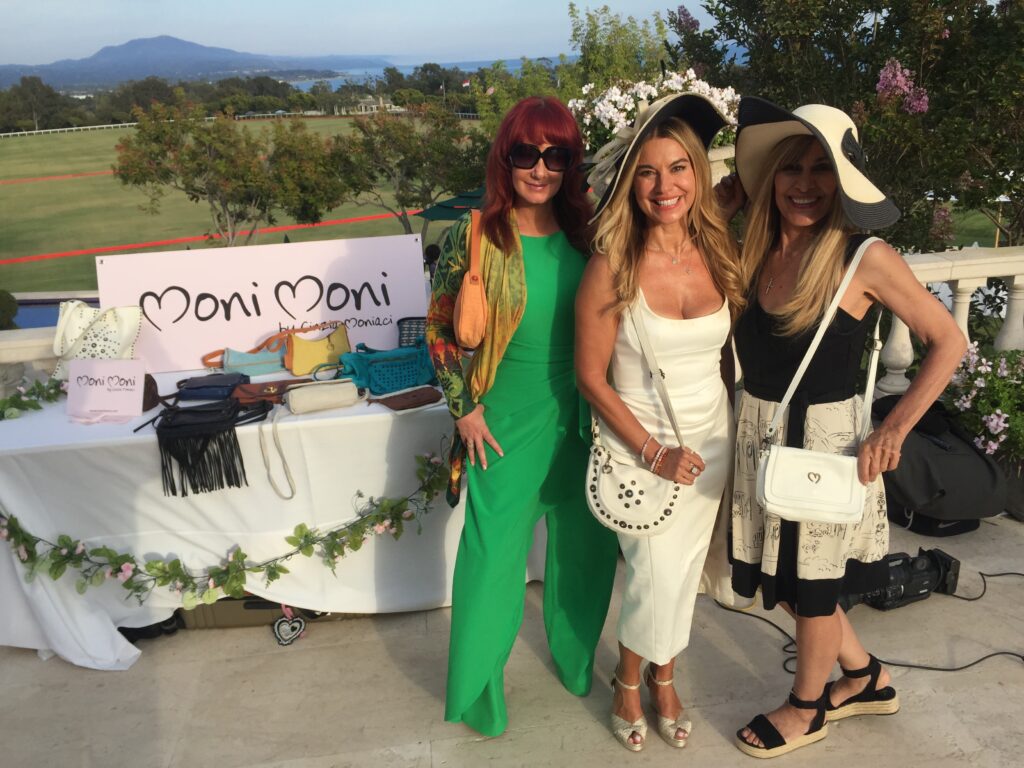 Gilles Davidhas a equally impressive history and bio, as is the Creative Director CMO of Celebrating Life. He was involved early in his career with the NBA, NFL MLB & the NCAA as an exclusive apparel licensee with Jeff Hamilton, Starter & Russell Athletic, working for the Sultan of Brunei, being commissioned by Heineken, an energy drink collaboration with Partouche Casinos & Papagayo St Tropez, reimagining the work and distribution of Pierre Cardin for North America, a sneaker collaboration with SPARCO Italy, designing apparel for the NASCAR, and a collaboration with SPY Optic's MX Googles. He has an amazing story, as a successful entrepreneur, designer, art director and innovator!
Gilles has drawn upon decades of experience in the fashion, food, cosmetics & fragrance packaging designs, and a lifetime of globetrotting. He was born in 1966 into a family of entrepreneurs from the South of France. Gilles has lived at the intersection of art and commerce his entire life. He is a true visionary and excels at public relations and marketing. During his career, he has generated millions of dollars in retail sales for his employers and clients.
Gilles, founder ofLos Angeles Fuel, a luxury life style fashion apparel company, from denim jeans, sweatshirts, tee shirts, hats, bags, and also energy drink, energy gums and a luxury jewelry as he collaborated with his longtime friend Herve Heumann; a Jewelry Designer who developed over the years in his career for companies such as: Cartier, Mauboussin, Messika, Jourdan, and Chris Aire.
He has provided designs for celebrities, including actors, producers, singers, and designers, and to mention just a few: Will Smith, Bruce Willis, Kobe Bryant's wife, Dr DRE, Snoop Dogg, Eminem, The Game, 50 Cents, Vivica Fox, Michael Jordan, Muhammad Ali, Denzel Washington, and Oprah Winfrey…Over the last 10 years, Gilles has established a strong personal network of sales people, distributors, Hollywood Celebrities, Pro-Athletes and wholesale groups in Europe, the USA, and Asia.
He started his career in the sports apparel industry, designing for surfing and skateboarding enthusiasts. Gilles entered the pro sports market by obtaining licensing from The NBA and NFL for France & Spain. Gilles is currently represented by Jordan Yospe, attorney, at Eisner LLP, Law Firm. Gilles brings the skills of a fashion designer, brand architect, a developer of high quality foods and creative business strategy to every opportunity. He is currently living in Los Angeles, and he remains a lifelong resident of France.   
He is an ENTREPRENEUR – FASHION & FRAGRANCES DESIGNER – VISIONARY, BRAND ARCHITECT MARKETING & CREATIVE DIRECTOR – TV HOST. In 1995, he was hired as VP of Marketing and Designs for North America by Paris Duty Free Group. The 'PDF' Group was the first ever to sell luxury goods online: from Pierre Cardin, Pierre Balmain, Sonia Rykiel Jean Paul-Gaultier, Burberrys, Ted Lapidus, Loris Azzaro, Torrente, Guy Laroche, Lancel & Jean-Louis Scherrer.
From 1999 to 2002: Gilles was hired to work for the Sultan of Brunei as director to oversee designs on a 50 Million Dollar Project for The Sultan's own luxury fragrance and full cosmetics product line. He was involved exclusively with the best perfume and packaging companies in the world, such as: Givaudan, MANE, Baccarat, Lalique, Fragonard & Gallimard. Gilles David joined ventures with SPARCO Italy, the number #1 world famous racing equipment company working with such as Formula 1 Racing, WRC, NASCAR, where together they collaborated, developed an exclusive sneaker line.
September 2017 – 2019: Gilles David was then offered in the exclusive master license rights from the Iconic Pierre Cardin Fashion brand for North America, and was offered the position of Designer & Marketing Director for the famous Von Dutch apparel brand.
February 2019: 
NFL Super Bowl weekend,
 Gilles's re-launched his apparel line;
 "Los Angeles Fuel" brand
, as the exclusive presenting sponsor, of the Chad Johnson Suntrust, AT&T Celebrity Superslam charity basketball game held at Morehouse College in Atlanta, GA. The game featured Chad, current and former NFL players, Hollywood celebrities, reality stars, social media influencers and media personalities.
 Proceeds from the event benefited Usher's New Look Foundation, a non-profit dedicated to helping young people find their spark. 
Attendees included Tammy "Ms. Basketball" Rivera, Waka Flocka, Tabius Tate, Boosie, K Camp, Rich Homie Quan Teyana Taylor, Clifton Powell, and
Terrell Owens, who also attended the CELEBRATING LIFE Launch Event: Polo Match & Fashion Show for the launch of Pierre Cardin. Terrell Owens, nicknamed T.O., is a wide receiver, who was 

inducted into the 

Pro Football Hall of Fame in 2018. Terrell walked the red carpet at the ESPY Awards at the Dolby Theatre in Hollywood, as you can see from this photo taken by our reporter Tressa Smiley. Our TV show host & Reporter: Margie Rey had interviewed Terrell before at the Super Bowl when it was in Houston, Texas: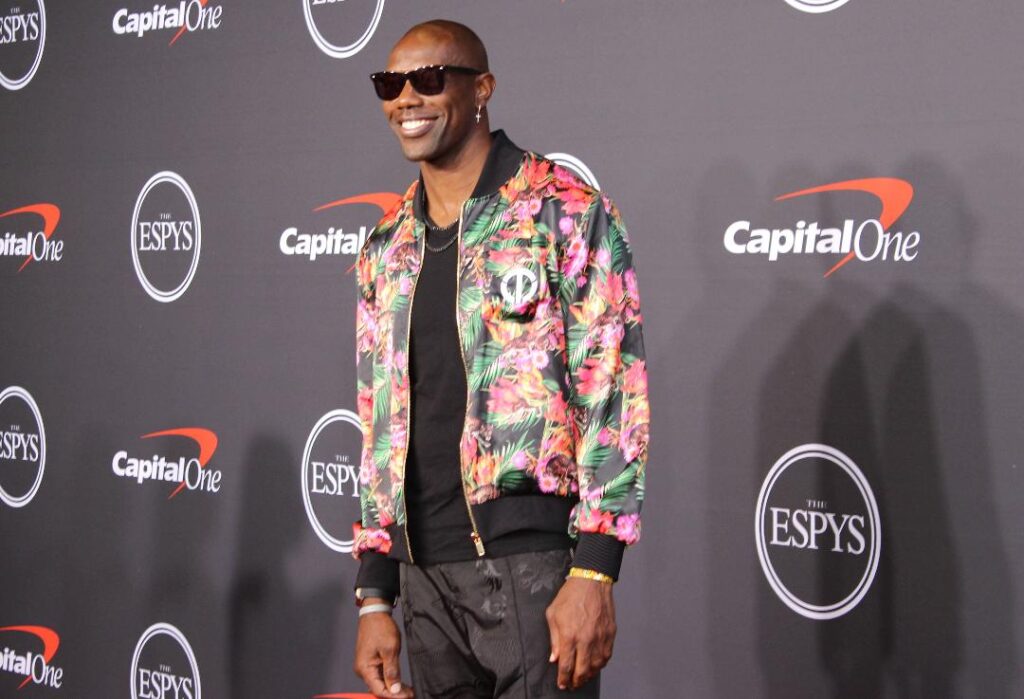 Jarvis Landry of the Browns, Davante Adams of the Packers, Lamar Jackson of the Ravens, Pierre Garcon of the 49ers, former Atlanta Falcon Jamal Anderson, Love and Hip Hop star Julu Castenda, Ceasar and Teddy of VH1's Black ink Crew, and Kendrick Sampson of HBO's Insecure.
November 2019: Gilles was awarded with the exclusive rights as the representative distributor by the Italian ARAV Fashion Group for the John Richmond and John Richmond Sport brand for North America and Japan. He was also recently hired as a Business Development & Marketing Consultant for DesignScene United Kingdom.
November 2020 to present 2022: Cassia Global's JV Partner, business advisor, creative director for the USA. Cassia Global founded in 1958 is a real estate, architecture, interior designs, high profile brands, cutting-edge market-driven designs, with clients such as: Lanvin, Lalique, Clarins, Nino Cerruti, Mugler, Sarah Rafferty, ora Ito, My Love Affair, The Guetta, electrodom and many more.
February 2022: Official Exclusive Distributor for Pierre Cardin for North America, Mexico and the Philippines markets. Official Exclusive representative Agent for Glen Folan Art (Bespoke Celebrity Art). So stay tuned for a lot more great accomplishments from these two, and CELEBRATING LIFE !