On Tuesday December 13, 2022 Stephen "tWitch " Boss died of an apparent suicide, at a Los Angeles Hotel, after he was found to have shot himself in the head. tWitch was 40 years old, and lived 1982 to 2022. His death is a big loss to the Music and Entertainment world, and especially to his wife Allison Holker, and their 3 children.
tWitch co-starred with Channing Tatum in "Magic Mike: XXL", and he is best known as the DJ on "The Ellen Degeneres Show" – 2014 to 2022.
#tWitch rose to fame in 2008 as the runner-up of "So You Think You Can Dance", and our TV shows: Entertainment & Sports Today and Entertainment Today were very happy to have interviewed him many times on "So You Think You Can Dance" by our Reporters: Margie Rey Renee Esebag Melanie Murphy, and Lynn Telzer; and at The 2016 Teen Choice Awards- by our TV Reporter: Carter Rundell – Melanie Murphy's Nephew.
Our 2 TV Reporters: Melanie Murphy and her Niece Haylie Rundell interviewed tWitch at the 2015 "So You Think You Can Dance" TV broadcast on FOX, at CBS studios in Hollywood, for the Top 8 finals. He was the Team Captain and Mentor on the show at this time.
He was so kind and generous to us, and all of our news crews over the years at various events! Backstage he took the time to teach our 2 Reporters: Melanie and Haylie a dance move, did a promo shot for our TV show, "So You Think You Can Dance", and the Fox Network; and told Melanie how he first got his nickname "tWitch". The below photo is of our Reporters: Melanie Murphy & Haylie Rundell, with tWitch, as he teaches them his dance move: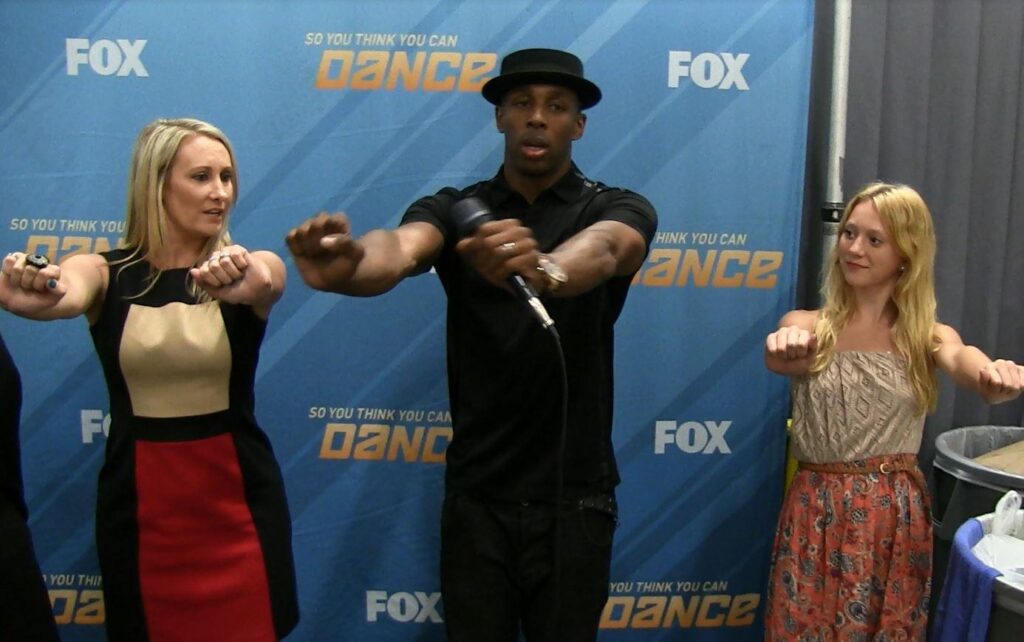 You will be able to see all of this, and our complete TV show episode Rebroadcast from August 18, 2015, on this show by clicking the link. You will also be able to see the interviews of all of the other Dancers and finalists of the Top 8. Below is the news story from that TV episode:
On this online version of last night's TV Broadcast – Entertainment & Sports Today takes you live to CBS Studios for The Top 8 Dancers on :
"So You Think You Can Dance " on FOX , with interviews with Judges : Jason Derulo , and Paula Abdul (in an emotion packed interview in a separate earlier live broadcast ) , Team Captain / Mentor – tWitch , The All-Star Dancers from past seasons , and all of The Top 10 Dancers .
Stay tuned to FOX and Entertainment & Sports Today for this coming Monday's show- on The Top 8 Dancers , as 2 will be eliminated.
For many other TV Broadcasts , segments , and interviews go to :
EntertainmentAndSportsToday.com
For the whole news story, and to watch the whole video TV Broadcast with the interviews of the dancers, and tWitch, click the below link: https://www.entertainmentandsportstoday.com/dance-music-superstar-twitch-dies-of-suicide-at-the-age-of-40/
For the best in travel in the USA go to :
MegaBus.com