Our Entertainment Today TV News Crew of: Producer, Reporter, and Eye-in-the-Sky Filmmaker: Doug Nolan, our TV Show Host: Margie Rey, TV Producer: Steve Taylor, and News Reporter: Tressa Smiley, all did fun, interesting and in-depth interviews with over 200 Actors, Producers, Directors, Staff and Crew from movies, shorts and documentaries, at The 26th Dances With Films Festival in Hollywood, during 11 days and nights! We had so many interviews to do, that we had to produce 6 shows with over 3 total hours worth of interviews to be able to broadcast every interview! Doug Nolan who has a Pilot's license- had a flight plan approved by the FCC, so he was able to get some amazing footage from 400 feet up in the sky, going right down Hollywood Blvd., with many of it's iconic landmarks! On this 53 minute show you will see the interviews from the EPIC CLOSING night at The 26th Dances With Films Festival in Hollywood.
The Dances With Films Festival, now in its 26th year, was formed with the vision of celebrating the quality of work in film, rather than relying on "who you know." Over the years, DWF has grown substantially and is now considered a significant discovery festival with a reputation for fostering relationships among filmmakers. Dances With Films (DWF) has been a beacon for independent filmmakers. Held in the heart of Los Angeles, DWF is a discovery festival known for its friendly spirit and commitment to helping filmmakers forge relationships. DWF is one of the highest-attended film festivals in Southern California, with more than 20,000 attendees each year! The festival, which has been a cornerstone of independent cinema since 1998, was held at the historic TCL Chinese Theatres in Hollywood, over 11 days and nights! 
It was an incredible star studded closing night in Hollywood at The Iconic Chinese Theatre, with a great closing night after-party at the historic Hollywood Roosevelt Hotel Garden hosted by Lalo Tequila, for the 26th Dances With Film Festival!
The closing night world premiere movie of: "You, Me & Her" that centers on Mags (Selina Ringel) and Ash (Ritesh Rajan); a couple who have been together for 10 years and going through the motions of their relationship. They can't stop arguing on their first vacation after having a baby until they meet Angela (Sydney Park), a spiritual digital nomad, who takes a romantic interest in Mags. Suddenly Ash and Mags start to reconnect over the idea of having a threesome in hopes that the excitement of the potential sexual experience will save their marriage. Right after the movie there was a very interesting Q&A with Dan Levy Dagerman (Director), Selina Ringel (Writer, Producer, Lead Actress), Ritesh Rajan (Producer, Lead Actor), and Sydney Park (Actress).
In the below photo Left – Right: Our Reporter: Tressa, Roselyn Sanchez of "Fantasy Island" & hubby Eric Winter of "The Rookie" with the interview done by our TV Show Host/Reporter: Margie Rey(in the photo right below that) @ Dances With Film Festival. Roselyn & Eric are good friends and supporters of this movie: "You, Me & Her" :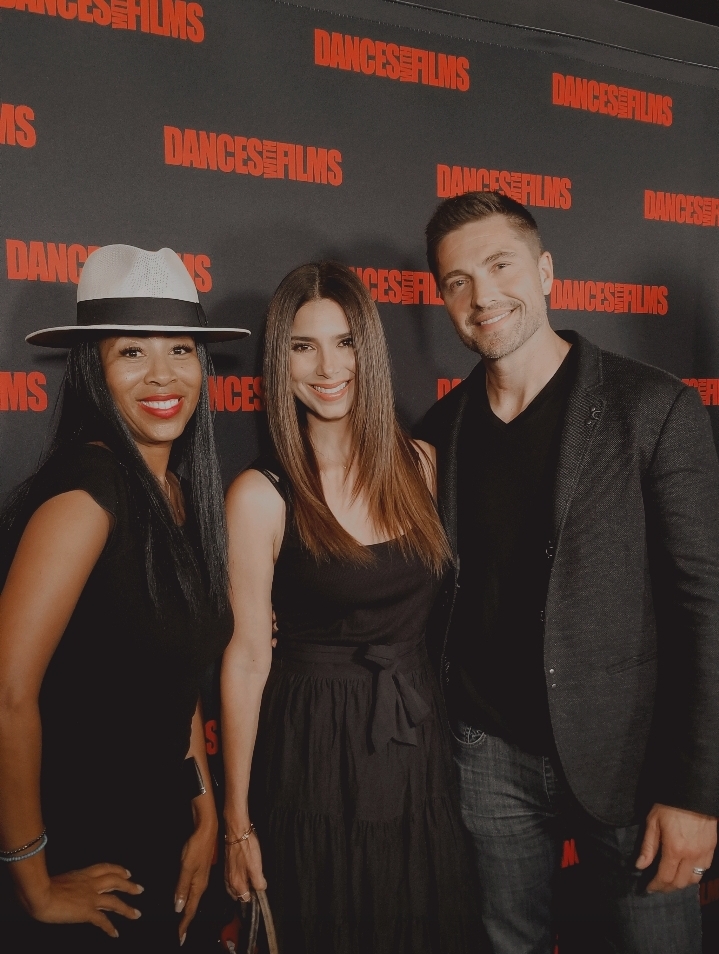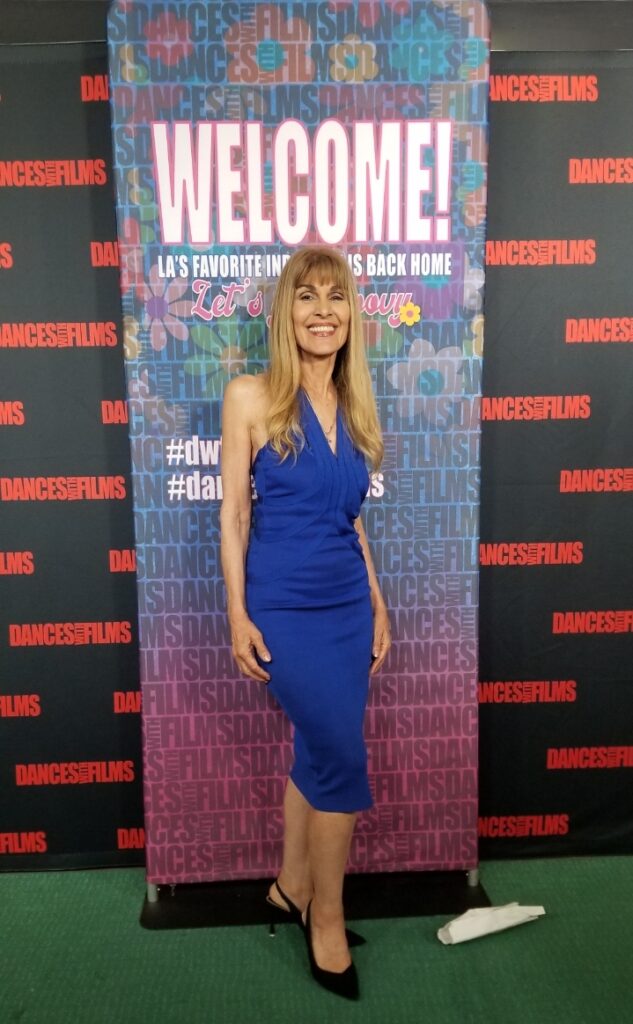 Right before this movie, was another good one for closing night: 
The world premiere of Home Free, written by Lenny Barszap and directed by Aaron Brown will close out the festival. 
In
1997, a group of college stoners invite an unhoused professor to crash on their porch. Celebrities included: Anthony Rapp (Rent), Fatlip (musician), Greg Vaughan (Days of Our Lives), Vietnam War Vets from Apache Blues: Welcome Home, blind hikers from Baldy for the Blind!  Hip-Hop legend, Fatlip from The Pharcyde, was there as he is a featured artist on the film's original soundtrack, and Joe Hart ("Professor") and Jashawn Lee ("Jerry"). They had an amazing after-party at the Desert 5 Spot (6516 Selma Ave), which had an excellent DJ set by Disko Cowboy!
In the below photos is our Producer/Reporter, and Eye-in-the-Sky Cameraman: Doug Nolan, interviewing Actress Rosa Frausto of "Esperanza" for the Premiere of the 18 minute FUSION SHORT.  WRITER/DIR: Shruti Parekh  PRODS: Laura Scarano, Shruti Parekh  CAST: Anwar Molani, Rosa Frausto, Vico Ortiz, Deepti Gupta, Joe Coffey, Keya Gupta, Yash Gupta, Sonny Singh, Melvin Hampton Sr., Regan DuCasse, Summer Knowles. > Dev, a taxi driver in upstate New York, ferries asylum-seekers to an unmarked Canadian border crossing in the hopes of earning enough to bring his family over from India. One night, he picks up Estrella and Marisol, a Salvadoran couple with dreams of a new beginning and a great deal at stake. When they challenge his tactics, he must confront how far he will go for his American Dream.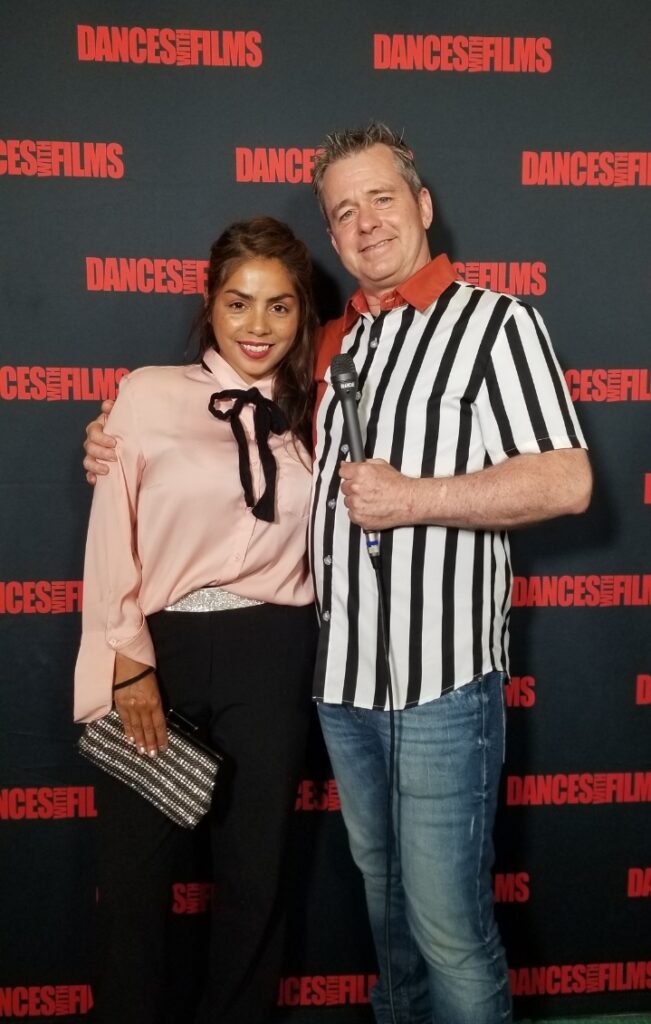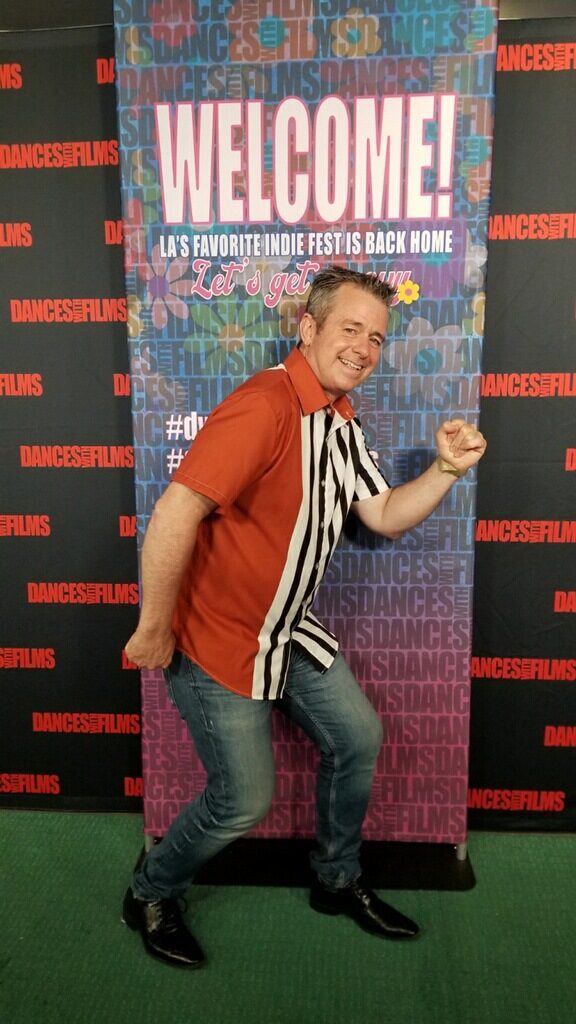 Doug also did interviews with people from the below movies: 
The Premiere of the 6.5 minute Downbeat Short: "A Woman With a Purple Wig" WRITER/DIR: Aleksandra Szczepanowska  PRODS: Julie Deffet, Anthony Argento  FEATURING: Eri Yamamoto  – Eri Yamamoto created the song "A Woman with a Purple Wig" during the pandemic when Asian-hate sharply increased in New York City, and she was filled with fear to go outside. In this video, we follow her exploration of life as a disguised person, all the way till the moment she faces her unmasked-self, in an expression of true freedom, playing the piano.
Margie did a fun and insightful interview with the people from:  "The Girl in the Backseat" that made its world premiere Saturday, July 1.
Inspired by true events, the film follows a young immigrant who is catfished and kidnapped in Los Angeles. She is then taken by force on a road trip across the state by her captor, who is part of a brutal human trafficking ring. Now she must do what she can to get into her captor's head to find a way to escape. Those from this movie that were there in person:   Nick Laurant (DIR/PROD)
Chris Marrone (Co-SCR/PROD/CAST)
Kika Magalhães (Co-SCR/PROD/CAST)
Below is photo of this special group holding up their movie poster on the red carpet: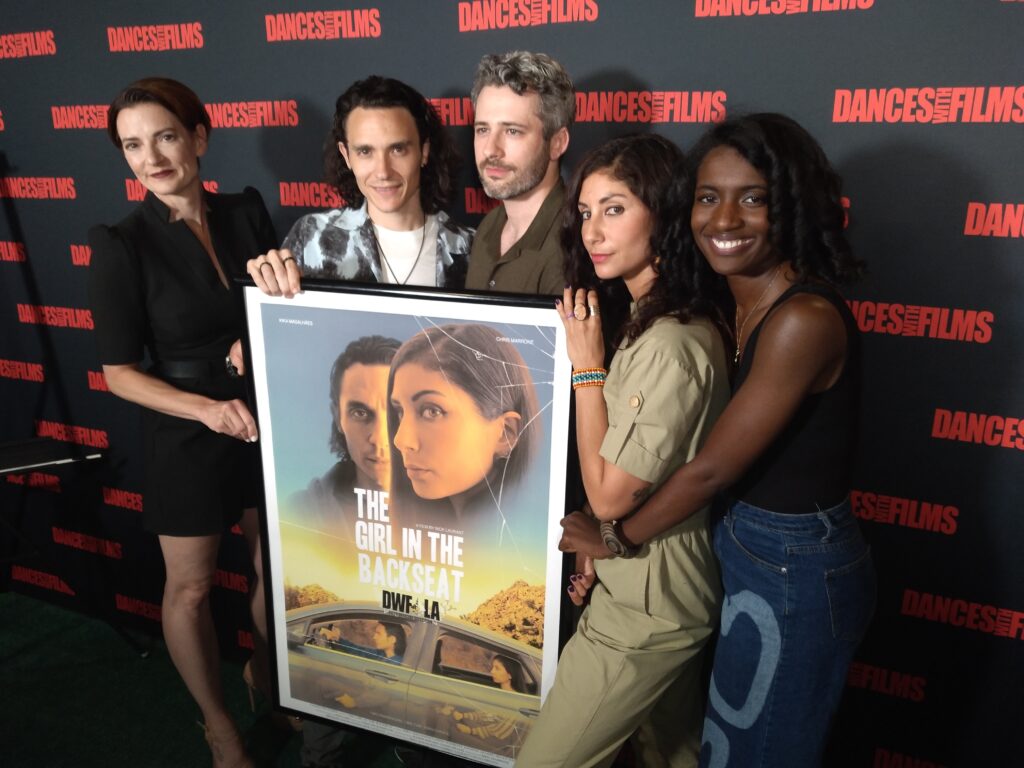 Margie also did interviews with people from the below movies:
The WORLD Premiere 9 minute short of "Butt Stuff " – WRITER/DIR: April Yanko. PRODS: April Yanko, Justin Wested, Allison Marie Reyes, Nikki Neurohr, Rory Ross. CAST: Jason Sealy, Elena Falgione, Cassie the Butt.  A man's sentient sex toy becomes jealous when its owner forms a relationship with a human woman.
AND The World Premiere of "Foil" (100 min.) WRITERS: Zach Green, Devin O'Rourke  DIR: Zach Green  PROD: Jill V. Dae  CAST: Zach Green, Devin O'Rourke, Chris Doubek, Brian McGuire, Ashley Spillers, Jasmine Wattar, Ari Stidham, Deborah Green  – An unusual piece of foil with potential alien origin causes a rift between two former best friends camping in the California desert.
AND The 28 minute TV Pilot Premiere of Overstimulated –  WRITER/DIR: Taylor Karin  PRODS: Major Dorfman, Amanda D'Amico, Taylor Karin  CAST: Taylor Karin, Major Dorfman, Thea Brooks, Chikézië Nwankwo, Matt Walker -A Neurodivergent woman moves to a new city, leaning on her maladaptive daydreaming to avoid what brought her there.
AND "Off Hollywood: The Undocumented Journey of Hope" (22 minute short)  WRITER/DIR: Tatyana Kim  PRODS: Tatyana Kim, Anatoliy O, Julia Kostenevich  CAST: Anatoliy O, Naomi Gaia O, Timur Tregub, Michael Goff, Stephanie Lynn Arapian, Michael Umansky, Syrym Ablay, Victoria Myssik, Julia Goncharova, Tatyana Kim, Chuja Seo – A gifted musician from Kazakhstan is struggling to find cash-paying jobs that would help him and his two-year-old daughter to survive in Los Angeles as they wait for their immigration documents.
And the Premiere of the 6 minute Fusion Short: Hawawshi   WRITER/DIR: Waleed Bedour  PROD: Ahmed Barbary  CAST: Mouna Soualem, Tatiana Randores, Haythem Noor, Oliver Shirley, Thierno Diallo – At a late night eatery, Farida shows her friend traditional Egyptian food. When Farida witnesses a sexual assault, she confronts the situation and everyone else.
In the below photo are the Stars of the movie: "Angeles" that Margie interviewed. Left – Right: Alexis Adams, our Reporter Margie in the center, and on the right: Hannah Fay Fougno:
In the below photo: Tressa interviews "Hot Angry Mom" Star Mel House – WRITER: Mel House  DIR: Clarissa de los Reyes  PRODS: Mel House, Katie Rosin, Clarissa de los Reyes, Vander Beatty  CAST: Mel House, Ivory Aquino, Devin Haqq, Eric Ruffin, Welker White, Pun Bandhu  – Marie is a people-pleasing New York City mom who thought she'd have money, success, and respect by middle age. Instead, she's working too many survival jobs and failing to meet her family's expectations. But Marie's the kind of woman you can count on to swallow her anger and put on a bright fucking smile. When she gets an opportunity to step into the role of a sexy powerful Goddess, Marie thinks she's finally getting what she deserves. But her world is turned upside down when a video of her unleashing her anger becomes a viral sensation.  HOT ANGRY MOM is like Fleabag meets I May Destroy You for moms. It brings the audience along for a wild ride as Marie learns to embrace her whole self, including the parts she's been taught to fear—like anger—or to feel shame about—like sexual power. It offers space for healing through laughter and invites us to risk being seen in all of our complex authentic messiness, and below that Tressa poses on the red carpet: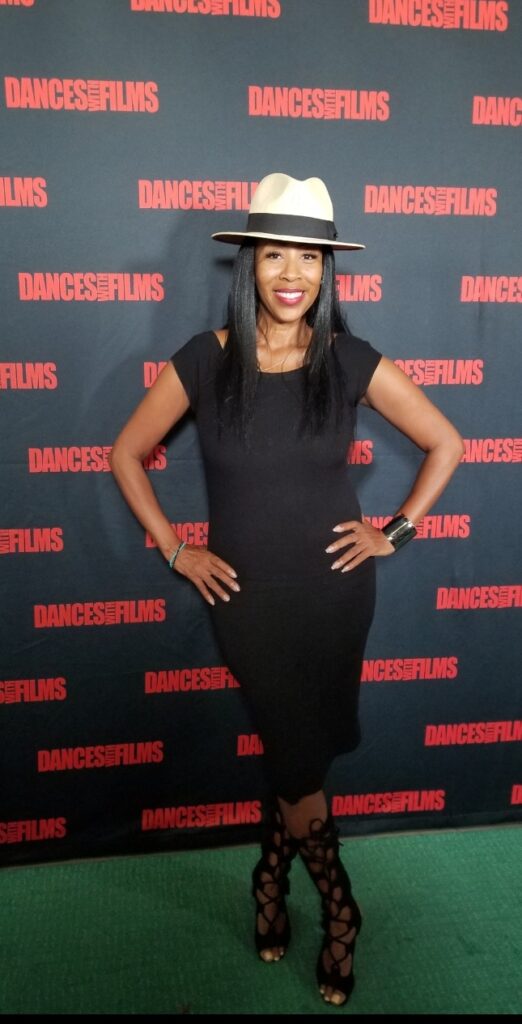 Tressa also did interviews with people from the below movies:
The World Premiere of the 27.5 minute TV Pilot:  "Who Wants to be a Millennial?"  WRITER/DIR: Matt Devine  PRODS: Matt Devine, Mark Goodman, Tim Maloney  CAST: Charlie McNulty, Matt Devine (host)  – Follow host/comedian Matt "TK" Devine traveling the country in search of normal Millennials living extraordinary, innovative lifestyles—defining (and lampooning) what it means to be a Millennial pursuing an alternative version of the American Dream. This pilot episode presents the secret life of artist/bartender Charlie, a "sneak-aboard", living surreptitiously on his sailboat to buck high California rents. Charlie takes Matt out on the water, trying to teach him how to sail, while intertwining grounded talks about Millennial conundrums with humorous attempts at performing routine tasks.
AND The World Movie Premiere of the 95 minute: "Footnotes"  WRITER/DIR: Chris Leary  PRODS: Hunter Truman, Landon Kovalick, Sharayu Mahale, Chris Leary  CAST: Chris Leary, Sharayu Mahale, Vishal Patel – Harkening back to the apartment movies of the 1970s, "Footnotes" is the story of neighbors and near total strangers, Will and Apurna. When they begin spending every day together in the wake of the 2020 pandemic, what begins as a platonic convenience, quickly develops into something deeper. But when a solo trip home to her small New England town puts a strain on their newfound connection, the two are forced to reckon with what they mean to each-other: Are they friends? Lovers? Or just more forgotten footnotes…
And The World Premier of the 15 minute Fusion Short: "Father Figures," a short film written and directed by Alessandro Chille  – "Father Figures" is a touching story about Harold, a man who works as a professional father figure for young men who've lost their dads. To help these shattered souls heal, he must confront his own tragic loss. The film was inspired by Chille's personal experience of being separated from his father during lockdowns and international travel restrictions. Featuring a stellar cast, including Steven Hauck from "The Marvelous Miss Maisel," Matt Delamater from "The Tender Bar," Isabelle Van Vleet ("FBI: Most Wanted") and Timothy Hackney (Artistic Director of the Bardo Theatre Company), Alessandro Chille with talented child actor Taylor Pezza, the film explores themes of love, loss, and the meaning of family.  Alessandro Chille has previously directed for Amazon Fire TV, Roki Pictures, ATTN:, and Shots Studios. His shorts have earned over 2 billion collective views across the web, and past projects have been finalists for HBO's directing competition Project Greenlight and Doritos Crash The Superbowl.
AND the music video, and "Jeff Hilliard – Abandon"  WRITER/DIR/PROD: Jeff Hilliard
FEATURING: Jeff Hilliard, Lee Miles, Dave Pino, Bobby Hewitt, Coby Connell & Jack Geren
Mother's Voice: Debbie Miller – Dwight, a 50 year old Uber driver that still lives at home with his mother while holding onto his 80's metal rock dream. Has a one night stand with Vivian, a married lady that struggles with letting go of her wild side. Dwight is unable to handle the aftermath.
Dances With Film aka DWF:LA has had an incredible run and closed out with a bang! So we wanted to give a special thanks to our news team Left – Right: Doug, Margie, and Steve: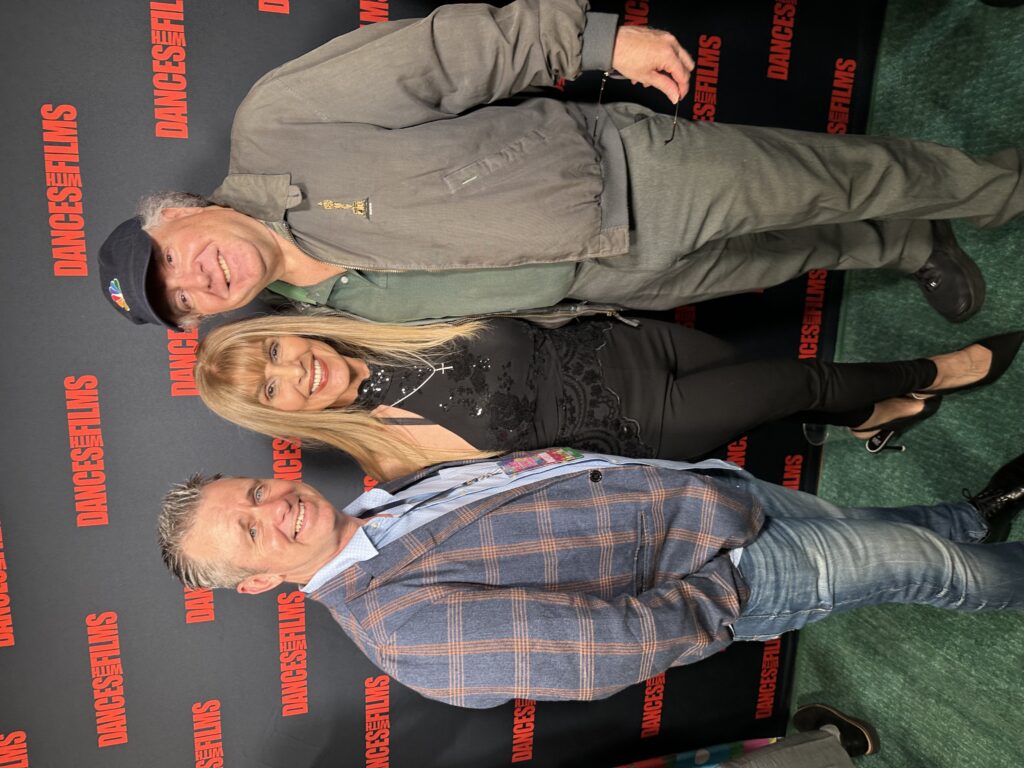 DWF Award Winners: 
On one of our other Dances With Films shows our TV Show Host: Margie Rey did a great interview with the DOWNBEAT AUDIENCE AWARD WINNER:
INTERRACIAL COUPLE IN A CHEERIOS AD
written by Yuriy Mikhalevskiy & David Roth
directed by Christine Lakin
produced by Brian Etting, David Roth & Yuriy Mikhalevskiy
"Angie's Cure,"
the harrowing tale of a rape victim's disturbing road to recovery,
was awarded the Grand Jury Award for Best Feature Film.
The film tells the gripping story of former rape victim Angie who uses the thug robbing her 
shop to take out her repressed anger. When she decides to prolong the experience by secretly keeping him a prisoner in her basement, the victim turns vigilante, and has a small window to play God. But what will be the price for the sins committed against her? 
The film is a New Breed Entertainment production, Directed by Corey Grant, Written by 
Brian Kelsey, Lanett Tachel and Grant, and Produced by Audrey Kendrick (PGA) James Searles, Tachel (PGA), and Grant(PGA).  
Tachel stars in the title role, along with 
Essence Atkins (The Noel Diary), Sean Nelson (A Father's Pride), Vanessa Williams (Candyman, Days of Our Lives), Denise Boutte (The Bounce Back), and Jennifer Freeman (My Wife and Kids).
"I hope Angie's Cure is a catalyst to spark open dialogue about dealing with trauma instead of 
burying it," says star Tachel. Director and writer Grant adds "It can be difficult making films that are both highly entertaining and enlightening while dealing with this subject matter, however I think we successfully walked that fine line and created a satisfying film for the audience."
DANCES WITH KIDZ PRO AUDIENCE AWARD
OLD MAN AT THE CORNER STORE
directed by Nadav Heyman & Anabella Casanova
produced by Cheryl Mann, Collin del Cuore
On one of our other Dances With Films shows our TV Show Host: Margie Rey did a great interview with the WEB PILOTS AUDIENCE AWARD WINNER:  "WHAT THE ELF?!" – Your typical workplace-comedy… if your workplace is a Santa House at the mall. The series follows Elle, an actress who gets canned from her network show, and is forced to take the only other job she's qualified for: A Christmas Elf at the mall. But with the help of her unlikely new friends, and Santa Claus — played by the incomparable George Wendt (of the iconic hit TV Show: Cheers) — she just might discover the magic of Christmas and become the elf she was always meant to be.  WRITER: Cameron Kelly  DIR: Tate Hanyok  PRODS: Amanda Markowitz, Caden Douglas, Michael Lomenda  CAST: George Wendt, Cameron Kelly, Nicole Alyse Nelson, Kenton Chen, Ena Fleming.
On this show our Reporter: Doug Nolan did a great interview with the TV PILOTS AUDIENCE AWARD WINNER:
"BLACK MARIA" –  Ana Morales is the wife of a local gangster, a petty thug with a penchant for violence. When the infamous Allende Brothers darken her doorstep, Ana is forced to confront her husband's horrifying truth. Black Maria is a matriarchal story of brotherhood and bloodshed, of honor found in a den of thieves.
written by Marcus W. Albino
story by Marcus W. Albino & Barbara Estelle DeJesus
directed by Marcus W. Albino
executive produced by Brad Frizzell & Marcus W. Albino
co-executive produced by Casey Merrill
produced by Brad Frizzell
co-produced by Barbara Estelle DeJesus, Amy Werges & Justin Arbabi
DOC SHORT AUDIENCE AWARD
LIVING WHILE AMERICAN
directed by Sosena Solomon
produced by Luke Slattery & Howard Tomb
DOC FEATURE AUDIENCE AWARD
MEET ME WHERE I AM
produced by Stacy Roque, Lisa Kauls & Sharolyn Schmiederer
FUSION SHORT AUDIENCE AWARD
CONFESSIONS
written & directed by Stephanie Kaznocha
produced by C.E. Horton, Caroline Huber, Stephanie Kaznocha
On one of our other Dances With Films shows our TV Show Host: Margie Rey did a great interview with the FUSION FEATURE AUDIENCE AWARD WINNER: 
KATIE'S MOM
written by Meryl Branch-McTiernan & Tyrrell Shaffner
directed by Tyrrell Shaffner
produced by Tyrrell Shaffner, Meryl Branch-McTiernan & Corey Moss
COMP SHORT AUDIENCE AWARD
A WEDDING DAY
written & directed by Brendan Beachman
produced by Brendan Beachman, Colin Arndt, Douglas Riggs & Todd Sandler
COMP FEATURE AUDIENCE AWARD
TWO LIVES IN PITTSBURGH
written & directed by Brian Silverman
produced by Lola Noh, Tiffany Murray & Brian Silverman
INDUSTRY CHOICE AWARDS – UNDER 40 MINUTES
HOME
directed by Stephen Robinson
produced by Eric Pham, Kris Pham
On one of our other Dances With Films shows our Reporter: Doug Nolan did a great interview with the INDUSTRY CHOICE AWARDS WINNER- OVER 40 MINUTES-
FOREVER NOW
written & directed by Henk Pretorius
story by Henk Pretorius, Jennifer Nicole Stang & Greg Blyth
produced by Llewelynn Greeff, Barend Kruger
GRAND JURY SHORT
SPEAK UP BROTHA!
written by Roderick Lawrence, Obbie West & James J. Johnson
directed by Wes Andre Goodrich
produced by Salma Qarnain & Roderick Lawrence
executive produced by Ron Gillyard, Will Campbell, Ike Mbanefo, Obbie West & Cameron Carr 
2 Honorable Mentions:
HOW IT GOES
written & directed by Ryan Espinosa
produced by Henry Baime, Ryan Espinosa, Douglas Renison & Asia Bonetto
On one of our other Dances With Films shows our Reporter: Doug Nolan did a great interview with: REUNION
written by Tim Naylor & Zainab Jah
directed by Zainab Jah & Tim Naylor
Grand Jury Special Recognition for Cinematography – 
A WEDDING DAY
Grand Jury Special Recognition for Personal Storytelling – 
ROSEMARY A.D. (AFTER DAD)
GRAND JURY FEATURE
Honorable Mention:
On one of our other Dances With Films shows our Reporter: Doug Nolan did a great interview with: FOREVER NOW
written & directed by Henk Pretorius
story by Henk Pretorius, Jennifer Nicole Stang & Greg Blyth
produced by Llewelynn Greeff, Barend Kruger