Ethiopia takes home the Gold & Silver Medals in an upset victory over Kenya at the 38th annual Los Angeles Marathon presented by ASICS, earlier today on Race Day Sunday: March 19th, 2023. The Kenyan runners always dominate the top 10 positions in both the Men's and women's divisions, and take home most of the Gold, Silver, and Bronze medals, but this year Ethiopia broke that stronghold that Kenya always has had in this race, and many other long distance races and other marathons.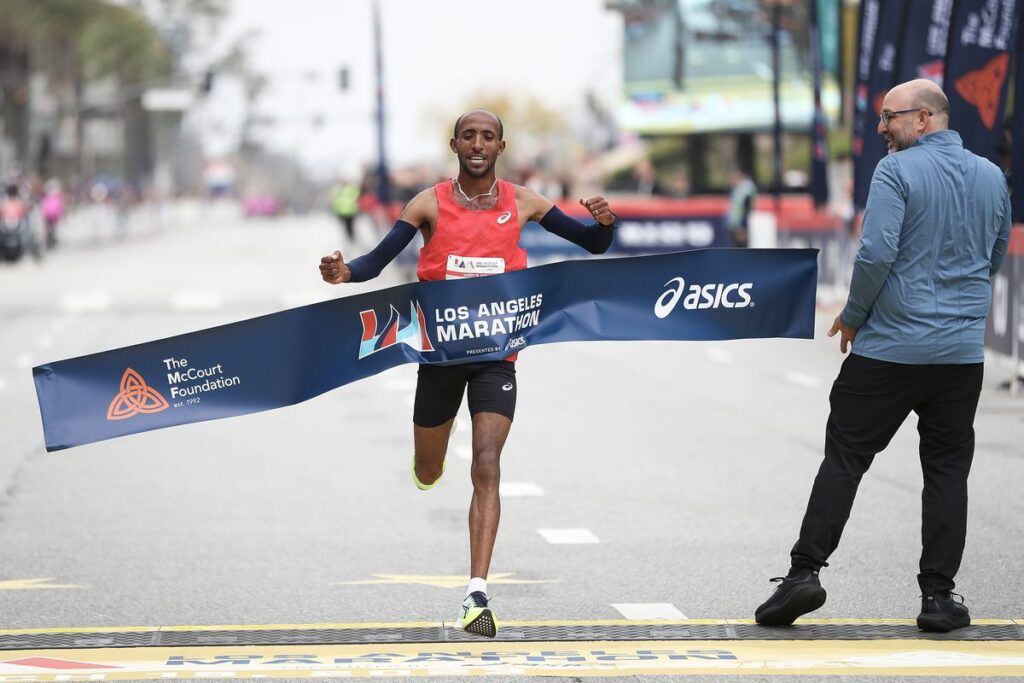 This year Ethiopia took the top two spots in the men's race, to take home the Gold & Silver medals, with 26-year-old Jemal Yimer winning the Gold Medal in a fast time of 2:13:14 (see above photo as he crosses the finish line), with his fellow countryman: 37-year-old Yemane Tsegay finishing second in a time of 2:14:08, while Barnaba Kipkoech of Kenya won the Bronze medal in third place in 2:14:28. See the below photo of Barnaba after he finishes this Marathon, and is exhausted and resting on the ground, and almost didn't make it to the winner's stage to be presented with his medal, if not for my help: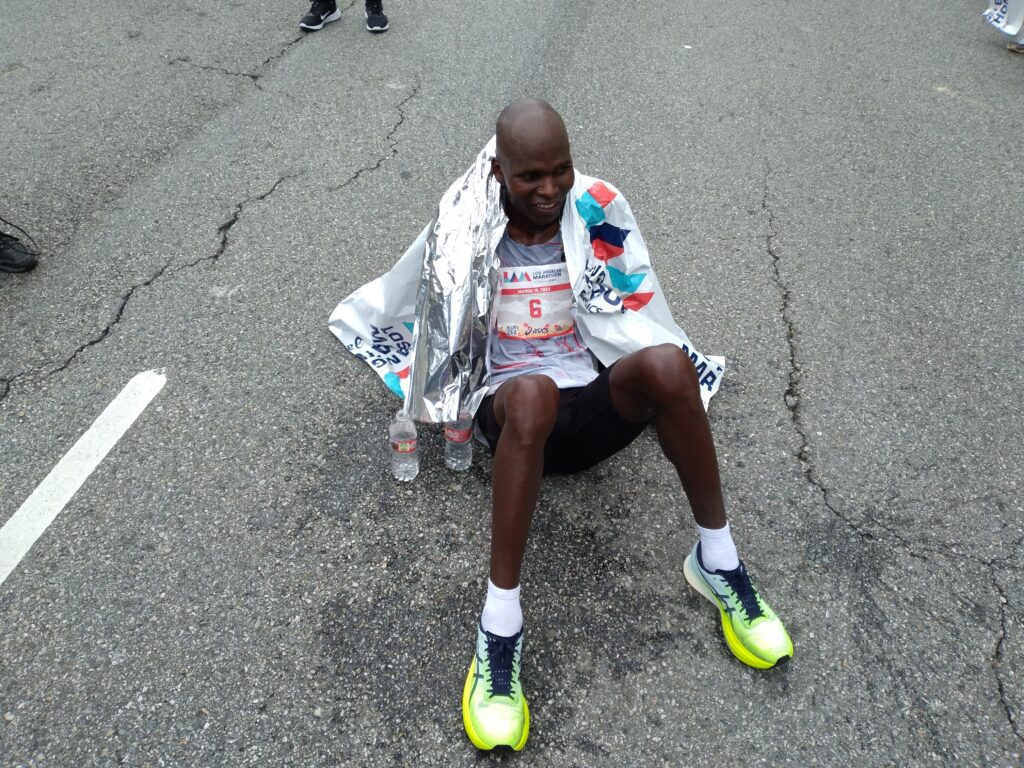 Barnaba lead the way for Kenya to take the next 3 spots after Ethiopia:  Barnaba in third, with Thomas Rono in 4th place in 2:14:50, and Emanuel Oliaulo Ngatuny in 5th place in 2:16:53.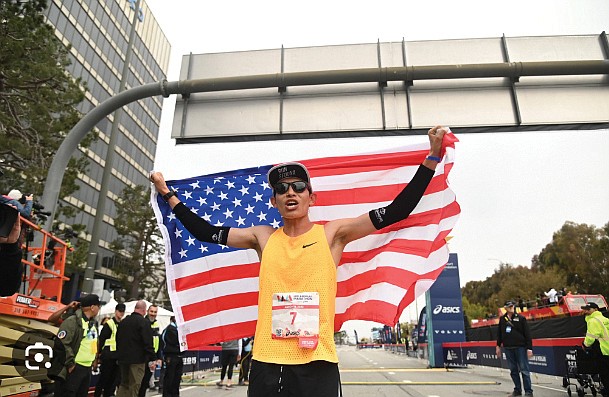 The United States had the best showing in a long, long time, and perhaps the best finish ever in the LA Marathon, with the 28-year-old Native American: Hosava Kretzmann (see his photo above holding up the American Flag after the finish) leading the way for the United States- taking the 6th spot in a time of 2:19:58, and leading the way for the USA to take the next 5 spots after Kenya! Hosava is from the village of Hotevilla, Arizona, and lives on the Hopi Indian Reservation. While being proud of both Hopi and Navajo, he is a tribal citizen of the Navajo Nation. He lead the way with Ronan O'Shea in 7th in 2:24:54, ANTHONY SOLIS in 8th in 2:25:20.9, JASON YANG in 9th in 2:27:58.7, and TAGGART VANETTEN filling out the top ten for the USA in 2:29:43! 
Taggart is also a Ultramarathon & Triathlon Athlete, and 100 mile runner!!! and broke the 100 mile treadmill record in 11:32:05, and has ran: Six Days at the Dome, Badger Trail 100, the 50-miler at Hennepin Hundred, and the 24-hour race at Desert Solstice! In Twelve hours, 19 minutes and 54 seconds he finished and won the Tunnel Hill 100-mile event in Vienna, Illinois which is located in one of the most southern sections of the state. It was the second fastest time in a 100-mile race in American history, missing the record by 11 minutes and 14 seconds!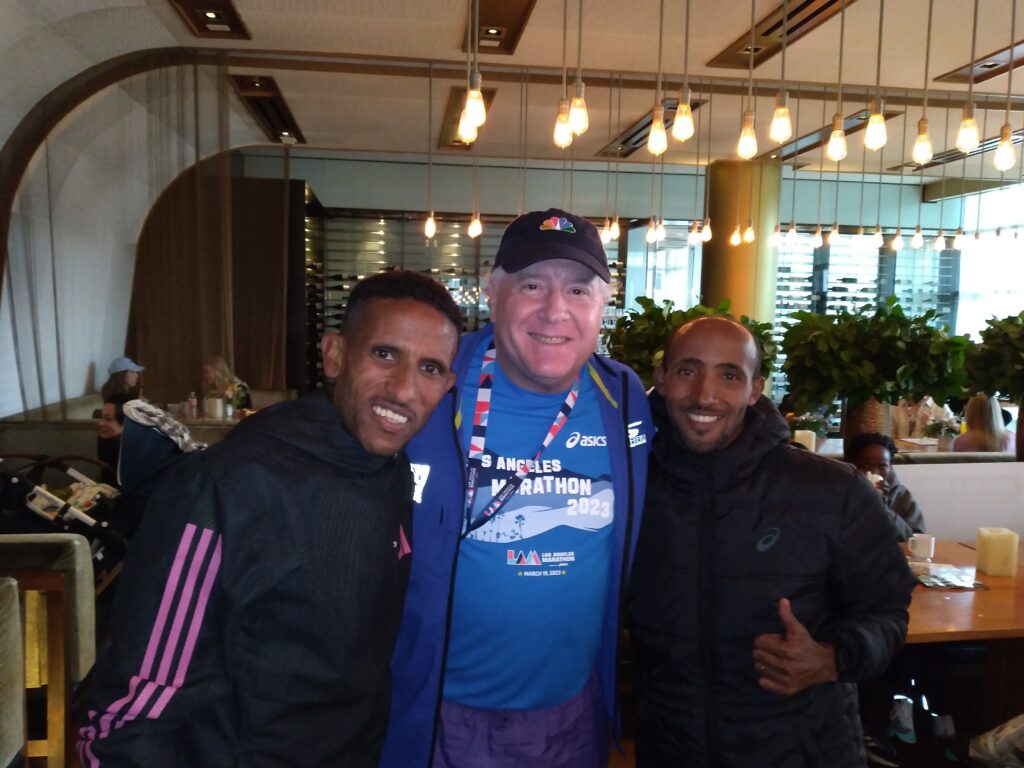 In the above photo you can see TV Producer: Steve Taylor in the middle, with the Gold Medal winner: Jemal Yimer from Ethiopia on the right, and the Silver Medal winner: Yemane Tsegay from Ethiopia on the left, after the race celebrating with me in the Craft LA Restaurant in Century City Park for the VIP breakfast and lunch with the world's top runners!
The Gold Medal winner: Jemal Yimer averaged a very fast 5:05 per mile, over 26 miles, in his 2:13:14 victory, with Yemane Tsegay averaging 5:07 per mile, in his 2:14:08 marathon time, and Kenya's Barnaba Kipkoech averaging 5:08 per mile in his 2:14:28 marathon time! To give you an idea of how fast this is: go to a 1/4 mile running track, and try running just 1 lap in 75 seconds, and then run 4 laps at this 75 second a lap pace for a total of 5 minutes for a 5 minute mile, to see how hard it would be for you to keep doing this for 26 miles!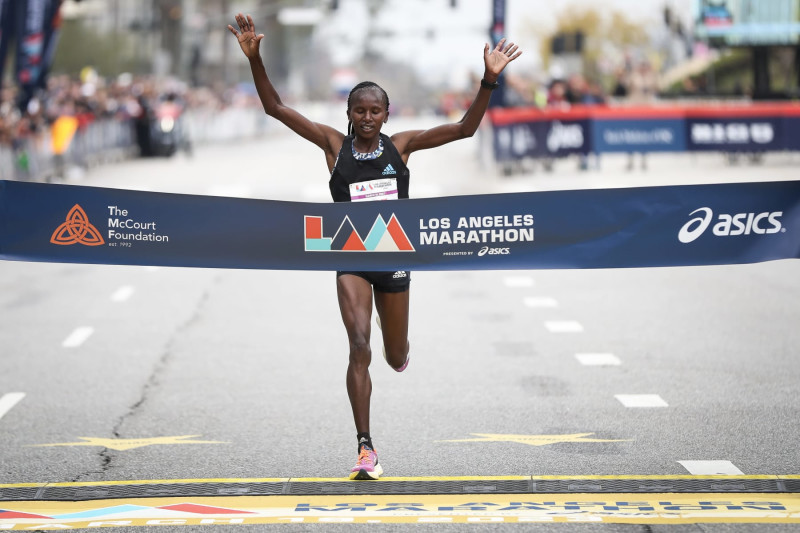 The Women from Kenya again dominated the women's category by taking home the Gold,  Silver and Bronze medals,  with Stacy Ndiwa of Kenya winning the race in 2:31:02, with an average mile pace of 5:46 for 26 miles! She also won the gender battle bonus prize money, which we will go into detail latter in this news story. See the above photo as Stacy crosses the finish line to win the Gold Medal.
Stacy Ndiwa pulled away from her countrywoman Martha Akeno at around the 18 mile marker to clinch the top spot with Akeno finishing second with a time of 2:34:27. Grace Kahura of Kenya was third in 2:38:17.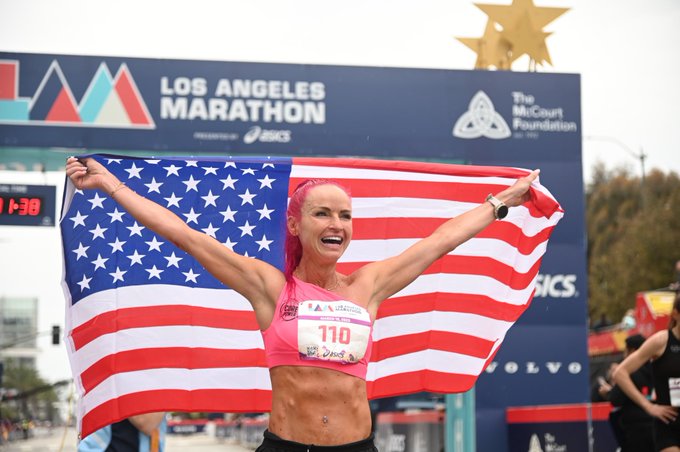 The Women from the United States had a fantastic finish this year by taking the next 3 spots after the women from Kenya! The top U.S. finisher was 41-year-old Ashley Paulson(see her photo above after her great finish, holding up the American Flag) who came in fourth after posting a time of 2:48:49, with an average mile of 6.26! She was followed in 5th place by Katie Layman in 2:49:41, and 6th place by Margaux Curcuru also from the United States in 2:53:05, to make a great showing by the American Women! 8th place was taken by Alexi Pappas from Greece in 3:55:17.
In the below photo are Left to Right:  Grace Kahura, Martha Akeno, and Stacy Ndiwa of Kenya, Jemal Yimer of Ethiopia, Yemane Tsegay of Ethiopia, and Barnaba Kipkoech of Kenya are presented their awards on stage after the Los Angeles Marathon on March 19, 2023 in Los Angeles, California. Brian McCourt the President of the McCourt Foundation is in the middle in the glasses, and on the right are the Pilot and 2 Flight Attendants from The Airline Sponsor: Hawaiian Airlines: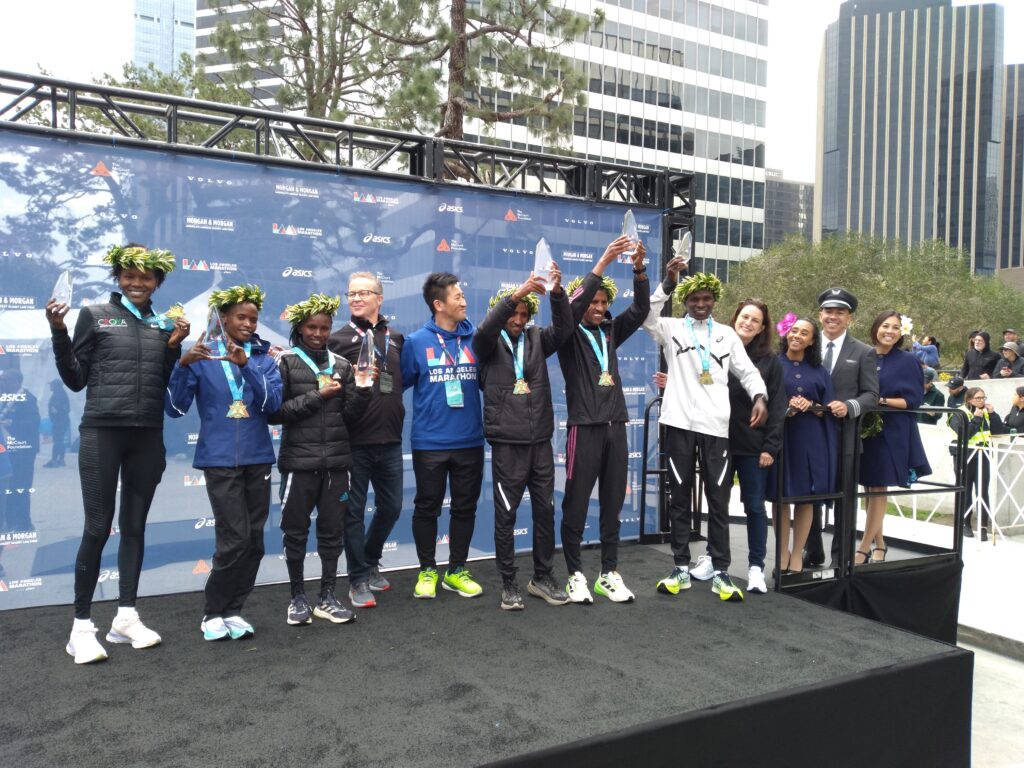 The Marathon Chase is a thrilling race-within-a-race that is a revival of the marathon's historical gender challenge that was a part of the event from 2004 to 2014, with women winning 8 times and men 4 times, out of those 12 years. Several notable athletes have won the bonus over the years, including Kenyan Olympians Wesley Korir (2009) and Edna Kiplagat (2010). Now for the 13th time in race history- The Marathon Chase Gender Challenge is a showcase special event, and a big part of the 38th running of this iconic race.  This is a great winner-take-all bonus format, that adds a big level of excitement to the LA Marathon! This is a special fan friendly format, making the women's race competitive with the men's and adding to the excitement at the finish. So the first athlete, male or female, to cross the finish line will receive a bonus and bragging rights in addition to the regular prize money. Starting at the Dodger Stadium starting line a group of professional women started the race early and the men gave "chase" and tried to make up the gap.
The head start on the men that the elite women's field are given, is based on a calculation of the differences in lifetime finishes among the top seeded entrants, that is done by marathon officials, who studied the elite athletes' personal bests. Therefore, for this year the time difference was 18 minutes, 19 seconds, that was set from the Dodger Stadium starting line. So the elite women started 18 minutes, 19 seconds ahead of the elite men for the 2023 race.
Kenyan Stacy Ndiwa won the women's portion of the 38th Los Angeles Marathon Sunday and claimed a $10,000 bonus by finishing ahead of men's winner Jemal Yimer of Ethiopia.  The 30-year-old Ndiwa was the first runner across the finish line, and crossed the finish line about 32 seconds before the 26-year-old Yimer. She finished with an unofficial time of 2:31, while Yimer's unofficial winning time was 2:13:14. Ndiwa held off Yimer to claim the USD $10,000 gender battle bonus, in addition to her USD $6,000 prize money for winning the women's division. This makes the 9th win for the Women, to only 4 wins for the Men- in the 13 Men Vs. Women Marathon Chase Gender Challenge Races.
The Sponsor this year for the $10,000 bonus was Morgan & Morgan, hence the title of this event is "The Morgan & Morgan Marathon Chase"  Morgan & Morgan is the nation's premier personal injury law firm. As in any competition, the higher the stakes, the more compelling the event. Highlighting a unique element like the Morgan & Morgan Marathon Chase certainly made this year's marathon a must watch event.
"We're thrilled to continue this exciting element at the Los Angeles Marathon," said elite athlete recruiter Matthew Turnbull. "Fans aren't just watching to see who wins the race from each division, you are also eagerly anticipating which side will send a racer across the finish line first and last year's electrifying finish proved anyone can win it."
A total cash prize purse of $20,000 was given to both the men's and women's fields at the Los Angeles Marathon, with $6,000 for first place, $2,500 for second and $1,500 for third. Plus, the first runner across the finish line — male or female was awarded an additional $10,000 in conjunction with the Morgan & Morgan Marathon Chase. A total cash prize purse of $10,000 was given to both the men's and women's Wheelchair division at the Los Angeles Marathon, with $2,500 for first place, $1,500 for second place, and $1,000 for third place.
More than 22,000 runners from all 50 states and 67 countries, ran from Dodger Stadium to the 'Avenue of the Stars' at the 2023 Los Angeles Marathon presented by ASICS earlier today! All of Los Angeles was there to support the runners, walkers, competitive wheelchair and elite races, 80+ amazing charity partners and compelling athlete stories. The 38th running of the iconic 26.2-mile road race had many great experiences and life-changing moments, that is unmatched by any other event in Southern California. This year the Marathon Finish Line was on Santa Monica Blvd & at the intersection of Avenue of the Stars. The Oldest Runner was 88 years young, and this year the Official Starter was the 43rd Mayor of Los Angeles: Hon. Mayor Karen Bass.
The LA Marathon is one of the four largest marathons in the United States, featuring the world-renowned 'Stadium to the Stars' course, which tours iconic landmarks including Chinatown, the El Pueblo de Los Angeles State Historic Park, Los Angeles City Hall, Little Tokyo, the Disney Hall and Music Center of Los Angeles County, the Dolby Theater – home of the Academy Awards in Hollywood, parts of Historic Route 66 in West Hollywood and Rodeo Drive in Beverly Hills, and then finish was in Century City, where the finish line festival was held.
On this TV Show Entertainment & Sports Today's TV show Producer and Broadcast Reporter: Steve Taylor will take you live to the the finish line on Santa Monica Blvd & the intersection of Avenue of the Stars in Century City to watch the Marathon finish, and then after the race take you to the Craft LA Restaurant in Century City Park for the VIP breakfast and lunch with the Men's & Women's Gold, Silver, and bronze Medal winners, and then the Finish Line Festival and Heineken 0.0 Beer Garden, in beautiful Century City Park, with live music and beer garden. Then the LA Marathon Health & Fitness Expo at Dodger Stadium, which is always held on the Friday and Saturday before race day Sunday. 
The McCourt Foundation (TMF) is a non-profit organization committed to building a healthier world through research, education and partnerships for Research: TMF provides direct financial support for innovative neurology research led by world-renowned physicians at Mass General Hospital, Brigham & Women's Hospital and Cedars-Sinai.  Education: The foundation offers free educational forums for patients and caregivers affected by neurological diseases, including MS, ALS and Alzheimer's. Partnerships: The TMF Nonprofit Partnership Program enables health-focused non-profits and charities to leverage TMF events for their own fundraising and deliver greater impact.
There are over 80 official charities that have participated in this year's race. There are over 500 people participating on Team TMF,  and since 1985, the Los Angeles Marathon has helped charities fundraise over $57.2 million for a variety of important causes and organizations. The Charity Challenge 13.1 Half Marathon is a race within the race where all participants are running and fundraising for Team TMF: the fundraising team for the McCourt Foundation, and/or other official non-profit charity partners. The Charity Challenge 13.1 started at the official Marathon Start line at Dodger Stadium, then takes a slight detour, then merges into the marathon course near mile 6 and runs the official route for miles 6 through 18, finishing directly on Santa Monica Blvd. at Avenue of the Stars in Century City, with all of the other 22,000 plus runners!
Over 3,100 runners at the Los Angeles Marathon will participate as a part of Students Run LA (SRLA), an after-school mentoring and physical fitness program for at-risk middle and high school students in Los Angeles. Based on past results, 99 percent of the students who participate in the program finish the marathon, 95 percent attend college and 85 percent are first-generation college students in their family. More than 63,000 students have participated in the program since its inception in 1987, with over 95 percent of SRLA starters finishing the race. There are 185+ schools and community programs with SRLA throughout the Greater Los Angeles Area. Through this program students learn how discipline and perseverance lead to success in the marathon and in life.
An impressive 107 Legacy Runners—men and women who have completed all 37 prior editions of the race— ran again for the 38th time in 2023.  Over 1,000 participants from the LA Road Runners presented by Volvo (LARR) program also participated. LARR is the official training program of the Los Angeles Marathon.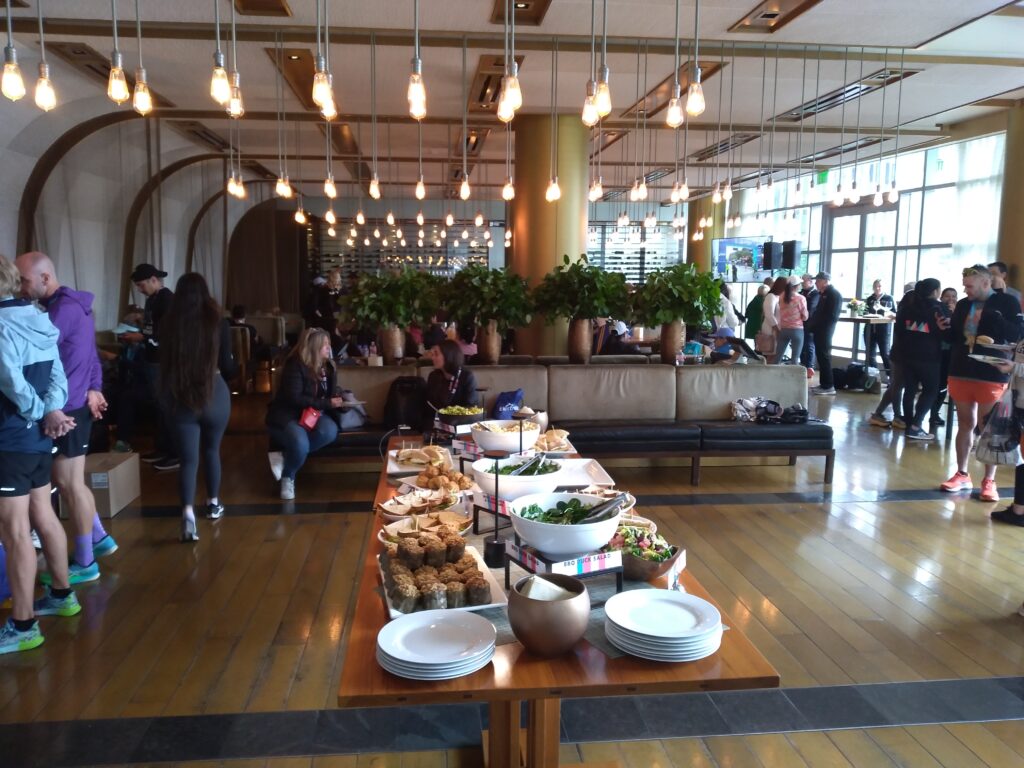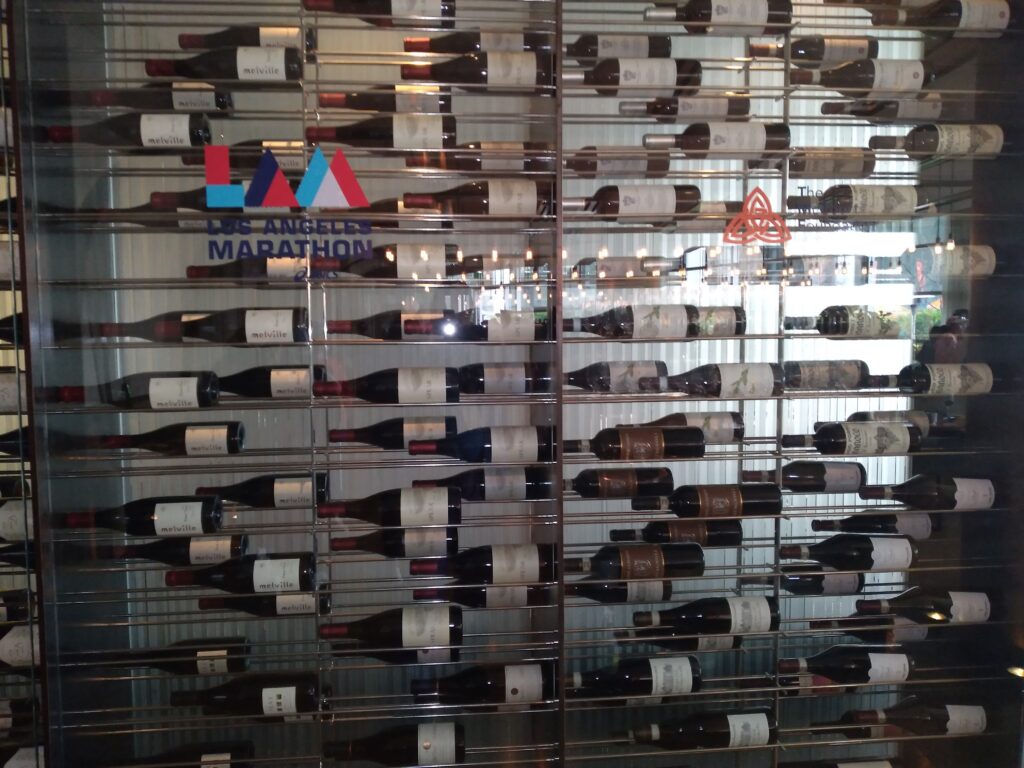 Immediately after the race and awards ceremonies, we were celebrating at the VIP Breakfast & Lunch in the Craft LA Restaurant in Century Park with all the medal winners, VIPS, Execs, Charity Sponsors, and top runners from all over the world! 
Designed by award-winning architecture firm, Bentel & Bentel, Craft Los Angeles seats 300 in a 10,000 square-foot space that includes a dining veranda overlooking a four-acre park.
See above photos of this fine Restaurant, and their vast collections of wine, fine Spirits, and Liquor that you can experience at their bar, or with your meal at your table. In the below photo you can see TV Producer: Steve Taylor in the middle, with the Gold Medal winner: Jemal Yimer from Ethiopia on the right, and the Silver Medal winner: Yemane Tsegay from Ethiopia on the left, celebrating with Steve their great victory for Ethiopia,
and talking about the thousands of miles they put into their training, and then tapering off the month before the big race; and we talked about the great joy they had after both of their great runs, and going 1 – 2 in this big race! Steve wanted to get the 
Bronze medal
winner
Barnaba Kipkoech of Kenya,
to join us in our celebration, but they said he was over at the table eating, as he was very hungry after his great running performance of a fast 2:14:28 marathon that was only 20 seconds behind the Silver Medal winner: Yemane Tsegay 2:14:08 marathon time: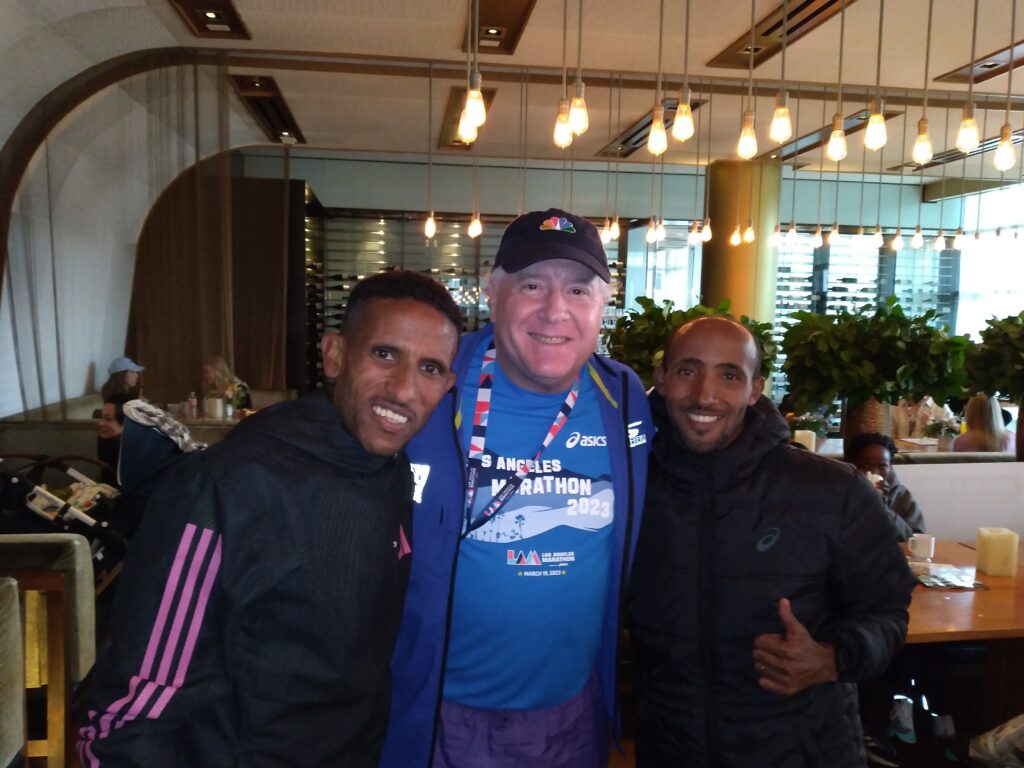 In the below photos you can see the runners from Brazil during their marathon celebration at the table right next to us: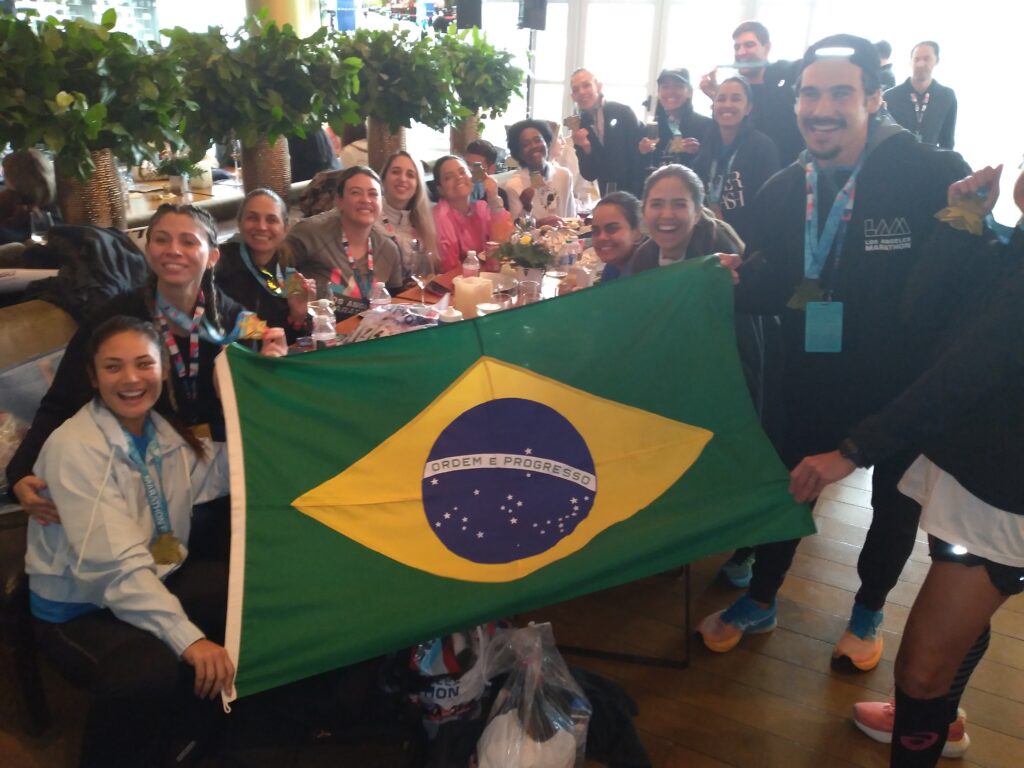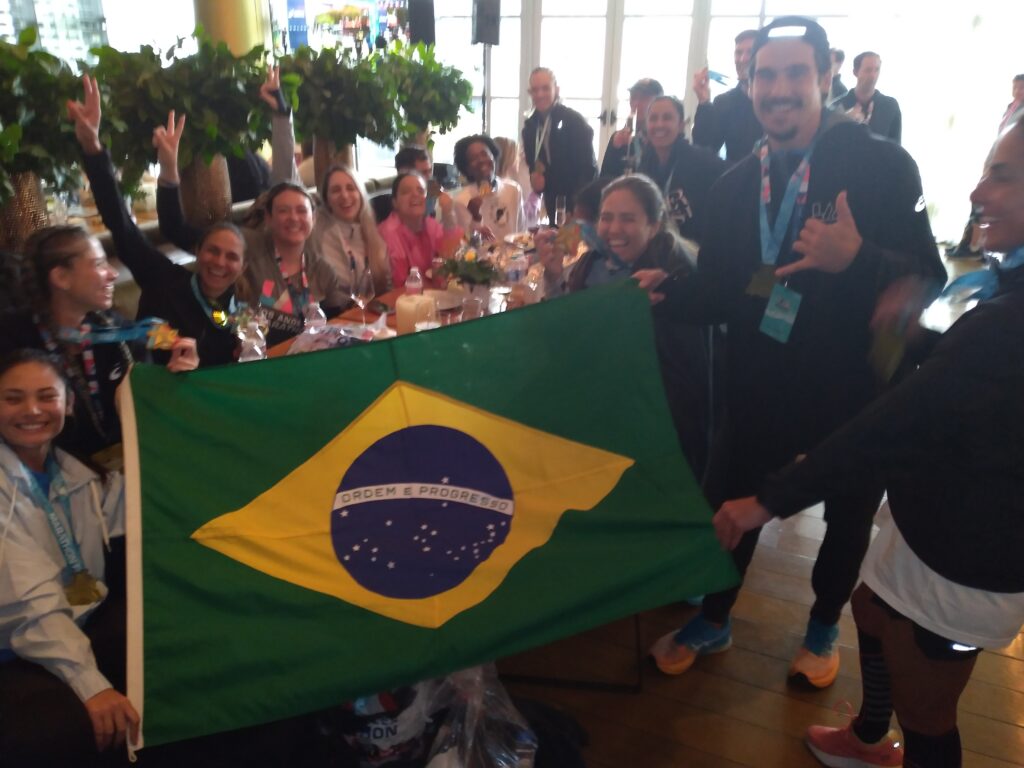 In the photo below you can see (L -R) Ethiopia's Coach/Manager, Steve Taylor, and 2 top women runners from China. You can see Team Ethiopia's Coach's shirt, that is of the legendary Ethiopian marathon runner Abebe Bikila, who was a back-to-back Olympic marathon champion. Abebe won the gold medal at the 1960 Summer Olympics in Rome while running barefoot, and then at the 1964 Tokyo Olympics, he won his second gold medal. In turn, he became the first athlete to successfully defend an Olympic marathon title. In both victories, he ran in world record time: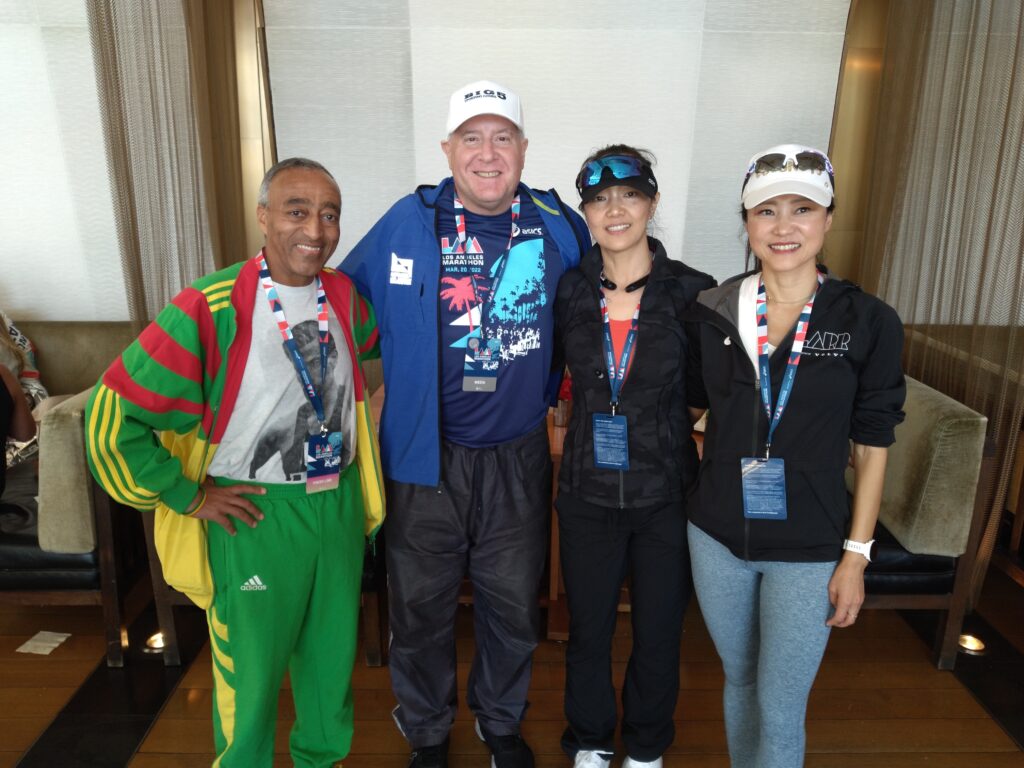 Long after the top runners finished the race- in the finish area at the Craft LA Restaurant in Century City Park, during the lunch period, I was sitting down at a table talking to a family of runners and one of the charity supporters, who told me about this amazing 81 year old women that they saw running with a group of her supporters: the 81-year-old great-grandmother of 3, and grandmother of 6: Sharon Kerson, who finished her 600th marathon at this LA Marathon! As a Legacy Runner, she is a member of an elite group of only 107 athletes, and as they have done- she has participated in and completed every LA Marathon since its inception in 1986. She has finished marathons in all 50 states and, from 1989 to 2002, she instructed trainee marathon runners as part of Students Run Los Angeles. The 1986 marathon was Kerson's first attempt at the 26.2 mile race and it took her a respectable five hours to finish. Nowadays, she has to walk to finish the marathon, taking closer to 10 hours to complete, but she has a sizable group of her Legacy Runner supporters who give her non-stop encouragement along the course. Kerson's enthusiasm and dedication to her sport are motivational for everyone. "Eighty percent is showing up and the other 20 percent is physical," she says. "When I run, a lot of people stop me and they say I am an inspiration. They tell me, 'I hope I can run when I am your age.'"  . . . "I have run a marathon in every state in the United States six times. I have six states left to do for the seventh time. I have run a marathon in all seven continents, finishing in Tanzania, Africa in 2015 and I have run in all the provinces and territories in Canada and Australia," she said proudly. So let this great women be an inspiration to all of us, especially when you feel down and you are overwhelmed with so many problems- JUST THINK OF Sharon Kerson: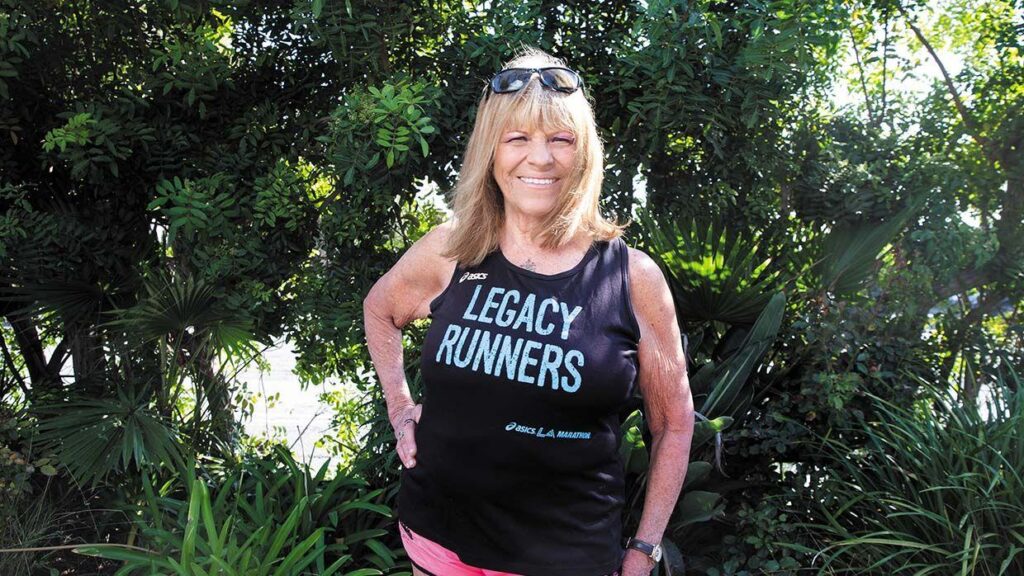 The Los Angeles Marathon Health & Fitness Expo always takes place on the Friday, and Saturday before race day Sunday for the Marathon, and again this year it was at Dodger Stadium.  Attendees, Marathon entrants, and Runners could meet race officials, legacy runners, 2023 Golden Star recipients, and the top men's and women's elite runners.
On the second part of this show we went to every booth to interview the owners or reps that were there, and then we chose a few of the best products to tell you about in this segment, with editorial below and from the video interviews on this show. Thanks for watching!
The Health & Fitness Expo had over 150 exhibitors featuring brand-new designs in running apparel and shoes, health bars, energy drinks, supplements, as well as the latest developments in sports, fitness and nutrition. Some of the many Charity Sponsors were there for people to learn more about them, as we did during our interview with Crystal O'Rourke from World Vision, that helps to protect kids from the global hunger crisis, with 22 million children facing starvation. With the help of their generous donors, they are responding in 26 hardest-hit countries, aiming to reach 22 million people through the largest-ever humanitarian response in their 70-year history. This goal is ambitious, but they know it's achievable with your help. For more info and to make a donation go to http://worldvision.org.
There were many products for Pain and Inflammation relief, and one of the strongest products are from FlexCBD, as we interviewed Fila Moala and Josh Forkner at their booth for this TV show segment. FlexCBD is the pain relief and recovery sports brand of the future, that uses the great benefits of CBD. CBD, or cannabidiol, is one of many cannabinoids found in the hemp plant. CBD is non-intoxicating and does not produce the psychoactive effects associated with THC. CBD has been shown to be effective in reducing inflammation, pain, anxiety, and improving sleep quality. Their most potent product is 4000mg of FlexCBD Topical Cream, which contains 2-3 times the amount of pure CBD than other brands! This is enhanced CBD cream that was formulated to leave skin refreshed and moisturized while enabling powerful pain-relieving ingredients to absorb deep into targeted areas. FlexCBD cream contains the actual amount of high-quality CBD listed along with other pain-relieving ingredients to help reduce inflammation, relax muscles, and speed up recovery. This product contains high strength menthol to open pores and relieve pain.  We recommend their CBD products to anyone looking for relief from inflammation, Arthritis, Osteoporosis, anxiety, depression, neck, back, leg and body pain; anxiety, or poor sleep quality.  Their common uses are prevalent among athletes, people who suffer from pain or injuries, Cancer Patients, trauma, and anxiety. It is great for speedy recovery from injuries, and preventative muscle maintenance. To order their great products go to: https://realflexcbd.com/.
Another pain relief product that we have been using for many years, is KT Tape. They have had booths at many LA Marathons and other Health & Fitness related conventions and events. Many runners, athletes, and even Olympic Champions use their products! They just came out with a great new product: NEW KT Recovery+ Pain Relief Gel that provides long lasting, penetrating pain relief with a powerful blend of cool and warm sensations. It temporarily relieves pain in muscles and joints associated with body aches, strains, sprains, arthritis and bruising. Its exclusive Micro-encapsulated Menthol allows relief to last several hours, while Arnica Montana aggressively targets inflammation to help ease pain quickly. Formulated with only the highest-quality ingredients, KT Recovery+ Pain Relief Gel is non-toxic, paraben free, and is safe and effective for repeated daily use. The formula is made from naturally derived ingredients. Its water-based formula helps the scent to vanish quickly. Approved for temporary relief from aches and pains of sore muscles and joints associated with: Simple Backache, Strains, Sprains, Arthritis, and Bruises. It is: Water based formula for quick absorption without oily residue, Contains naturally derived ingredients (menthol & camphor), and Dries clear and scent vanishes quickly. Apply to many areas of the body prone to overuse and pain such as the foot, calves, quads/hamstrings, back, shoulders, and forearms. To order yours go to: https://www.kttape.com/
Another new pain relief product that we just learned about at this Health & Fitness Expo is: CHΛRLEY™ which is a best-selling, magnesium-based solution, made with all natural, fast-acting Magnesium and a blend of powerful plant botanicals and essential oils that make both CHΛRLEY™ Magnesium Sport Spray and CHΛRLEY™ Magnesium Sport Gel two powerhouse blends that can help you train harder, perform better and recover faster! 
Whether you're a professional athlete or a casual exerciser, CHΛRLEY™ can help you be your best! POWERFUL RECOVERY ON CONTACT: All Natural Pain Relief, Stop Cramps On Contact, Reduce Sore Muscles And Achy Joints, Reduce Inflammation And Fatigue, Improve Recovery Time, and Enhance Performance! To order their products go to: https://www.mindfulmixtures.com.