Sean Connery, the Scottish actor whose five-decade-long movie career was dominated by the role of James Bond, has died at the age of 90, according to his publicist.
The actor "died peacefully in his sleep," publicist Nancy Seltzer said in a statement Saturday. "His wife Micheline and his two sons, Jason and Stephane have confirmed that he died peacefully in his sleep surrounded by family. There will be a private ceremony followed by a memorial yet to be planned once the virus has ended," the statement said.
Connery, who was awarded a knighthood in 2000 for his contribution to the arts, played the British spy in seven movies, beginning with "Dr. No" in 1962, the first of the Bond movies.
In the Below Photo I was lucky enough to spend some time with Sean Connery and Michael Caine at The Golden Globe Awards: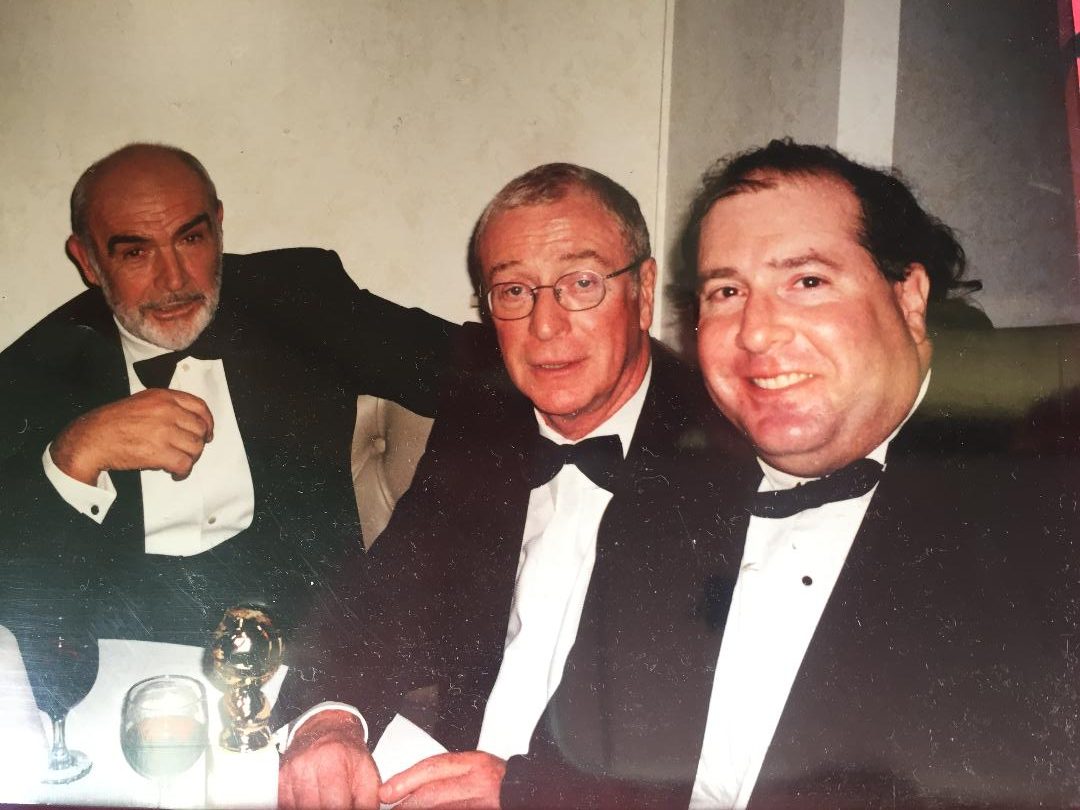 Now a little history on Sir Sean Connery:
Hollywood Legends "Sean Connery.. Bond,.. James Bond"  : written by Paul Vetrano. Most people I have ever asked say.. Sean Connery will always be the best true James Bond.
Sir Thomas Sean Connery was born 25 August 1930) is a retired Scottish actor and producer who has won an Academy Award, two BAFTA Awards (one of them being a BAFTA Academy Fellowship Award) and three Golden Globes (including the Cecil B. DeMille Award and a Henrietta Award). He was knighted by Elizabeth II in July 2000 after receiving Kennedy Center Honors in the US in 1999.  
Connery was the first actor to portray the character James Bond in film, starring in seven Bond films between 1962 and 1983. In 1988, Connery won the Academy Award for Best Supporting Actor for his role in The Untouchables. His film career also includes such films as Marnie, The Name of the Rose, The League of Extraordinary Gentlemen, Indiana Jones and the Last Crusade, The Hunt for Red October, Finding Forrester, Highlander, Murder on the Orient Express, Dragonheart, and The Rock.
Connery has been polled as "The Greatest Living Scot" and "Scotland's Greatest Living National Treasure". In 1989, he was proclaimed "Sexiest Man Alive" by People magazine, and in 1999, at age 69, he was voted "Sexiest Man of the Century".
Early life
Thomas Sean Connery, named Thomas after his grandfather, was born in Fountainbridge, Edinburgh, Scotland on 25 August 1930. His mother, Euphemia McBain "Effie" (née McLean), was a cleaning woman, and his father, Joseph Connery, was a factory worker and lorry driver. His paternal grandfather's parents emigrated to Scotland from Ireland in the mid-19th century. The remainder of his family was of Scottish descent, and his maternal great-grandparents were native Scottish Gaelic speakers from Fife (unusually, for a speaker of the language) and Uig on the Isle of Skye. His father was a Roman Catholic, and his mother was a Protestant. He has a younger brother, Neil (b. 1938). Connery has said that he was called Sean, his middle name, long before becoming an actor, explaining that when he was young he had an Irish friend named Séamus and that those who knew them both had decided to call Connery by his middle name whenever both were present. He was generally referred to in his youth as "Tommy". Although he was small in primary school, he grew rapidly around the age of 12, reaching his full adult height of 6 ft 2 in (188 cm) at 18. He was known during his teen years as "Big Tam", and has stated that he lost his virginity to an adult woman in an ATS uniform at the age of 14.
An Edinburgh "Co-op milk cart" photographed in 1981
Connery's first job was as a milkman in Edinburgh with St. Cuthbert's Co-operative Society. He then joined the Royal Navy, during which time he acquired two tattoos, of which his official website says "unlike many tattoos, his were not frivolous—his tattoos reflect two of his lifelong commitments: his family and Scotland. … One tattoo is a tribute to his parents and reads 'Mum and Dad,' and the other is self-explanatory, 'Scotland Forever.'"
Connery was later discharged from the navy on medical grounds because of a duodenal ulcer, a condition that affected most of the males in previous generations of his family. Afterwards, he returned to the co-op, then worked as, among other things, a lorry driver, a lifeguard at Portobello swimming baths, a labourer, an artist's model for the Edinburgh College of Art, and after a suggestion by former Mr. Scotland, Archie Brennan, a coffin polisher. The modelling earned him 15 shillings an hour. Student artist Richard Demarco who painted several notable early pictures of Connery described him as "very straight, slightly shy, too, too beautiful for words, a virtual Adonis."
Connery began bodybuilding at the age of 18, and from 1951 trained heavily with Ellington, a former gym instructor in the British army. While his official website claims he was third in the 1950 Mr. Universe contest, most sources place him in the 1953 competition, either third in the Junior class or failing to place in the Tall Man classification. Connery stated that he was soon deterred from bodybuilding when he found that the Americans frequently beat him in competitions because of sheer muscle size and, unlike Connery, refused to participate in athletic activity which could make them lose muscle mass.
Connery was a keen footballer, having played for Bonnyrigg Rose in his younger days. He was offered a trial with East Fife. While on tour with South Pacific, Connery played in a football match against a local team that Matt Busby, manager of Manchester United, happened to be scouting. According to reports, Busby was impressed with his physical prowess and offered Connery a contract worth £25 a week immediately after the game. Connery admits that he was tempted to accept, but he recalls, "I realized that a top-class footballer could be over the hill by the age of 30, and I was already 23. I decided to become an actor and it turned out to be one of my more intelligent moves."
A very special thanks to Paul Vetrano for writing this article !
Stay tuned for live daily round-the-clock news coverage from our news team in Los Angeles, Hollywood, New York, Beverly Hills, and overseas from Entertainment & Sports Today TV, and Entertainment Today, and for the complete story go to: entertainmentandsportstoday.com, on Facebook & Instagram: @entertainmentandsportstoday, and Youtube.com/entertainmenttodaytv
For tickets to future events, and Sponsorships and get advertising rates and info, E-Mail : info@entertainmentandsportstoday.com – and for more info about us go to: www.entertainmentandsportstoday.com & thanks for watching !
For more information, and if you like to buy any of these great products that you saw on our TV show, E-Mail us direct: info@entertainmentandsportstoday.com so that one of our staff can connect you with the right people. Above is our video news story, that is part of the follow up to our daily news stories on the Coronavirus.
For more news stories and updates about the Coronavirus : go to EntertainmentandSportsToday.com  and go to the top of the home page and click on the "HEALTH & BEAUTY" section.  Additional updates can be found by clicking the "Business & Technologies" , and "Entertainment" sections, or just click "Home". For stories that may uplift your spirits during these trying times go to the "Music" section of our website.
If you may have any questions- you can email us at info@entertainmentandsportstoday.com- so we can find you the answers from the doctors and health experts, that have written stories for us, and from the health agencies that have provided information and daily updates for us. & Thanks for watching, and be healthy and safe!