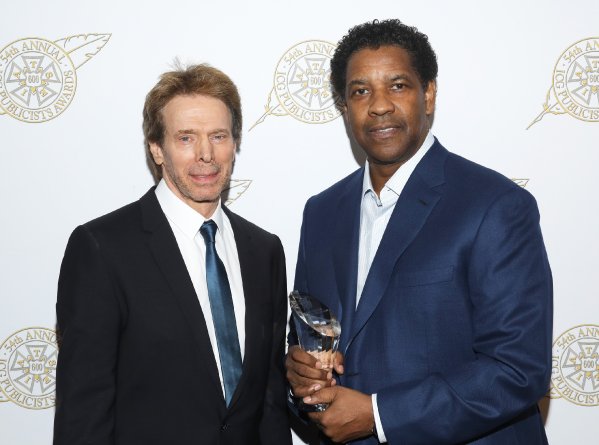 "DEADPOOL" AND "THIS IS US" PUBLICITY CAMPAIGNS
WINS TOP HONORS AT THE 54th ANNUAL ICG PUBLICIST AWARDS

Kate Hudson Presented Jeffrey Katzenberg with Lifetime Achievement Award;
Jerry Bruckheimer Presented Denzel Washington with Motion Picture Showman of the Year Award; https://www.instagram.com/denzelwashington1/  @DenzelWashington         #denzelwashington   
Sarah Paulson Presented Ryan Murphy with TV Showman of the Year Award;
Renée Zellweger Presented Nanci Ryder, Co-founder of B|W|R Public Relations, with the President's Award

 The International Cinematographers Guild (ICG, IATSE Local 600) Publicists  announced winners of its 54th Annual ICG Publicists Awards at the Beverly Hilton Hotel. Deadpool (20th Century Fox) won the top honors for Best Publicity Campaign for Motion Pictures and This Is Us (20th Century Television) won the Best Publicity Campaign in Television. The awards, chaired by Henri Bollinger and co-chaired by Tim Menke, took place before an audience of more than 900, including guild members, Hollywood public relations and marketing executives, producers, studio and network executives, celebrities and press.
Jeffrey Katzenberg, Founder of DreamWorks Animation and WndrCo, received a Lifetime Achievement Award from actress Kate Hudson (Deepwater Horizon) and PMK-BNC Vice Chairman Brad Cafarelli. Denzel Washington was presented the Motion Picture Showman of the Year Award by producer Jerry Bruckheimer (the CSI series, the Pirates of the Caribbean movies). Writer/director/producer Ryan Murphy received the Television Showman of the Year Award from Sarah Paulson (American Horror Story, The People v. O.J. Simpson: American Crime Story). In an emotional presentation, Renée Zellweger (Bridget Jones's Baby) presented longtime publicist and B|W|R Public Relations co-founder Nanci Ryder with the President's Award.
Additional presenters of this years awards included Gabrielle Carteris (SAG-AFTRA President), Keltie Knight (The Insider), Tony Denison (Major Crimes), Brenton Thwaites (Pirates of the Caribbean: Dead Men Tell No Tales) and Stacy Keach (The Life and Death of John Gotti).
Andrew Schwartz (Motion Picture) and John Johnson (Television) received awards for Excellence in Still Photography, respectively. The Les Mason Award was presented to Rosalind Jarrett Sepulveda. The Press Award went to Grae Drake of Rotten Tomatoes, and the International Media Award was bestowed upon Brent Simon (China).
Henri Bollinger said in his opening remarks, "These awards demonstrate the impact that publicists have on the success of movies and television shows. It's significant that they coincide with the Oscars since both help bring positive attention to the people responsible for popularizing the art of entertainment."
THE WINNERS OF THE 54th ANNUAL ICG PUBLICIST AWARDS ARE:
Maxwell Weinberg Publicist Showmanship Motion Picture Award
Deadpool
Maxwell Weinberg Publicist Showmanship Television Award
This Is Us

Excellence in Unit Still Photography for Motion Pictures Award:
ANDREW SCHWARTZ
Excellence in Unit Still Photography for Television Award:
JOHN JOHNSON
Les Mason Award, the highest honor publicists can bestow on one of their own:
ROSALIND JARRETT SEPULVEDA

Press Award:
GRAE DRAKE, Rotten Tomatoes
International Media Award:
BRENT SIMON, China
The sponsors for the 54th Annual ICG Publicists Awards are 20th Century Fox, Twentieth Century Fox TV, FX Networks, Warner Bros., Paramount Pictures, Universal, DreamWorks Animation, CBS Films, Deadline, Junket Productions Inc., Sony Pictures, The Walt Disney Studios, The Hollywood Reporter, Variety, Creative Handbook, NBC Entertainment, Will Rogers Motion Picture Pioneers Foundation, City National Bank, Step & Repeat.com, Below The Line, SHOOTonline, Warner Bros. Photo Lab.
For a great life motivational speech from Denzel – check out below link :
https://www.youtube.com/watch?v=MAv_Bxrkwkk
ABOUT THE INTERNATIONAL CINEMATOGRAPHERS GUILD (ICG):
The International Cinematographers Guild (IATSE Local 600) represents more than 7,800 members who work in film, television and commercials as Directors of Photography, Camera Operators, Visual Effects Supervisors, Still Photographers, Camera Assistants, Film Loaders, all members of camera crews and Publicists. The first cinematographers union was established in New York in 1926, followed by unions in Los Angeles and Chicago, but it wasn't until 1996 that Local 600 was born as a national guild. ICG's ongoing activities include the Emerging Cinematographer Awards and the Publicists Awards Luncheon. The Guild also publishes the award-winning ICG Magazine.
ABOUT THE PUBLICISTS OF THE ICG:
Entertainment publicists first formed a union in 1937 as the Screen Publicists Guild, later becoming the Publicists Guild. In 2002 the Publicists Guild merged with the International Cinematographers Guild (Local 600). The first Publicists Awards Luncheon was held in 1962 and has since grown to an event attended annually by up to 900 publicists and industry leaders. Many of the greatest actors, directors and executives have accepted the Motion Picture and Television Showmanship Awards and Lifetime Achievement Awards and include Arnold Schwarzenegger, Clint Eastwood, Julie Andrews, Harrison Ford, Sylvester Stallone, Carol Burnett, Kirk Douglas, Stanley Kramer, Joanne Woodward and Paul Newman, Bob Hope and Shonda Rhimes. In addition, the members honor their own through the Maxwell Weinberg Awards for publicity campaigns, the Bob Yeager Award for Community Service and the Les Mason, the greatest honor to be paid to a publicist. The Guild also publishes the Annual ICG Publicists Membership Directory, which is given out at the Annual ICG Publicists Awards. Connect with the #PublicistsAwards at icg600.com and on Facebook, Twitter and Instagram.