In this news segment you will see the incredible closing number of the opening night premier of Jimmy Buffet's stage musical: "Escape to Margaritaville" at The world famous Dolby Theatre- the home to the Oscars.
Only for this special opening night premiere you can see the Grammy Hall of Fame member and music legend Jimmy Buffet: in the middle of the stage in a white Hawaiian shirt playing the guitar, along with Producer Frank Marshall next to him to the left in the photo, in the blue Hawaiian shirt : both playing Jimmy Buffet's hit song Margaritaville.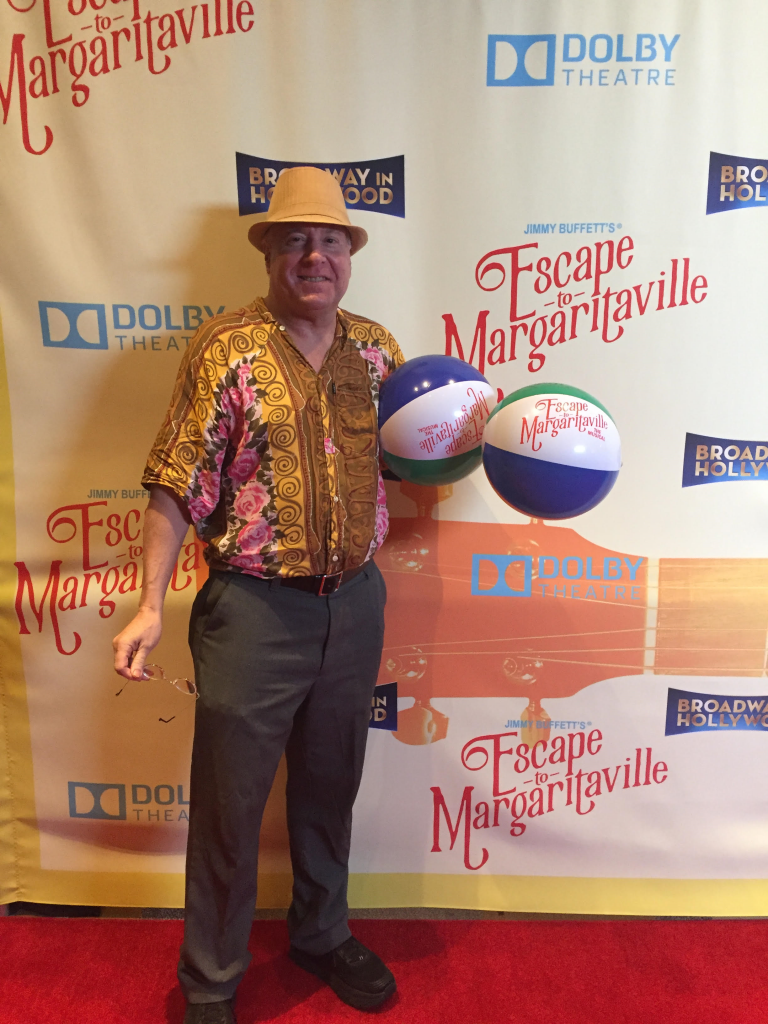 We witnessed an amazing show, with all of Jimmy Buffet's hit songs, and a great story of the life style of living on the Islands, the "Island Escapism" lifestyle, – and with lots of humor throughout this very entertaining musical.
Below top photo L-R: TV Producer Steve Taylor with: Actor David Arquette – then below middle photo L-R: Steve with Producer/Director: Marty Krofft – and then below bottom photo L-R: Steve with actor Timothy Stack who played the role of the father on the early 90s hit TV show: "Parker Lewis Can't Lose":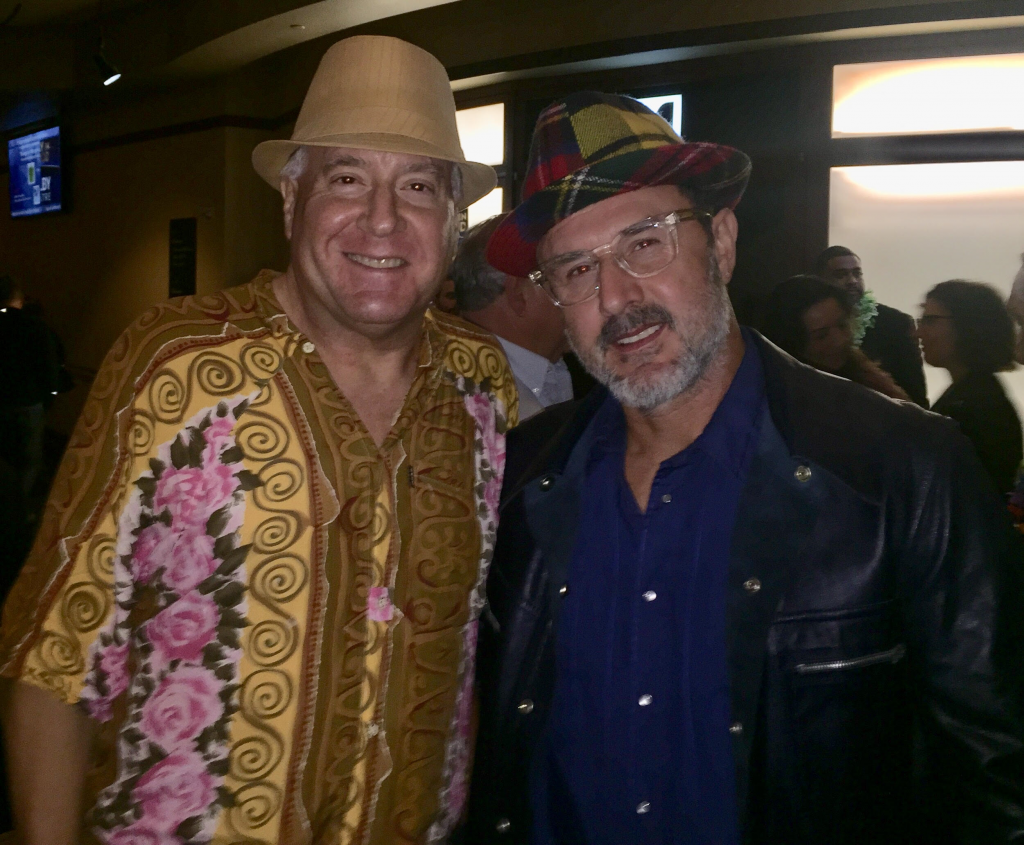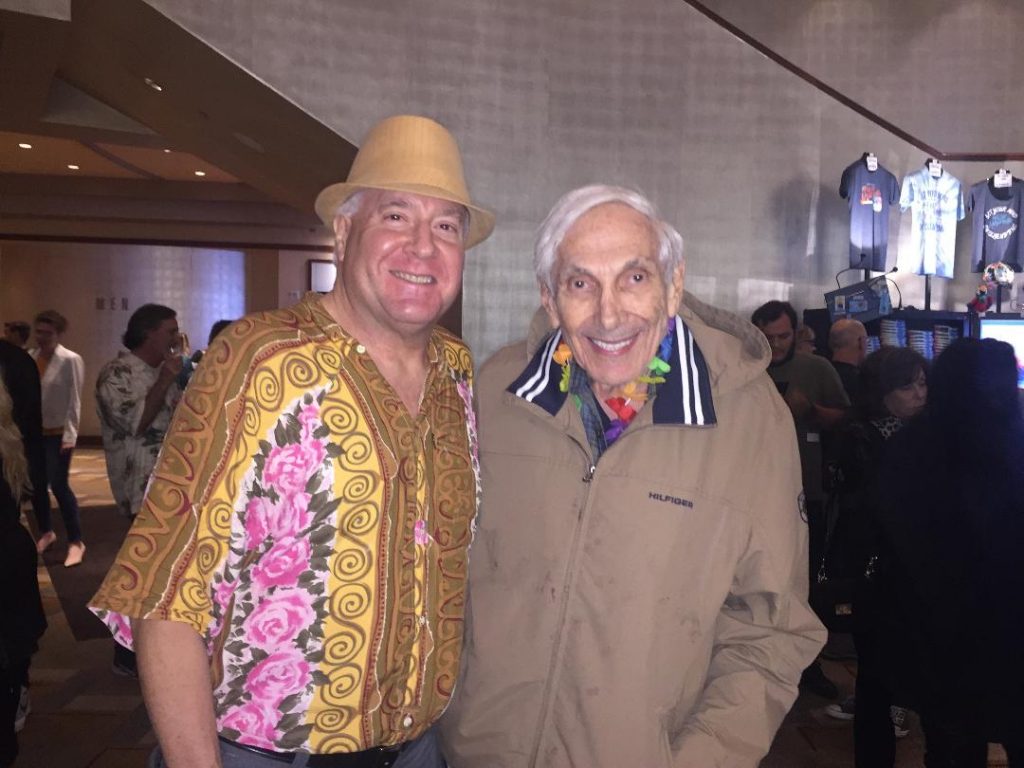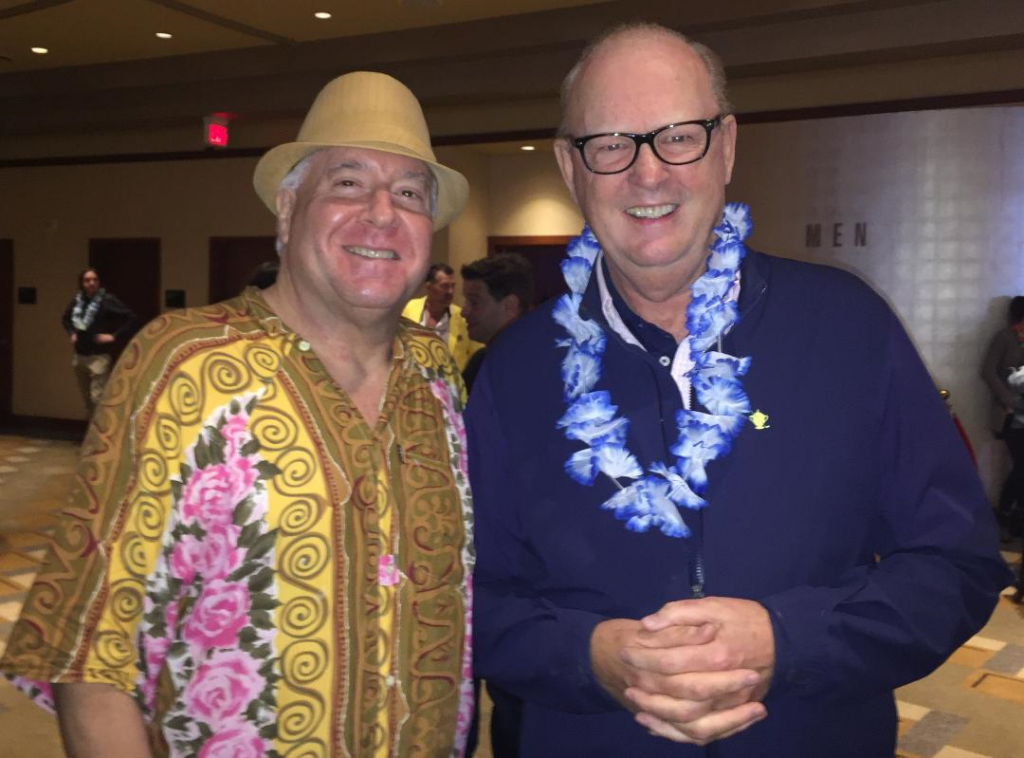 Some of the many of Jimmy's hit songs that are played during the show: Margaritaville, Come Monday, Fins, and my personal favorite: Volcano.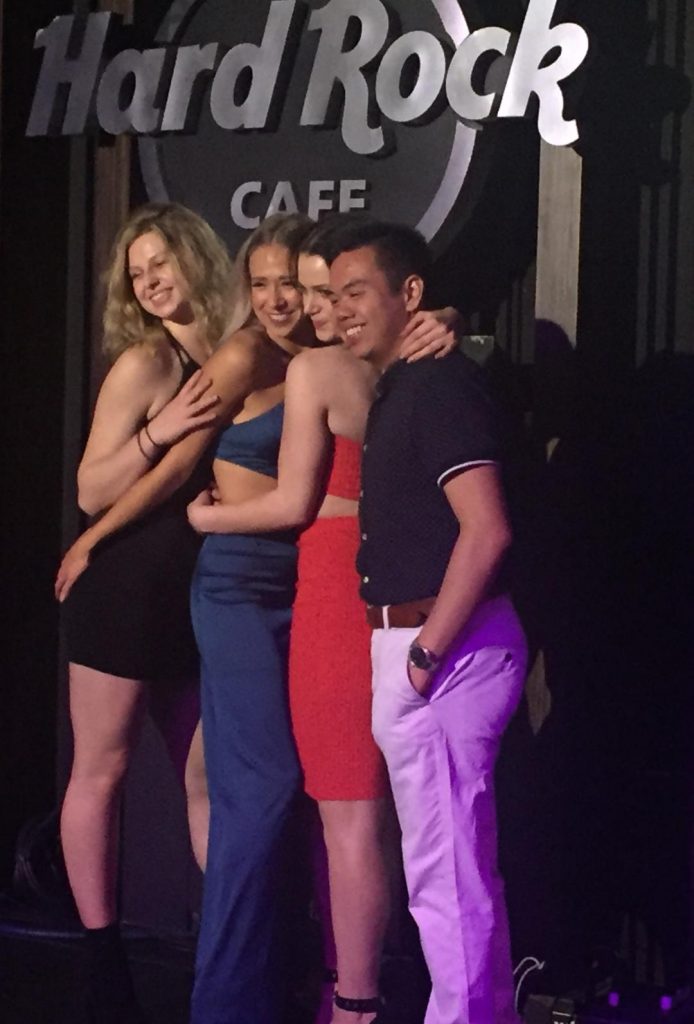 We then went to the invite Only VIP after-party at the Hard Rock Café (see above photo), which is also is located in The Hollywood Highland Center- adjacent to the Dolby Theatre. It was an amazing party with all of all of the cast and stars there in person: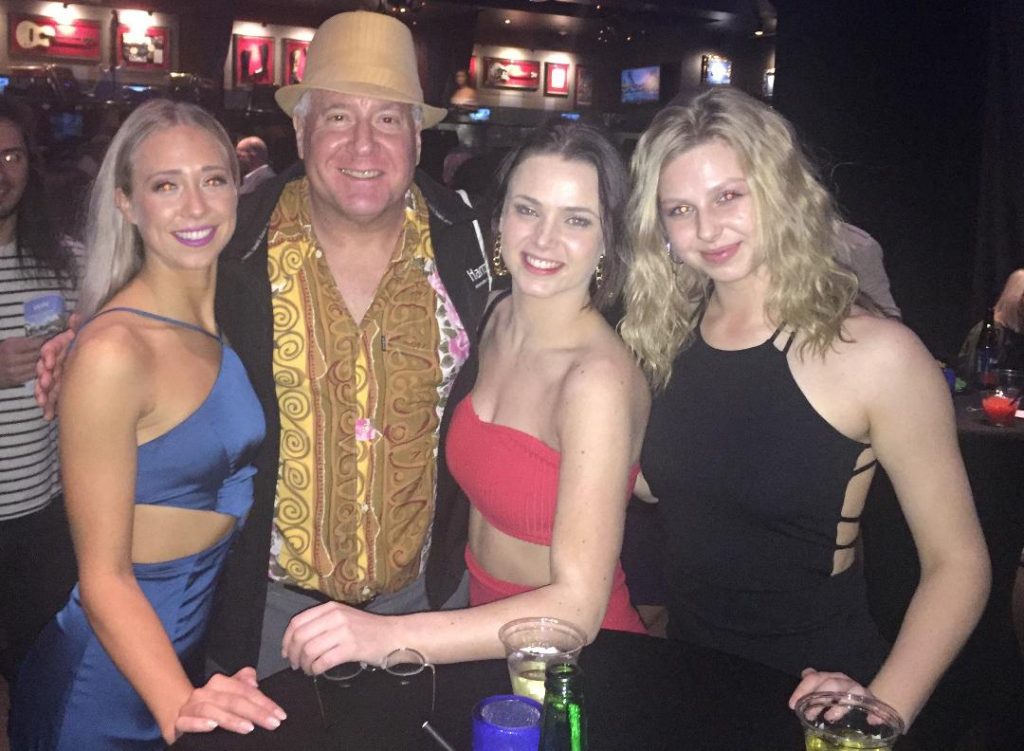 They served amazing authentic food and drinks from Jimmy's home town of Key West, Florida: including his signature drink: Margaritas- The Jimmy Buffet Margaritaville, and for desert delicious Key Lime Pie!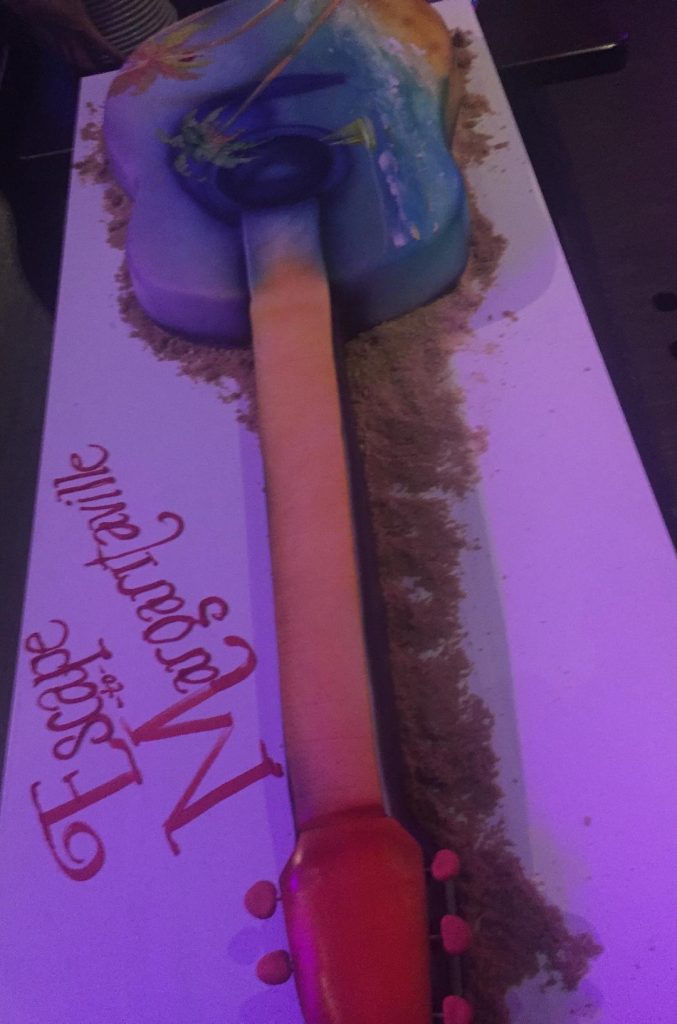 We stayed to the "bitter end" – accept this time it wasn't bitter at all – in fact it was very sweet as we shared with all of the show's performers- a specially designed cake in the shape of a guitar (see above photo) – that was dedicated to Jimmy Buffet's Escape to Margaritaville !
We had the "hottest ticket in town" with center Orchestra seats for an amazing – "MUST SEE" musical hit show, and tickets to the VIP After-Party (see below).  It was a special night that we will never forget!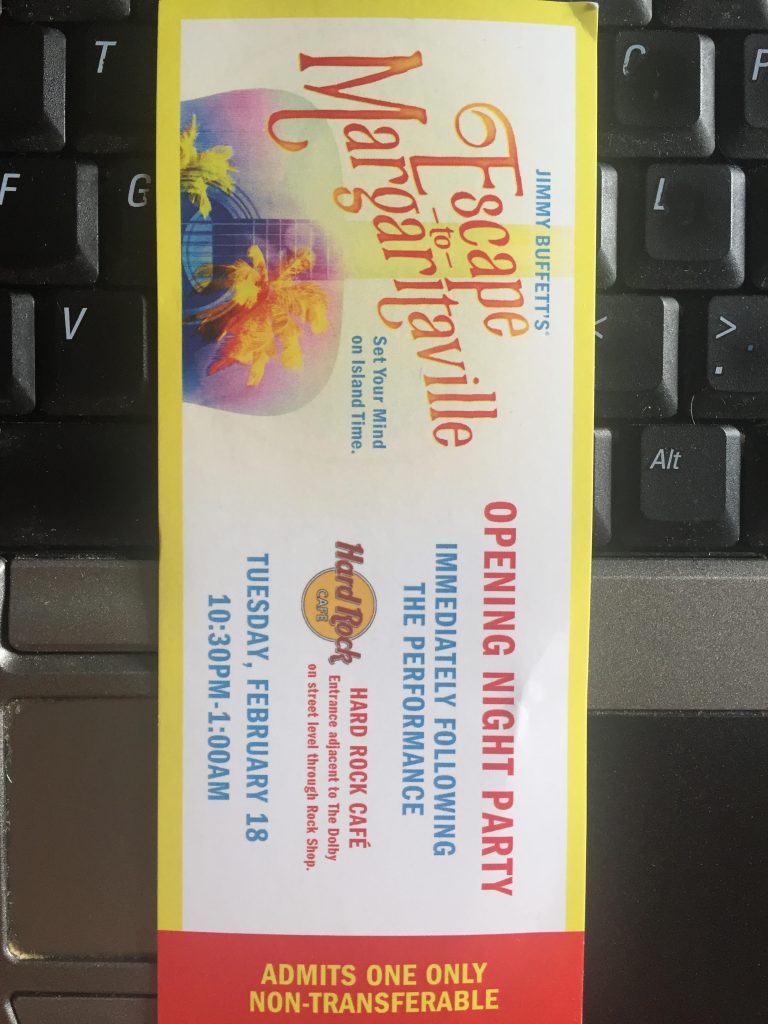 We like to give a special thanks to our reporter: Josef Csongei who helped to make this all possible, and for doing some great in-depth interviews. Below photo: Josef on the left with the hero of the night, and musical legend: Jimmy Buffet: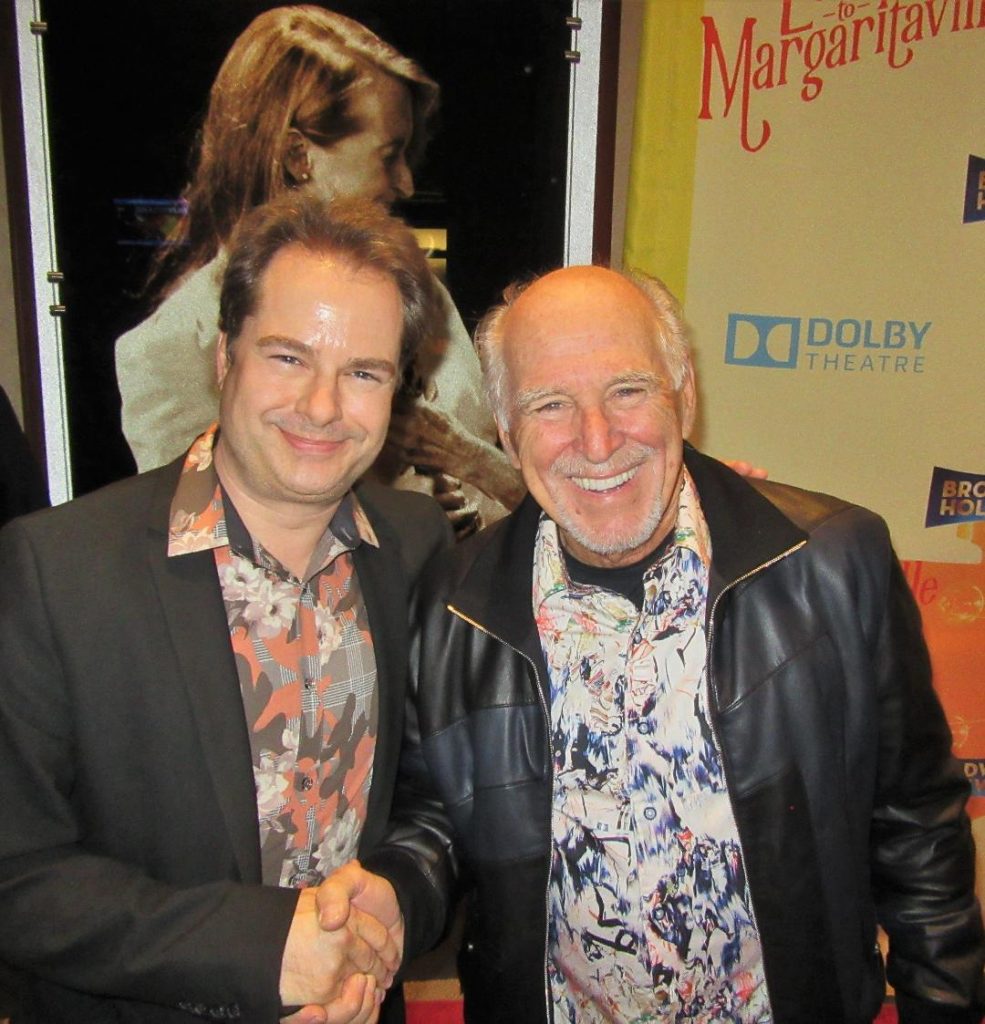 Stay tuned for more on entertainmentandsportstoday.com #JimmyBuffet #Margaritaville #EscapeToMargaritaville
For tickets to future events, and Sponsorships and get advertising rates and info, E-Mail : info@entertainmentandsportstoday.com – or call 213-388-9162; and for more info about us go to: www.entertainmentandsportstoday.com & thanks for watching !
For tickets go to: BroadwayInHollywood.com