If you like Rock & Roll , and The Jersey Boys , you will love The Bronx Wanderers , who are now playing at The Vegas classic : Bally's Hotel & Casino, in The Heart of The Las Vegas Strip , at The Windows Showroom. With their unique vocals and musicianship and bolstered by their dynamic enthusiasm, The Bronx Wanderers recreate the feel of an era, building a bond with their audience and inducing toe-tapping and hand-clapping up and down the aisles. On their rock and roll journey, audiences can enjoy tunes from six decades of pop and rock music history. The band is made up of family members Yo' Vinny and his sons, Vinny "The Kid" and Nicky "Stix" :  
Click play above to view "The Wanderer" — Official Music Video
The father 
Yo' Vinny got his start as a producer working in New York 
with famed singer-songwriter
"Dion"  
(DiMucci) on the albums 
Return of the Wanderer
 and 
Fire in the Night, and now has some of the rights to many famous hit songs, and has either worked with, produced, or was inspired by many famous musicians that got their start in The Bronx , New York :  like Paul Anka, Billy Joel, Tony Orlando & Dawn , Frankie Valli & The Four Seasons = "The Jersey Boys" , with covers of classic rock and roll iconic hits from The Beach Boys, Elvis, and Queen , and the band was helped out in their careers by Singing Legend : Wayne Newton – who is now performing at Bally's Hotel & Casino in Las Vegas , and shares the same theater as The Bronx Wanderers – The Windows Showroom , as part of Caesars Entertainment :
and actor Danny Aiello , and fellow Italian Actor from The Bronx – Chazz Palminteri , who our TV show host – Margie Rey – once advised Chazz to "hang in there" when he was just a bouncer at a local night club in LA , and told him that he "would get his big break someday as an actor " , which we now know he did :
The group sweetens their smooth vocals with swinging saxophones, a brawling rhythm section, and sings hits like greaser gems such as "The Wanderer" and "Runaround Sue" and modern detours such as their take on Coldplay's "Viva la Vida" .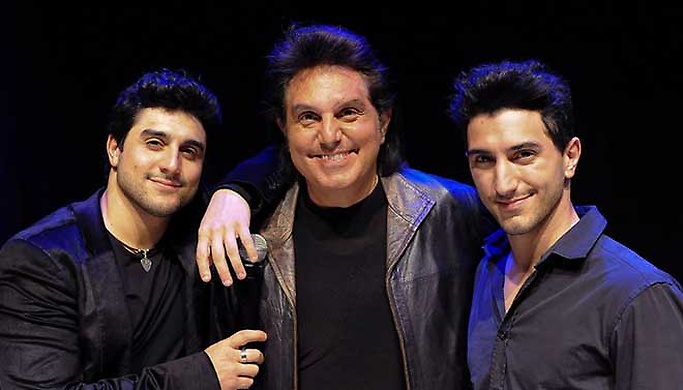 For the complete story go to: entertainmentandsportstoday.com Facebook.com/entertainmentandsportstoday and Youtube.com/entertainmenttodaytv @ballysvegas  @caesarsentertainment  @the_bronx_wanderers @lasvegas_lv