Our news reporter: Jacqueline Murphy has been very busy for us covering events Coast to Coast, with major events in Los Angeles, Beverly Hills, Hollywood, Santa Monica, and in New York City!
In this show Jacqueline covers the 
New York Women in Film & Television (NYWIFT)
 40th Anniversary,
at The New York Hilton Midtown,
with the Muse Awards given to Honorees: Ann Dowd, Gloria Estefan, Kasi Lemmons, Shoshannah Stern, Anjali Sud, and
Jane Rosenthal (in the below photo with Robert DeNiro
.) 
There was a rare surprise special appearance by the legendary actor Robert DeNiro.
Below photo: Actor Robert De Niro and producer Jane Rosenthal on stage during the 2019 NYWIFT Muse Awards at the New York Hilton Midtown on December 10, 2019 in New York City: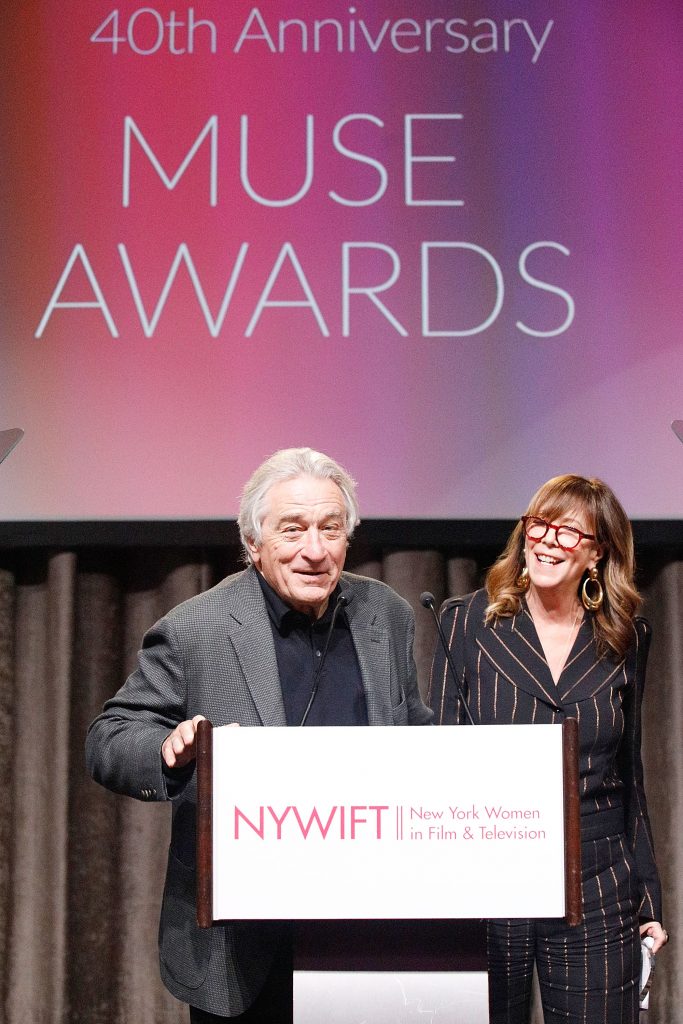 Additional guests included: Margaret Atwood, Aisling Bea, Jen Ponton, Ana Villafañe, and Wendy Williams.
The 2019 honorees were: Emmy Award-winning Actress Ann Dowd, Grammy Award-Winning Singer Gloria Estefan, Director Kasi Lemmons, Creator/Writer Shoshannah Stern, Vimeo CEO Anjali Sud, and Emmy Award-Nominated Prouder and CEO & Co-Founder of Tribeca Enterprises Jane Rosenthal. NYWIFT in a partnership with the Mayor's Office of Media Entertainment, presented its "Made in NY" award, established in 2006 which recognizes individuals who have made significant contributions to New York City's entertainment industry over the course of their careers. Previous "Made in NY" honorees include Meryl Streep, Whoopi Goldberg, Rachael Ray, Tina Fey, Spike Lee, John Leguizamo, Alysia Reiner, Michael K. Williams, and Judith Light.
The NYWIFT Muse Awards is always a highly anticipated celebration at the height of the holiday season. Join leading executives from major studios, broadcast and cable networks, and media production facilities as they celebrate these influential women. Past recipients include some of the most respected women in the entertainment industry such as Sarah Jessica Parker, Claire Danes, Mary-Louise Parker, Anne Sweeney, Martha Stewart, Robin Wright, Maggie Gyllenhaal, Julianne Moore, America Ferrera, Laura Dern, Julianna Margulies, Blythe Danner, Victoria Alonso, Gabourey Sidibe, Debi Mazar, Martha Plimpton, Cicely Tyson and Lucy Liu. Our news reporter: Jacqueline Murphy's interviews are in this video show segment, and her story is below:
NYWIFT presented the 40th Anniversary Muse Awards for Vision and Achievement December 10th in NYC. The house was packed with accomplished women supporting one another.
Cynthia Lopez Executive Director of NYWIFT, greeted all the honorees as they approached the red carpet.
I started my interview with
Caroline Hirsch who received "The Mayor's Office of Media & Entertainment Made in NY Award".
With
Caroline was Anne del Castillo
, who is the
commissioner of the New York City Mayor's Office of Media and Entertainment (MOME)
. We discussed opportunities for women in film.
In the below photo Caroline talks to Jacqueline about her great career: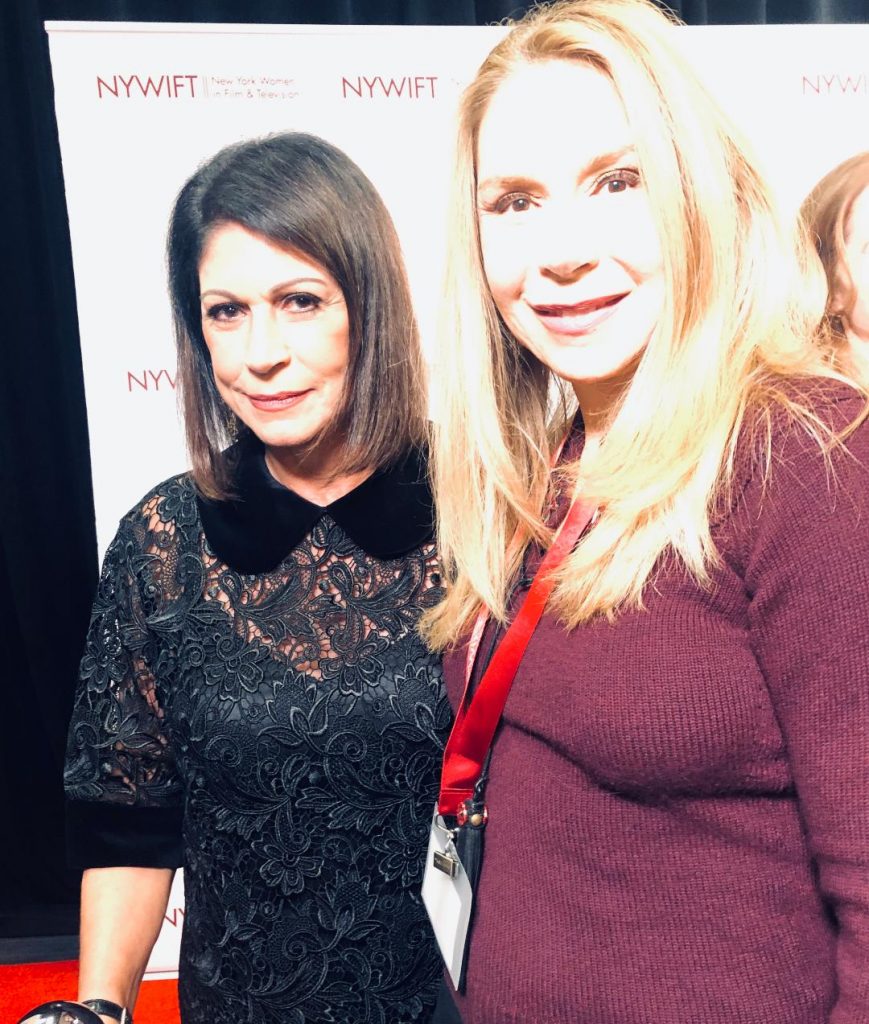 Caroline is the owner of Carolines on Broadway, an iconic Comedy Club that's been in business for 36 years. She has also produced Caroline's Comedy hour on A&E along with other projects. Most recently she produced  "Ask for Jane" now streaming on Amazon, about a young group of women finding a safe way to have abortions done in Chicago between 1968-1973.
Gloria Estefan
was honored for her many achievements as a songwriter, singer, actor and producer. 
In the below photo Gloria is with Jacqueline on the red carpet for their interview that you can see in this video news segment: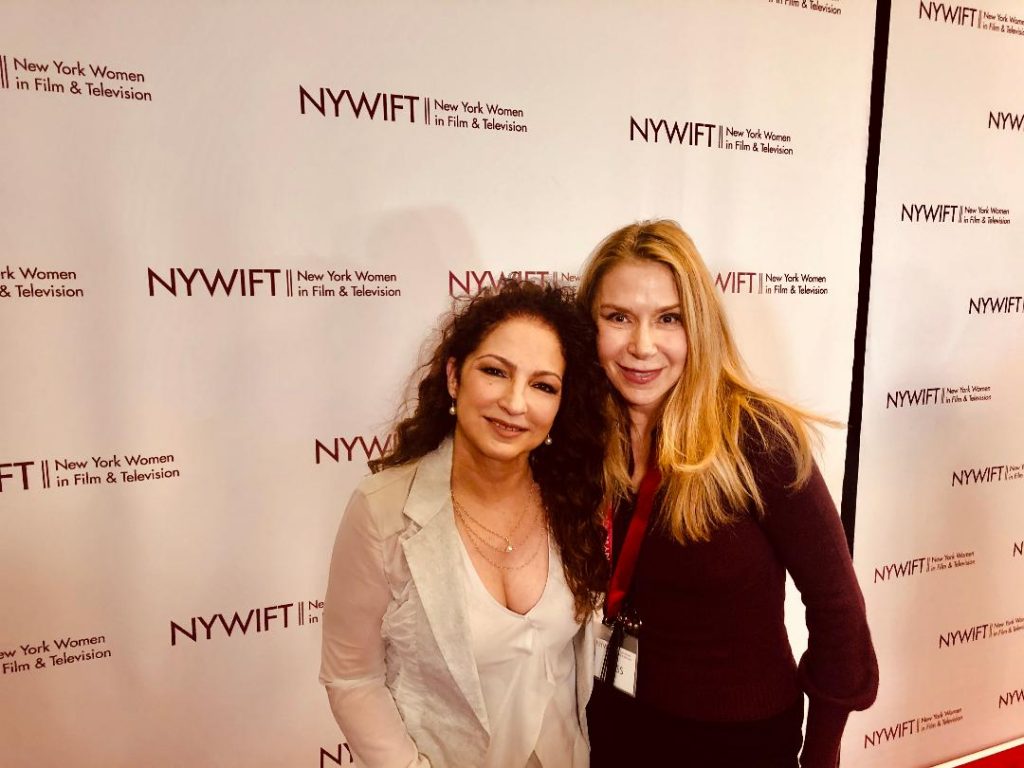 Her talented husband Emilio attended the event with her. Together they produced 38 songs that made number one hits on the Billboard charts. When introduced, NYWIFT showed a clip featuring Gloria singing. "Conga" & Get On Your Feet". The NYWIFT members gave Gloria a standing ovation as they danced in their seats. One of Gloria's many accomplishments includes,  the Broadway show "On Your Feet!" which received many nominations during award season and won for Best Choreography. Her daughter Emily received a songwriting credit for "If I Never Got to Tell You". I was impressed by Gloria's warmth and when she received her award, she shared how she always wanted to help other's to get a leg up in show business and in life. Gloria and her husband are also involved in many charitable foundations. What an honor to get a chance to speak with her and see her receive a well deserved honor.  (You can see this interview in this video news segment.)
Shoshannah Stern received "The Loreen Arbus Changemaker Award" for her groundbreaking work in TV and Film by creating more roles for the deaf. Her show "This Close" which she wrote, created and stars in, delves into the lives of BFF's Kate and Michael who live in LA and are both deaf.
Honoree Anjali Sud, CEO of Vimeo spoke about loving to support creatives and having their work and stories shown on the Vimeo site. She encouraged women to create their own projects and opportunities.  Anjali is listed in Fortune Magazines "40 Under 40 List" of influential young people in the business. Watch out for this power house.
Who doesn't enjoy the acting of honoree Ann Dowd? Ann received an Emmy Award for Outstanding Supporting Actress as Aunt Lydia in "The Handmaids Tale". Ann shared her journey when she started out in New York, stopping in front of all the Broadway houses and telling herself "Hold tight to your dream, believe in yourself". She encouraged us all to never give up on your dreams.
The day was filled with such inspiration and support from these accomplished women. Next up, Honoree Kasi Lemmons an award winning filmmaker, who's film "Harriet" is creating lots of buzz this year. It has already received two Golden Globe nominations for Cynthia Erivo who plays "Harriet" & for best Orginal song "Stand Up". Kasi spoke about how she teaches at NYU and how strongly she feels about mentoring others. I met Kasi in LA this past November at the WGA Top Screenwriters of 2019 event.
Kasi is so dynamic in many areas of her. It was a thrill to see this talented women receive "The Nancy Malone Directing Award". 
Jane Rosenthal
was honored by NYWIFT with
"The Career Impact Achievement Award".
In the below photo Jane is with Jacqueline on the red carpet for their interview that you can see in this video news segment: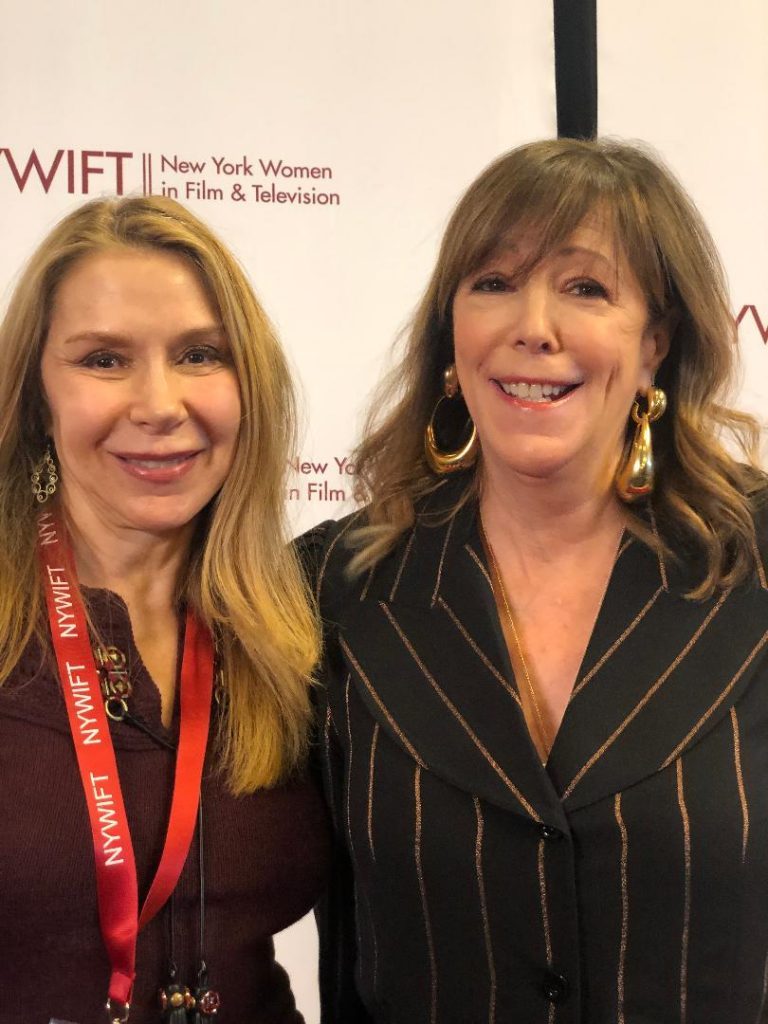 Jane also received a NYWIFT Muse award in 1993. This
Emmy-nominated producer and CEO of Tribeca Enterprises
has been on the forefront of making an impact in New York and in the film industry for decades. Jane spoke of starting the Tribeca Film Festival with
Robert De Niro
in 2002 in response to the World Trade center attack in the hopes to bringing back vitality to Tribeca. When the award was presented to Jane, she also received a standing ovation.
We were all surprised and happy to see Robert De Niro come up on the stage to congratulate her: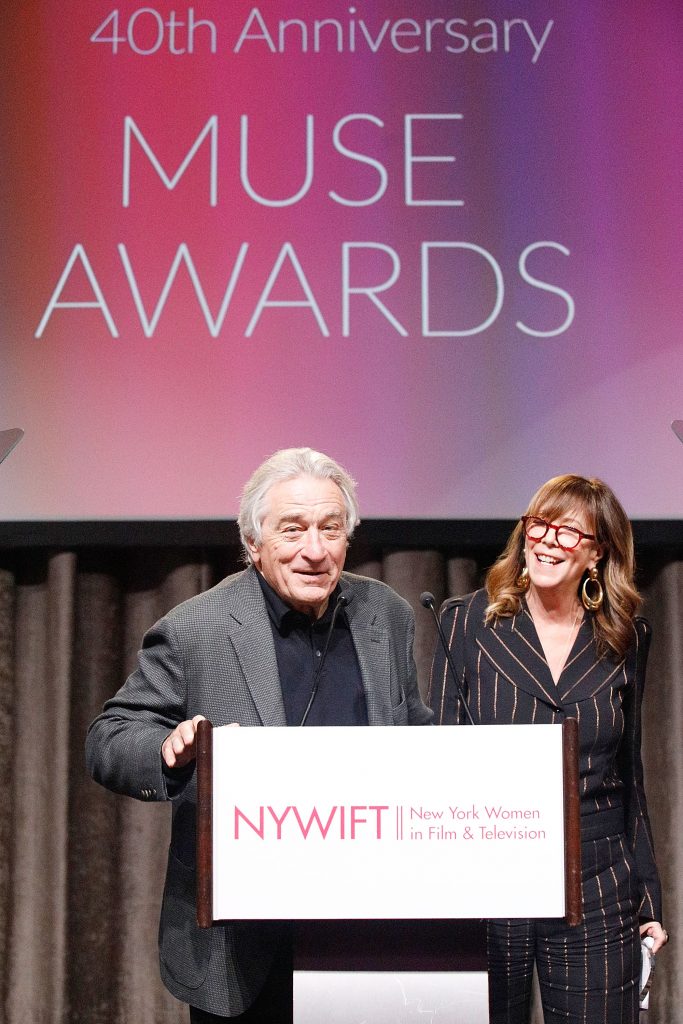 They have worked together on many movies including "Bronx Tale"-the Broadway show and film, "Analyze This", "Meet the Fockers" and currently "The Irishman" which was just nominated with 5 Golden Globe nominations.
What an amazing, exciting and inspiring day at the NYWIFT Muse Awards! I began to think about what NYWIFT means to me and how grateful I am to be member of such an empowering group.  
In below photo: all of the NYWIFT Muse Awards Nominees: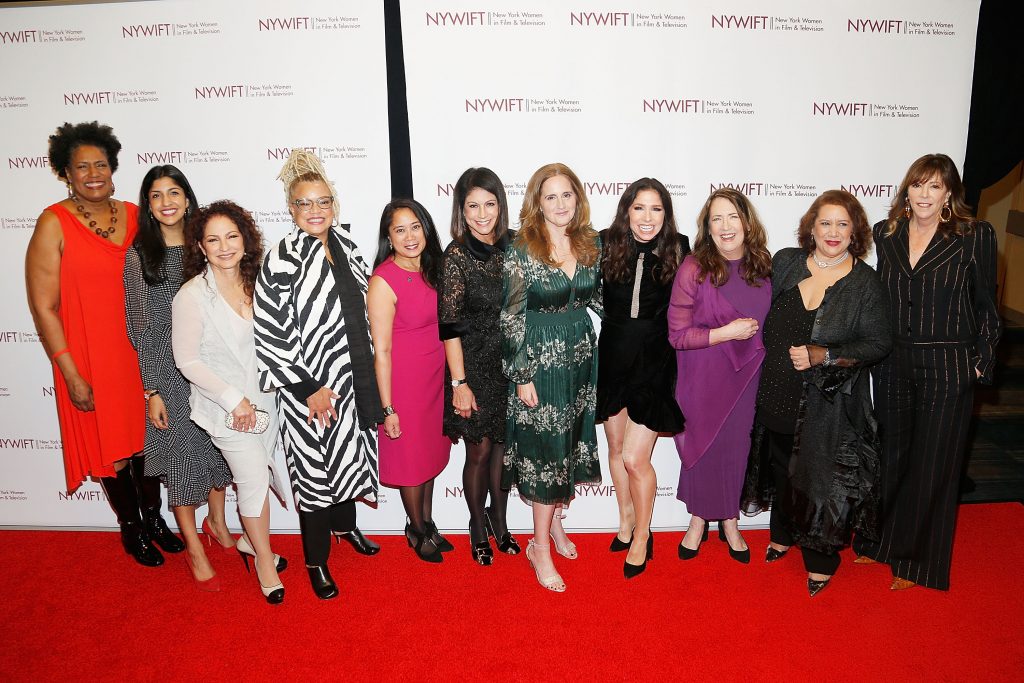 Katie Chambers-NYWIFT Community Engagement Director, had contacted me this spring to screen my short film "The Admired" at the members screening. I was thrilled to show it to the members, speak during the Q&A and after the reception it was a wonderful opportunity to network and exchange ideas.
Thankfully there is an organization like NYWIFT, that constantly supports women with their programs and services. It helps us to think of ways to continue to grow, develop and expand ourselves. Getting one step closer to our dreams!