The day before the Academy Awards always has had a tradition of having Gift Lounges, where they have luxury products that they give to the nominees, celebrities, press, and invited VIPs. They always have the latest in fashion, skin care, perfumes, makeup, electronics, foods, organics, drinks, wines, gifts, all kinds of new products, Health & Beauty. 
After having about 2 years of having events cancelled or postponed due to COVID-19, it is a great pleasure to once again have these coming back to 100% live and in person!
For the 2022 Academy Awards one of the best Oscar Gift Lounges is put on by Luxury Experience & Co. Luxury Experience & Co and Valerie Beverly Hills presented a luxury gifting lounge honoring nominees and presenters during Oscars Weekend at the exclusive Valerie Beverly Hills located in the "Golden Triangle" in the heart of Beverly Hills, California. With quality and luxury in mind, LE & Co gifted celebrities an unparalleled level of style and sophistication in beauty, health, home, travel and wellness.

Some of the celebrities that came to this great gift lounge were: Award winning Emmy Nominated TV Producer | Netflix Instant Hotel Serena De Comarmond, "Winning Time: The Rise of the Lakers Dynasty" actor Kirk Bovill, Paramount's "Mayor of Kingstown" actor Pha'Rez Lass, Selling Sunset star Amanza Smith, "Dollface" actor Gilles Marini, Three-Time EMMY Award-nominated variety series "A Black Lady Sketch Show" actor Skye Townsend, Tyler Perry's "The Have and the Have Nots" actor Celeste Thorson, Filmmaker/Actress Kathy Kolia, Model/Influencer and Reality star CJ Franco, Actress/TV Host Caitlin O'Connor, Power Rangers star Jacqueline Scislowski, John Singleton's "Snowfall," star Angela Lewis and many others, which created a great mix of film and television talent.
Entertainment Today's Producer: Steve Taylor, and TV Show Host: Margie Rey interviewed the people that had booths with great products at this Oscar Gift Lounge. On this show you can see some of those interviews. The LE & Co experience combined the ultimate customized celebrity experience that featured Dr Busso, Nu Estestica Spa, Protege Footwear, Everlasting Comfort, Jewelry By Swoon, B GREAT, EcoSlay, Valerie Beverly Hills, MoreLife, Elixicure, Scott Porter, KAENA Wines, Batch & Bottle, Monkey Shoulder, Glenfiddich, Hendrick's, Reyka Vodka and Icelandic Glacial.  Photo below of Margie on left and the Scott Porter Rep on the Right: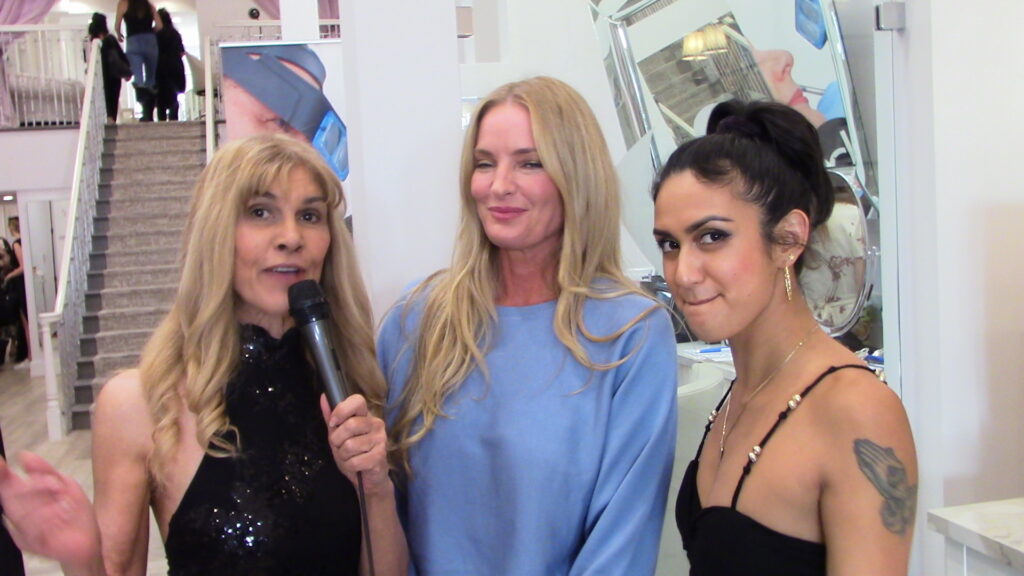 LE & Co founder Melissa McAvoy (In center of above Photo) toasted to the success of talent walking away from the event with incredible gifts, valuable new connections and a sense of celebration for the amazing past year in entertainment. "We couldn't have asked for a better partner to host such a successful event with," McAvoy said of  Valerie Beverly Hills.

Today's best brands align themselves with LE & Co Luxury Gift Lounges to get their products into the hands of the hottest names in film, television and sports. With years of experience in Public Relations, Events & Business Development they lead and develop effective key brand relationships. Recognizing the importance of brand awareness to their clients, they have now created a complete package of services to maximize their clients return on investment. Beyond working with brands, LE & Co works with top foundations and charities to bring awareness and support to help others.