Sit back and enjoy this special edited sizzle real of the current 2023 epic smash hit movie: "Mission: Impossible – Dead Reckoning Part One" – AKA: Mission Impossible 7, World Tour/Global Movie Premieres Starring Tom Cruise, with news coverage and interviews from the World Global Movie Premieres from 6 cities around the planet: at The Spanish Steps on June 19, 2023 in Rome, Italy: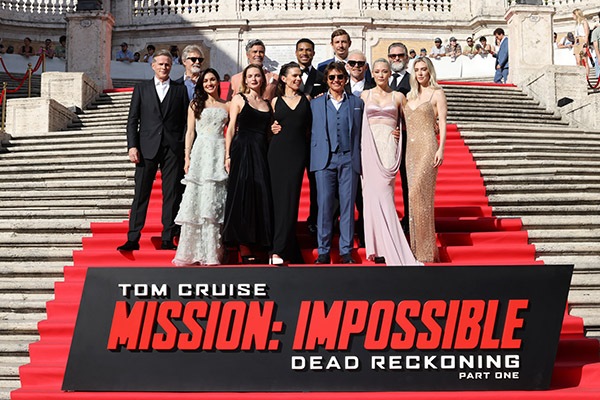 and in London, Abu Dhabi, Seoul, New York, and Sydney, Australia: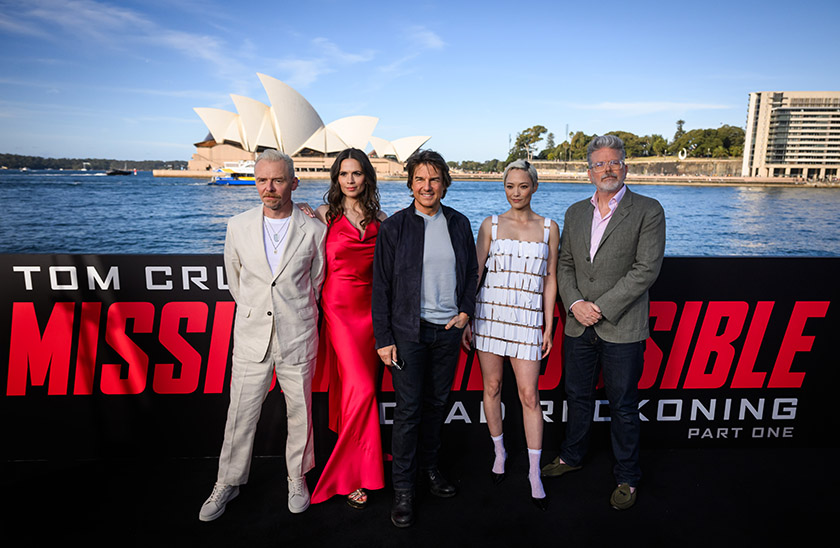 In Mission: Impossible – Dead Reckoning Part One, by Paramount Pictures: Ethan Hunt (Tom Cruise) and his IMF team embark on their most dangerous mission yet: To track down a terrifying new weapon that threatens all of humanity before it falls into the wrong hands. With control of the future and the fate of the world at stake, and dark forces from Ethan's past closing in, a deadly race around the globe begins. Confronted by a mysterious, all-powerful enemy, Ethan is forced to consider that nothing can matter more than his mission – not even the lives of those he cares about most.
Starring: Tom Cruise, Hayley Atwell, Ving Rhames, Simon Pegg, Rebecca Ferguson, Vanessa Kirby, Esai Morales, Pom Klementieff, Mariela Garriga, Henry Czerny, Shea Whigham, Greg Tarzan Davis, Charles Parnell, Frederick Schmidt, Cary Elwes, Mark Gatiss, Indira Varma, Rob Delaney
Directed By: Christopher McQuarrie
Produced By: Tom Cruise, Christopher McQuarrie
Executive Produced By: David Ellison, Dana Goldberg, Don Granger, Tommy Gormley, Chris Brock, Susan E. Novick
Below photo of Entertainment Today TV Producer: Steve Taylor (center) with Tom Cruise(right), and Demi Moore(left):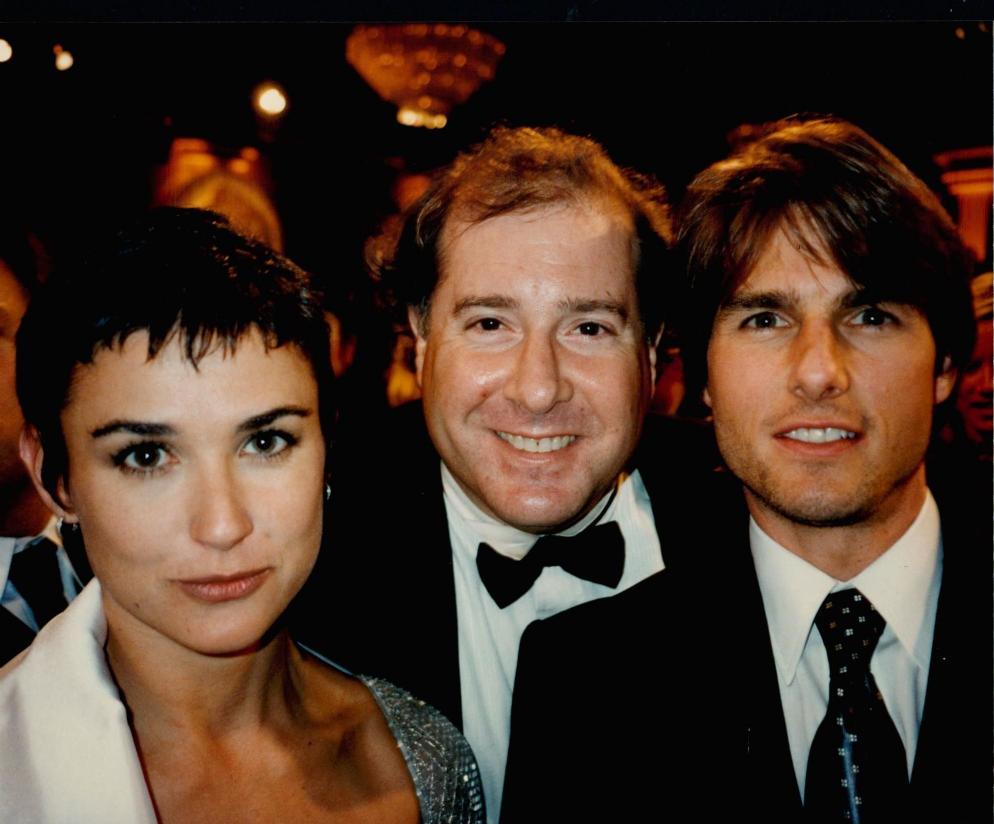 We recommend that you see this epic movie in the large screen format: Imax, 3D, ICE, or the Max4D: "MX4D" version where your seat moves and rocks you in sync to the scenes in the movie, with special effects like rain, fog, mist, smell, strobe lights, and bumping movements, called "Pokers" pushing in on you, on the bottom and back of your seats!  Now at a theater near you.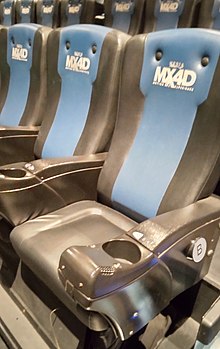 MX4D® Motion EFX Theatre, the newest evolution in the 4D cinema experience, provides a totally immersive environment, where you actually "feel" the action on the screen from the built-in motion and effects in the seats and theatre around you.
4DX is a state-of-the-art film technology developed by CJ 4DPLEX which delivers an immersive multi-sensory cinematic experience. 4DX incorporates on-screen visuals with synchronized motion seats and environmental effects such as water, wind, fog, scent, snow and more, to enhance the action on screen. 4DX really makes the movie going memorable and that makes it more than worth it!
MX4D is a 4D film presentation system developed by the American company MediaMation that allows a film to be augmented with environmental effects, such as motion, odors, and humidity. It uses theater seats which tilt forward, backward, and to the side in synchronization with onscreen motion, as well as air blasts, tactile effects, and other technology.
All functions and effects of the system are driven by compressed air, which is stored in tanks at a pressure of 100-110psi/6.0-7.5bar. Each bench, consisting of 3 or 4 seats grouped together, is driven by 3 cylinders. Those cylinders are used for up/down, forward/backward and right/left movement. All the electronics and valves used for the effects are stored under each bench hidden by black leader, which also insures that no debris like popcorn gets onto the electronics.
Each seat has the following functions:
3 small cylinders (called "Pokers"), 1 in the backrest and 2 in the seating surface to simulate tactile feedback like punches.
2 nozzles, one in each armrest, for water and air blasts and 2 air nozzles in the backrest to tickle the users neck.
2 vents for wind, one in each armrest driven by small laptop like fans.
A pair of canisters for scents (candy, coffee, fresh cut grass, chocolate, whiskey, smoke, dirt or engine exhaust fumes). Each movie comes with its own required set of scents, which need to be changed before a movie premieres.
A thin hose to tickle the users lower legs, for effects like running through grass.
A but kicker for low rumble like felt in a car ride.
There are other effects mounted throughout the auditorium:
A set of nozzles mounted under the ceiling for rain.
A pair of strobe lights for lightning or gunshots.
Snow and bubble machines.
Vents under the screen connected to fog machines.
The whole system can be controlled via a PC or tablet connected via W-LAN, to test or deactivate benches or certain effects. A test of all movements and effects is done by cinema employees before each day of screening to ensure all functions are working properly.