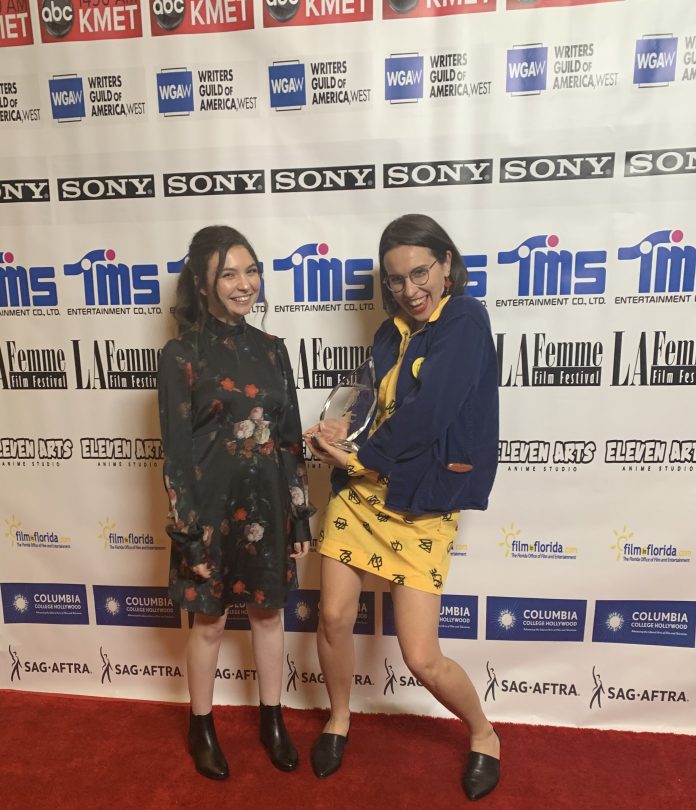 ONE TRUE LOVES Continues Successful Festival Run At LA Femme 2019 Winning Best Webisode Honors
ONE TRUE LOVES is about every single person Olivia Accardo (writer, director) ever considered the love of her life.
Have you ever met someone, certain that you'd spend the rest of your life with them, and then ultimately it didn't work out? Has that happened several times? This is the retelling of the eight one true loves that Lydia met between ages 11 to 27.
Late one summer in 2016, Olivia and her then, roommate, Will Mason (producer/editor) were talking as they usually do, and Olivia discussing love as she usually does. She said something along the lines of "Imagine, I just, made a short film about each dude that ever made me feel this crazy" and Will said something along the lines of "Let's do it,". So, they pitched this concept to their talented friends, Andrea Massaro (producer), Kristen Politis (producer), and Corey Vent (DP).
In our feature photo you can see Madden Rien (left) & Oliva Accardo (right) star in ONE TRUE LOVES @ LA Femme International Film Festival.
The gang raised around $10k on Seed & Spark and have made four episodes so far. These four episodes make up Season 1 of ONE TRUE LOVES: The Semi-Autobiographical Maybe Retelling But Definitely Fictional Web Series About One Particular Person's Experience With Love. Maddie Rien (Bella and the Bulldogs, Angie Tribeca) plays "Young Olivia Lydia", a blossoming little starlet with eerily similar dark and wavy brown hair like Olivia's. Olivia describes her as, "Super talented, and someone who I felt would fit the part right away."
The team behind ONE TRUE LOVES held auditions before they even had fleshed out scripts. They were auditioning kids to create a "trailer" for the series that didn't exist yet. "I just asked the kids to tell me about their crush, and also about their best friend. Maddie immediately went off as if we were already close friends, told me all about her most recent heartache and how her and her best friend weren't speaking anymore."
Olivia felt Maddie was coming from a similar emotional place as she was when she initially thought of ONE TRUE LOVES. Maddie plays "Young Lydia" for 3 episodes, from ages of 11 to 14. Olivia Accardo comes in as "Lydia" for episode 4 at age 17. The team behind ONE TRUE LOVES will move forward with Olivia as "Lydia" for the latter 4 episodes (age 19, 21, 23, and 25).
 Each episode is co-starring a new One True Love, a guy who comes in, sweeps Lydia off her feet and then leaves her, or, she leaves him for one reason or the other. The team has loosely pulled wardrobe and production design inspiration from the early 2000s Disney hit, "Lizzie McGuire" and Richard Linklater's "Boyhood". ONE TRUE LOVES premiered Monday, July 9th, 2018 with all episodes available online at http://www.onetrueloves.com
Below is the full list of the 2019 Winners:
Best Feature  "More Beautiful…for Having Been Broken"  Nicole Conn
Best Documentary "FEAR NO GUMBO (stop stealing our sh*t)"  Kimberly Roberts
Best Screenplay  "Thrift"  Elise Jackson
Best Music Video "Lost"  Madeline Kate Kann
Best Short  "Ladies Most Deject"  Martha Elcan
Best Feature Writer  "Three Roads"  Amanda Ives, Kip Calendine,
Sarah Beth Goer, Vanessa Donley
Best Feature Director  "ALASKA IS A DRAG"  Shaz Bennett
Best Foreign Film  "Fated Hearts"  Seda Peker Özkan
Best Animated Short  "Passage"  Asavari Kumar
Best Special Focus Documentary  "This Little Land of Mines"  Erin McGoff
Best Webisode  "One True Loves"  Olivia Accardo
Best TV Pilot Script  "Four Gallows 'Blood Becomes Her'"  Kimberly Seilhamer
#LAFemmeFilmFestival