The stars came out for the Oscar Viewing Party presented by Jonathan Baker, in collaboration with French Riviera Film Festival and Indie Entertainment Media, at the 
Baker Manor – the former residence of Warren Beatty on Mulholland Dr., in Beverly Hills, California 90210.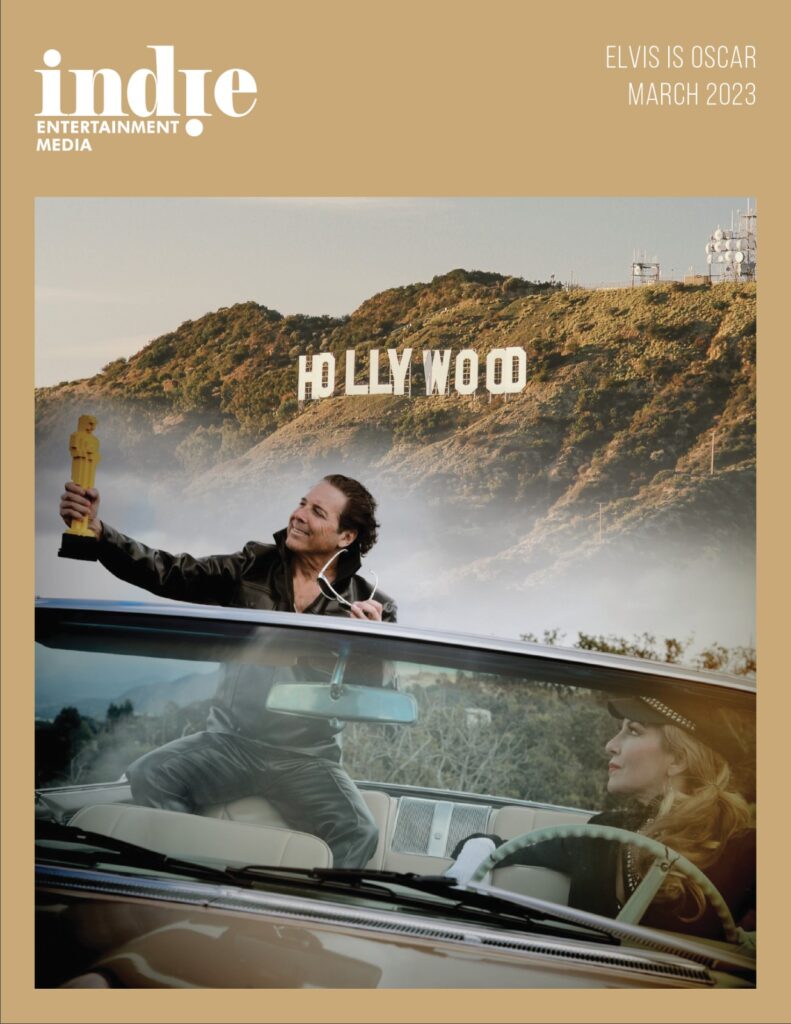 The Director/Producer Jonathan Baker (You can see Mr. Baker in the above photo, from the Oscar edition of  Indie Entertainment Media, and in the below photo with his wife Jenny) in collaboration with FRFF founders Nicole Goesseringer Muj and Gotham Chandna, had some of the big names in Showbiz that came to their estate to watch the 95th Oscars and party throughout the night.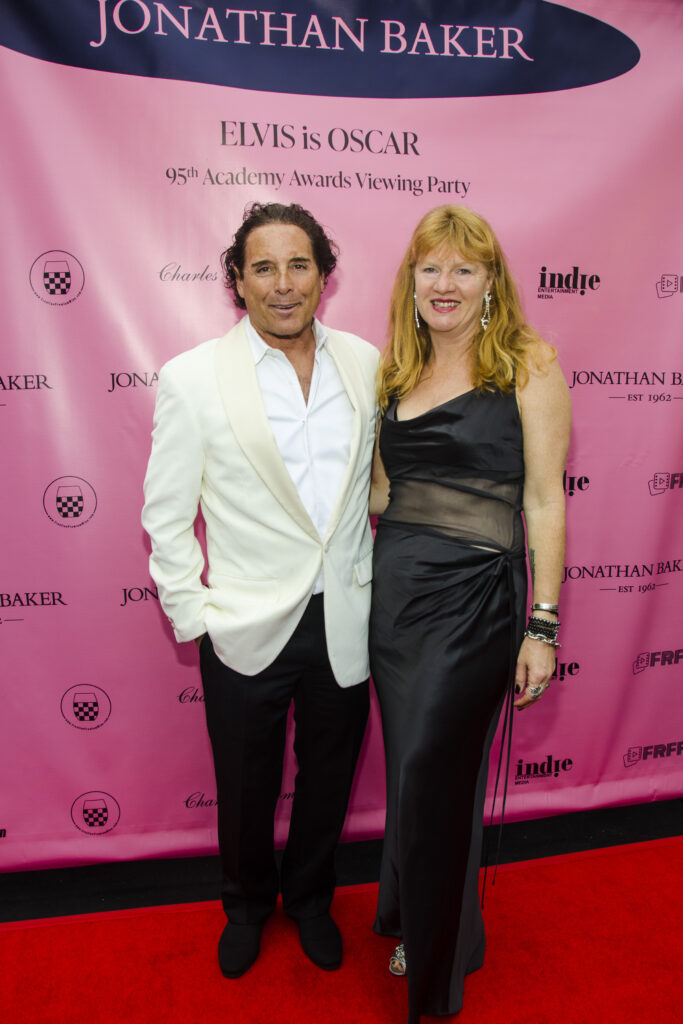 Dee Dee Sorvino (wife of late Paul Sorvino) was awarded the special FRFF ICON Award, presented to the late Paul Sorvino.
In the below photo are the Producers of this event, who awarded Dee Dee Sorvino with the presentation of 2023 FRFF Icon Award to the late Paul Sorvino. Left to Right: Gotham Chandna, Dee Dee Sorvino, Larry Namer (E! founder) and Nicole Goesseringer Muj. Photo by Nelson Shen Photography: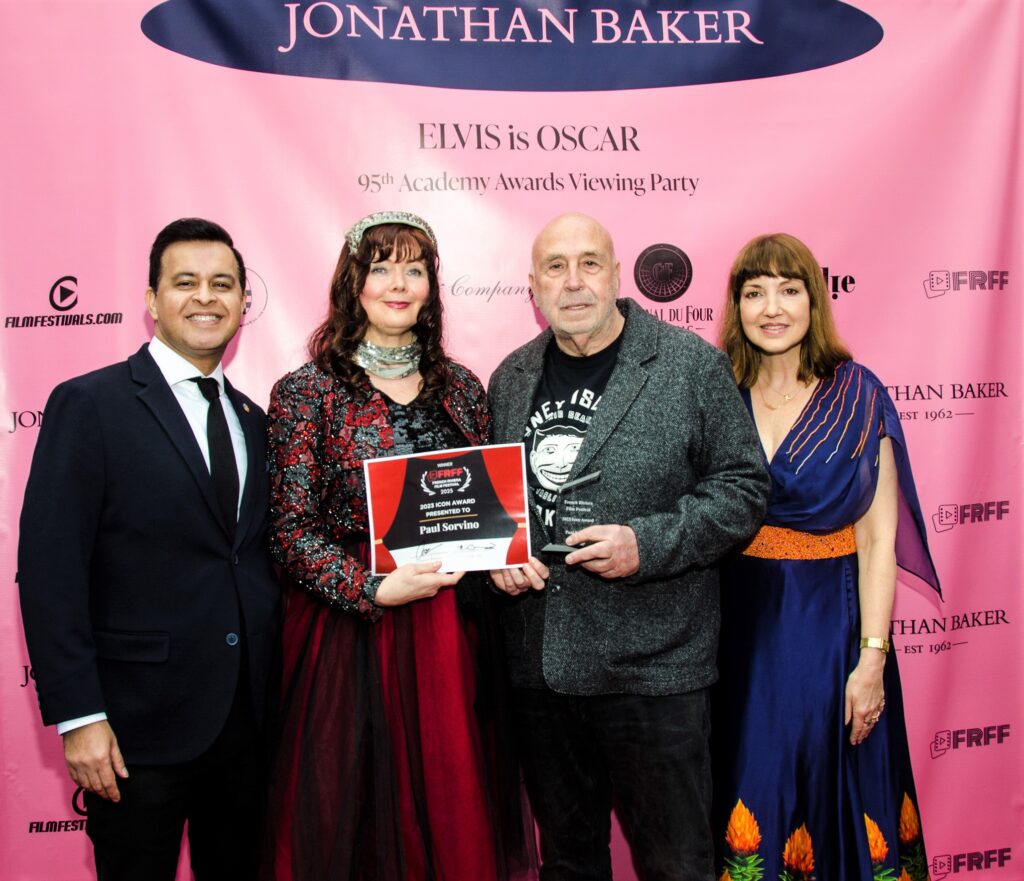 To mention a few of the names:  Oscar-winner George Chakiris, Jon Lovitz, Eric & Eliza Roberts, E! founder Larry Namer, Gilles Marini, Chris Mulkey, Caroline Lagerfelt, Dana Sparks, Chris Pitman, Eugenia Kuzmina, Kat Kramer, Karen Sharpe Kramer, Grammy winners Paulina and Pable Aguirre, Vincent de Paul, Fashion Designer Sue Wong- in the below photo arriving on the red carpet: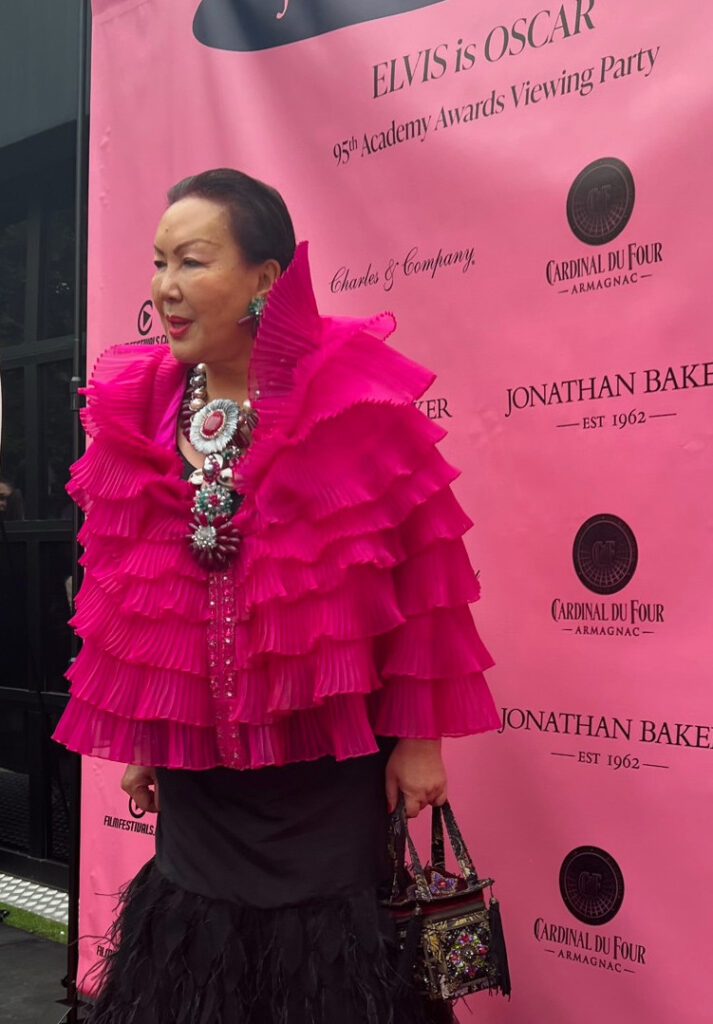 Founder Pure Flix David A.R. White, Josie Goldberg, and Dustin Quick & a big time Musician with a Middle Eastern heritage:  Medi eM – in the below photo: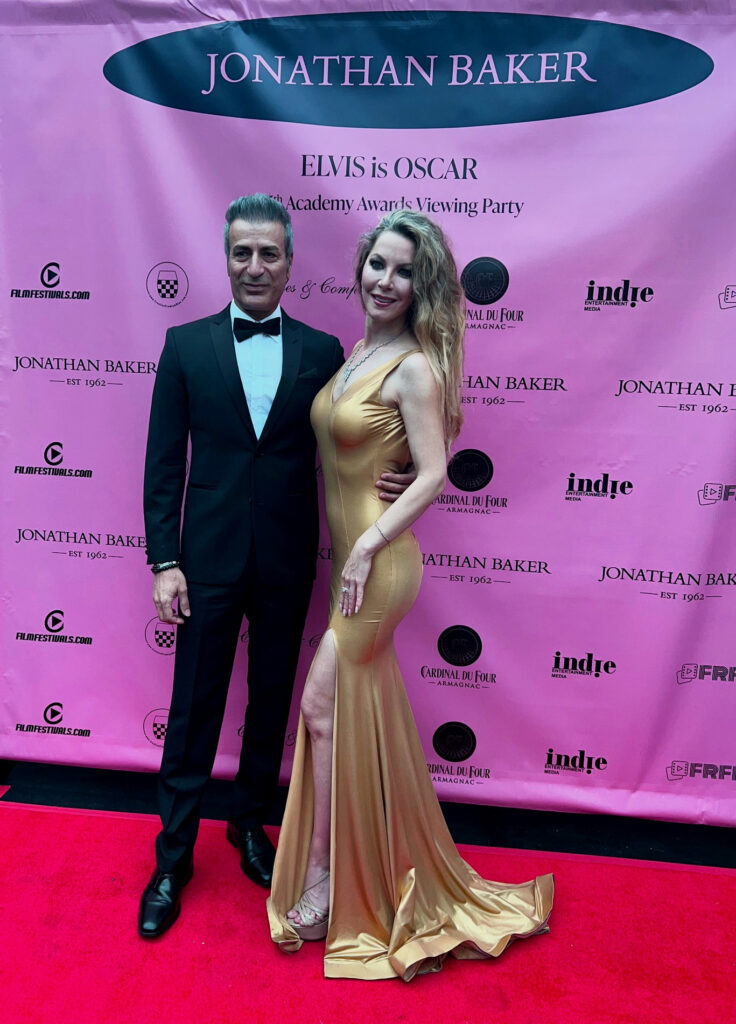 In the below photo from the red carpet, with our Reporter: Sage Stevens
in the middle of the photo, are on the left:
Shalini Vadhera
 and on the right: 
Tony Potts
 (husband/wife). 
Tony Potts is a American Emmy-winning television personality, producer, writer, media executive, and a Former Host of Access Hollywood for 12 years. 
Shalini Vadhera is a 5x Global Beauty Entrepreneur, Best Selling Author, Mahatma Gandhi Award Recipient, and the Creator Of The World's 1st Beauty Baton @readysetjetbeauty: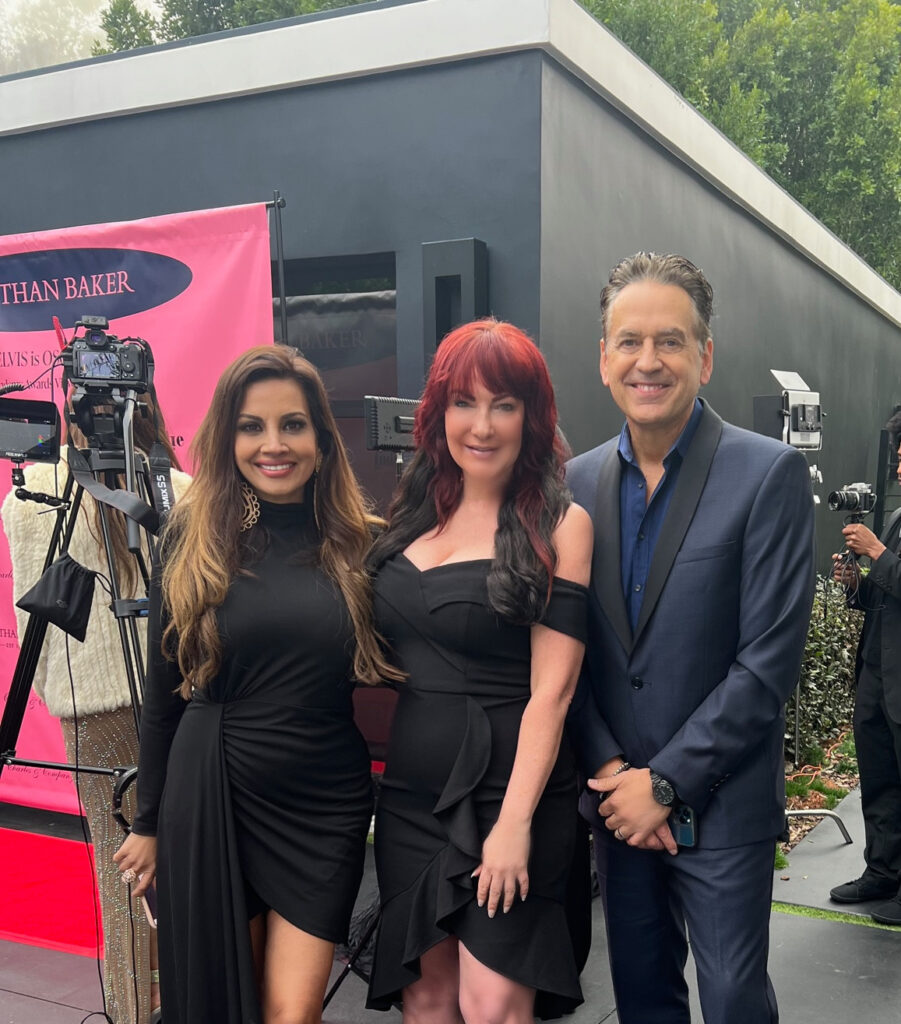 We like to give a very special thanks to Sonya Waldow: The Executive Producer of GETV for Producing, and Editing the Video Portion of this show, along with the doing the interviews on the red carpet at the Oscar Gala.
In the below photo: ASAP Talent Agent: Carter Dandridge and Sage Stevens: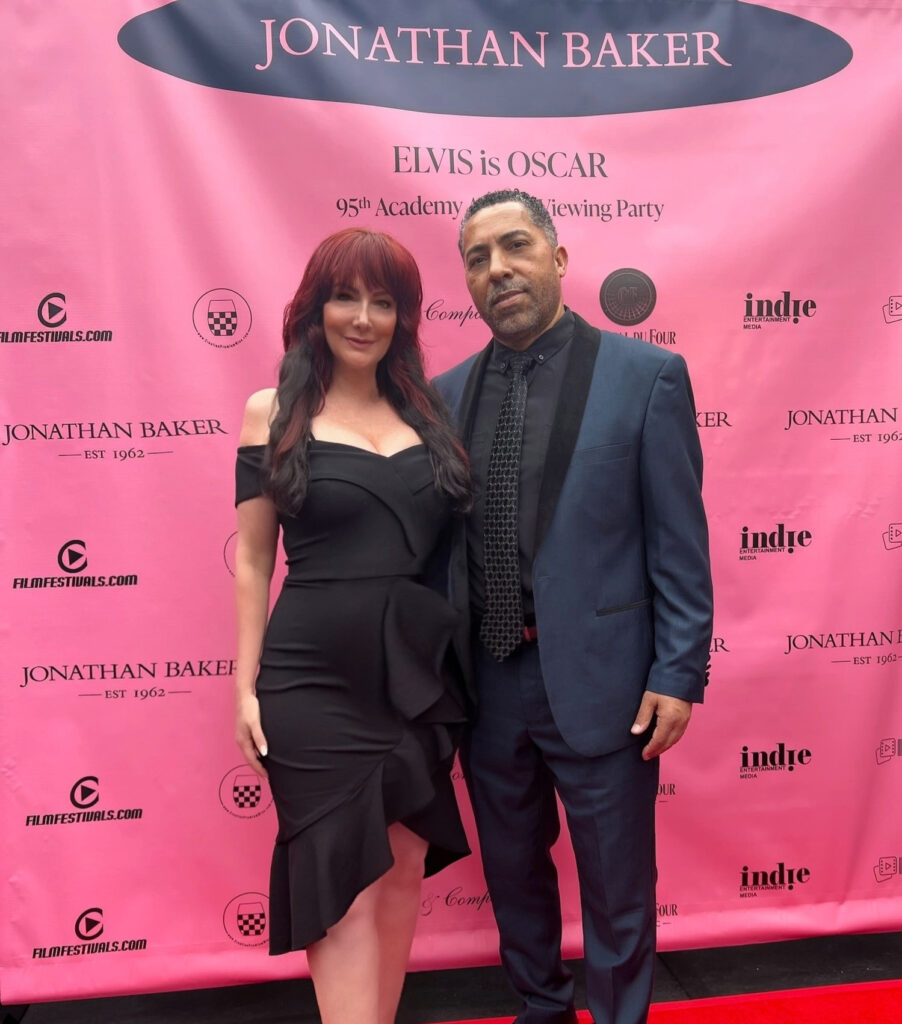 In the below photo is our reporter Sage Stevens with Sebastian Siegel, a major Filmmaker: