The Super Bowl Taste of the NFL Party at the Petersen Automotive Museum in Los Angeles, on the day before the Super Bowl, was again a very big success! In this video you can view at one of the many booths there that day, the chef gave us a great presentation of making a flaming lemon sorbet ice desert using liquid nitrogen at 350 degrees Fahrenheit – to give this lemon ice a unique delicious taste like no other kind of desert. 5 stars for this chef!
Kids don't try this at home!
A special thanks to Belinda for filming this segment, and to Ken Ronning for editing this segment.
Everyone was so kind and accommodating at this party held at over 3 floors of the Petersen Automotive Museum, as they gave you the NFL official Super Bowl football to get autographs of current NFL football players, Football Alumni, and NFL legends: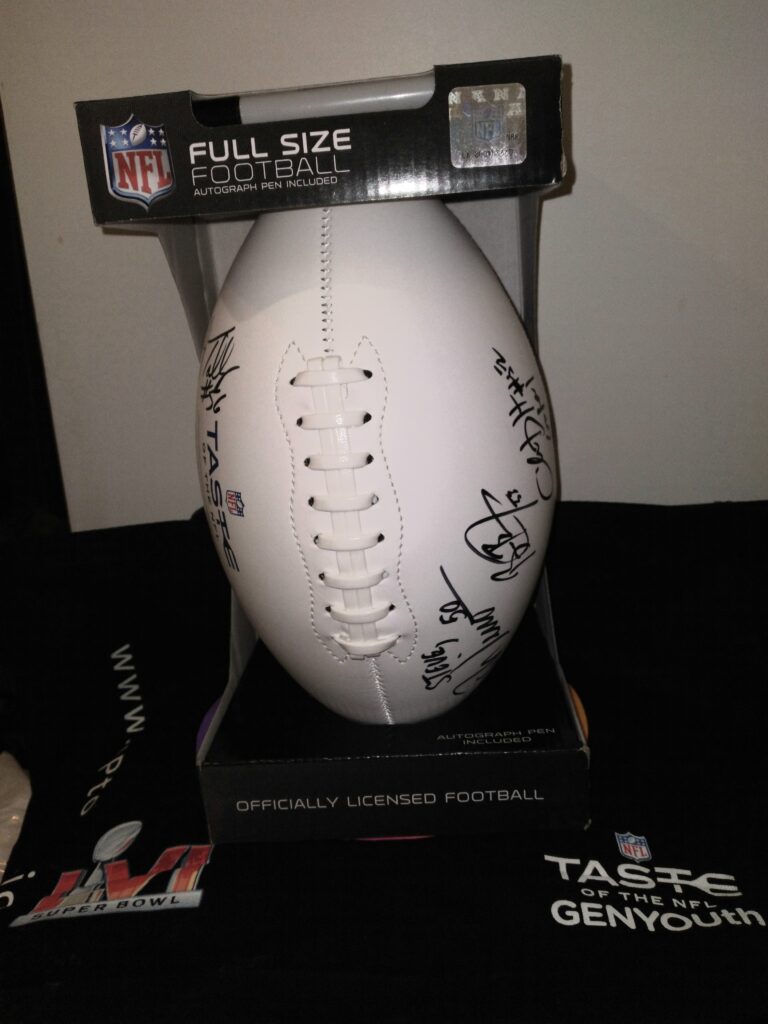 All the money raised went to NFL charities and a very worthy cause – to help out children!
This was an amazing party, and great day, as latter that evening, we all attended the "Sports Illustrated the Party "& Concert at Century City Park – which had 2500 people attend, with a Star-studded list of Athletes and Celebrities, and an amazing live concert to make this a Super Bowl weekend we will always remember!
The next day the La Rams defeated The Cincinnati Bengals by 3 points, in a thrilling 23 to 20 victory- after the once-in-a-lifetime VIP Players Tailgate Party, Next to Sofi Stadium at Hollywood Park Casino, with 10+ famous celebrity chefs, including Chef Guy Fieri, and a 4-hour performance by DJ Irie, and 50 current NFL athletes.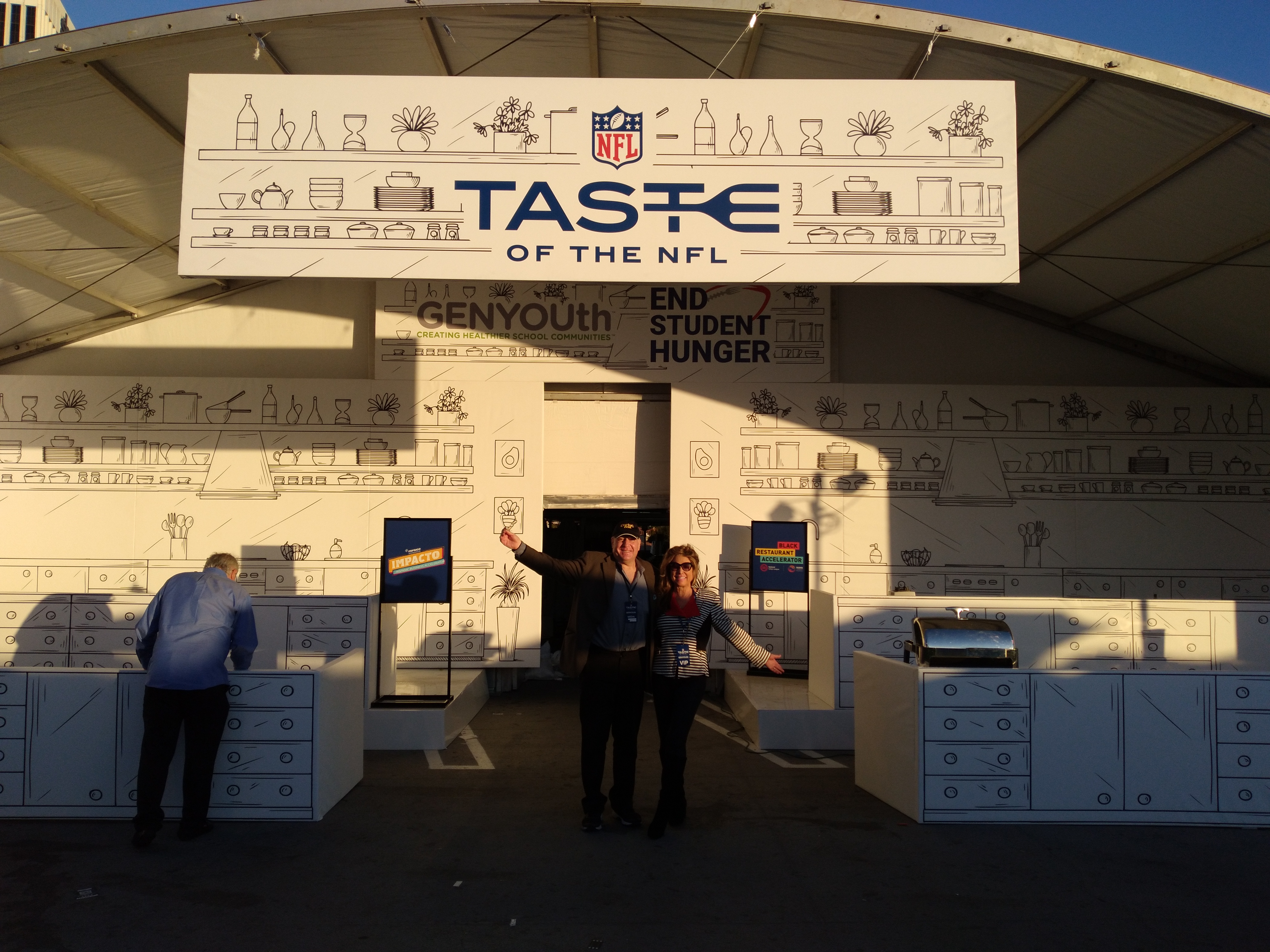 Taste of the NFL 2022! The day brought together a delicious mix of top chefs, NFL players and special guests like singer-songwriter and actress Rita Ora, actor Danny Pino (Law & Order SUV), Boxer Oscar De La Hoya, WNBA great Lisa Leslie, Rashad Jennings, Miss America, NFL Alumni cheerleaders and more who rallied with gusto to help us raise funds to #EndStudentHunger! In below photo guests were able to pose for photos with the Cincinnati Bengals Cheerleaders: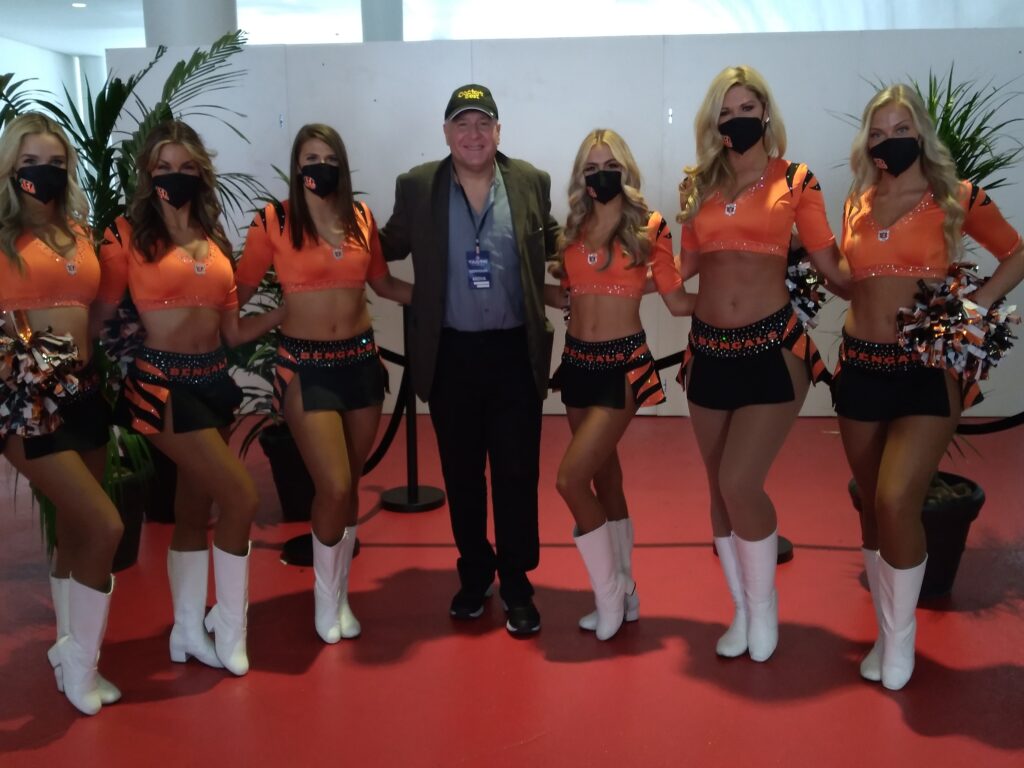 Over 30 top NFL Players, and NFL greats like Donnie Edwards, Mike Rucker, and Tony Richardson, Chester Pitts, Leonard Wheeler, Halll of Famer Charles Woodson, Miles Sanders the Running Back from the Philadelphia Eagles, — plus many more NFL legends! Guests were able to grab an autograph and have their official NFL Super Bowl Football signed and get pictures with their favorite football heroes (like Steve & Kim are doing in the below photo), so they will never forget the best weekend of the year!  –>>>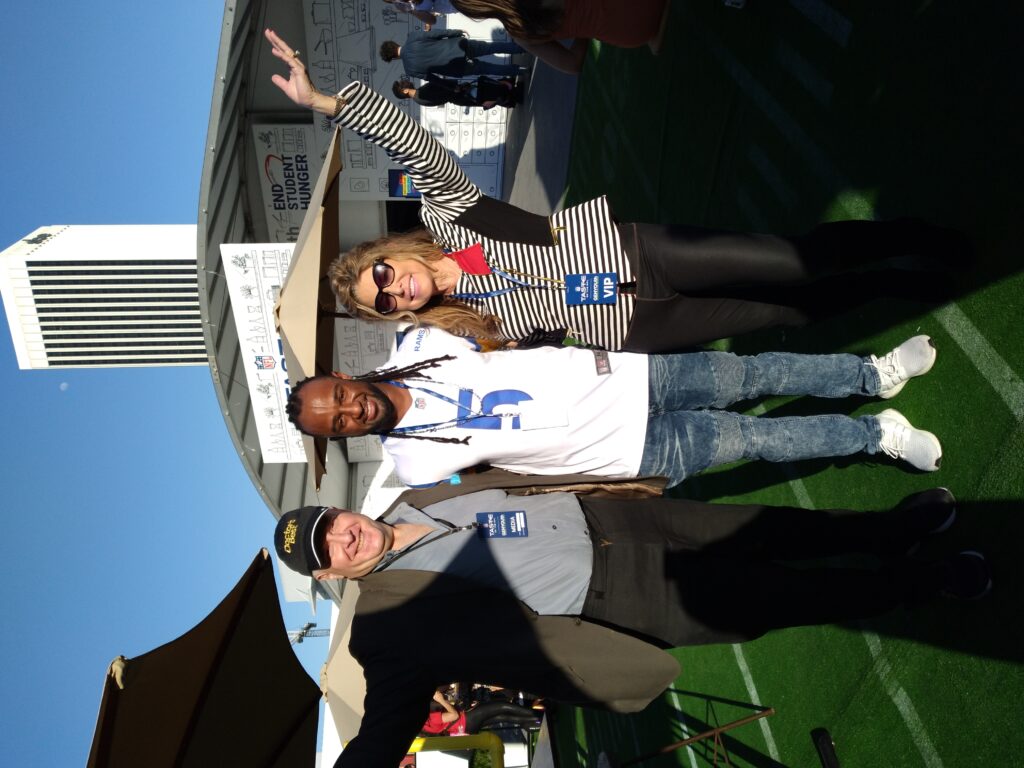 People were able to join chefs Mark Bucher, Andrew Zimmern, Carla Hall, Ming Tsai, Tim Love, Lasheeda Perry and PepsiCo executives in raising hands to thank our presenting sponsors Frito-Lay and the PepsiCo Foundation along with SAP, California Blue Shield and Undeniably Dairy who helped to make this year's event a great success!
Featuring star chefs Tim Love, Carla Hall, Andrew Zimmern, Lasheeda Perry, Mark Bucher, Ming Tsai and their Taste Maker friends along with NFL players, sports greats and surprise celebrity guests, Taste of the NFL 2022 was a High Energy, Palate-Pleasing Culinary Joyride as part of Super Bowl LVI in Los Angeles.  Kim and I pose in the giant sized LA Ram Football Helmet near the entrance to the 2nd floor rooftop party area: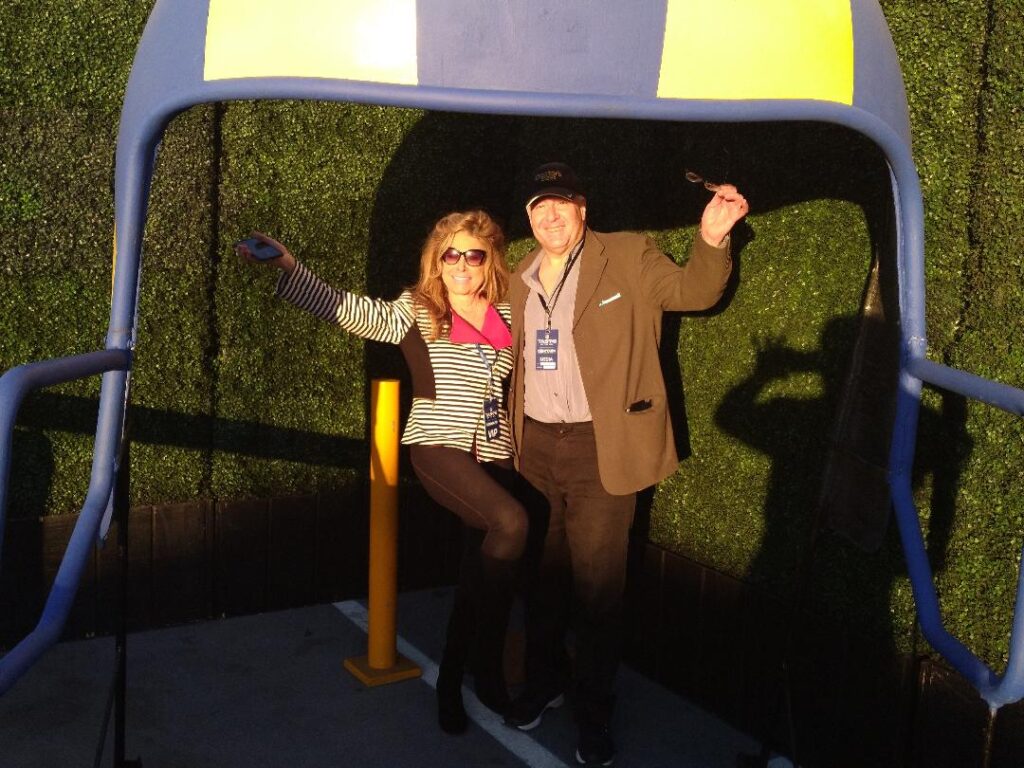 All proceeds from Taste of NFL go to GENYOUth's End Student Hunger Fund. The fund provides schools nationwide with the resources needed to deliver and distribute meals to at-risk students. For over 30 years Taste of the NFL has helped tackle food insecurity among children – particularly the 1 in 6 who are food insecure. Through the generous support of donors and sponsors, Taste of the NFL provided the End Student Hunger Fund with the opportunity to support the distribution of over 1.4 million meals, positively impacting 250,000 students from across the nation – from Los Angeles to all NFL team markets.
Established in 1992, Taste of the NFL is the annual purpose-driven culinary experience at the Super Bowl, created to raise awareness and funds to support hunger and food insecurity. GENYOUth is proud to be partnering with the NFL to take this remarkable event to the next level to support the 1 in 4 children in the U.S. who are food insecure. We all need to do our part to provide vital resources to the most vulnerable kids in our communities and that's what the Taste of the NFL is all about – a reminder that we cannot take one meal for granted!
The Equality Lounge® presented by The PepsiCo Foundation and in partnership with The Female Quotient. This dynamic program brought together thought leaders from the worlds of sports, entertainment, business, social justice and the food and beverage industry to present viewpoints that reflect a diversity of ideas, perspectives and experiences in thought-provoking dialogues. Highlighted topics included the importance of equity, inclusion and fair play from the gridiron, board room and culture to the business next door.
Through innovative public-private partnerships GENYOUth: Gives Youth a Voice; Enhances Nutrition and Physical Activity in Schools; Nurtures Youth Leadership and Workforce Readiness.
Food insecurity, food-access challenges, and the crisis in physical inactivity keep children from achieving their full potential. GENYOUth was established to address these challenges by collaborating with students, schools, communities, business partners, and thought leaders to identify and implement solutions – while always keeping students at the center of the conversation.
All proceeds from the Taste of the NFL @ Home event will support GENYOUth's End Student Hunger Fund to help tackle food insecurity in schools. Their goal is to deliver 100 million Meals with everyone's help!
Taste of the NFL, the pre-eminent purpose-driven event at the Super Bowl, and for supporting GENYOUth's mission to build healthier school communities. The funds raised at Taste of the NFL will provide schools in all 32 NFL markets with grants for meal delivery and distribution, which is critical to our commitment to end student hunger. Columbus Meats: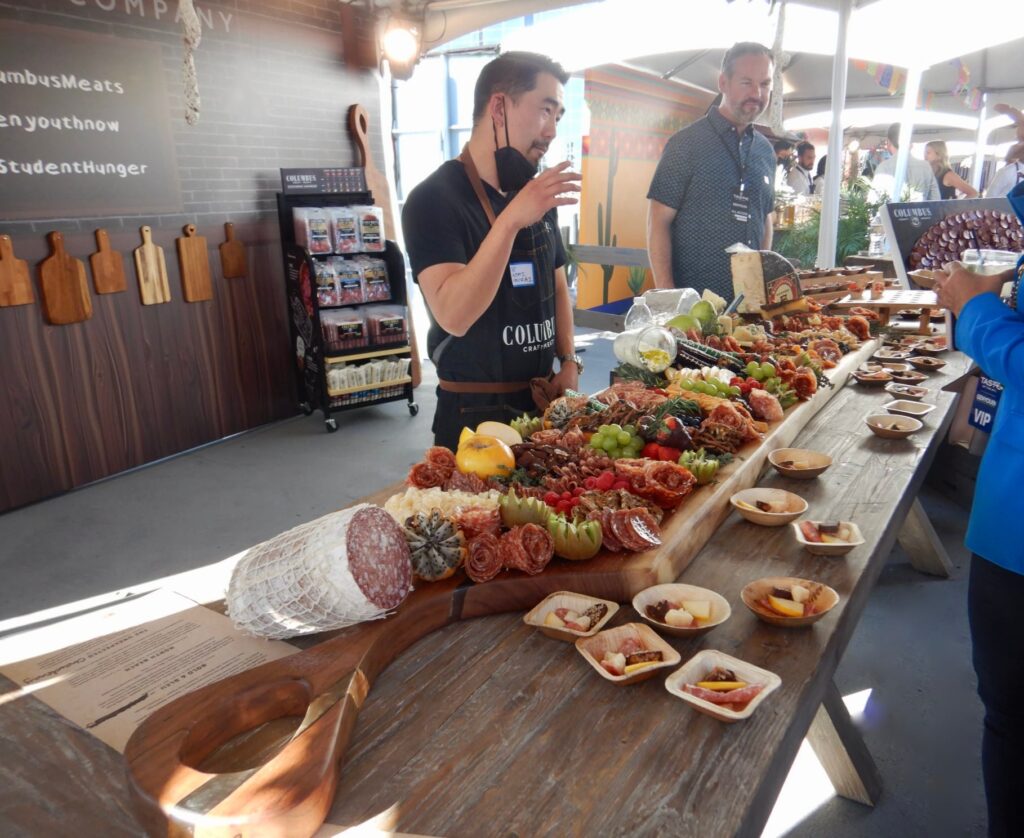 In the below photo our reporter Kim poses at the SugarBee Apple booth. Their apples were developed by honeybees that buzz through their orchards collecting pollen from Honeycrisp flowers by landing on the blossoms. These apples are sweet and crisp with flavors of honey, caramel and molasses. Kim said: "These SugarBee Apples were the best red apples I have ever ate! They were super sweet and when you bite into them it was like drinking apple juice. Their story is they had a apple orchard and a bee farm, and the bee's pollinated the apples, so this is why they are super sweet honey like. Their apple juices and apple cider were SO GOOD!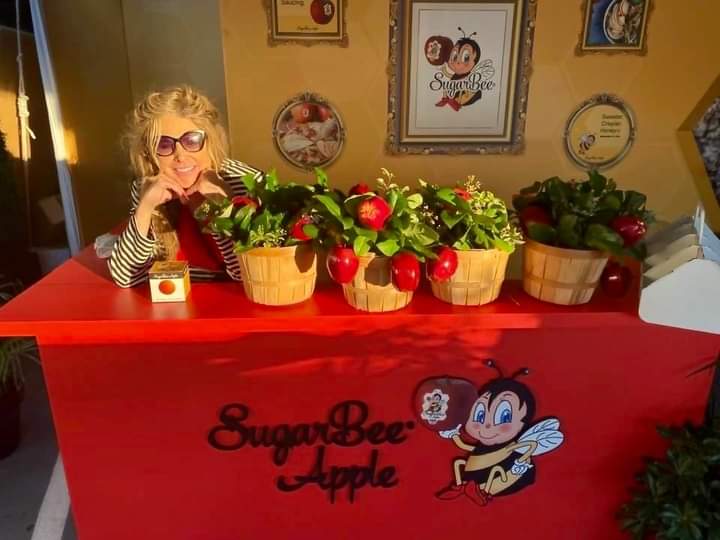 This spicy habanero root beer glaze is so good you can put it on just about anything! Try it on Lay's Poppables for a special game day treat!
The ultimate hand-held feast – a cheeseburger Bings paired with an 8,000 Island Dipper. Deliciousness folded in a brown rice wrapper.
Slow-braised goat with guajillo peppers and vegetables, cooked brown and crispy with Muenster cheese in a cast iron skillet.
Slow-braised goat with guajillo peppers and vegetables, cooked brown and crispy with Muenster cheese in a cast iron skillet.
Not all burgers are created equal. This knock-out from Mark Bucher adds rich D.C. chili on the top for an out-of-this world combo.
These retro cocktail party pleasers will fly off your potluck table. Just the right tiki blend of soy sauce and pineapple sweetness.
Luscious white chocolate ganache surrounds the secret caramel apple filling in these scrumptious hand-held dream pies!