Los Angeles has not hosted a Super Bowl since 1993- that's almost 30 years since we were lucky enough to be present in Pasadena for the big game, and then celebrate in The Santa Monica Civic Auditorium with The Dallas Cowboys and their Quarterback Troy Aikman, when they won the Super Bowl by beating the Buffalo Bills.
So, Los Angeles pulled out all the stops for everyone from around our country and the world, and had some of the greatest events, parties, and concerts that we have not seen in LA for the Super Bowl in almost 3 decades!
So,
 #9 LA Rams Super Bowl Champion Ryan Santoso
opened up the Super Bowl Festivities, at the Super Bowl Athlete & Celebrity Gifting Lounge, with the
 Luxury Experience & Co Kicking Off the Ultimate Athlete & Celebrity Gifting Lounge Experience at The Petersen Automotive Museum in Los Angeles. Ryan is a 6-5, 260 lbs. Placekicker and Punter, who is on The Rams Squad that beat the Cincinnati Bengals in the Super Bowl: 23 to 20: 
Luxury Experience & Co presented an exclusive gifting lounge in Los Angeles during the week that celebrities and athletes flocked to celebrate the big game at the Petersen Automotive Museum. As the Super Bowl brings in top celebrities and athletes, LE & Co crafted the ultimate Super Bowl experience partnering with Lunzer Productions and Global Crown Press gifting experience where celebrities, athletes and brands mingled, all while toasting our home city.
The Petersen Automotive Museum was the ideal venue for many famous guests such as Rams Super Bowl Champion Ryan Santoso, and Rams Super Bowl Champion Cam Akers; and Green Bay Packers running back #33 Aaron Jones, who is a Pro Bowler receiving a four-year deal worth $48 million. Here he is below with the Executive Producer of Entertainment & Sports Today and Entertainment Today: Steve Taylor, on the right of the photo, wearing his Green Bay Packer hat, on Super Bowl Sunday, at the Super Bowl Players Tailgate Party, right next to SoFi Stadium sports and entertainment complex in Inglewood, California: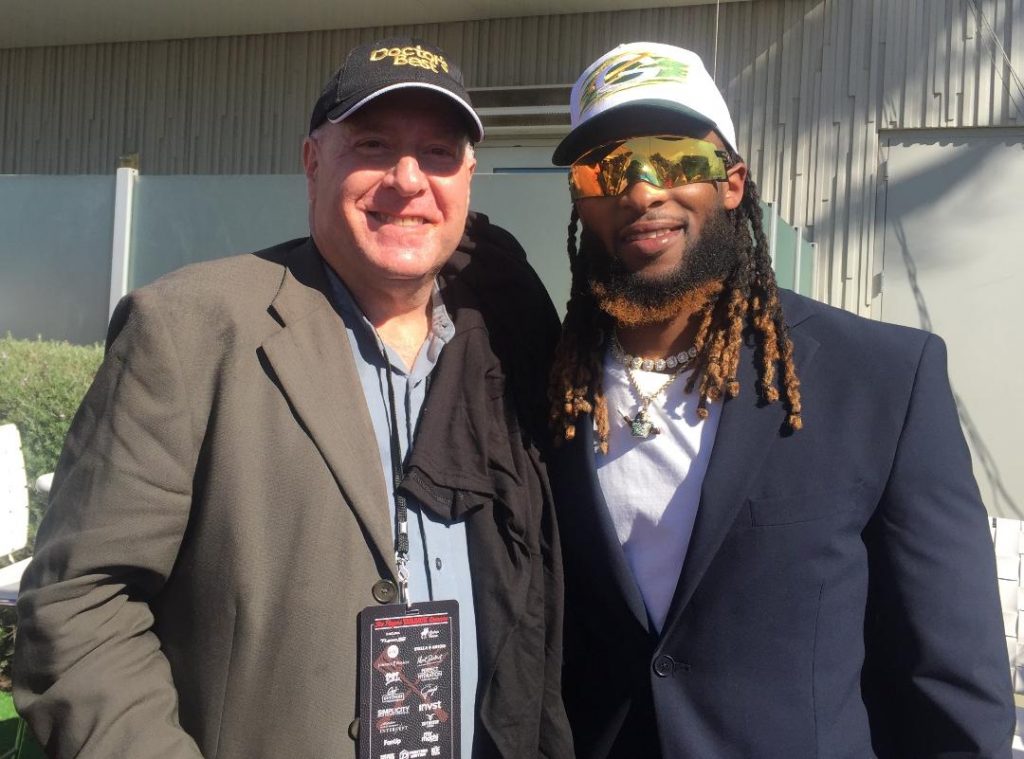 Baltimore Ravens, Walter Payton Man of the Year Nominee Bradley Bozeman: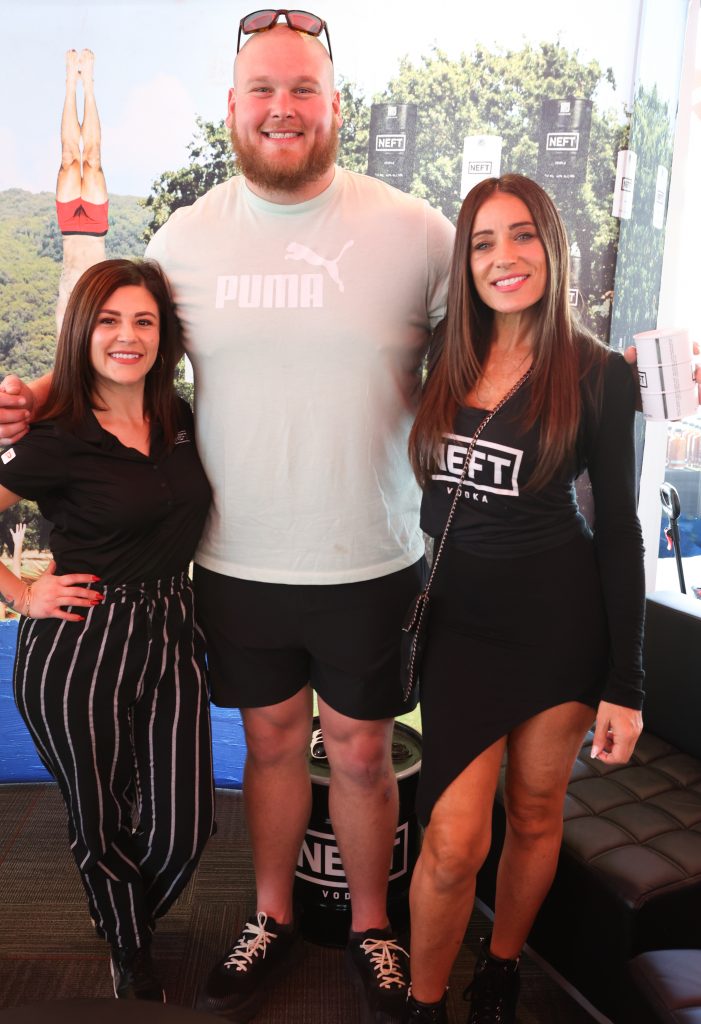 Indianapolis Colts LB, 3x Indianapolis Colts LB, 3x Pro Bowler, 3x First Team All Pro Darius Leonard, U.S. Paralympic Tokyo Olympics Gold Medal Swimmer Jamal Hill: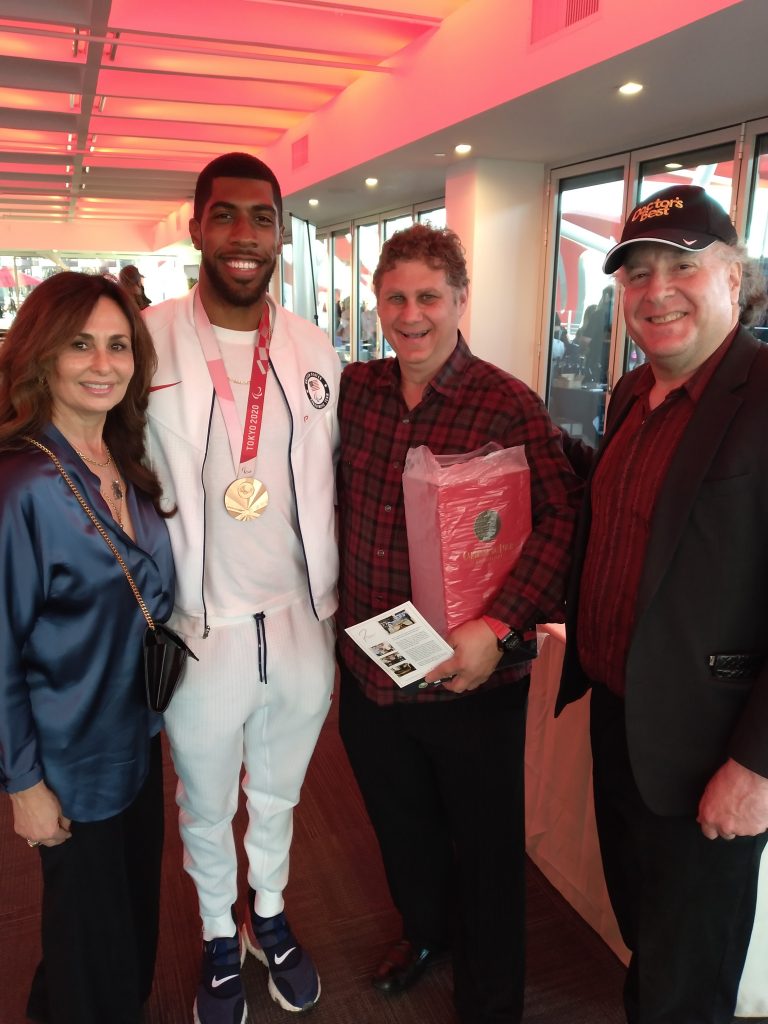 New England Patriots Matt Judon, Atlanta Falcons Keith Smith, Los Angeles Chargers Gabe Nabers, Philadelphia Eagles Darius Slay, Indianapolis Colts Anthony Chesley, Tampa Bay Buccaneers Cam Gill, Las Vegas Raiders R.K Russell, Pittsburgh Steelers RayRay McLoud and many more celebrities, athletes and music artists.
LE&Co welcomed guests with amazing and luxurious gifts provided by NEFT Vodka, Dr Busso Cosmetic Dermatologist at drbusso.com, and SLIQ –who we interviewed in this show. Sliq Spirited Ice has a unique ice pop that is made out of Vodka! For more details go to SliqSpiritedIce.com.
Elixinol had some incredible products with a line dedicated specifically towards Active Recovery; Active Body Comfort, which contains functional ingredients like Boswellia, Active Omega Tumeric, which helps kick-start antioxidant activity, Active Sports Gel and Active Recovery Balm.  Sleep is one of the top ways to keep your body operating at its best, so Elixinol just launched their brand-new liposome, Sleep Rapid Rest, with a popular new cannabinoid, CBN. Elixinol.com
The Nu Estetica Spa gave away Gift Certificates worth $1100 for 2 sessions of Electro Magnetic Muscle Toning.  Go to www.NuEstheticsSpa.com for more info. In the below photo with the thumbs up- The Spa Spokeswoman is wearing Steve Taylor's Super Bowl ring: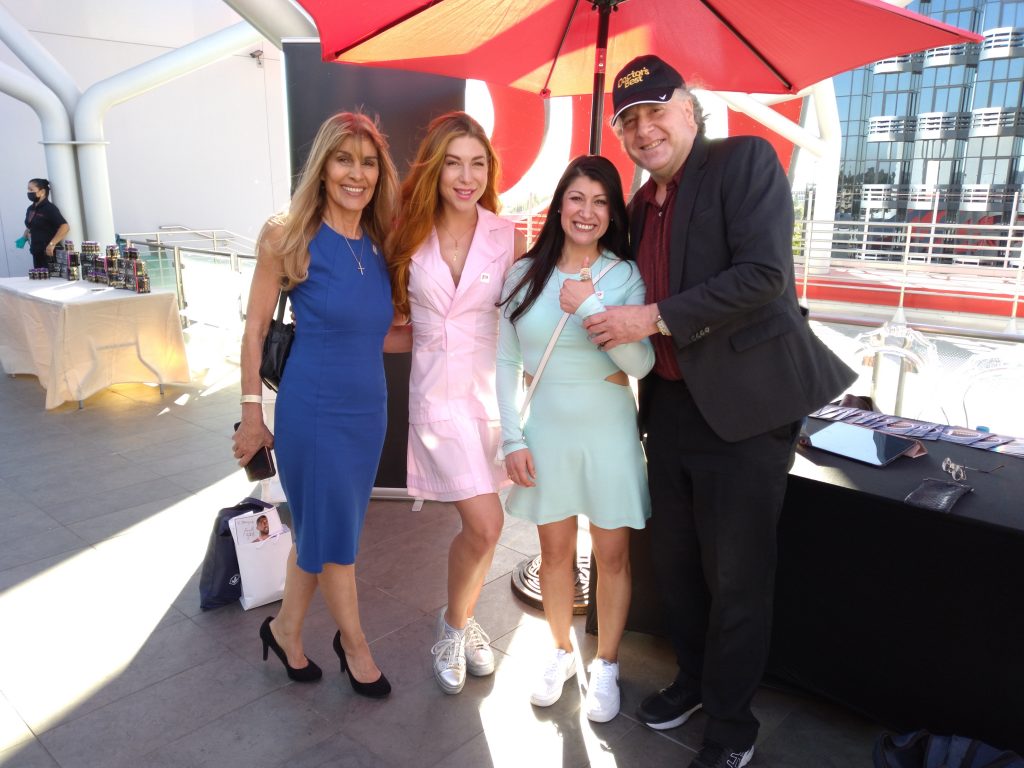 Adobe Winery the Racing Series is based in Petaluma, and the CEO & owner is Kevin Buckler, who is an American race car driver and entrepreneur. He founded Adobe Road Winery and currently owns The Racer's Group, a professional sports car racing team; TRG Motorsports, formerly a NASCAR Sprint Cup Series team; and TRG-AMR. Kevin won BOTH the 24 Hours of Le Mans, and 24 hours of Daytona! TRG with support from Porsche Factory, won the GT class at the Rolex 24 at Daytona and the 24 Hours of Le Mans! In 1992, Kevin and his wife Debra created The Racer's Group (TRG) as a Porsche Club Racing business that has grown into much more. In 2019, Kevin launched a $56 racing-themed wine aptly named SHIFT. It comes from Adobe Road, a boutique winery in Sonoma County California. For more info go to: AdobeRoadWines.com You can view our interview with Kevin on this show.
Cardinal Du Four Armagnac (view our interview on this show and also on our Emmy TV special): For over 700 years, "l'aygue ardente" has distinguished itself as one of the world's most noble eaux-de-vie. Best known under the name Armagnac, this brandy rapidly became identified for having 40 virtues due to research conducted in 1310 by Maître Vital du Four. As Cardinal du Four, he was recognized as a great intellect, accomplished theologian, man of science, who published a celebrated book about his remarkable discoveries, "To keep your health and stay on top form." The original texts have been preciously guarded in The Vatican library in Rome since the 14th century.
This work bestowed an exceptional destiny for the Armagnac region of France. Cardinal du Four Armagnac, 21 Rébellion is a harmonious blend of choice vintages aged in 400-liter French oak casks from the forests of Monlezun and Limousin. The youngest and more vibrant eau-de-vie has been aged for a minimum of 21 years with the oldest Armagnac in the blend dating back from 1976 vintage – 43 years old. Produced from the highest quality grapes of Ugni Blanc, Baco, Folle Blanche and Colombard that are harvested in the Bas-Armagnac and Ténarèze terroirs, these fine eaux-de-vie are distilled from a traditional continuous copper still called the "Alambic Armagnacais." With this honorary creation, we pay tribute to the Cardinal as we continue to ensure that the immortal spirit of Armagnac flourishes. Tasting Experience: Soft and brilliant amber brown color. Floral aromas of jasmine and iris followed by gingerbread spices like nutmeg and cinnamon intertwined with dried fig, caramelized apples and toasted wood vanilla flavors. Long lingering finish with notes of cacao beans and salted caramel. Cardinal du Four Armagnac, 21 Rébellion combines complexity and power with elegance, which is a Harmonious blend of vintage Armagnacs from 21 to 43 years of age. Cardinal du Four Armagnac pairing experience with Petrossian Caviar. For more info go to: CardinalDuFour.com
In this show you can watch the interview by our TV Show Host: Margie Rey at the Super Bowl Athlete & Celebrity Gifting Lounge, by Luxury Experience, at their Gift Lounge booth for the
Cardinal du Four Armagnac, with the founder of this amazing high-end Brandy: Christophe Namer
(2nd from left in photo, in white shirt):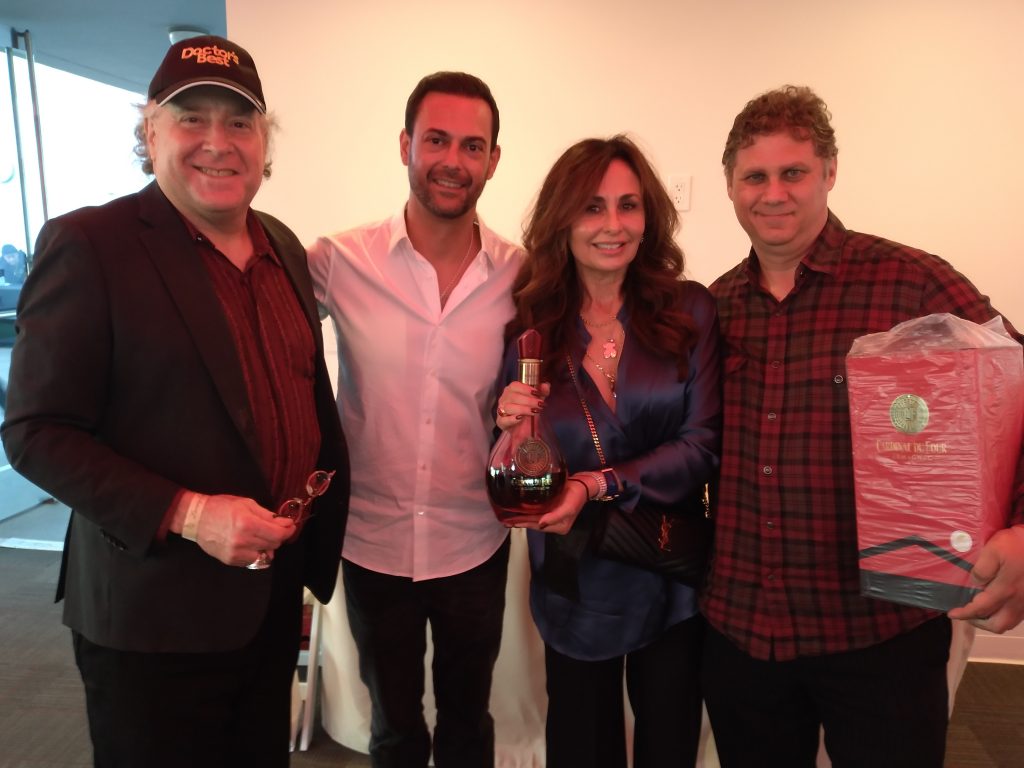 Best of Legacy, Major-League Socks, Andar Leather Goods, The Perfect Jean, Baist Gloves, Crooks Backpacks, Crown Point Winery, Celebrity Chef Ryan Rondeno, Koi, Freeman Formula, ZenWTR, Runamok, Douma Fitness, Adira & Delilah, and Goodles, were some of the other companies there!
Royal Blends Barbershop: for the highest quality haircuts and grooming, to make you look "like a Star" call 424-313-8115 for an appointment: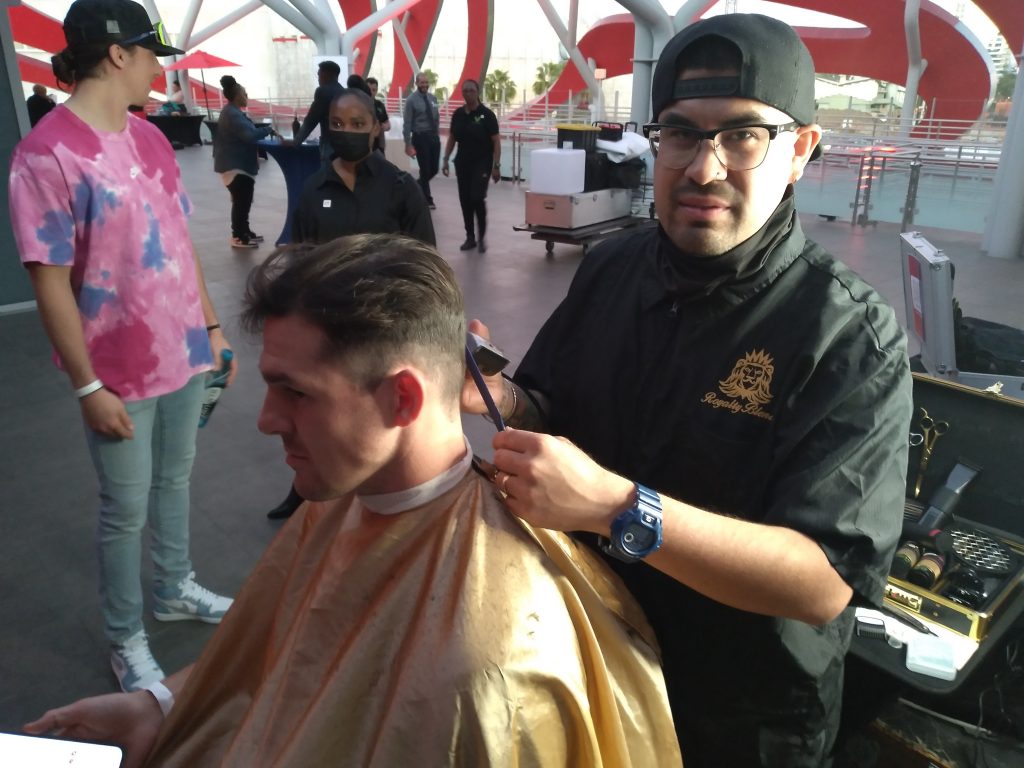 The Locin' Lo, Noir Men's Grooming lounge, Vita Coco, Green Haven, Odaingerous, Farans Fine Art, Snoop Dog's Indigo Gin and The Petersen Automotive Museum, all helped to make this an incredible event!  Below photo of our news team reporting on this great Super Bowl Gift Lounge by LE & Co: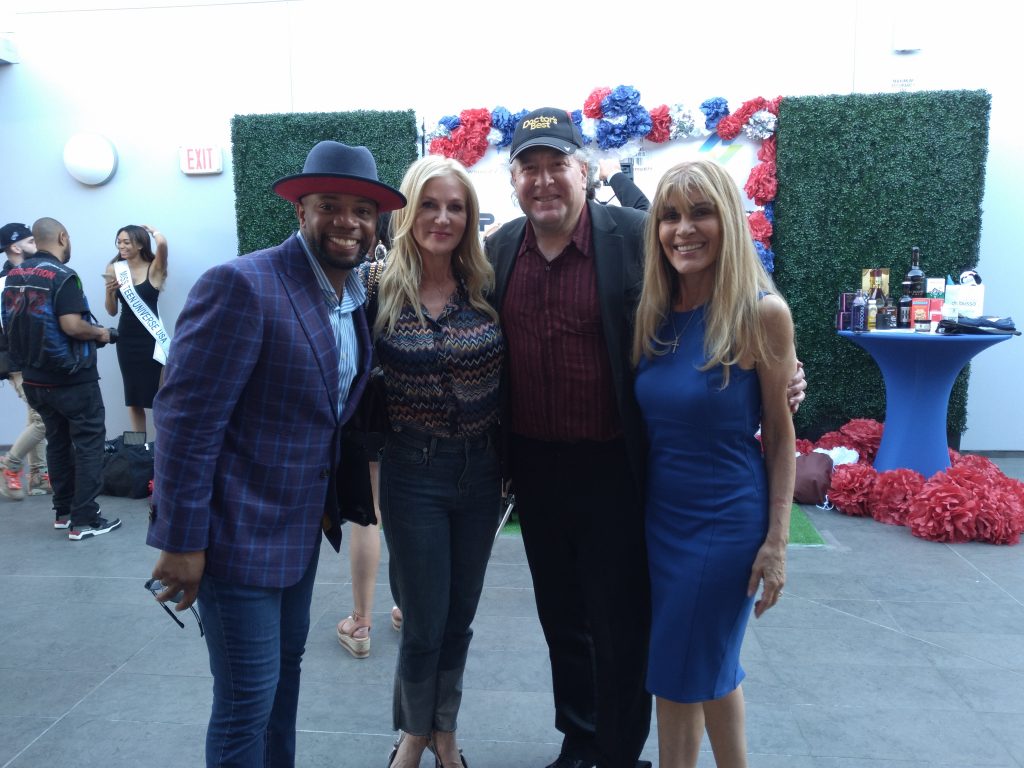 "LE & Co was excited to partner with the Petersen Automotive Museum to celebrate the Super Bowl coming to Los Angeles," says LE & Co Founder Melissa McAvoy. "We celebrated the Super Bowl wrapped in the most amazing venue which includes a historic collection of automobile history."
The Petersen Automotive Museum is an extraordinary venue where automobiles tell stories, and every story has a place in history. As one of the world's largest and most diverse automotive museums, the Petersen features over 100,000 square feet of exhibit space and chronicles the evolution of great automotive engineering achievements and its impact on our culture over the past 120 years. Car enthusiasts and novices alike will enjoy attending an event in an environment that is entertaining, educational, and intriguing. The museum offers four dynamic spaces in which to host the event of your dreams. Choose between the exquisitely detailed ARTISTRY exhibit on the 1st floor, the inspiring INDUSTRY exhibits on the 2nd floor, the nostalgic HISTORY exhibits on the 3rd floor, and the iconic rooftop pavilion and terrace of the 4th floor Penthouse. Be Sure to follow @petersenmuseum on social media. For more information, please visit https://www.petersen.org