Showcasing the beauty of Greater Los Angeles along its famous and world-renowned 'Stadium to the Sea' course that tours iconic landmarks in Greater Los Angeles taking athletes from Dodger Stadium to the Santa Monica Pier, the 2020 Los Angeles Marathon presented by ASICS was a memorable day for more 27,000 entrants. Early Sunday morning the race started at Dodger Stadium, traversed cities of West Hollywood and Beverly Hills before finishing seaside in Santa Monica.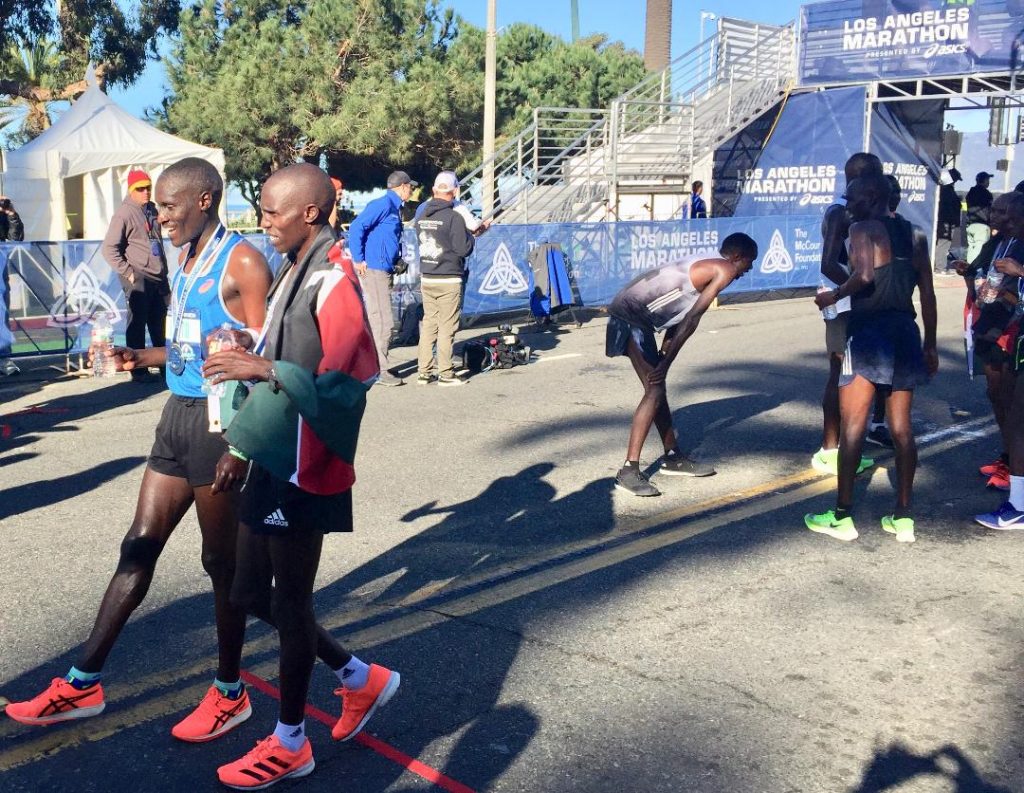 In near perfect weather and with huge crowds cheering them on, the 35th running of the race was led by a field of world-class runners who competed for more than $100,000 in prize money.
Below photo of the winners: extreme left: Men's Winner- Bayelign Teshager from Ethiopia, extreme right: Women's Winner- Margaret Muriuki of Kenya. In the middle of the photo: Rafael Botello Jimenez was the winner of the men's wheelchair race, finishing in at 1:44:34. Vanessa Cristina De Souza won the women's wheelchair race in just under two hours, clocking in at 1:59:51: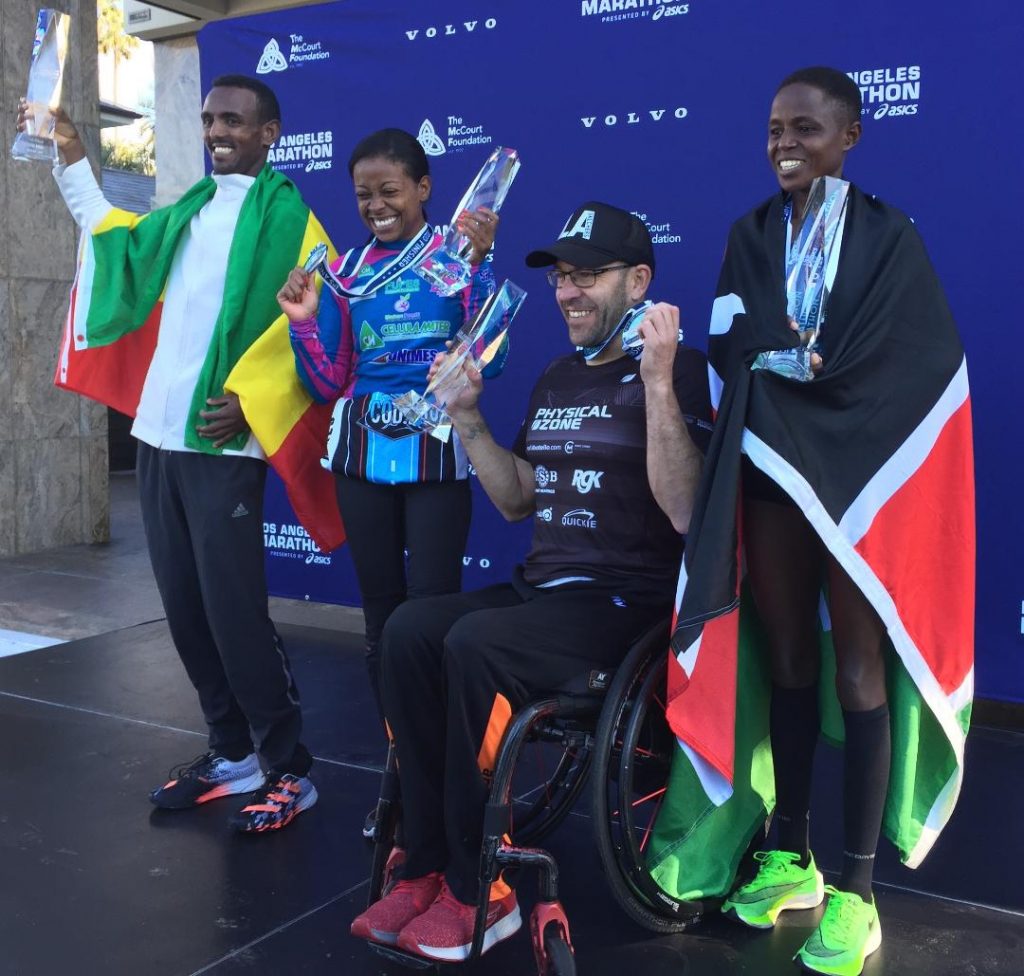 The men's race had a thrilling finish that highlighted the potential greatness of Bayelign Teshager, a 20-year-old from Ethiopia making his marathon debut. Teshager ran a strong race and seemed to get stronger down the stretch, applying multiple surges in the last two miles to pulling away to win in 2:08:26. John Langat of Kenya was second in 2:08:43 and Wilson Chebet of Kenya was third in 2:09:16.
Below photo: Producer/TV Show Host: Steve Taylor – interviewing some of the greatest Marathon Runners in the world at The 35th LA Marathon by ASICS: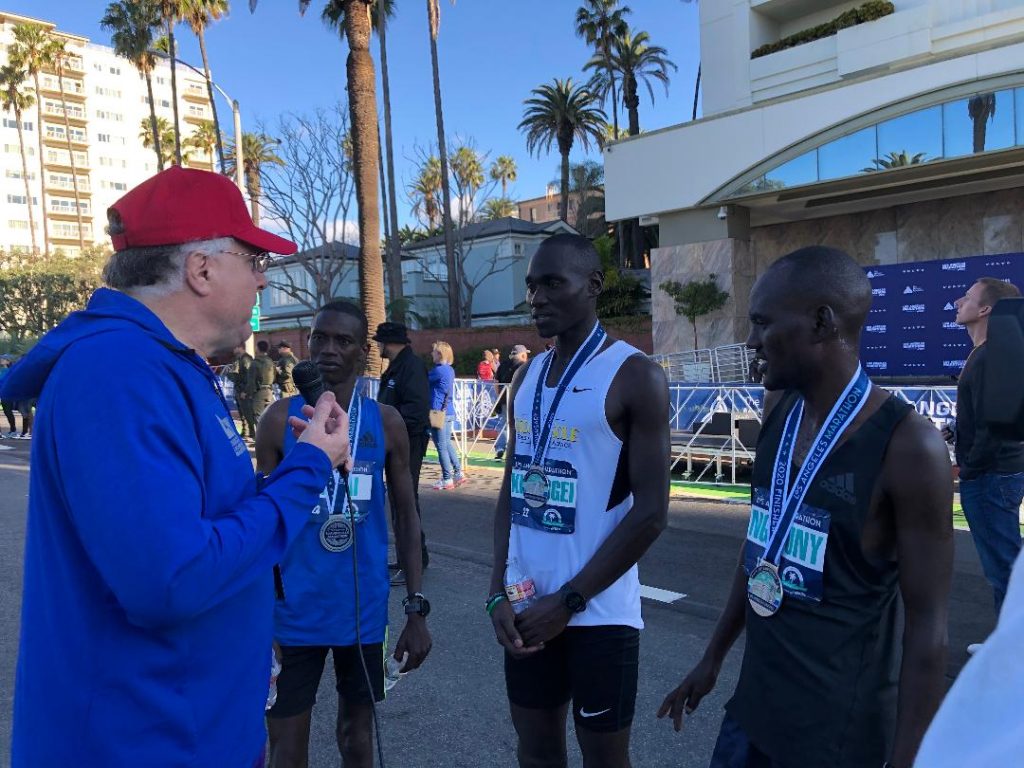 Through a translator, Teshager said he felt good and at 35K was confident that he would win despite still being in a tight race with Langat. "As the race progressed, I became more energized," Teshager said. "I was feeling some discomfort, but my excitement to win overtook the pain."
To greet all the runners and visitors at the Marathon's two-day Health & Fitness Expo at the Los Angeles Convention Center were the San Diego Charger Cheerleaders (below) and the Monster Energy Drink Cheerleaders (the photo below that):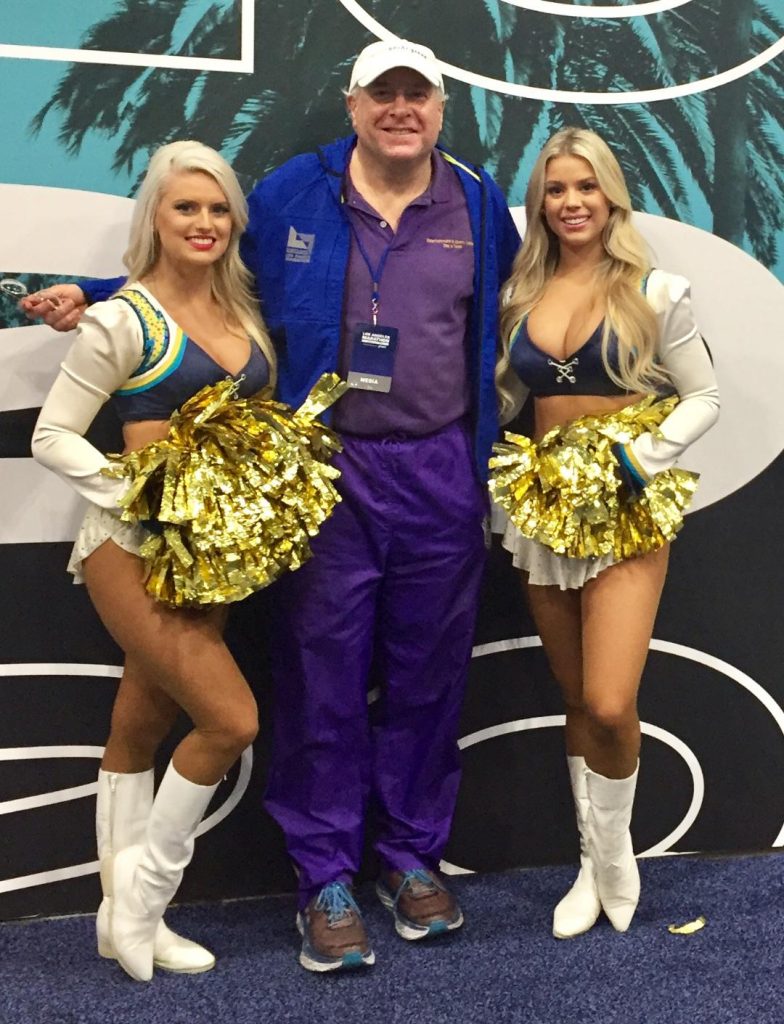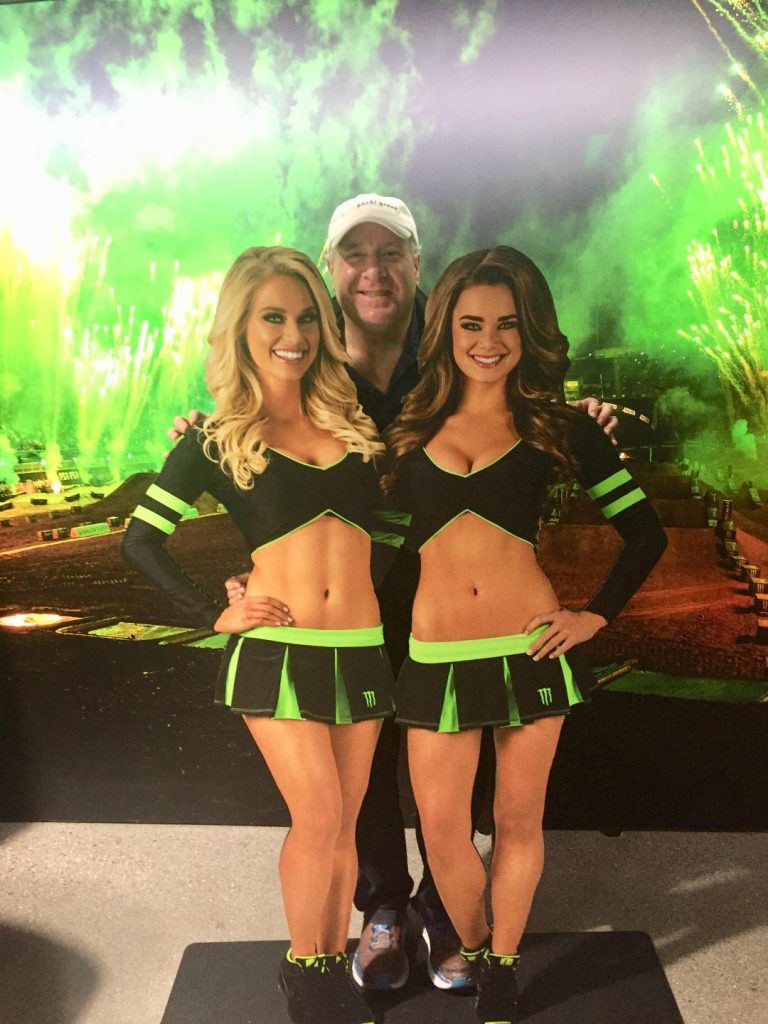 New Zealand elite runner Zane Robertson said he figured Teshager would be a top contender at the Los Angeles Marathon despite it being his debut at the distance. "He will go on to be a great marathoner," Robertson said. "He raced like a championship runner today." The below photo was taken live with the winner with her Trophy- of The 35th Anniversary of LA Marathon – women's division from Kenya , from the finish line area in Santa Monica, California right by the beach. Margaret Murillo was very nice when I meet her. She is from Kenya and won the Marathon in 2:29:27.6 – a very fast time: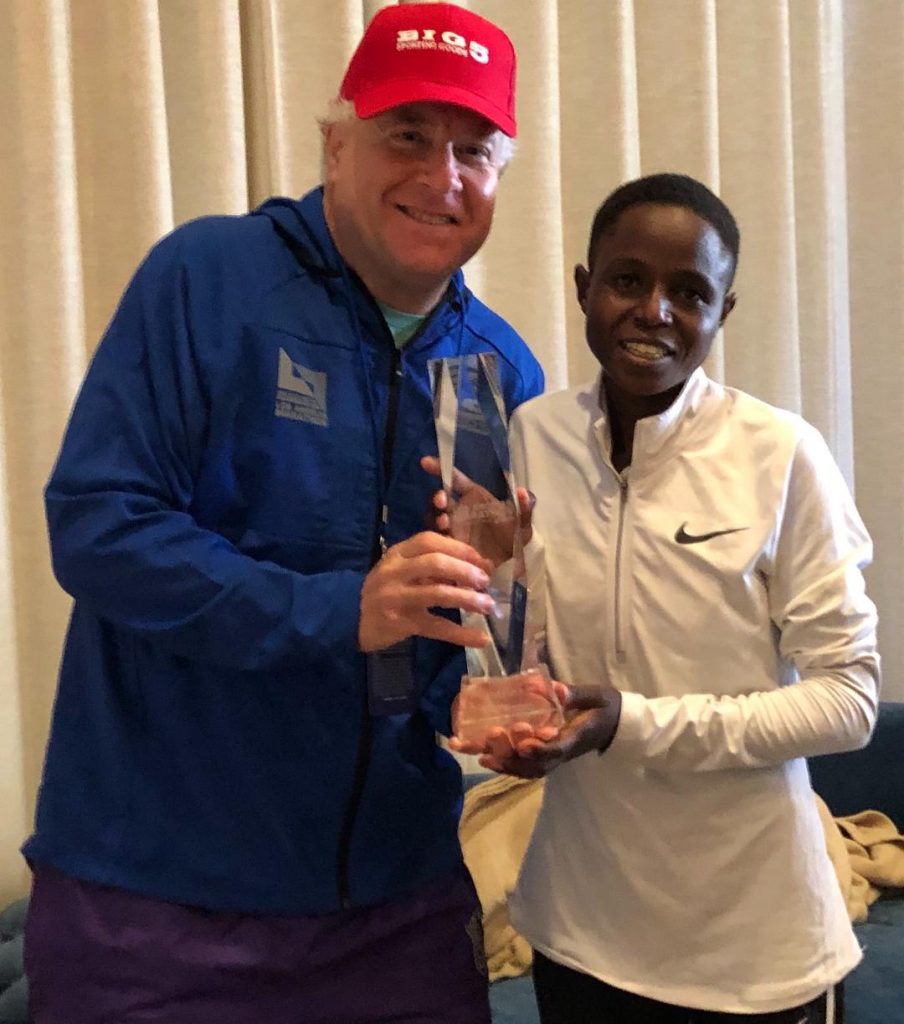 In the women's elite race, the lead pack quickly whittled down with Margaret Muriuki of Kenya (in Photo above with TV Producer Steve Taylor on left) who pushed the pace throughout. She was in a match race with Almaz Negede of Ethiopia by the halfway point, and broke away around mile 18 to cruise to a win her first Los Angeles Marathon title in 2:36:04. "I am happy with the victory today," said Muriuki, who also won the Honolulu Marathon in December. "The competition was good, and they pushed me." 
Live at the 35th Anniversary of the LA Marathon during The Health & Fitness Expo, with our Stylish Celebrity looking Reporter: Kayla for Entertainment & Sports Today at The Big 5 Sporting Goods booth– that always has the longest lines since everyone wants their products:
One of the race's enduring highlights is a large group of legacy runners who have competed in every edition of the Los Angeles Marathon dating back to the inaugural race in 1986. This year, there were 131 legacy runners entered. For many others, the 2020 Los Angeles Marathon was their first attempt at the 26.2-mile marathon distance. Nearly 32% of the 2020 entrants were participating in their first marathon. 
Live at the 35th Anniversary of the LA Marathon during The Health & Fitness Expo, with our TV Show Host: Margie for Entertainment & Sports Today at The Asics booth doing an interview to talk about their new running shoes: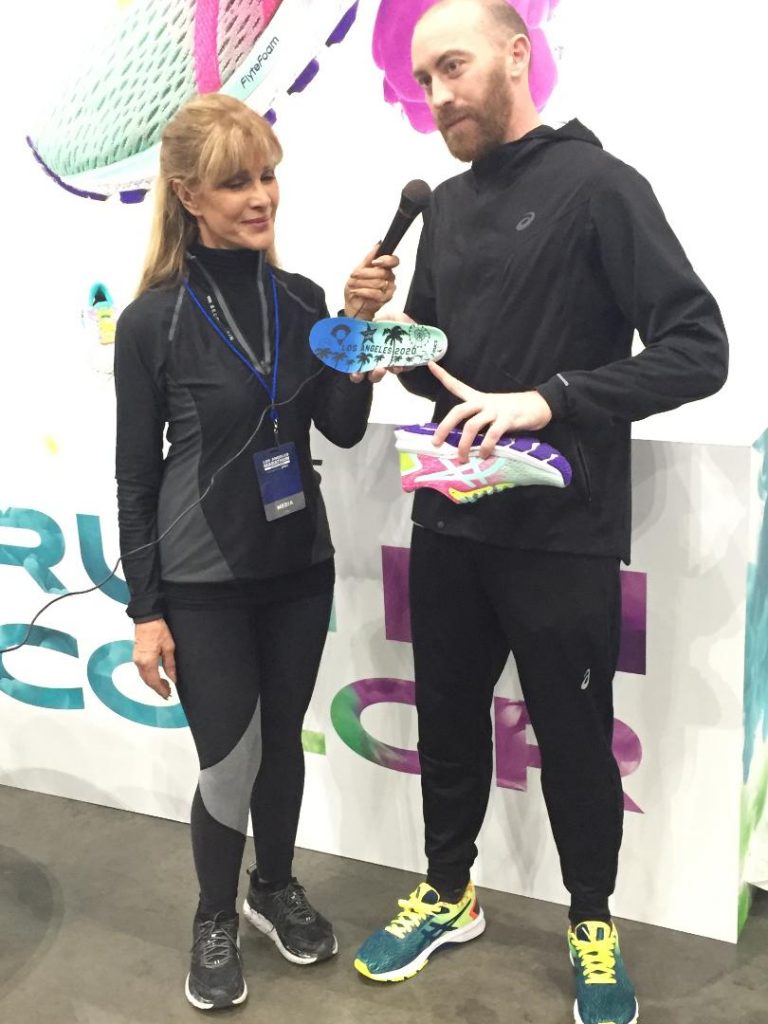 Participants from over 74 local and national charities ran to raise awareness and create impact for their causes and fundraising efforts through the Los Angeles Marathon's Official Charity Program. Since the inaugural race, the Los Angeles Marathon has helped charities raise more than $54 million for a variety of causes and nonprofit organizations.
The below 2 photos are from an interview by Margie at a booth that had some amazing products to stop pain in it's tracks, and make you feel better fast- from a former Heavyweight Boxing Champion: George Foreman's Knockout Formula from Real Time Pain Relief: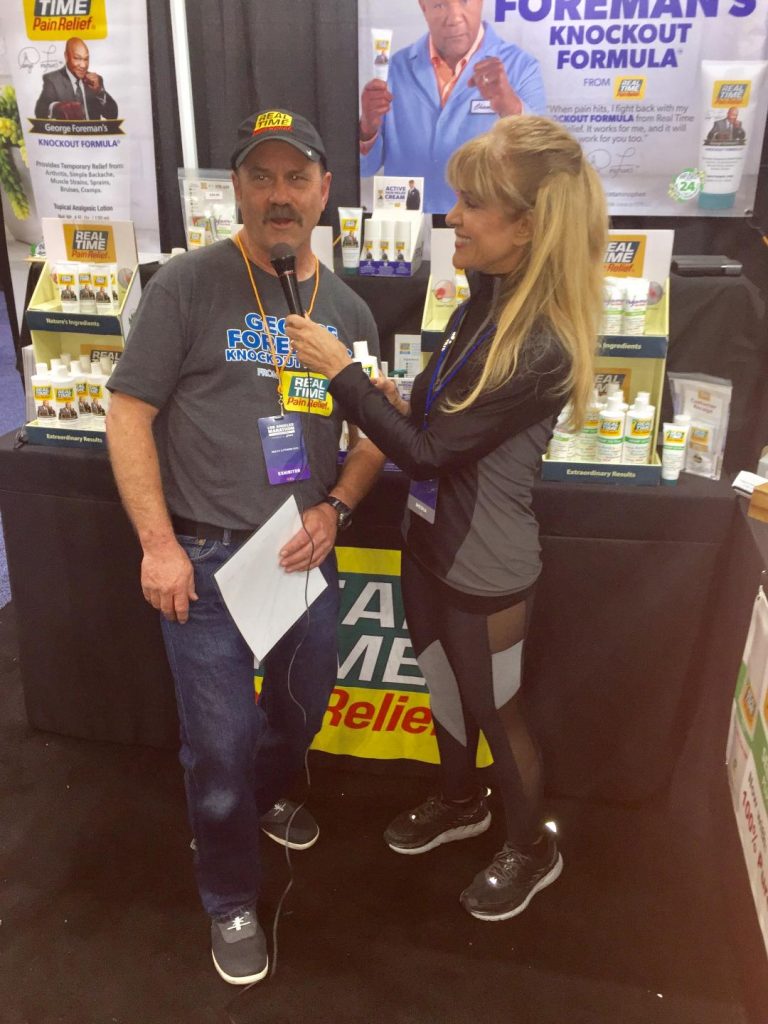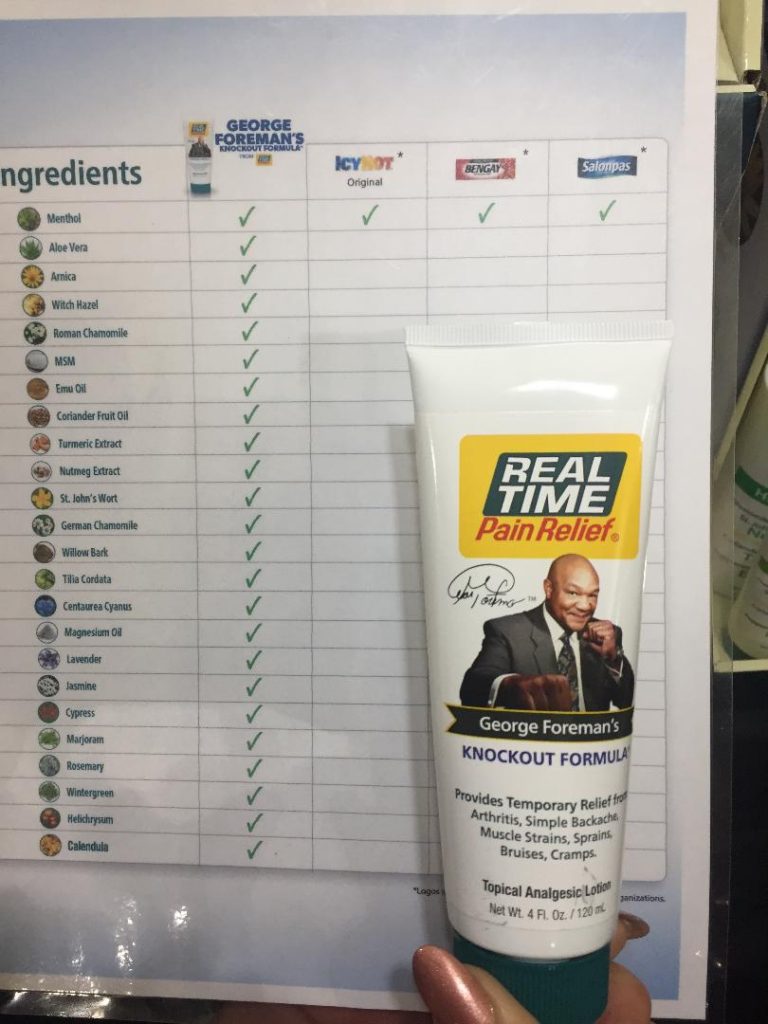 Men's Elite Race:
1. Bayelign Teshager, 2:08:26, $23,000
2. John Langat, 2:08:43, $12,000
3. Wilson Chebet, 2:09:16, $7,000

Women's Elite Race:
1. Margaret Muriuki, 2:29:27, $23,000
2. Almaz Negede 2:32:28, $12,000
3. Jane Kibii, 2:36:04, $7,000
Another great pain relief product company that has been on our show many times before is Kool 'N Fit: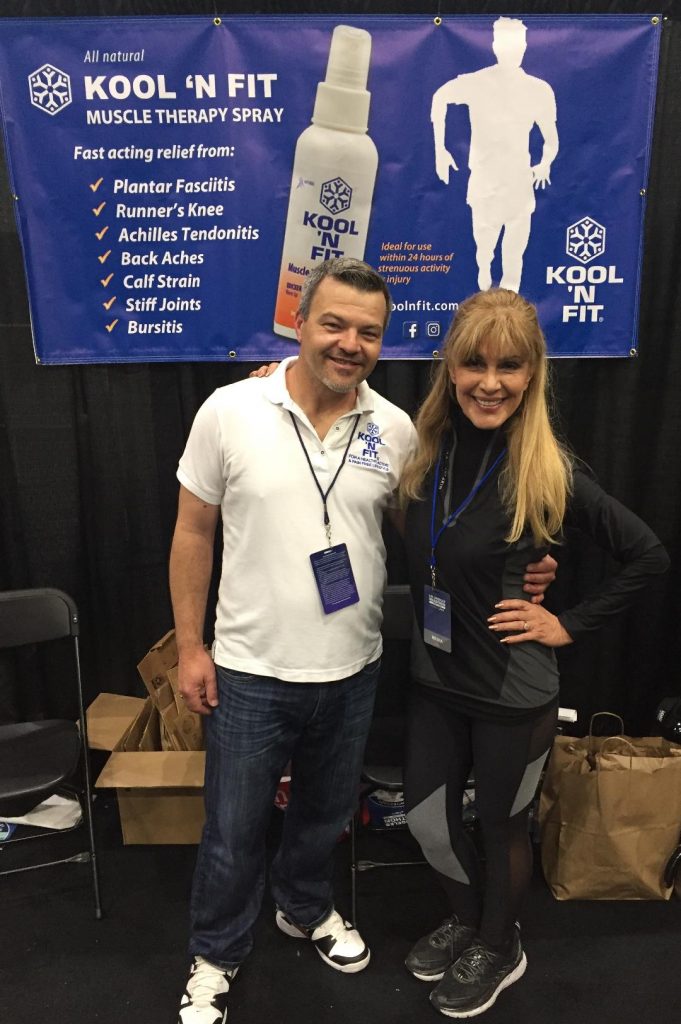 Health & Fitness Expo :
The 2 days before the Marathon there is the two-day Health & Fitness Expo at the Los Angeles Convention Center, and features over 200 booths of all kinds of health related products, running shoes, sports apparel, clothing, supplements, sports drinks, energy bars, and many products for pain relief, interactive exhibits, live entertainment and the official Los Angeles Marathon Merchandise Store, where all runners pick up their race packet.
The BioSeries from Addaday delivers powerful, targeted relief in easy-to-use devices. The Addaday BioZoom is a premium percussion and vibration recovery tool, that is in the shape of a JackRabbit Gun or Drill! Designed with the help of medical professionals, the cordless device employs five interchangeable massage heads and five levels of power to deliver precise relief wherever you need it. For only $250- it comes at a bargan price for what you get. All of their products provide excellent Massage benefits that improves circulation, decreases inflammation, and reduces muscle tightness. It helps us relax and recover faster, too. You can see Margie's interview with Dr. Mike D.C. in this news show: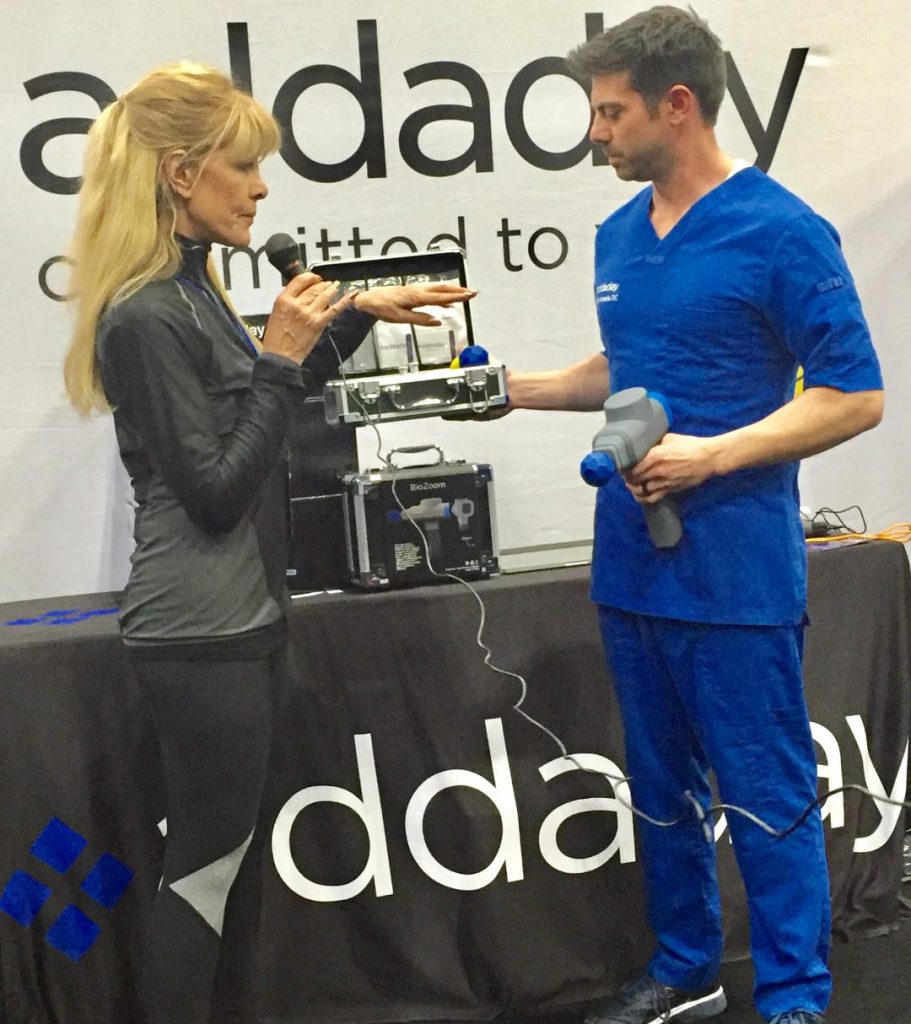 We would like to thank all of our news staff for Entertainment & Sports Today who covered the The 2020 LA Marathon & Health & Fitness Expo over a 3 day period! Producer: Steve Taylor, On-Air TV Show hosts for the Health & Fitness Expo: Margie Rey, and for the Marathon race day: Steve Taylor; with still photo credits going to John Gumboc and the 2020 Los Angeles Marathon presented by ASICS, and our Video Cameraman: Richard Marcella. Below photo L -R: Richard, Steve, and John. This was live at The 35th Anniversary of the LA Marathon at the finish line area in Santa Monica, California- right by the beach. This photo is on the press photo bridge that had an amazing view of the beach and 27,000 runners that had finished 26 miles and 385 yards!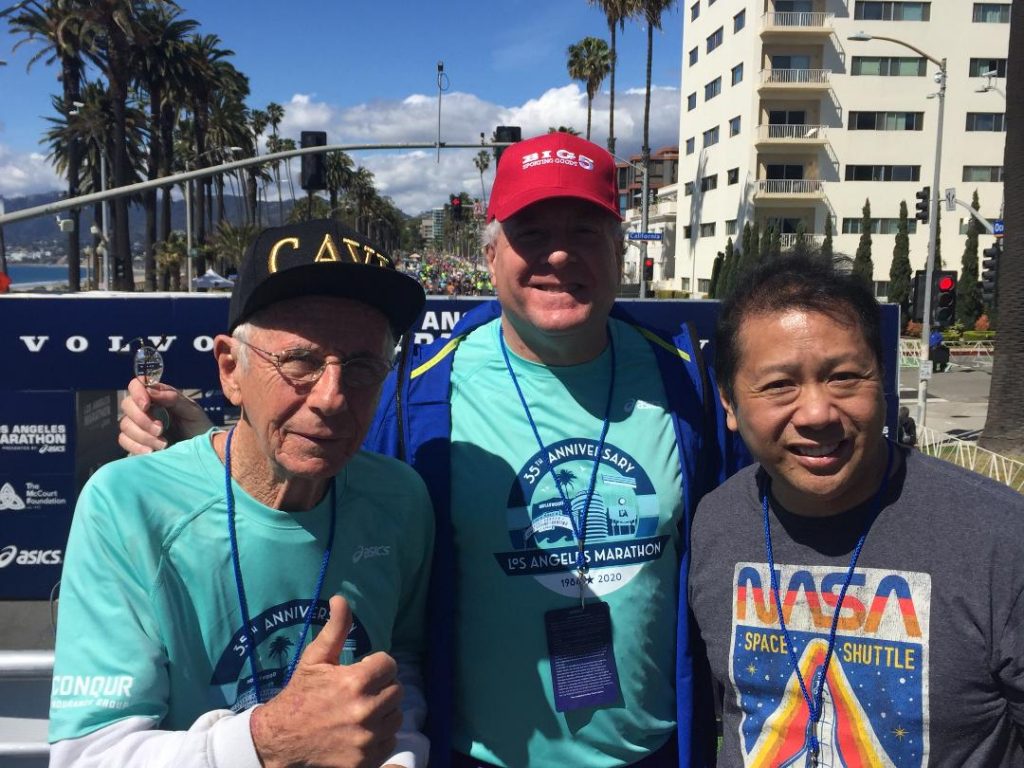 Stay tuned for live daily round-the-clock news coverage from our news team in Los Angeles, Hollywood, New York, Beverly Hills, and overseas from Entertainment & Sports Today TV, and Entertainment Today, and for the complete story go to: entertainmentandsportstoday.com, on Facebook & Instagram: @entertainmentandsportstoday, and Youtube.com/entertainmenttodaytv
For tickets to future events, and Sponsorships and get advertising rates and info, E-Mail : info@entertainmentandsportstoday.com – and for more info about us go to: www.entertainmentandsportstoday.com & thanks for watching !
For more information, and if you like to buy any of these great products that you saw on our TV show, E-Mail us direct: info@entertainmentandsportstoday.com so that one of our staff can connect you with the right people.