Tonight was a star studded night in Hollywood for the World Movie Premiere of The Game Changers- a "Game Changing"  movie as far as your health is concerned !
The movie is all about changing your life and cutting out ALL Animal Products from your diet- and switch to ALL Plant based diet- to improve your strength and vitality so that you can live longer with a better quality of life, and be more productive !
There were many celebrities and famous athletes there that can attest to the ALL Plant  based diet- and how it improved their health and athletic skill levels ! To mention just a few:
Executive Producer & Film Subject: Arnold Schwarzenegger, Executive Producer: Chris Paul (Nine Time NBA All-Star),Director: Louie Psihoyos (Academy Award-Winning Director), Film Subject & Producer: James Wilks (Elite Special Forces Trainer),                   Diplo (DJ/Producer), Tig Notaro (Comedian), Craig Robinson ("The Office"), Chase Utley(Former MLB Player) and Jennifer Utley, DeAndre Jordan (NBA, Brooklyn Nets), Robert Horry (Retired NBA Champion), Tony Gonzalez (NFL Hall of Fame), Trevor Ariza (NBA), JaVale McGee (Lakers), Michael Johnson(Olympian, 4X Gold Medalist: 100 & 200 meter dash, 400 meter relay, Long Jump), Weir (Grateful Dead), "Weird Al" Yankovic (Artist/Producer), Kate Nash ("Glow"), Lisa Edelstein ("Girlfriends Guide to Divorce"), Sarunas Jackson ("Insecure"), Dylan Sprayberry ("Teen Wolf"), Kristin Bauer van Straten ("True Blood"), Frankie Grande (TV Personality), and many more.
The Game Changers is a new film executive produced by James Cameron, Arnold Schwarzenegger and Jackie Chan that documents the explosive rise of plant-based eating in professional sports, mixing real-time, groundbreaking science with cinematic stories of struggle and triumph. The film features some of the strongest, fastest and toughest athletes on the planet — and it's backed by them too — with additional EPs including Formula One champion Lewis Hamilton, top-ranked tennis player Novak Djokovic, and nine-time NBA All-Star Chris Paul. 
Below photo (on the right) with Patrik Baboumian who holds the worlds record and Guinness world records for walking 30 feet as he lifts 1200 Pounds, and he uses a 100% Vegan diet to make him stronger and more healthier: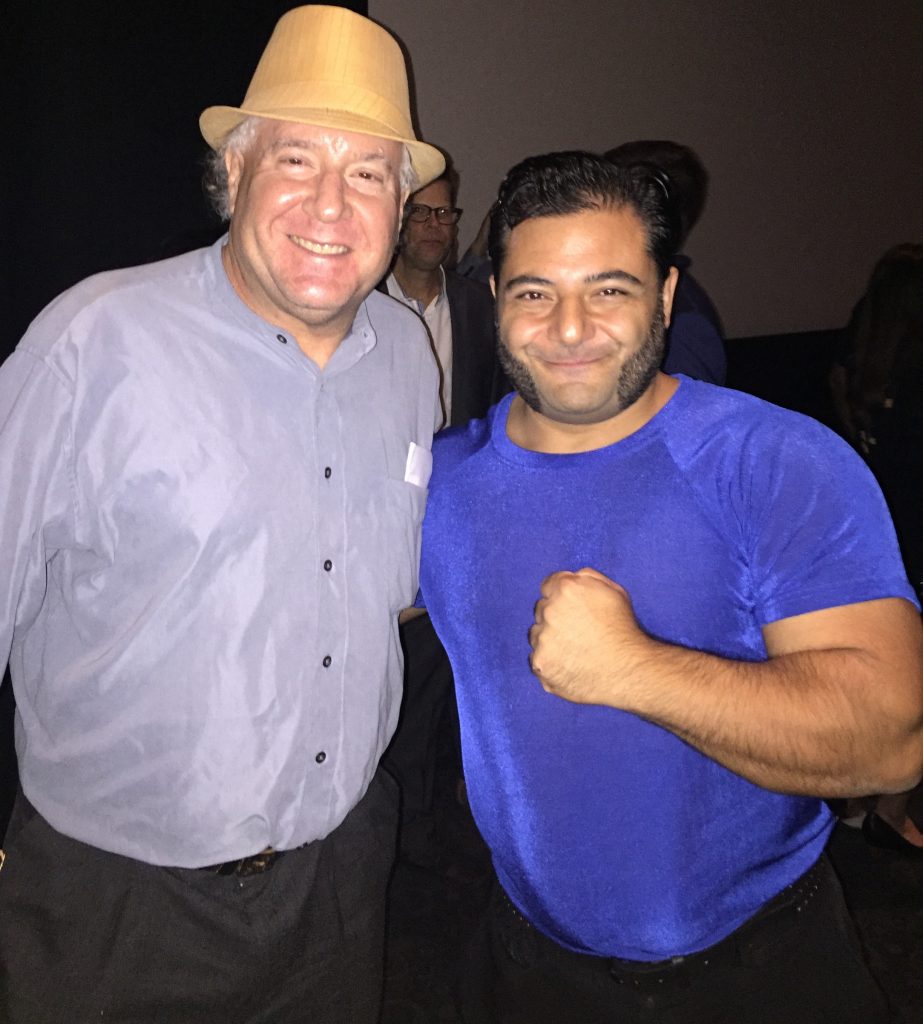 Directed by Oscar®-winner Louie Psihoyos, The Game Changers follows the story of James Wilks — elite Special Forces trainer and winner of The Ultimate Fighter — as he travels the world on a quest for the truth about meat, protein, and strength. Showcasing elite athletes, special ops soldiers, and visionary scientists. Wilks' journey exposes outdated myths about food that not only affect human performance, but the health of the entire global population.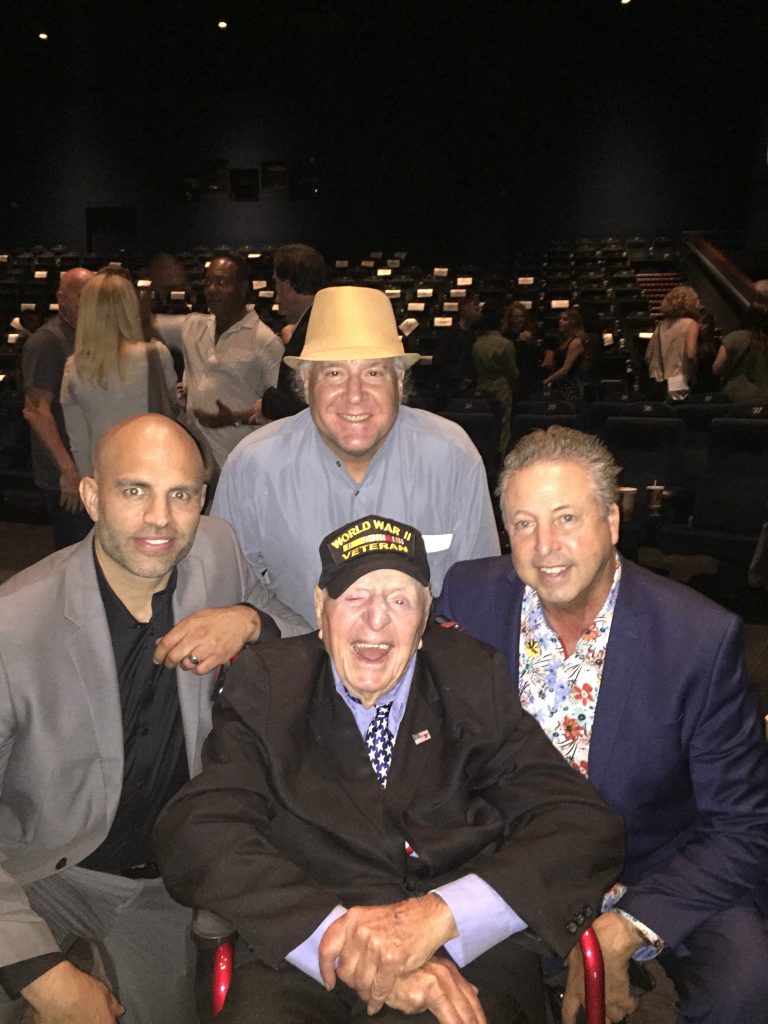 See our featured photo, and below photo of Paul, Amy, and Steve from the
After-Party at the Sunset Room
. This was the ONLY party where we had great food that was all 100% healthy for you ! Paul and Amy will be Married very soon, and the Wedding will be officiated my Los Angeles
Mayor Eric Garcetti
, and one of the special VIP guests will be
Oprah Winfrey
! 
This was another great VIP experience for
100 Year Old WW II Vet Sidney Walton
(Bottom Center of our feature photo and the below photo), as you can see in our feature photo with
Producer Steve Taylor
(Left in both photos), and
Sidney's son Paul Walton
(Right in feature photo & 2nd from left in below photo) and VIP guest (Top Center of feature photo), and again in the below photo with
NBA All-Star, former LA Clippers Center, and now with the Brooklyn Nets – the 7 foot
:
DeAndre Jordan 
(who is on the right):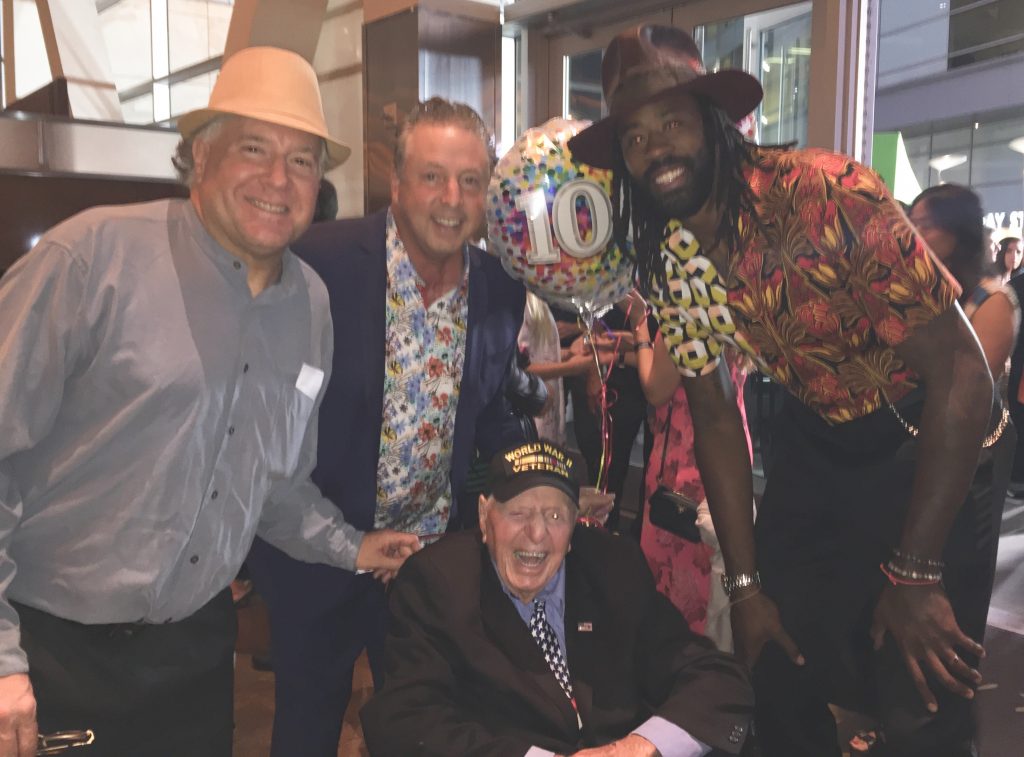 See our featured photo, and below photo of Paul, Amy, and Steve from the
After-Party at the Sunset Room
. This was the ONLY party where we had great food that was all 100% healthy for you ! Paul and Amy will be Married very soon, and Paul's father- the 100 Year Old WWII Hero will be the best man; and the Wedding will be officiated by Los Angeles
Mayor Eric Garcetti
, and one of the special VIP guests will be
Oprah Winfrey! :