Some of the Biggest A-List Talent of Television and More, attended "live & in person" The 2021 EMMY Gift Lounge by GBK Brand Bar & HempHera Luxury Lounge at the LaPeer Hotel in West Hollywood over 2 luxury-filled days. Each guest attending was given a rapid Covid-19 test before entering; in addition, the event organizers carefully scheduled all attendees to ensure compliance with Covid-19 guidelines.
This year's celebrity guests were given up to 50K worth of the year's hottest gifts and trips: 4 different vacations, including a 4 night Stay in a Villa at SailRock Resort in Turks and Caicos for Nominees, Dominican Republic, FIJI, and local a Vacay, Diamonds from Yuvika, Custom Pendant from Jonathan Shultz, Luxury Dog clothes from Moshiqa, Skin Care, CBD Products, Custom Dresses, James Peter Henry One-of-a-kind Sweaters, Dinner for 12 at your home, and numerous other surprises. Car service was provided by Motev. This lounge was a great opportunity for clients to mingle with this year's Emmy nominees, presenters, and other A-List talents.  A tantalizing assortment of food and drinks was served from the moment the celebrities and press walked in the door with the house DJ spinning the best music.
The highlight of the day was when we meet Actress Viola Davis – who is a 2 time Oscar winner, 2 time Tony Award Winner, and Primetime Emmy Award Winner. The New York Times ranked Davis ninth on its list of "The 25 Greatest Actors of the 21st Century" and she is the youngest actor and the first African-American to achieve the "Triple Crown of Acting" ! In the below photo she poses for a photo with our TV show host Margie Rey: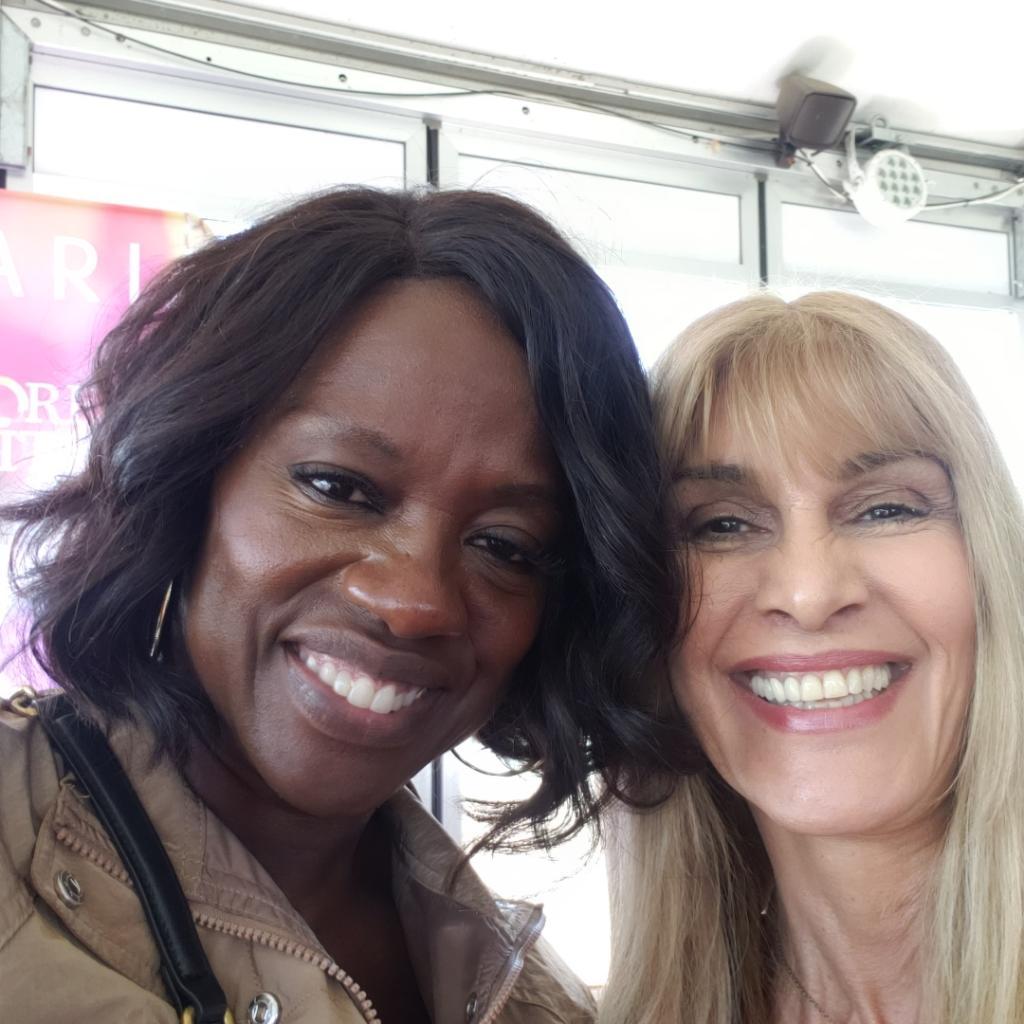 CARDINAL DU FOUR ARMAGNAC
Organization
For over 700 years, "l'aygue ardente" has distinguished itself as one of the world's most noble eaux-de-vie. Best known under the name Armagnac, this brandy rapidly became identified for having 40 virtues due to research conducted in 1310 by Maître Vital du Four. As Cardinal du Four, he was recognized as a great intellect, accomplished theologian, man of science, whom published a celebrated book about his remarkable discoveries, "To keep your health and stay on top form." The original texts have been preciously guarded in The Vatican library in Rome since the 14th century.
This work bestowed an exceptional destiny for the Armagnac region of France. Cardinal du Four Armagnac, 21 Rébellion is a harmonious blend of choice vintages aged in 400-liter French oak casks from the forests of Monlezun and Limousin. The youngest and more vibrant eau-de-vie has been aged for a minimum of 21 years with the oldest Armagnac in the blend dating back from 1976 vintage – 43 years old. Produced from the highest quality grapes of Ugni Blanc, Baco, Folle Blanche and Colombard that are harvested in the Bas-Armagnac and Ténarèze terroirs, these fine eaux-de-vie are distilled from a traditional continuous copper still called the "Alambic Armagnacais." With this honorary creation, we pay tribute to the Cardinal as we continue to ensure that the immortal spirit of Armagnac flourishes. Tasting Experience: Soft and brilliant amber brown color. Floral aromas of jasmine and iris followed by gingerbread spices like nutmeg and cinnamon intertwined with dried fig, caramelized apples and toasted wood vanilla flavors. Long lingering finish with notes of cacao beans and salted caramel. Cardinal du Four Armagnac, 21 Rébellion combines complexity and power with elegance …
In this show you can watch the interview by our TV Show Host: Margie Rey at the Emmy Gift Lounge booth for the Cardinal du Four Armagnac, with the founder of this amazing high-end Brandy.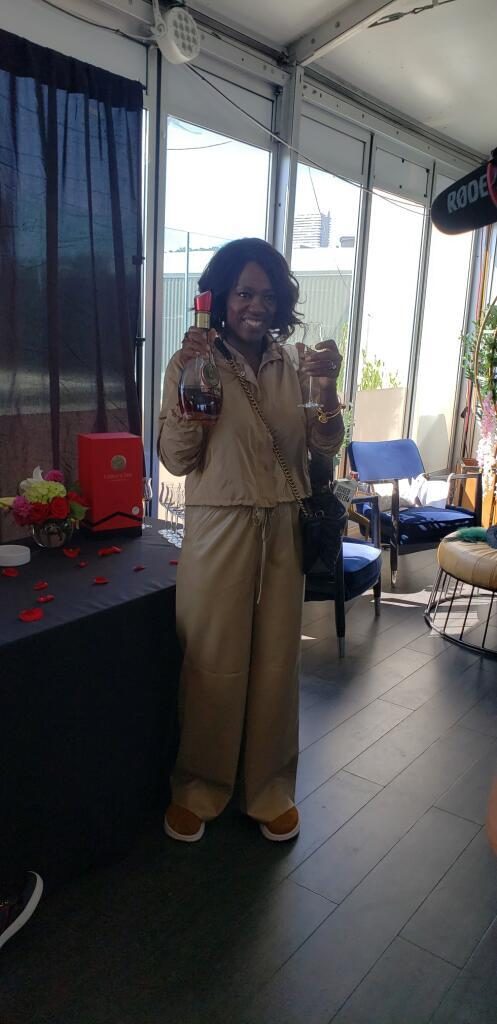 In the photo on the left: Davis holds up a glass of the top of the line "Cardinal Du Four Armagnac" liquor – one of the best quality liquor you will ever try, and it is the Paris 2019 winner of the Gold Medal!  The brand is called: Cardinal du Four Armagnac, 21 Rébellion, which is a Harmonious blend of vintage Armagnacs from 21 to 43 years of age. Cardinal du Four Armagnac pairing experience with Petrossian Caviar. CardinalDuFour.com
Below photo is of TV Producer Steve Taylor talking over dinner with Actor Saul Rubinek, who you would recognize from his many Movie and TV Roles. Saul is a German Born Actor, Director, Producer, and Playwright. Saul starred in movies: Against All Odds, Wall Street, The Bonfire of the Vanities, Unforgiven, Nixon, True Romance, The Express, Barney's Version, and The Ballad of Buster Scruggs; and hit TV shows like: Warehouse 13, Frasier, A Nero Wolfe Mystery, and as Louis B. Mayer on The Last Tycoon!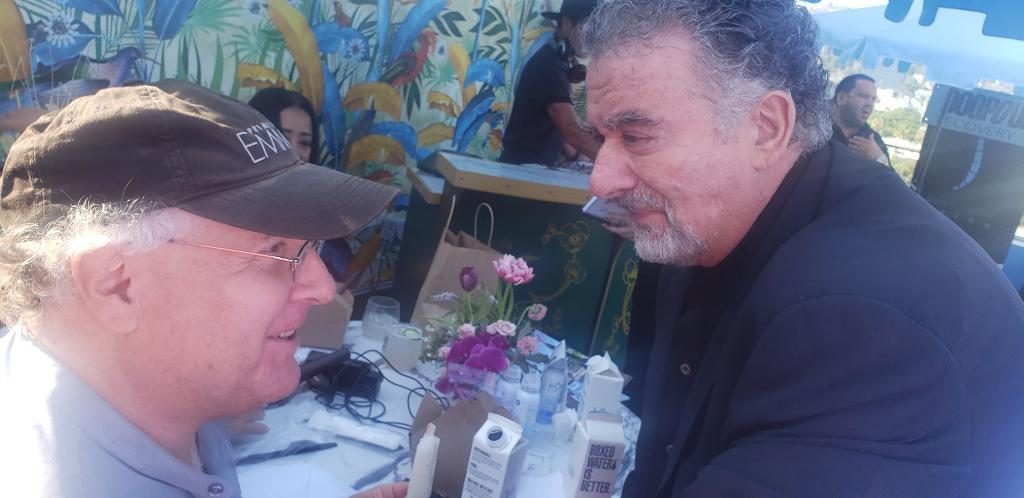 Margie Rey the TV show host for Entertainment Today with The Emmy winner for Best Actress in a Drama Series – Viola Davis, at The Governors Ball for The 67th Emmy Awards: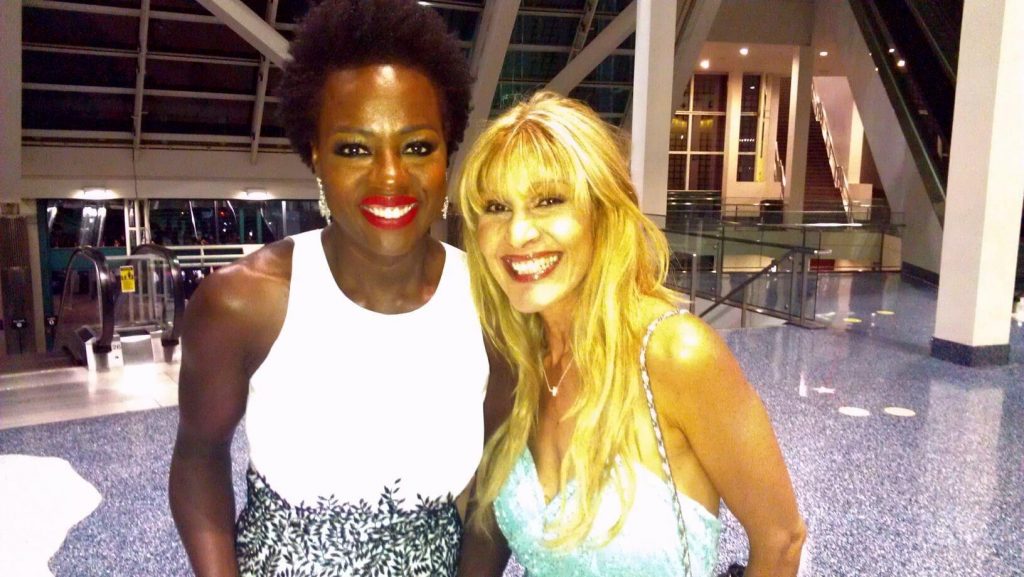 Viola Davis shows me her Emmy that she won for Best Actress in a Drama Series , during the Governors Ball , right after the 67th Emmy Awards in Los Angeles: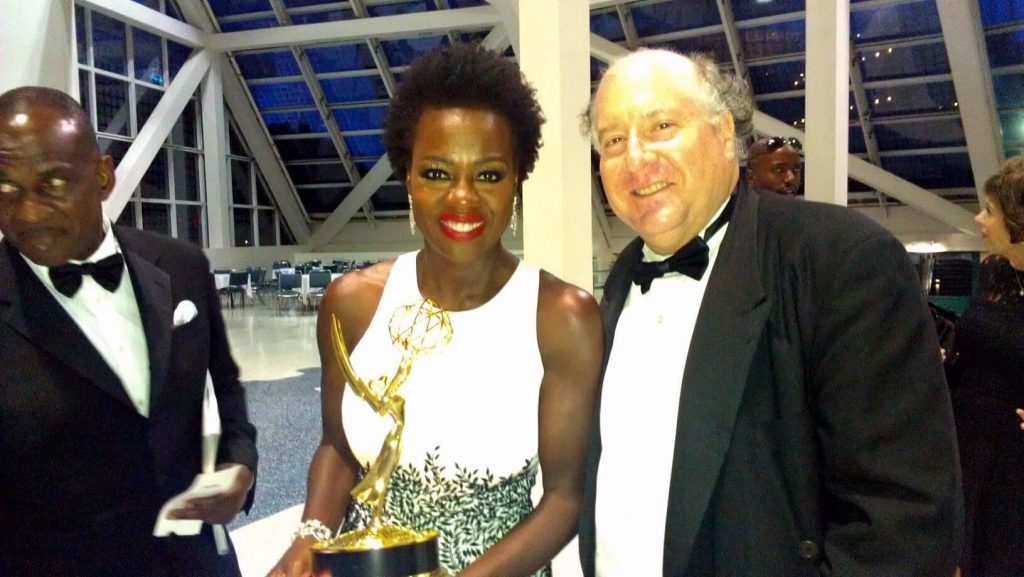 There were many other celebrities there in person, including Emmy winner Evan Peters (Mare of Easttown), Emmy nominee Jeremy Swift (Ted Lasso) & Emmy nominee Renee Elise Goldsberry (Hamilton).
Below are some of the new and hot products of 2021:
| | |
| --- | --- |
| Brand | Brand/ Giveaway Description |
| Blazing Bull Grills | Revolutionary portable gas infrared grill that heats up to 1500 degrees to deliver premium quality taste in any outdoor area. |
| Boxed Water is Better | Pure water in 92% renewable carton and also is a leader in reforestation efforts; recycling is no longer enough, Boxed Water is Better. Gifting a 3-month supply of Boxed Water. They will plant 2 trees for every photo of their box found on social. |
| Cardinal du Four Armagnac, 21 Rébellion | Harmonious blend of vintage Armagnacs from 21 to 43 years of age. Cardinal du Four Armagnac pairing experience with Petrossian Caviar. |
| Cinquieme Gauche Interiors | Full service interior design studio located in Los Angeles, founded by Laëtitia Wajnapel, specializing in modern luxurious interiors with a Parisian touch. Offering gift certificate towards design services and a complimentary design consultation. |
| DJ Aaron Colbert | One of the most sought after DJ's on the West Coast, having performed with some of the most influential brands and venues for over a decade. |
| Dogpound Recovery | We optimize the human body for optimal performance. |
| Elite Aesthetics | Health & Wellness Spa/ Emsculpt NEO Treatment. |
| eOn Hand Sanitizing Mist | 2 fl oz can of eOn Hand Sanitizing Mist and donation of 20,000 cans to Goodwill in the celebrity name. |
| Goodwill Southern California | Through job training and placement services, Goodwill Southern California fulfills its mission: "Transforming lives through the power of work." |
| HempHera Kosmetikos | Greek God & Godesses inspired Luxury NanoAmplified CBD Skincare Collection. Gifting 3-month supply of best selling skincare products as well as a pain relief gift set. |
| Hibachi House LA | Full-service Japanese hibachi dinner at your home for up to 12 guests. |
| James Peter Henry | One-of-a-kind hand-painted duck sweatshirt by Australian artist- Artist residency at Kimpton La Peer Hotel. |
| Joey Emmanuel | Alternative pop & LGBTQ artist whose sound is rooted in easy listening and musical theater. Giving away sophmore EP "See You Again" |
| Kamaria Jewelry | Spiritual jewelry line with butterflies and buddhas made with sterling silver and 24 karat gold plating on adjustable slider chain. Percentage of proceeds supports student survivors of campus sexual assaults. |
| Kimpton La Peer Hotel | 1 night stay in a superior king guest room. |
| Kuleana | Reimagining seafood with sushi-grade fish made entirely of plants. Pre-orded sushi meals for up to 4 guests delivered to your home. |
| Lavie by CK | An African print luxury brand that caters to all sizes and races gifting fashionable African masks, head wraps and dresses.  |
| Magnetic Hair Design | New to the world 100% remy magnetic hair extensions that are super sturdy, light weight and can be put in and taken out by oneself! |
| Medek Health Systems | Giving people reinsurance & safety to get back to life without worrying about Covid-19 through our At-home Covid-19 Rapid test kits. |
| MOSHIQA | High-end lifestyle brand for pet and pet lovers. Gifting "I WOOF U" sweatshirt and t-shirt for dog lovers. |
| MOTEV | Luxury global executive transportation service focused on sustainability by offering electric and hybrid vehicles to transport guests. Giveaway is one airport transfer. |
| NEFT Vodka | 750 ml NEFT Vodka Barrel in either Pride, Black or White options and a NEFT hat. |
| PBF Vanish Inc | Anti-Aging Beauty Products: Triple Ox Serum, Hand Sanitizers, Liquid Luffa Scrub, PFB+Chromabright. |
| PRICE.COM | A one-stop platform for saving money. Gifting a $50 gift certificate and phone charger. |
| Pump Pal | Pump Pal is the first reusable fuel glove that stores in your fuel compartment to help eliminate the use of disposable gloves while offering a convenient sanitary solution. |
| Ringo 4u2c – International Pop Artist | Pop Art with a Cause– All art proceeds used to help inner city youth. Artist of the "Hollywood Stars Collage" Press Wall and gifting a Luxury Pop Sculpture. |
| Sailrock Resort | 3 night stay in villa for Nominees. |
| Sean M Flynn Photography | Limited-edition Fine Art Photographic Print and NFT of "Multnomah Falls" by Sean M Flynn. |
| Session Goods | Designer bongs and pipes that feel and look like home goods and fashion accessories.  |
| She Angels Foundation | Provides grants to female founded non-profits that are helping women to thrive.  |
| St Felix West Hollywood | The last original queer spaces left on the block. Famous for its diva wall and New York style bar. A rare gem and unlike any other bar in West Hollywood. Situated right in the heart of West Hollywood perfect for outdoor dining or classic cocktails at the bar. Gifting an exclusive dinner comp for nominees and a $100 gift certificate. |
| Suavecito Tequila | Astonishing to the taste, with a full line including; Blanco, Reposado, Anejo and Extra Anejo Tequilas, Suavecito is The World's Smoothest Tequila. |
| Sublime Samana Hotel & Residences | Exclusive selection of casitas and suites facing a pristine and secluded sandy beach on the northeast coast of the Dominican Republic. 3-nights of accommodations for 2 adults with breakfast, wifi, spa and beach club access brought to you by Swanky Retreats Magazine |