Bud Light Super Bowl Music Fest Kicks Off In Two Weeks With Previously Announced Line Up Including Imagine Dragons and Kane Brown, Dave Matthews Band with DJ Pee .Wee (Anderson .Paak), and Paramore!
On Location, the official hospitality partner of the National Football League ("NFL" or "The League"), and Bud Light, the official beer sponsor of the NFL, today announced additional performer for the Bud Light Super Bowl Music Fest will include Bleachers.  Celebrating its fourth year, the three-night festival connects the city of Phoenix with the football and music communities as part of the festivities surrounding this year's Super Bowl.  The Bud Light Super Bowl Music Fest will run from Thursday, February 9th to Saturday, February 11th at Footprint Center in Phoenix, AZ.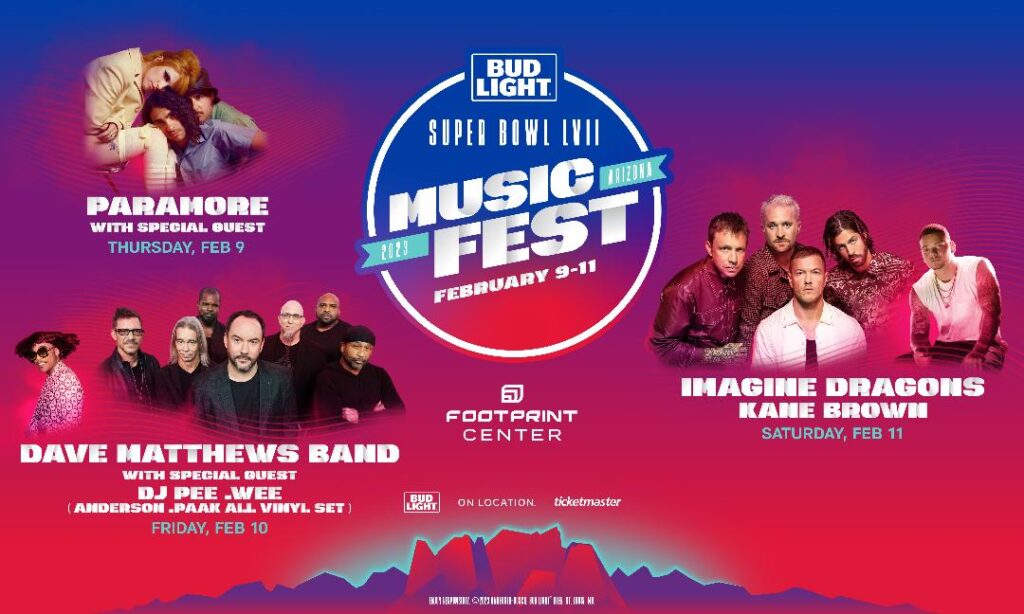 The Bud Light Super Bowl Music Fest kicks off Thursday night with the beloved trio Paramore with special guest  Bleachers, and is followed by Friday Night with the iconic and revered Dave Matthews Band with a DJ set by DJ Pee .Wee (Anderson .Paak).  The three-night music festival wraps Saturday night with the powerhouse lineup of Imagine Dragons and Kane Brown. Tickets are on sale now at superbowlmusicfest.com.
The Bud Light Super Bowl Music Fest—an anchor entertainment event of Super Bowl weekend—continues to redefine the role of music at one of the biggest sporting events in the world. 2019 through 2022 concerts showcased unforgettable cross-genre performances by powerhouse acts and never-before-paired line-ups, including Halsey and Machine Gun Kelly; Gwen Stefani and Blake Shelton; Miley Cyrus and Green Day; Bruno Mars and Cardi B; Post Malone and Aerosmith, Maroon 5 and Dan + Shay, with a special appearance from Demi Lovato; Guns & Roses and Snoop Dogg; and many more.
The three-day entertainment spectacular has set ticket records and received accolades all around: The New York Times has called it the "Extended Super Bowl Halftime Show," and PEOPLE Magazine has cited its "Super Bowl dominance." Last year UPROXXlauded "This annual event is perhaps the biggest non-halftime musical attraction of the weekend,"  and Pollstar proclaimed it "the biggest show… a three-night affair featuring top artists that would be a major event under any circumstances."
In addition to top-level music talent spanning a range of genres, the festival features surprise appearances by celebrities and athletes. An array of premium seating is available, including suite and club packages plus options for premium hospitality.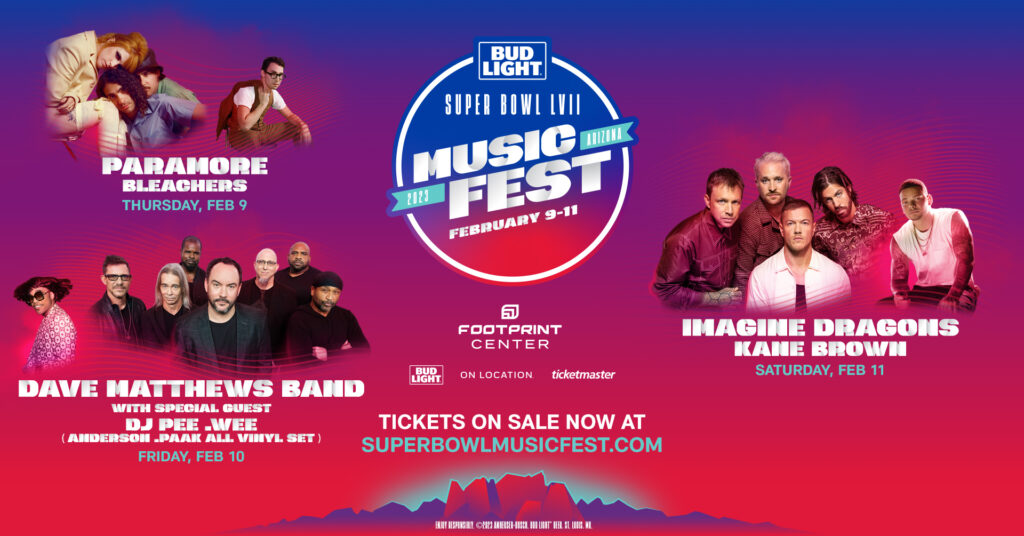 The Bud Light Super Bowl Music Fest is executive-produced by On Location and SYNERGY Productions, LLC.  For more details on tickets and packages to the Super Bowl, visit onlocationexp.com/nfl/super-bowl-tickets.  For more information, please check out @SBMusicFest or visit superbowlmusicfest.com.
BUD LIGHT SUPER BOWL MUSIC FEST SCHEDULE
Thursday, February 9 – Paramore with special guest Bleachers
Friday, February 10 –  Dave Matthews Band with DJ set by DJ Pee .Wee (Anderson .Paak)
Saturday, February 11 – Imagine Dragons and Kane Brown
ABOUT THE PERFORMERS:
PARAMORE
When Paramore revealed they were recording together in January 2022 the response from music fans around the world was immediate and celebratory. In the time since the Grammy-winning, RIAA-certified multi-Platinum band released their last album, After Laughter – and Hayley Williams unveiled two lauded solo albums – Paramore have become more popular than ever. Over the last few years Paramore's influence and popularity has snowballed, as the age of streaming organically propelled them into a position as one of the world's biggest, most culturally compelling rock bands. For the band, who formed as teenagers in Tennessee, their 20-year trajectory has seen them grow from youthful outsiders to bone-fide pop culture icons, permeating the musical landscape by inspiring a new generation of musical talent. Their forthcoming sixth album This Is Why, set for release on Atlantic Records on February 10th, is preceded by the dynamic title track, most immediate worldwide radio hit of the band's career to date.  Globally renowned for their arena-filling and festival-headlining performance prowess, the opportunity to see Paramore play their first theater shows in years created headline news. Their Fall 2022 and UK arena shows for Spring 2023 sold out in minutes. The band are donating a portion of their ticket sales to organizations working in areas of essential community support, including ARC Southeast, Kansas Abortion Funds, Shelter Safe Canada and Support & Feed.
BLEACHERS
Kicking off 2022, Bleachers made their debut performance on NBC's Saturday Night Live, performing two songs including their new single "How Dare You Want More" to mark the seminal show's first episode of the year. Seven-time Grammy® Award-winning singer, songwriter, musician, and producer, Jack Antonoff, is the frontman behind rock band Bleachers. In April 2022, he won the Grammy for Producer of the Year. As of November 2022, Antonoff has been nominated again for the 4th consecutive year. On July 30th, 2021, Bleachers released their highly anticipated third album Take the Sadness Out of Saturday Night via RCA Records. Offering up the first taste of new music in late 2020, Bleachers previewed the album with a series of singles including "Chinatown" ft. Bruce Springsteen and "45," followed by "Stop Making This Hurt," which received a 'Best Alternative Video' nomination at the 2021 MTV VMAs, hit #1 at Triple A and top ten at Alternative radio. Associated Press called the project "terrific," while Entertainment Weekly deemed it "a canny commingling of indie-pop jangle and unabashed arena rock," and Rolling Stone praised its "rock and roll thrillers with punchy pop pleas." Known as one of the best live acts in the world, Bleachers hit the road for their sold-out 'Take the Sadness Out of Saturday Night' headline tour, a multi-city run across North America. The tour, which began in fall 2021, sold out multiple shows at venues including Red Rocks Amphitheatre (Denver, CO), Radio City Music Hall (New York, NY), and Roadrunner (Boston, MA). Take the Sadness Out of Saturday Night serves as the follow-up to their critically acclaimed second album, Gone Now, which came out on June 2nd, 2017. The first single, "Don't Take The Money," hit #3 at Alternative Radio, while The New York Times called Bleachers' music "anthemic life-affirming pop-rock."
DAVE MATTHEWS BAND
With a career spanning over 30 years, Dave Matthews Band is one of the most influential bands in rock history. In 1991, vocalist/guitarist Dave Matthews decided to put some songs he had written on tape and sought the assistance of drummer Carter Beauford and saxophonist LeRoi Moore, who were both accomplished jazz musicians in the local Charlottesville, VA music scene. 16-year-old bassist Stefan Lessard came on board shortly thereafter. Their infectious, distinctive sound garnered lots of early attention and a die-hard loyal fan base, catapulting the band into one of the most successful touring acts of the past three decades. The group has since released nine studio albums and numerous live recordings, selling a collective 38 million CDs and DVDs combined since the 1994 release of its major label debut, Under the Table and Dreaming. The GRAMMY®-winning band's many hits include "What Would You Say," "Crash Into Me," "Too Much," "Everyday," "American Baby," "Funny The Way It Is," "Mercy" and "Samurai Cop (Oh Joy Begin)." Founding member LeRoi Moore passed away in August of 2008 and the band paid tribute to him with 2009's Platinum-certified Big Whiskey and the GrooGrux King. Dave Matthews Band has since welcomed longtime collaborators/touring musicians Jeff Coffin (saxophone), Rashawn Ross (horns) and Tim Reynolds (guitar) into the lineup and – most recently – keyboardist Buddy Strong. With 2018's Come Tomorrow, Dave Matthews Band became the first group in history to have seven consecutive studio albums debut at No. 1 on the Billboard 200. In a Critic's Pick review, The New York Times observed, "willed optimism fills the songs on 'Come Tomorrow,' while cynicism and irony are nowhere within earshot… each song notes the fears and sorrows it's determined to overcome. The music does that, with consolation in its melodies and a life force in its rhythms." Renowned for their live performances, Dave Matthews Band has sold over 24 million tickets since its inception and ranked as the biggest ticket seller worldwide of the past decade. The group's Bama Works Fund, established in 1999, has raised more than $65 million dollars for humanitarian and environmental initiatives. Most recently, the Dave Matthews Band 2022 Tour has committed to help plant an additional one million trees with The Nature Conservancy's Plant a Billion Treesprogram, a global forest restoration effort, having fully funded one million trees in 2020, despite tour rescheduling, and another million trees in 2021.
ANDERSON .PAAK
Born Brandon Paak Anderson in Oxnard, California, as a teen he played drums in his church Band. His transformation into Anderson .Paak, with his debut album Venice and a sophomore release, 2016's Malibu met with universal rave reviews. .Paak is now an 8x GRAMMY Award winner, producer, songwriter, artist & director. Anderson released his highly regarded 2020 single "Lockdown" on Juneteenth. Inspiration for the song came from .Paak's participation in a Los Angeles protest against police brutality. .Paak won the GRAMMY Award for Best Melodic Rap Performance of "Lockdown" and the politically charged video directed by Dave Meyers, garnered .Paak a GRAMMY nom for Best Music Video. "Lockdown" was featured on a multitude of "Best Of" 2020 lists from NPR, The FADER, Complex and President Barack Obama's annual "Favorite Music" list. In October 2020, .Paak was named as Vans' first ever Global Music Ambassador. The artist has an ongoing partnership with the iconic brand that includes exclusive footwear and accessory collections inspired by .Paak's Southern California roots. His directing credits now include the highly regarded Bonnie and Clyde-esque music video for Leon Bridges' "Motorbike." Most recently, .Paak has joined fellow artist Bruno Mars as one half of the R&B superduo, Silk Sonic. Their debut single "Leave The Door Open" garnered over 460 million streams and 350 million official video views. The album's November 12, 2021 release received worldwide critical acclaim and earned the duo 4 Grammys. Anderson .Paak is a multi-hyphenate superstar who will now use his platform to propel new talent into the spotlight with the creation of his very own label APESHIT teaming with UMG.
IMAGINE DRAGONS
Imagine Dragons continue to redefine rock in the 21st century. Filling stadiums, crafting cloud-rattling anthems, and breaking records at every turn, diamond-certified GRAMMY® Award-winning Las Vegas quartet Imagine Dragons occupy rarified air as one of the biggest rock bands in the world. Tallying cumulative sales of 66 million album equivalents, 55 million digital songs, and 110 billion streams, they stand out as "the only band in history to earn four RIAA Diamond singles," namely "Radioactive" (14x-platinum), "Believer" (10x-platinum), "Demons" (10x-platinum), and "Thunder" (10x-platinum). Since emerging in 2009, they've scored five consecutive Top 10 debuts on the Billboard Top 200 with Night Visions [2012] (7x-platinum) (KIDinaKORNER/Interscope), Smoke + Mirrors [2015] (platinum) (KIDinaKORNER/Interscope), Evolve [2017] (triple-platinum) (KIDinaKORNER/Interscope), Origins [2018] (platinum)( KIDinaKORNER/Interscope), and Mercury – Act 1 [2021]( KIDinaKORNER/Interscope). With the release of Mercury – Act 2(KIDinaKORNER/Interscope) in 2022, they completed their first double-album opus produced by the legendary Rick Rubin. The hit single "Bones," featured on Mercury Act 2, recently went to number one at Alternative Radio and remains in the Global Top 50 on Spotify. Dominating radio, they remain "one of only four bands to ever achieve simultaneous Top 5 singles at Alternative radio, and the only band to repeat this feat." They've collaborated with everyone from Kendrick Lamar, Lil Wayne, and Wiz Khalifa to Avicii and film composer Hans Zimmer. Giving back, they've raised millions for various causes, including their pediatric cancer charity the Tyler Robinson Foundation, and frontman Dan Reynolds' LOVELOUD Foundation and festival in support of LGBTQ+ youth. In 2022, Ukrainian president Volodymyr Zelensky named them ambassadors for UNITED 24, which benefits humanitarian aid in Ukraine. Most recently, Imagine Dragons earned an impressive four nominations for the 2022 American Music Awards including "Favorite Pop Duo or Group," "Favorite Rock Artist," "Favorite Rock Album" and "Favorite Rock Song." The band was also nominated for "Group of 2022" for the 2022 People's Choice Awards.
KANE BROWN
Since the arrival of his self-titled, 2X Platinum debut album in December 2016, Kane Brown has ascended from social media notability to become one of country music's most accomplished mainstays while continuing to expand the perception of country music and break musical boundaries. Named to the Time100 list of the most influential people in the world, Brown has released 2 studio albums, 3 EP's, has over 12 billion streams, multiple Multi-Platinum, Platinum and Gold RIAA certifications, sold out arenas all across the country, collaborated with some of the industries finest, is the recipient of 5 American Music Awards, and was the first black solo artist to receive an ACM Award for Video of the Year for his emotionally charged hit single "Worldwide Beautiful." Both of Brown's studio albums reached #1 on Billboard's Top Country Albums Chart while Experiment reached #1 on Billboard's Top 200 Chart and his self-titled album reached #5. Upon the release of his Kane Brown Deluxe Version in October 2017, Brown made history as the first artist ever to lead all five of Billboard's main country charts simultaneously. The album went on to reign at #1 for 13 consecutive weeks while the singles "Heaven" and "What Ifs" are the 3rd and 7th most streamed country songs of all time. Brown's sophomore album Experiment debuted No. 1 on the Billboard 200 and solidified Brown as the only male country artist in more than 24 years to achieve this all-genre chart feat. Experiment produced three back-to-back Double Platinum No. 1 hits and was ranked by The New York Times as one of the Top 10 Best Albums of the Year. He also continues to top the country airplay chart with 7 #1's while building his profile on the Pop charts with multiple Top 15 hits.  Known for his high energy on the stage, Brown has sold out venues all over the country. His most recent Blessed & Free Tour, marked the first time a country artist has brought their headlining tour to all 29 NBA Arenas. The tour also saw Brown sell out Los Angeles' Crypto.com Arena making Brown the 10thCountry artist to accomplish this feat. Continuing to push beyond the country genre Brown has collaborated with some of the industries favorites from all genres including DJ Marshmello, Khalid and Swae Lee, blackbear, Nelly, John Legend, Camila Cabello, Brooks & Dunn, Lauren Alaina and Becky G. Brown's most recent "Famous Friends" with Chris Young became Billboard's 2021 year-end No. 1 Country Airplay Song and remained in the Top 5 of Billboard's airplay chart for 15 weeks.  With the release of Brown's most recent album, Different Man, i. September 2022, Brown took " his hitmaker status to the next level" (Associated Press). Featured by The New York Times, The LA Times, AP and more, the project earned rave reviews with The NY Times noting, "Kane Brown Didn't Fit the Country Music Mold. So He Made His Own."
ABOUT ON LOCATION 
On Location is a premium experience provider, offering world-class hospitality, ticketing, curated guest experiences, live event production, and travel management across sports, entertainment, and fashion. From unrivaled access for corporate clients to guests looking for fully immersive experiences at marquee events, On Location is the premier and official service provider to over 150 iconic rights holders, such as the IOC (Paris 2024, Milano Cortina 2026, LA 2028), NFL, NCAA, UFC and PGA of America, and numerous musical artists and festivals. The company also owns and operates a number of unique and exclusive experiences, transforming the most dynamic live events into a lifetime of memories. On Location is a subsidiary of Endeavor, a global sports, and entertainment company.
ABOUT BUD LIGHT
The Bud Light brand name represents a family of products including Bud Light, Bud Light Seltzer, Bud Light NEXT, Bud Light Peels, Bud Light Chelada, Bud Light Platinum and Bud Light Platinum Seltzer. At the forefront of innovation, Bud Light continues to expand its product portfolio, offering a wide range of products brewed to meet the ever-changing preferences of consumers everywhere. Since 1982, Bud Light has delivered the best-selling premium light lager in America that is consistently brewed with a fresh, clean finish. For more information about Bud Light and our full family of products, visit www.BudLight.com.
ABOUT FOOTPRINT CENTER
Located in the heart of Downtown Phoenix, for more than 30 years Footprint Center has been the home of the Phoenix Suns, Phoenix Mercury, Arizona Rattlers and a multitude of live concerts and events each year. Following a $245 million transformation, Footprint Center is the preeminent destination for sports and entertainment in the southwest. The reimagined arena features state-of-the-art improvements that offer a world-class experience to all who step inside the doors. For more information, visit FootprintCenter.com.
Fourth Edition of Super Bowl Music Fest at Footprint Center in Phoenix, AZ to Kick off on Thursday February 9th
Tickets On Sale Now at superbowlmusicfest.com and Ticketmaster