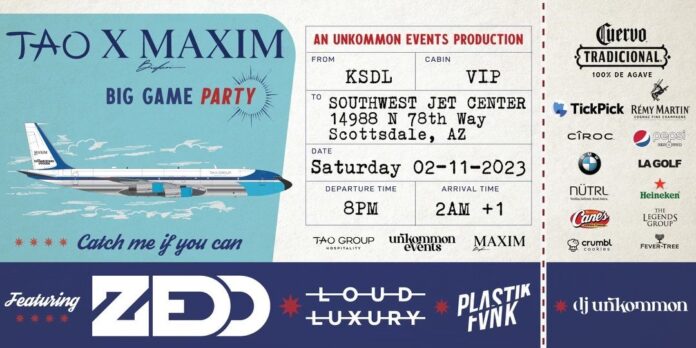 There will be a very big Exclusive Super Bowl Party on Saturday, February 11, 2023 in Scottsdale, AZ. : The TAO X MAXIM BIG GAME PARTY: CATCH ME IF YOU CAN, with live performances by GRAMMY Award-Winning artist Zedd, Loud Luxury, Plastik Funk, DJ unKommon and many more ! Below left photo of Zedd: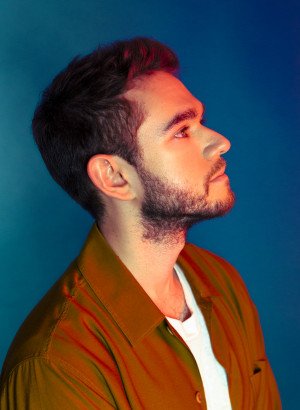 This will be produced by: MAXIM, unKommon events, and The Tao Group Hospitality for the first annual VIP event, which consistently attracts a curated guest list of the top celebrities, athletes, and performers for a night of revelry on the eve of the big game. This year's TAO X MAXIM BIG GAME PARTY will take place at the new, sprawling Southwest Jet Center in the heart of Scottsdale, and is sure to be the hottest ticket in town! Befitting of the hangar locale – the event will adopt a 'Catch Me if You Can' theme punctuated by 1960s mod glamour and sophistication that call back to the early days of air travel. Guests at the aviation-inspired soiree will enjoy subtle nods to the theme throughout their experience – from checking in at an airport counter-inspired desk and passing through security checkpoints, to being directed to their tables by ground crew members wielding illuminated tarmac wands.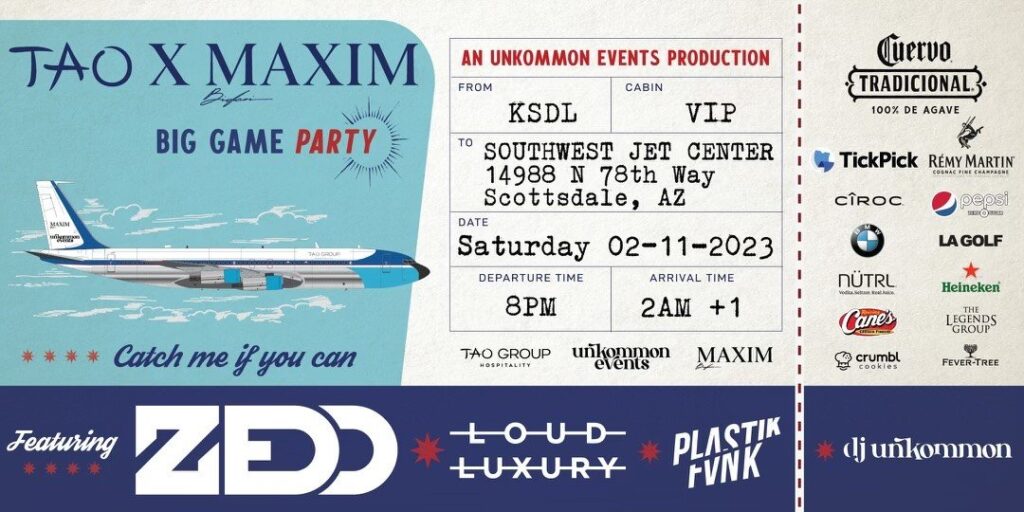 Once inside the hangar, guests will enjoy delicious food, bottle service, and open bars stocked with top-shelf liquor. The experiential wonderland will also boast unique brand activations, including a futuristic display launching the world's first color-changing vehicle, the BMW XM from BMW, signature Jose Cuervo Tradicional cocktails including the Cuervo Margarita, Noche Electrica and Electric Highball in the Cuervo Cristalino Lounge set in a swanky airplane fuselage, an exclusive opportunity with TickPick to purchase VIP tickets that grant access to the TickPick OnStage Table Lounge, a silent auction space hosted by Legends for Charity and photo opportunity for guests with the Lombardi Trophy which will be awarded to the winning team on Sunday, an innovative putting experience from LA Golf, food offerings from Raising Cane's and Crumbl, and much more. Additional sponsors for the evening include Fever Tree, Rémy Cointreau, Heineken, Pepsi, Ciroc, Nutrl, and Red Bull.
We have been to many Maxim events over the years, and they always draw the biggest events in Sports and Showbiz!  "We are thrilled to once again be bringing the Maxim Big Game Party to the biggest weekend in sports," said Maxim Owner Sardar Biglari. "We're excited to take the party to Scottsdale this year and to collaborate with unkommon events and Tao Group Hospitality to deliver the most epic experience to date."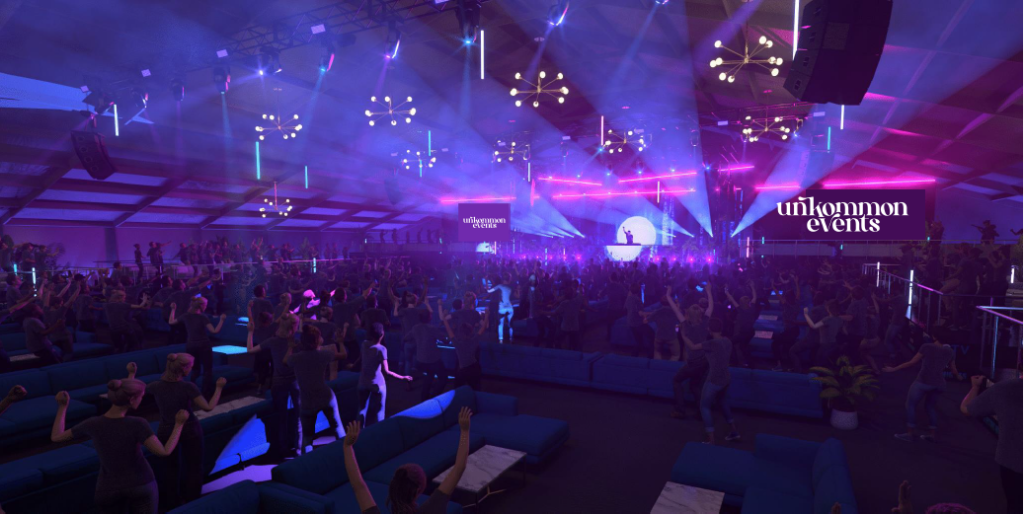 unKommon events will once again produce the one-night-only event, bringing over a decade of experience in white glove hospitality and nightlife entertainment. The team will oversee the transformation of the newly constructed, 40,000 square foot airport hangar which will be fully equipped with state-of-the-art sound, staging, and lighting, as well as custom furniture and finishing's, providing all of the luxuries associated with a permanent structure.
"Our goal with every event we produce is to provide the most unique and memorable guest experience possible and to continue to outdo ourselves each time," said Seth Kaplan, founder of unKommon events. "One way we accomplish this is by bringing in high caliber partners like Tao who are equally obsessed with this same outcome. From this year's distinctive hangar setting to bringing in first-class performers like Zedd, we've leveled up once again and are excited for guests to experience everything we have in store."  "The TAO X MAXIM BIG GAME PARTY will be a once-in-a-lifetime experience during one of the most exciting weekends of the year", said Tao Group Hospitality COO Paul Goldstein. "We are excited to take this legendary event to new heights and are ready to deliver an exceptional entertainment experience." Bringing together these two brands around this cultural moment just makes sense and we are excited to work with unKommon events to take this legendary event to new heights. From the iconic performers that will take the stage, to the 'Catch Me If You Can' decor that will transform the airport hangar, we are ready to deliver an exceptional entertainment experience."
The TAO X MAXIM BIG GAME PARTY is consistently the most sought-after party of the weekend, playing host to the biggest names across sports, music, and entertainment, with past attendees including: A$AP Rocky, Adrienne Bailon, Alyssa Milano, Anna Faris, Brie and Nikki Bella, Camille Kostek, Cardi B, Chris Evans, Dak Prescott, Dez Bryant, Diplo, DJ Khaled, Fergie, Flo Rida, Floyd Mayweather, Future, G-Eazy, Halsey, Heidi Klum, Jamie Foxx, Joe Jonas, Justin Bieber, Kevin Hart, Larry Fitzgerald, Lil Nas X, Lil' Wayne, Ludacris, Megan Thee Stallion, Nick Cannon, Odell Beckham Jr., Patrick Mahomes, Paul McCartney, Post Malone, Saquon Barkley, Terrell Owens, Teyana Taylor, The Chainsmokers, Victor Cruz, and many more.
TickPick is the official onstage ticket partner of the TAO X MAXIM BIG GAME PARTY. Exclusively on TickPick, TickPick customers will have the opportunity to purchase VIP tickets that grant access to the TickPick OnStage Table Lounge-see www.TickPick.com.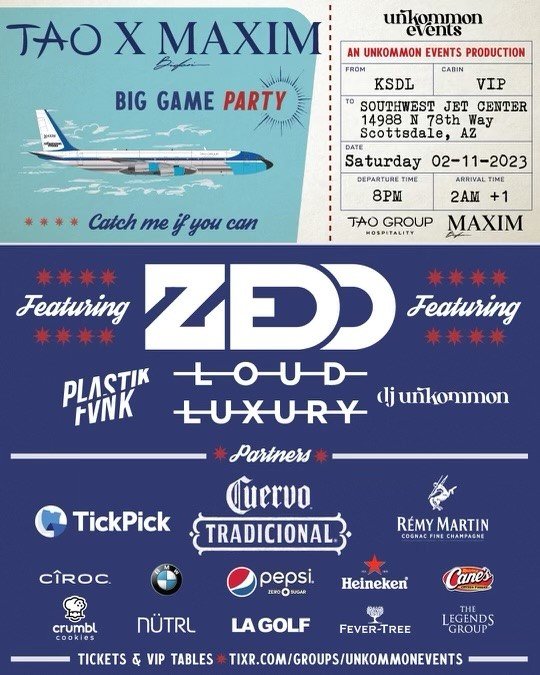 Additional musical performers, celebrity attendees and brand partners will be announced. For additional details, sponsorship opportunities, hospitality, and experiential table and ticket packages or to inquire about programming opportunities at the one-of-a-kind venue, please contact: maximsb@unkommonevents.com.
MAXIM is a luxury lifestyle brand with a voice that is aspirational and inspirational.  It publishes 11 editions distributed in 75 countries.  MAXIM celebrates the best of the best by covering the most beautiful women in the world, exotic destinations, supercars, as well as self-made business titans and superstar athletes. 
From the founder of In the Know Experiences, unKommon events is a fullservice event management and production company with strong expertise in high-end live entertainment experiences, event sponsorships, nightlife and marketing industries. With over a decade of experience, unKommon specializes in taking events to another level, managing front of house & ticketing operations, experiential hospitality sales, event sponsorship, logistics and production for premiere exclusive events around the globe.
Tao Group Hospitality delivers distinctive culinary and premium entertainment experiences through its portfolio of restaurants, nightclubs, lounges, and day-life venues. Tao Group Hospitality acquired Hakkasan Group in April 2021. The combined company operates more than 70 branded locations in over 20 markets across five continents and features a collection of widely recognized hospitality brands. These include TAO, Hakkasan, OMNIA, Marquee, LAVO, Beauty & Essex, Wet Republic, Yauatcha, Ling Ling, Cathédrale, Little Sister, The Highlight Room, Sake No Hana, Jewel, and more. Tao Group Hospitality is part of Madison Square Garden Entertainment Corp. (MSG Entertainment) (NYSE: MSGE), a leader in live experiences.
We have been to the Tao Nightclub at the Venetian Hotel & Casino, and the Omnia Nightclub in Caesars Palace – both in Las Vegas, many times before , and they are always packed and first class!  See you at the Super bowl !