Soccer Legend Pelé, the Brazilian king of soccer, who became one of the most commanding sports figures of the last century, Sports Hero for Brazil and the world; the Brazilian "national treasure", and the three-time World Cup winner – died on Thursday December 29th, 2022 at the age of 82 from multiple organ failure due to the progression of colon cancer that he had since 2021. Pelé died in Albert Einstein Israelita Hospital in São Paulo, Brazil. Pelé was always a very kind man, and giving of his time, and a true Legend and Sports Hero! He will be missed by the Sports world, and the entire world!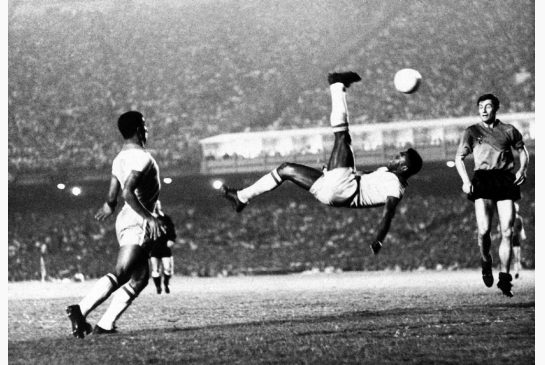 Our above featured photo is of the historic soccer kick that showed off the greatness of Pelé as a skilled athlete and soccer legend: the bicycle kick. Of all the awe-inspiring goals that can be scored in a soccer game — outside-the-box screamers, curling free kicks, cheeky chips, solo run stunners, even those that come off the Hand of God — none are as spectacular as the bicycle kick. The overhead acrobatic practically transcends the game itself, a feat so obviously insane and incredible! The lineage of the bicycle kick doesn't begin with the Pelé (in Spanish, the maneuver is widely known as a "chilena," nodding to its reported early 20th-century origins in Chile), but the footballing great — who died Dec. 29, 2022 at the age of 82 — was instrumental in popularizing it in the modern imagination.
The bicycle kick is known to be one of the most difficult kicks to execute on a football field. It is even harder than the scissors kick: the leg motion used in sidestroke is called the scissors kick, in which the legs open slowly, under leg backward, upper leg forward, both knees slightly bent, and toes pointed. The scissoring action of the legs coming smartly together after opening creates the forward propulsion of the kick. Watching a successful bicycle kick during a game is one of the most awe-inspiring moments for any fan of the sport. While many players have gone to score some marvelous goals using this kick over the years, Brazilian and footballing legend Edson Arantes do Nascimento aka Pelé is the man responsible for its popularization. When Pelé was talking about it in his book 'Why Soccer Matters', he too seemed to be unsure of how many overhead goals he had scored in his career. Such was the rarity of the move at that time.  Pelé said:"The bicycle kick is not easy to do. I scored 1,283 goals, and only two or three were bicycle kicks."
While playing for Brazil- Pelé executed one with ease against Belgium in 1968, scoring whilst his back was towards the goal. It was an amazing shot by Pelé levitating upside-down, ball rocketing off his leg stretched out at a 90-degree angle, that just looked impossible to make! On the internet there is one great clip of a 1976 overhead goal from his time with the New York Cosmos. But funnily enough, the most common video you'll find is actually of Pelé executing the move, not in a game, but in a scene from the 1981 John Huston sports-war film, Escape to Victory (Pelé's costars included Sylvester Stallone, Michael Caine, and Max von Sydow). Go to the above link and Copy & Paste to see this clip from the movie. 
In this movie Pelé steals the show, with his great acting and soccer skills that make this an emotionally packed movie, with great momentum, and a great climax with Pelé's unbelievable shot, to save the day for his team of Allies! This is my favorite movie that Pelé starred in, and one of my favorite Sports movies of all time! A clip of this historic shot that was made by Pelé was used in every opening of the award winning Sports TV series: the "Wide Word of Sports" on ABC TV. (You can read more about this movie further down below in this story.)
On this past TV Broadcast repeat episode from 2017, show you can see part of our 2012 exclusive interview with this legend of the sporting world: Pelé! Our Sports Reporter: Garry Parmett, did a great interview with this Soccer legend! At 17:05 into this show is this historic interview, running till 17:51. In addition, there are many more interviews from A-List Celebrities from the worlds of Movies, TV, Music, and Sports, taken from some of the biggest events in Showbiz, and the World of Sports!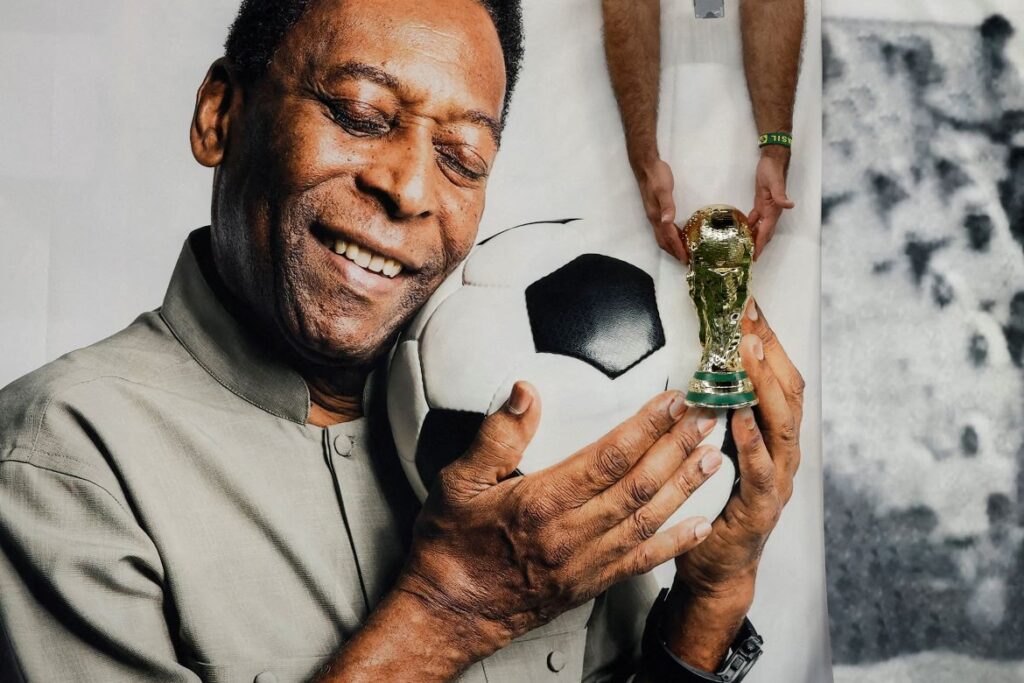 "Pelé changed everything. He transformed football into art, entertainment," Neymar, a fellow Brazilian soccer star, said on Instagram. "Football and Brazil elevated their standing thanks to the King! He is gone, but his magic will endure. Pelé is eternal!" Widely regarded as one of soccer's greatest players, Pelé spent nearly two decades enchanting fans and dazzling opponents as the game's most prolific scorer with Brazilian club Santos and the Brazil national team. His grace, athleticism and mesmerizing moves transfixed players and fans. He orchestrated a fast, fluid style that revolutionized the sport — a samba-like flair that personified his country's elegance on the field. He carried Brazil to soccer's heights and became a global ambassador for his sport in a journey that began on the streets of Sao Paulo state, where he would kick a sock stuffed with newspapers or rags. In the conversation about soccer's greatest players, only the late Diego Maradona, Lionel Messi and Cristiano Ronaldo are mentioned alongside Pelé. Different sources, counting different sets of games, list Pelé's goal totals anywhere between 650 (league matches) and 1,281 (all senior matches, some against low-level competition.). 
The player who would be dubbed "The King" was introduced to the world at 17 at the 1958 World Cup in Sweden, the youngest player ever at the tournament. He was carried off the field on teammates' shoulders after scoring two goals in Brazil's 5-2 victory over the host country in the final. Injury limited him to just two games when Brazil retained the world title in 1962, but Pelé was the emblem of his country's World Cup triumph of 1970 in Mexico. He scored in the final and set up Carlos Alberto with a nonchalant pass for the last goal in a 4-1 victory over Italy.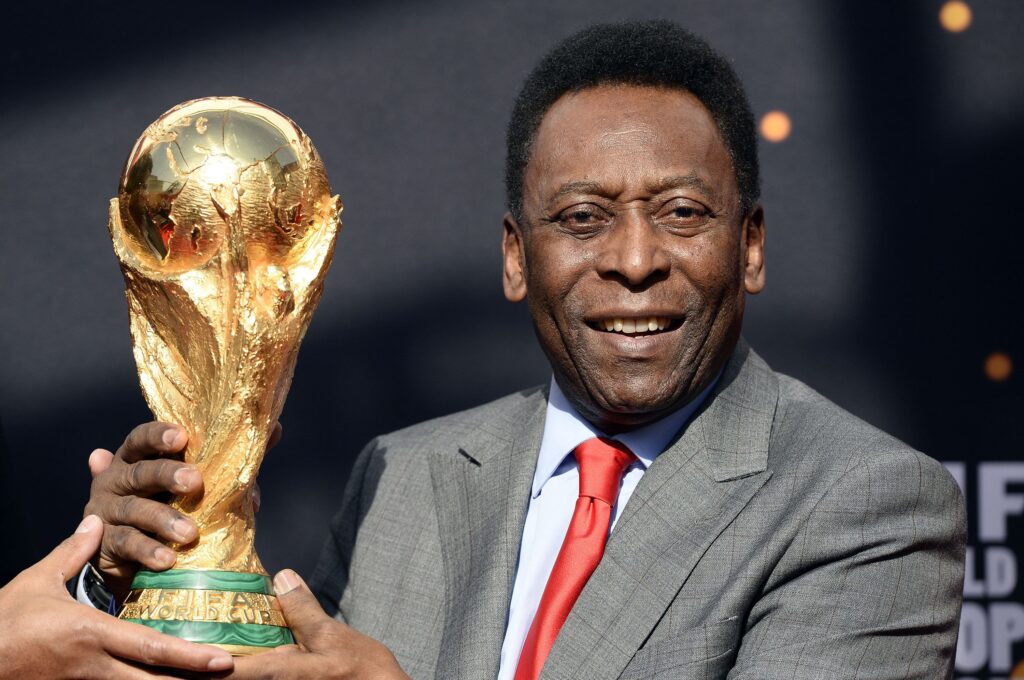 The image of Pelé in a bright, yellow Brazil jersey, with the No. 10 stamped on the back, remains alive with soccer fans everywhere. As does his trademark goal celebration — a leap with a right fist thrust high above his head. Pelé's fame was such that in 1967 factions of a civil war in Nigeria agreed to a brief cease-fire so he could play an exhibition match in the country. He was knighted by Britain's Queen Elizabeth II in 1997. When he visited Washington to help popularize the game in North America, it was the U.S. president who stuck out his hand first: "My name is Ronald Reagan, I'm the president of the United States of America," the host said to his visitor. "But you don't need to introduce yourself because everyone knows who Pelé is."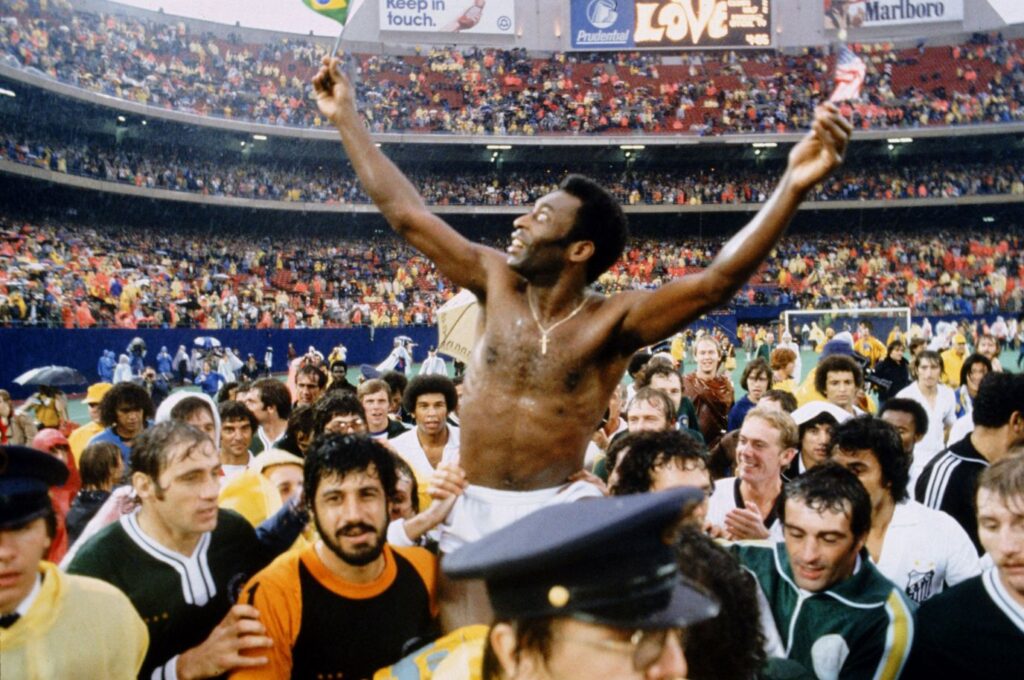 In 1975, Pelé joined the New York Cosmos of the North American Soccer League. Although 34 and past his prime, Pelé gave soccer a higher profile in North America. He led the Cosmos to the 1977 league title (see above photo) and scored 64 goals in three seasons. I was lucky enough to have meet Pelé when he was playing with the NY Cosmos, when I was a middle and long distance runner: the mile run, and Cross Country.  The Stadium where the Cosmos played at that time was on Randall's Island, that had a 1/4 mile running track and football field inside the oval track, where I was able to sit in the dugout in Pelé's seat, next to his locker.  I was also very lucky to meet Pelé again at the 1984 Olympic Games in Los Angeles, at The Rose Bowl in Pasadena, California, when Team USA was playing a soccer match there.
 Pelé ended his career on Oct. 1, 1977, in an exhibition between the Cosmos and Santos before a crowd in New Jersey of some 77,000. He played half the game with each club. Among the dignitaries on hand was perhaps the only other athlete whose renown spanned the globe — Muhammad Ali. Pele and Muhammad Ali have been close since the height of their sporting careers: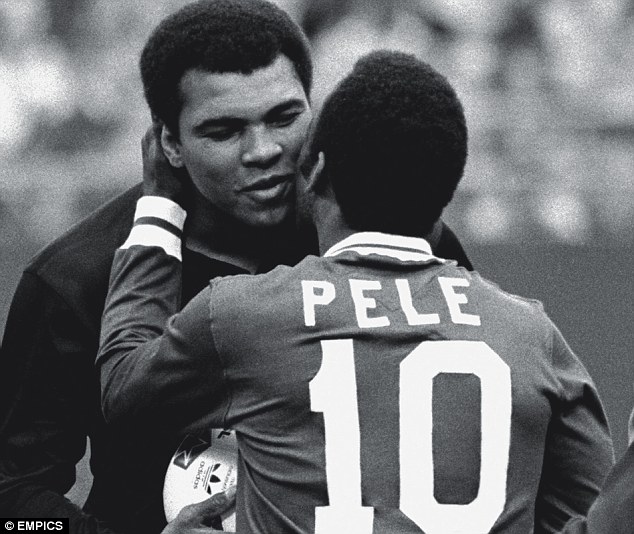 Edson Arantes do Nascimento (Brazilian Portuguese: [ˈɛtsõ (w)ɐˈɾɐ̃tʃiz du nɐsiˈmẽtu]; born 23 October 1940), known as Pelé (Brazilian Portuguese: [pe̞ˈlɛ]), is a retired Brazilian professional footballer who played as a forward. He is widely regarded as the greatest football player of all time. Pelé has also been known for connecting the phrase "The Beautiful Game" with football. In 1999, he was voted World Player of the Century by the International Federation of Football History & Statistics (IFFHS). That year, France Football asked their former Ballon d'Or winners to choose the Football Player of the Century; they selected Pelé. In 1999, Pelé was elected Athlete of the Century by the IOC. That year, Time named him in their list of 100 most influential people of the 20th century. In 2013, he received the FIFA Ballon d'Or Prix d'Honneur in recognition of his career and achievements as a global icon of football.
According to the IFFHS, Pelé is the most successful league goal-scorer in the world, scoring 1281 goals in 1363 games, which included unofficial friendlies and tour games. He was listed in the Guinness World Records for most career goals scored in football for this. During his playing days, Pelé was for a period the best-paid athlete in the world. In Brazil, he is hailed as a national hero for his accomplishments in football and for his outspoken support of policies that improve the social conditions of the poor. In 1961, Brazil President Jânio Quadros had Pelé declared a national treasure. During his career, he became known as "The Black Pearl" (A Pérola Negra), "The King of Football" (O Rei do Futebol), "The King Pelé" (O Rei Pelé) or simply "The King" (O Rei).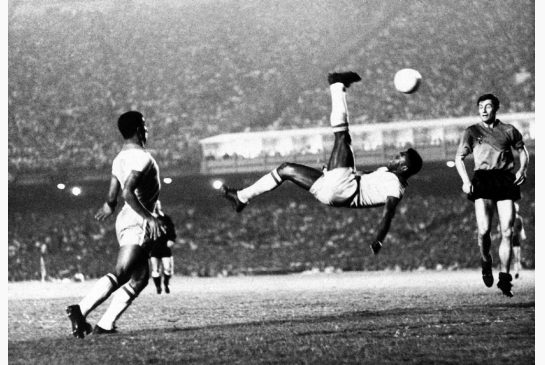 Pelé's life after soccer took many forms. He was a politician — Brazil's Extraordinary Minister for Sport — a wealthy businessman, and an ambassador for UNESCO and the United Nations. He had roles in movies, soap operas and even composed songs and recorded CDs of popular Brazilian music.
My favorite movie that Pelé was in, is 1981's  "Victory" where Pelé Co-starred with: Sylvester Stallone, Michael Caine, and Max von Sydow. The head of a German POW camp, soccer enthusiast Karl von Steiner (Max von Sydow) organizes a match between Nazi players and their Allied captives. Orchestrated as a way to push the Third Reich agenda, the high-profile game is set to feature an international team led by John Colby (Michael Caine), a veteran British player. While the team, which also includes Luis Fernandez (Pelé) of Trinidad, trains for the match, Robert Hatch (Sylvester Stallone) plans a dangerous mass escape from the camp. This movie also had real life soccer stars at that time: Bobby Moore as Terry Brady, Osvaldo Ardiles as Carlos Rey, and Paul Van Himst as Michel Fileu.
Born Edson Arantes do Nascimento, in the small city of Tres Coracoes in the interior of Minas Gerais state on Oct. 23, 1940, Pelé grew up shining shoes to buy his modest soccer gear.
Pelé began playing for Santos at age 15 and the Brazil national football team at 16. During his international career, he won three FIFA World Cups: 1958, 1962 and 1970, being the only player ever to do so. Pelé is the all-time leading goal scorer for Brazil with 77 goals in 92 games. At club level he is also the record goal scorer for Santos, and led them to the 1962 and 1963 Copa Libertadores. Pelé's "electrifying play and penchant for spectacular goals" made him a star around the world, and his club team Santos toured internationally in order to take full advantage of his popularity. Since retiring in 1977, Pelé has been a worldwide ambassador for football and has made many acting and commercial ventures. In 2010, he was named the Honorary President of the New York Cosmos.
A funeral was planned for Monday and Tuesday, with his casket to be carried through the streets of Santos, the coastal city where his storied career began, before burial. Tributes from around the world have poured in ever since, with people of all ages flocking to his 24-hour public wake in Santos, Brazil, which began on Monday at Santos' 16,000-seater stadium, popularly known as "Vila Belmiro."  More than 230,000 people, many wearing Brazil's iconic yellow jersey, had attended the wake, according to Santos. This city, it appeared, was asleep. The streets were empty, the shops were closed and a dog howled in the distance. Then, a few blocks from the soccer stadium that put the port city of Santos on the map, there were signs of life. Lots of it. Popcorn vendors. Men grilling meat. A group hawking T-shirts. And a hair salon charging for its bathroom.
It was 3 a.m., and thousands of people were queued in an orderly line stretching around two-thirds of a mile, waiting to see the body of one of history's most magnificent athletes in its final moments before entombment. The soccer star Pelé's 24-hour wake was in its 17th hour, and by the looks of the crowd, one day might not have been enough. The Santos soccer club estimated that 230,000 mourners had been through the stadium.
On this episode from a recent repeat TV Broadcast–Entertainment & Sports Today & Entertainment Today – Superstar TV Special #7 interviews : Justin Bieber, Matt Damon, Samuel L Jackson, Michael Douglas, Kirk Douglas, Steve McQueen, Brad Pitt, Anjelina Jolie Paul Giamatti Sandra Bullock Johnny Depp Billy Bob Thornton Virginia Madsen Vince Vaughn, Kevin Costner, Nicolas Cage, Chris Hemsworth, Anthony Hopkins from Thor, Mike Tyson, Sylvester Stallone and Harrison Ford from the big hit movie that is coming out on Blu-Ray & DVD: The Expendables 3 . Concert clips from Pharrell Williams who sings Happy , Barry Manilow, Britney Spears, Pelé and Muhammad Ali: born Cassius Marcellus Clay Jr.;- January 17, 1942 – June 3, 2016, was an American professional boxer and activist. He is widely regarded as one of the most significant and celebrated sports figures of the 20th century. From early in his career, Ali was known as an inspiring, controversial, and polarizing figure both inside and outside the ring.
For more TV shows & great interviews go to:
EntertainmentandSportsToday.com
For more info on upcoming events go to:
TheExpendables3Film.com
BuenaParkExhibitions.com :
Titanic The Experience and Bodies the Exhibition
CircusVargas.org
For products and services that you saw on our show :
CaliforniaGreenPress.com
MegaBus.com
FrontiereNaturalMeats.com
Special thanks to our news team staff and crew of  :  Greg Pyatt , Margie Rey, Steve Taylor, JJ Casper , Chris Owen , Kalpana Pandit , Sandeep Reen , Clifford Janke , Marcel Strickler, Garry Parmett , William De Temple,  and Renee Esebag for working on this TV show. Many more TV episodes to come !
& Thanks for watching !! EntertainmentAndSportsToday.com  Facebook.com/EntertainmentAndSportsToday