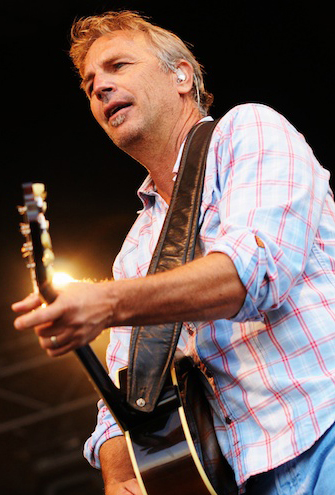 On this episode of Entertainment Today TV , our News Reporter : Greg Pyatt interviews the Legendary actor Kevin Costner . This has been edited down from about 20 minutes, since Kevin was so gracious to give us so much time for this very exclusive interview, during The CES Convention in Las Vegas. Greg talks to Kevin about his great Award Winning Movie career both as as Actor and Director, making movies, and other interesting behind the scenes stories . Did you know that Kevin is also into Music , and has his own band ? Right after the interview we all watched his concert – and he is a very good musician : 
Kevin is the singer in Kevin Costner & Modern West, a country rock band which he founded with the encouragement of his wife Christine. In October 2007, they began a worldwide tour which included shows in Istanbul and Rome. The group also performed at NASCAR Sprint Cup Series races at Daytona International Speedway and Charlotte Motor Speedway in Concord, North Carolina. The band released a country album, Untold Truths, on November 11, 2008, on Universal South Records. The album peaked at No. 61 on the Billboard Top Country Albums and No. 35 on the Top Heatseekers chart. Three singles ("Superman 14", "Long Hot Night" and "Backyard") have been released to radio, although none have charted. For the single "Superman 14" a live music video was made. The most recent album released by Kevin Costner and Modern West, Tales from Yellowstone, was written by Costner and his co-writers from the perspective of John Dutton, Costner's character on the hit TV series Yellowstone. Songs from the album were featured on Season 3 of the show.
Greg Pyatt is one of our lead reporters, and has been working for our TV show for over 25 years , and specializes in Celebrities, Movies, TV, Technology, Theatre, and Music related interviews , as Greg is a Tenor Singer, and an award winning stage actor for Theatre, Commercial Actor, and has starred in many hit plays and musicals that you may have seen.  So stay tuned to Entertainment Today TV for more !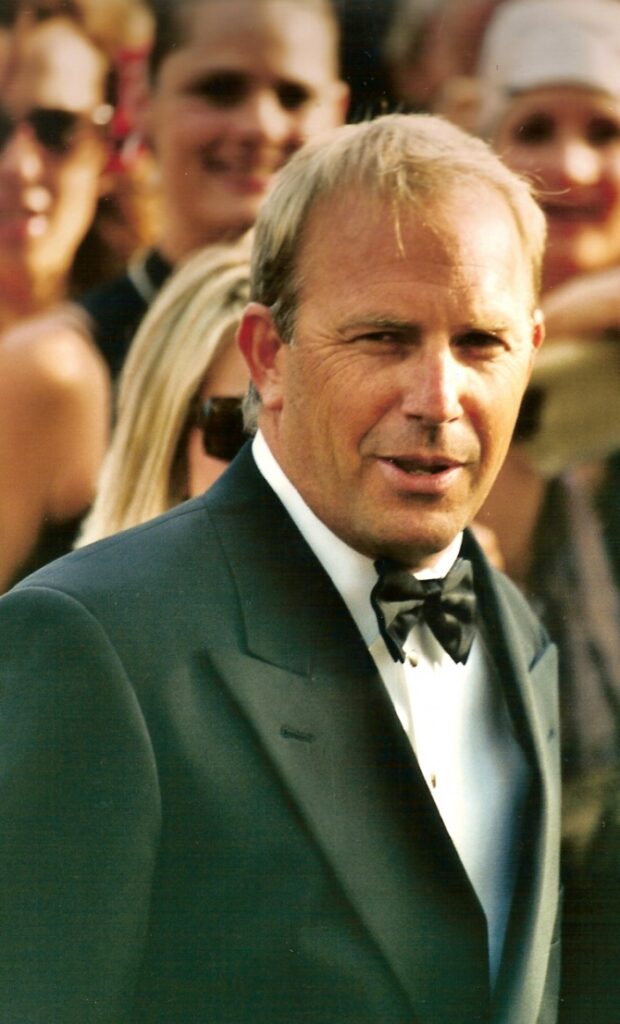 Kevin Costner is an iconic and legendary American actor, director, producer, and musician. His accolades include two Academy Awards, three Golden Globe Awards, and one Emmy Award. My favorite movies , in this order is JFK , The Untouchables, Dances With Wolves, and The Bodyguard – in 1992, in which I was an extra in that movie – where Kevin co-starred with the late Whitney Houston (photo below) , and I got to talk with Kevin about the real truth behind JFK, and was in 2 scenes in the movie with Whitney and Kevin. See 4 photos below-left.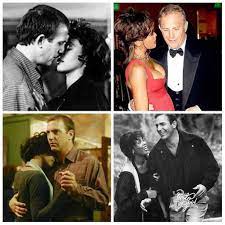 Kevin Costner starred in the Paramount Network series "Yellowstone," .. "We are thrilled to have such a celebrated actor as Costner to play the lead role in such an important project for Paramount Network."  "Yellowstone" tells the story of the fictional Dutton family, which owns the largest contiguous ranch in the United States — a piece of property that borders Yellowstone National Park and puts the family in constant conflict with a wide range of rivals. In 2018 the 10-episode first season was a very big award winning success! Costner starred as family patriarch John Dutton.
The below photo is when Kevin won two Academy Awards for Best Picture and Best Director in 1991 for "Dances with Wolves," and we were lucky enough to meet him in The Governor's Ball (The Official After-Party for The Oscars), right after The Academy Awards- and he was very nice to all of my friends and myself : 
Kevin's role on "Yellowstone," was his first regular role on a television series in his long and storied career, but he did previously win an Emmy, Golden Globe, and Screen Actors Guild Award for his role in the History miniseries "Hatfields & McCoys." On the film side, Costner won the Oscars for Best Picture and Best Director in 1991 for "Dances with Wolves." He is also known for roles in hit films like "The Untouchables," "JFK," and "Field of Dreams." 
Below is a Photo of Kevin Costner with his wife Christine Baumgartner, on the red carpet at The AARP Awards – a major pre-Oscar Gala event, where the legendary 60-year-old American actor Kevin Costner was honored with a Career Achievement Award at the 14th Annual American Association for Retired Persons (AARP) Movies for Grownups event that took place on the evening of Monday, February 2nd at the luxurious Beverly Wilshire Hotel located at 9500 Wilshire Boulevard near Neiman Marcus and Rodeo Drive in Beverly Hills. This is where we our TV show host -Margie Rey interviewed Kevin for Entertainment Today TV :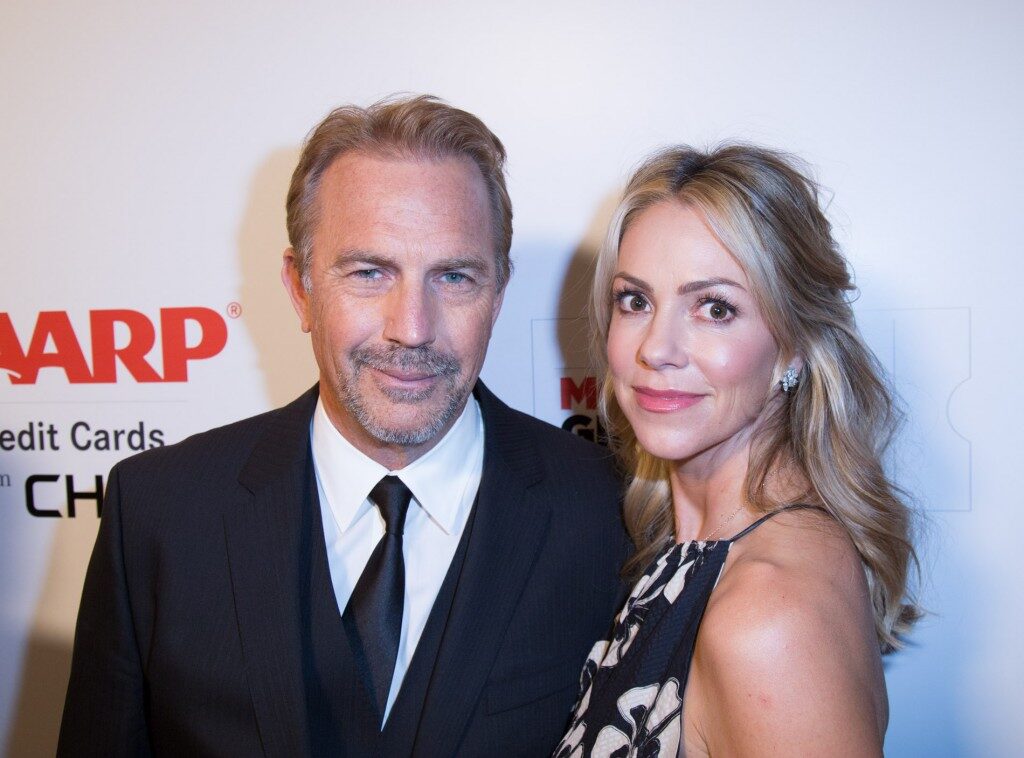 Costner starred in Fandango, American Flyers, Silverado and many other films. He rose to prominence with his starring roles in The Untouchables and No Way Out (1987). He then starred in Bull Durham (1988), Field of Dreams (1989), Dances with Wolves (1990), for which he won two Academy Awards, JFK (1991), Robin Hood: Prince of Thieves (1991), The Bodyguard (1992), A Perfect World (1993), and Wyatt Earp (1994). In 1995, Costner starred in and co-produced Waterworld. His second directorial feature, The Postman, was released in 1997. He later starred in Message in a Bottle (1999), For Love of the Game (1999), Thirteen Days (2000), 3000 Miles to Graceland (2001), Dragonfly (2002), Open Range (2003), Rumor Has It (2005), The Guardian (2006), Mr. Brooks (2007), 3 Days to Kill (2014), McFarland, USA (2015), Draft Day (2014), and Criminal (2016). He has also played supporting parts in such films as The Upside of Anger (2005), Man of Steel (2013), Hidden Figures (2016), Molly's Game (2017), and Let Him Go (2020). Several of Costner's films have included a baseball theme: Chasing Dreams, Bull Durham, Field of Dreams, For Love of the Game, and The Upside of Anger, in three of which his character is a pro baseball player and one a former pro baseball player.
On television, Costner portrayed Devil Anse Hatfield in the miniseries Hatfields & McCoys (2012), winning the Primetime Emmy Award for Outstanding Lead Actor in a Limited or Anthology Series or Movie. Since 2018, he has starred as John Dutton on the Paramount Network original drama series Yellowstone for which he received a Screen Actors Guild Award nomination, and for the upcoming 2023 Golden Globe Awards he has been nominated for the Best Actor Trophy! 
For the complete story go to: entertainmentandsportstoday.com Facebook.com/entertainmentandsportstoday and Youtube.com/entertainmenttodaytv  @kevincostnermodern @kevin_freakin_costner @whitneyhouston #FieldofDreams #KevinCostner #TBT See @kevin_freakin_costner @kevincostnermodernwest in Field of Dreams !  Thanks for watching!